The key to cooking with ease is to have a well-organized pantry.  If your pantry cabinet is well stocked and its contents are easily accessible, then you're more than halfway to planning a delicious meal. A walk-in pantry is a huge bonus if your kitchen design has enough space, but you can design amazing pantry storage solutions within your kitchen cabinets. No matter how big or small, your pantry should reduce kitchen clutter and effortlessly store everything you need.
1. INTEGRATE A PANTRY INTO YOUR KITCHEN DESIGN
If your kitchen remodel doesn't allow for a separate pantry, then a dedicated space inside a kitchen cabinet means your pantry blends right in with the rest of your remodel. Outfit it with some of the storage accessories listed below for optimum, and attractive storage.
2. INCLUDE ROLL OUT SHELVES
Roll out shelves are a great solution for a tight space. You can organize categories and then simply slide it all out for access. No more taking everything out to find something at the back of the shelf. Pull-out pantry drawers offer the same solution.
3. ADD TRAY DIVIDERS
Always include tray dividers in your pantry design. They're a simple idea that takes care of so much clutter. You can store everything from baking sheets and cutting boards to large platters. They finally have a home where they're not piled on top of each other.
4. CREATE EXTRA SHELF SPACE
If your shelving is spaced far apart then put in shelf inserts to add another level and double your storage space. A basket that clips on to a shelf is a quick, short term solution that gives you more room to store sundries. You can separate foods into gluten free, treats, school snacks, etc.
5. MIX UP YOUR STORAGE
With adjustable shelving, once you've decided what should go where, just move the shelves where you need them. A clever and stylish option is to mix open and closed storage. Make sure you have space behind cabinet doors to provide storage for items that need darkness and allow space on open shelves for items you need to access quickly or that you don't mind having on display.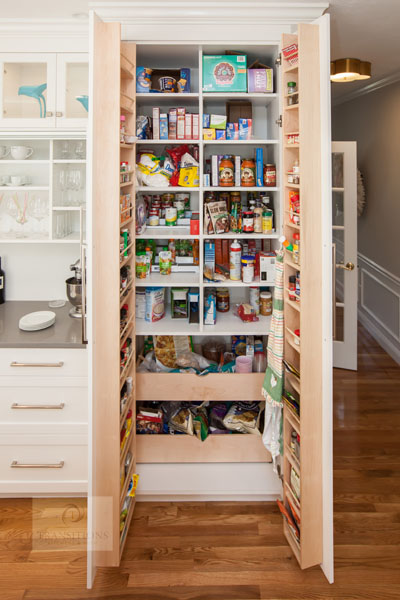 6. GET SOME JARS
Store dry ingredients in airtight jars away from heat and bright light. These are also a pretty addition to your open shelving. Wide-mouthed containers are also great for cereals, beans, and pasta. Clear storage containers are always best so you can see how much you have in each. Label each one and keep a note of the expiry date.  You've just made your life so much easier.
7. LOOK AT YOUR SPICES
Spices will last much longer in airtight containers, but it's best to avoid clear ones to protect them from light.  They should also be kept away from heat. There is a multitude of spice racks out there to fit your pantry.  Narrow pull out spice racks, ones that spin around, pull down spice racks, spice storage drawer inserts, or magnetic strips for metal containers. Choose the one that works for you and make the most of your spices instead of leaving them at the back of a kitchen cabinet.
8. MAKE SPACE FOR SMALL APPLIANCES
A walk-in pantry is great for storing small appliances, giving you more counter space. Mixers, slow cookers and small appliances can get a dedicated shelf. Awkwardly shaped appliances or ones that you use only occasionally can be kept on shelves up high, away from regularly used items. A large pantry could even include workspace where you can plug in and use these appliances without having to move them around.  Even if you don't have a walk-in pantry, kitchen cabinet storage can include deep drawers or shelves perfect for these appliances.
9. PLAN YOUR LIGHTING
Always consider the lighting in your pantry design, whether it's a walk-in or cabinet pantry. If you do not currently have sufficient built-in lights, then go for a battery option as a temporary solution and make lighting a priority in your next kitchen design. It's important to be able to see well or all your organization will be pointless.
10. DON'T SACRIFICE STYLE
The pantry is as important as any space in your house, so don't neglect its decor. For a walk-in pantry, add personal touches like pictures or wallpaper. Try a chalkboard wall to write notes on. Experiment with color and your pantry will be a gorgeous place and compliment the rest of your home.
A pantry really can fit anywhere. Your kitchen designer can help you determine the best solution taking into account your available space, requirements, and budget. Whether it's a room or a cabinet, it should be well ventilated and not too bright or warm. Think about spaces outside the kitchen design, like in a hallway, under the stairs or in a basement. Wherever you can fit it, a well-organized pantry design is something that's invaluable. Why not look at our kitchen design gallery or call our design experts today for advice on getting your dream pantry underway.