A vanity cabinet is the perfect addition to a bathroom remodeling project.  They come in an array of styles to suit any home décor, and contain a treasure trove of storage designed to keep your new bathroom looking neat and tidy.  For many people, a vanity cabinet is central to solving bathroom storage concerns, offering purpose built space for items you want hidden away but easily accessible.  Combined with the right countertop and sink, a vanity offers the perfect place to start your day or get ready for a big night out.
With so many options, how do you select the right one?  Consider these 5 questions to help you get started.
1. How much storage do you need?
Every household and indeed each bathroom has unique storage requirements.  A powder room's storage needs are different compared to a master bath or a guest bathroom design.  Likewise a busy household with a large family may require more varied storage than a retired couple.
Evaluate your individual needs by reviewing the items you require in the bathroom and which ones need vanity space, and then allow some extra space.  Incorporate specialized storage accessories for items you plan to keep in the vanity, or even plugs for easy storage and access to electronics.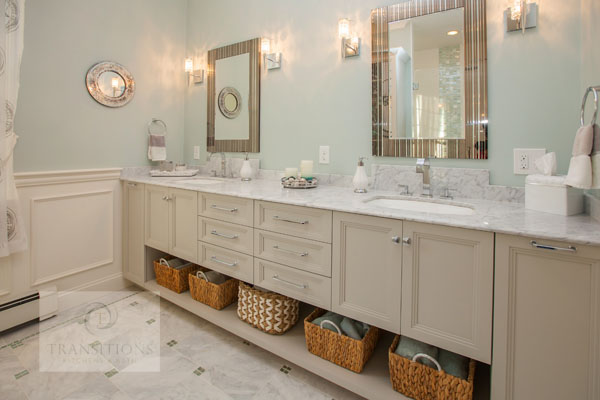 2. How much space do you have?
Unless you plan to expand your bathroom, you are limited by the amount of space available and the shape of your room.  Strike a balance by selecting a vanity large enough for your storage needs but not so big to overpower the room.  If floorspace is not sufficient, consider adding a tower cabinet or wall mounted cabinets.
Also consider the layout for the bathroom renovation and how well it accommodates your preferred vanity.  Do you plan to limit yourself to the existing floorplan or move fixtures and plumbing around?  This will affect your range of options for vanity style.
3. How tall are the people using the vanity?
Vanities can be customized to fit your needs in many ways.  Consider the height of people who will be using the vanity, and be sure to select one that is comfortable to the users.  According to the National Kitchen and Bath Association, vanities can range in height from about 32" up to 43", and best practice is to match the height to the requirements of the users.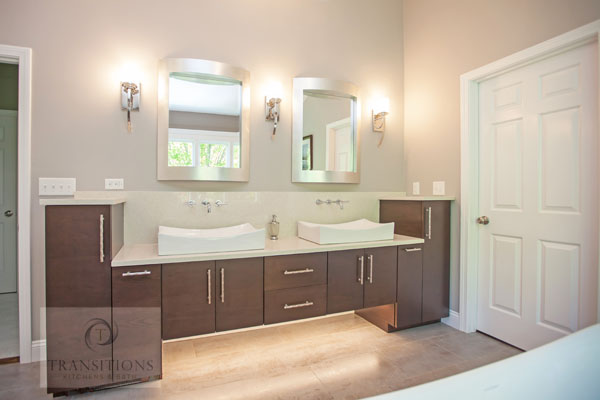 4. What is the layout of your bathroom?
Just like a kitchen layout requires careful planning to support the workflow and traffic, a bathroom layout is equally as important.  The location of your vanity must be considered along with other items, such as toilet, bathtub, and shower.  Position your vanity where it will not impede the flow of traffic, and where you have ample space to open doors and drawers.  Leave room for activities like shaving and applying make-up, and position the vanity where you can hang a mirror above it.
Cleaning a bathroom is always a challenge, so examine ease of access to areas around the cabinet.  Finally, if you want to position the vanity away from existing plumbing, be prepared to include room in your budget for the extra work involved.
 5. What is the style of your design?
There is a vanity cabinet to fit any style bathroom design, from traditional to contemporary to beach style.  The lines of the cabinet, materials used, and finish, along with countertop and sink style greatly impact the style of your room.  Consider your home style and other elements you plan to include in the bathroom.  Then look for a cabinet that complements and expresses this style choice.