Lighting design does so much to enhance a room, from offering targeted light necessary to perform key tasks to creating ambient light perfect for relaxing and entertaining.  It can even be used to highlight specific design elements in a space, like uplighters on a piece of artwork or a special feature in a room. We think of layering task and atmospheric lighting in a kitchen design, living room or bedroom. The bathroom design needs just as much attention though as lighting is essential to creating a relaxing space while also having sufficient and well-placed light to shave or put on makeup.
Here are our 5 top tips for creating a bathroom lighting design that will illuminate your life:
Draw Up a Plan
When coming up with a lighting scheme for your bathroom remodel, work from the top down.  The first place to think about is the ceiling. Decide between recessed or ceiling mounted lights, depending on your room's style and space, or include both to cover all your lighting needs. Consider making a feature out of your ceiling light, like this bathroom design in Norwell, MA below left or the bathroom remodel in Norwell below right.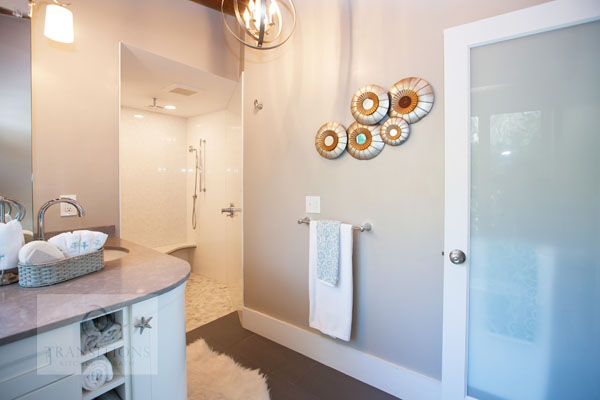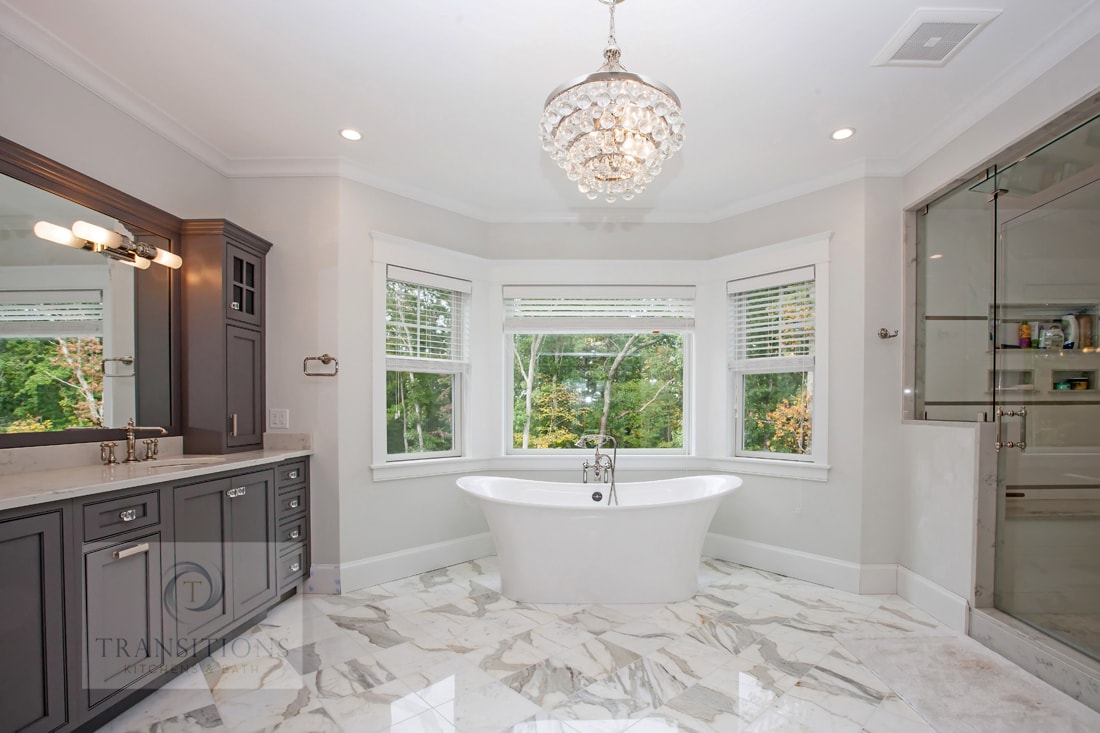 Then move to your vanity and place task lighting over or around the mirror. Plan your vanity lighting so you have enough light to perform tasks like putting on mascara, but make sure the light is well-placed, so you don't get shadows or glare when looking in the mirror.  Moving on to the shower and bathtub, consider what would work best for each of them. A recessed overhead light is best for a shower but consider softer lighting either end of the tub. Why not also go for lights underneath the bottom of your freestanding bathtub or toe kick lights under cabinets for a dreamy, floaty look? Don't forget to light up any wall art or perhaps a feature tile wall too.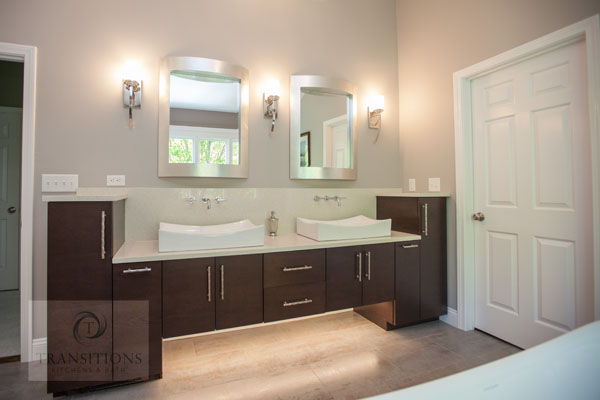 Make it adjustable
We use the bathroom design for lots of reasons so make sure your lighting can change its mood. Strong overhead lighting is necessary for applying makeup but all you need is a soft glow if you're sinking into a bath. Light fittings that can swivel or bend work well, along with dimmer switches so you can control the strength as well as the angle of the light.  You could even go for a fully automated lighting system that can be controlled right from your smartphone!  Pair your bathroom lighting with natural light from a window or skylight for a natural glow while getting ready.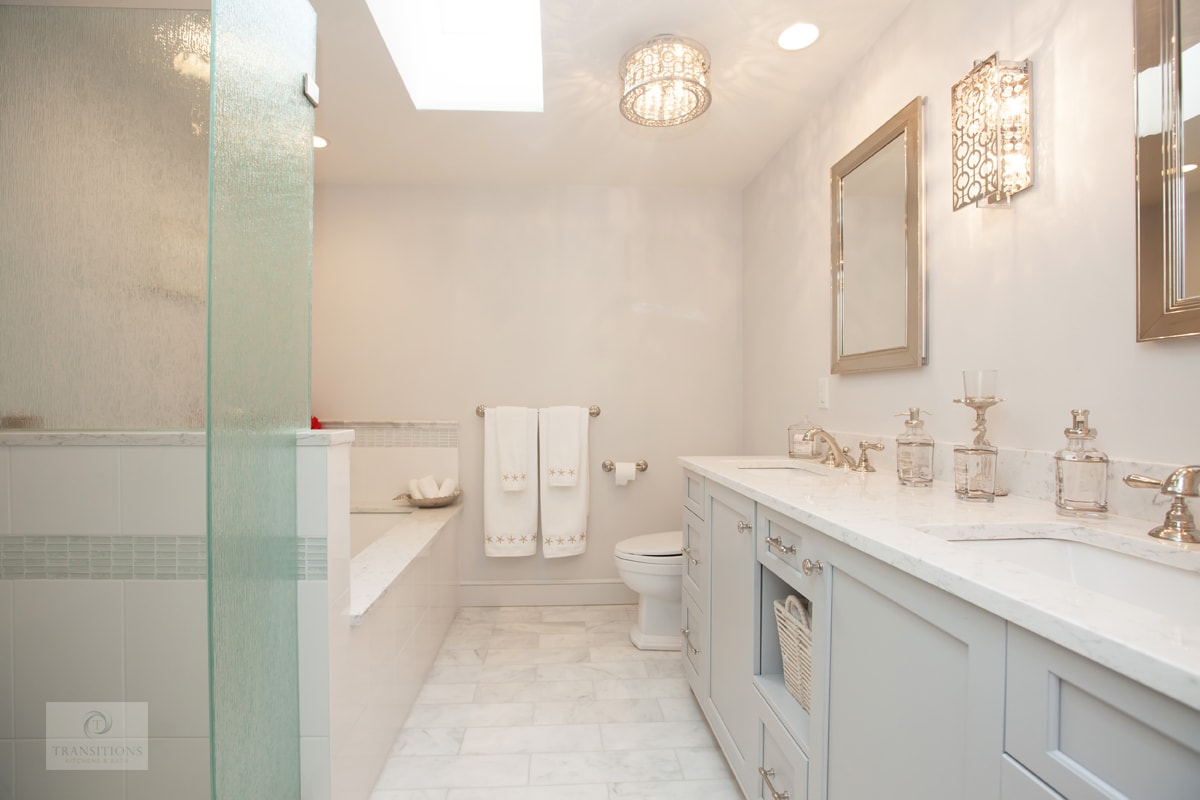 Pare it back
When you've done your lighting plan go back over it and take anything out that might be duplicated or unnecessary. Too many recessed lights or striplights can make your bathroom design more Vegas than spa. Multi-purpose dimmer switches can amp light up or down as needed.
The recessed lighting in and around the shower is just right for the bathroom remodel in Hingham, MA.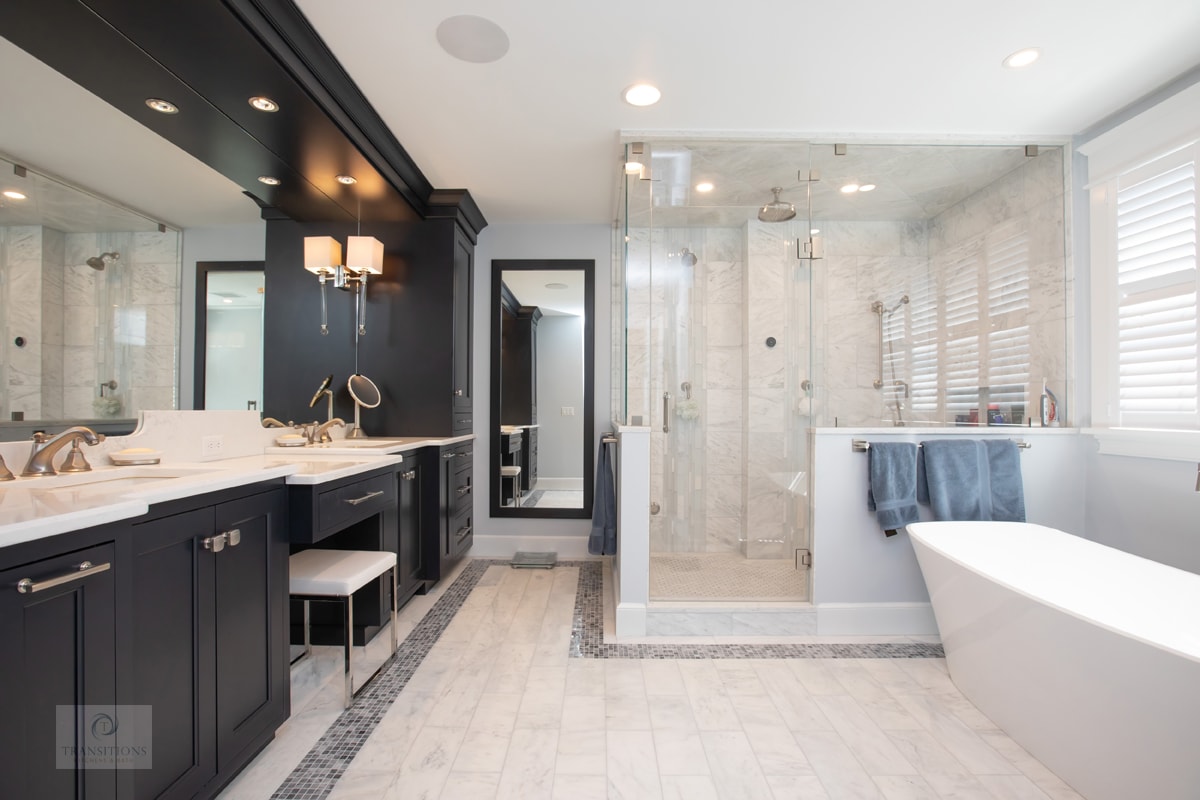 The Right Task Lighting
Task lighting at your vanity is important but you must get the position right. If you have a strong light shining directly down on you it's too harsh. Ceiling mounted lights should be further back from where you'll be sitting at your make up vanity for the right amount of light. Placing bulbs around your mirror is perfect for Hollywood glam, but use opaque instead of clear so there's no shadow from the filament. Make sure that you have equal lighting on both sides of your vanity area so there's no side too bright or too dark. This bathroom design in Norwell positions lights perfectly around the vanity area.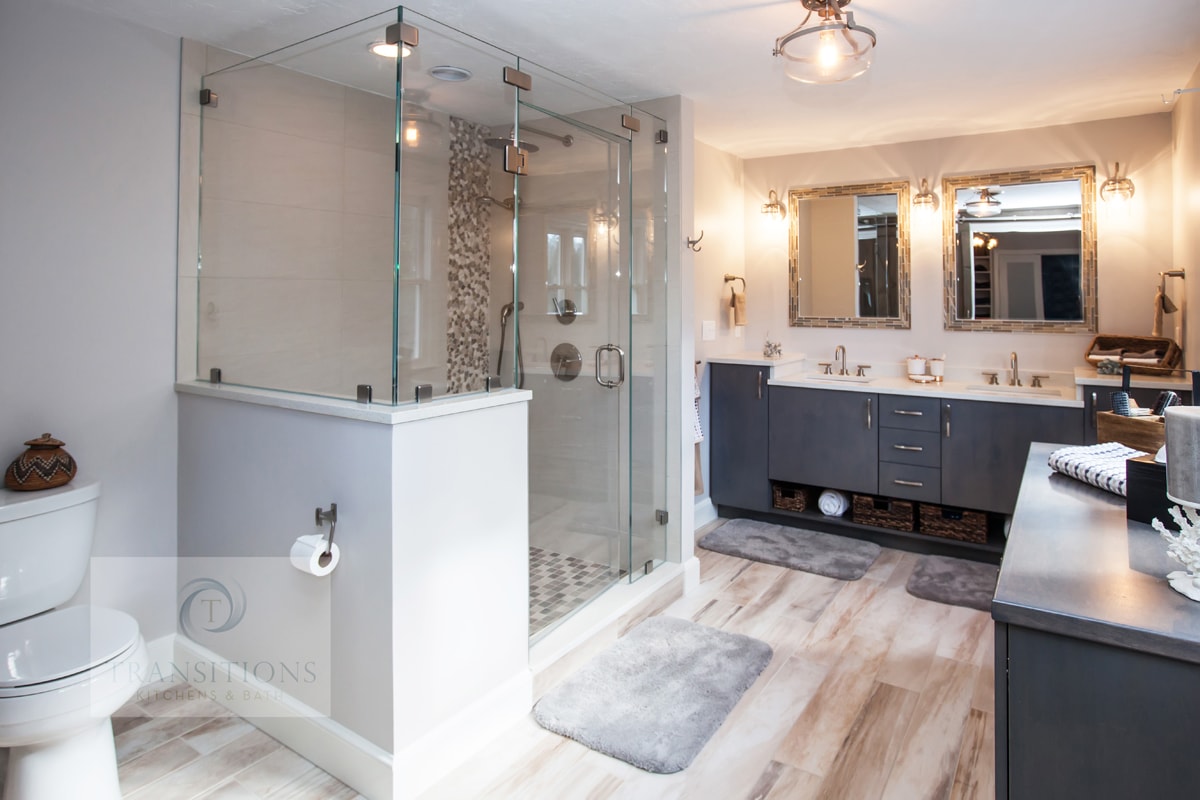 Energy-saving lighting
LED bulbs are the wisest choice, both environmentally and economically as you won't have to replace them for a long time. They have a minimalist design and warm tones, so look great in any bathroom design and won't outshine incandescent bulbs or candles.
If you're remodeling your bathroom, or just want to redesign your lighting scheme, call us today. Our bathroom remodeling gallery can inspire you and our team of experts are happy to share their experience and bathroom design expertise with you.