It's basic human instinct to want to be at one with nature. Bringing natural elements inside the home can help you feel calm and at peace, while also enhancing your style. In kitchen design, we can't exactly replicate a garden, but we can take organic pieces into our home remodels in many ways.  Read on, for ideas on how to bring nature into your kitchen design.
LIGHTEN UP
Natural light is a vital element to any kitchen remodel. Large windows and skylights are ideal to lift your mood in this busy space and solar tubes bring natural light down into dark areas. With smart kitchen design and a well-planned layout, you can enjoy your garden while standing at your stove or sink. Patio doors will let in light and facilitate easy entertaining.  If you have an outdoor kitchen design or a large barbecue area next to your house, consider including large sliding glass doors.  This allows you to open your home and create a fluid movement between your indoor and outdoor cooking areas. It will make your summer parties the best in the neighborhood!  Place your island somewhere you can look out the glass doors or large windows as you prep food and place seating to let guests enjoy the outside space as they dine. An open plan kitchen design or using glass in interior walls will also open up rooms and allow a bright connection to the garden.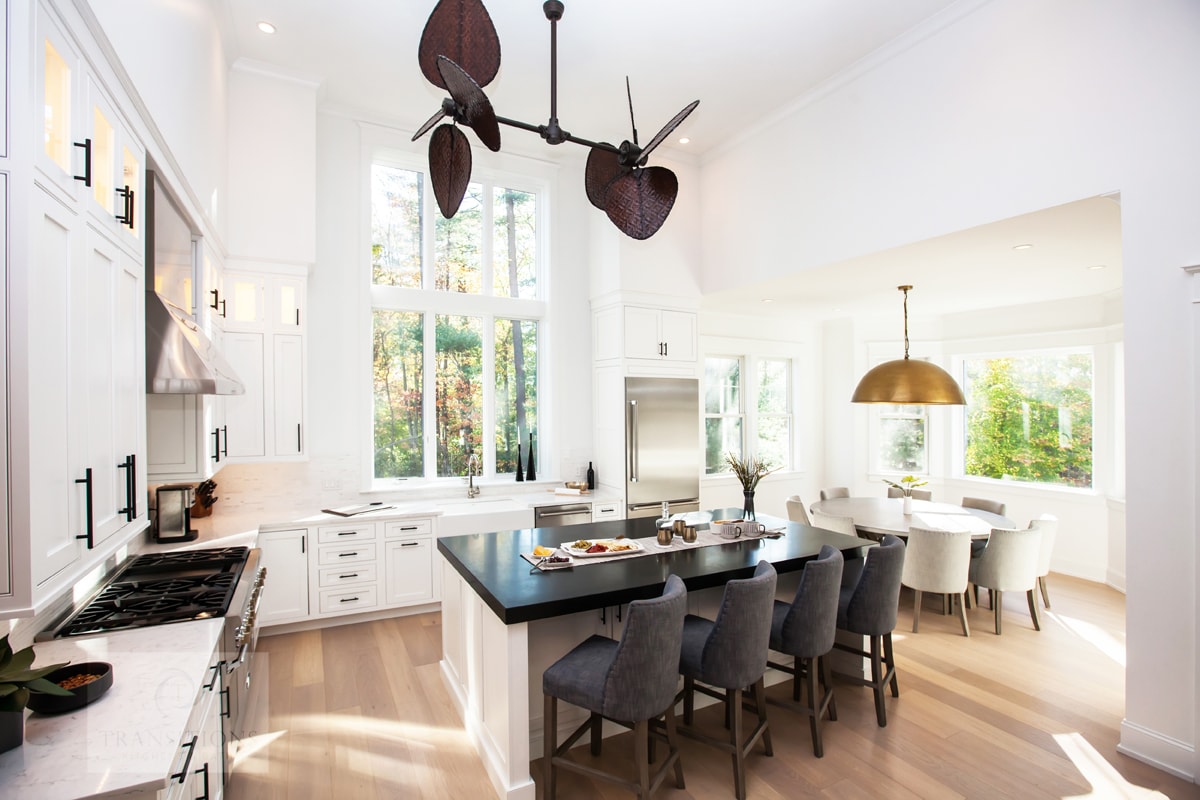 PLANTING THE IDEA
If you have room, include a large houseplant in your kitchen design. The more foliage the better, for a splash of green. Wherever you have natural light can be filled with a plant. Tropical houseplants are perfect to place by a window and will keep your view green when your garden is bare in the winter.  Put flowers and foliage in vases and low-maintenance bulbs, cacti or succulents in pots or hanging planters.  Trees or ferns look wonderful in wooden planters, especially with corresponding ones just outside to unify both spaces. For the ultimate nature lover designing a kitchen from scratch, you could even plan the room around a favorite tree that's growing from the ground!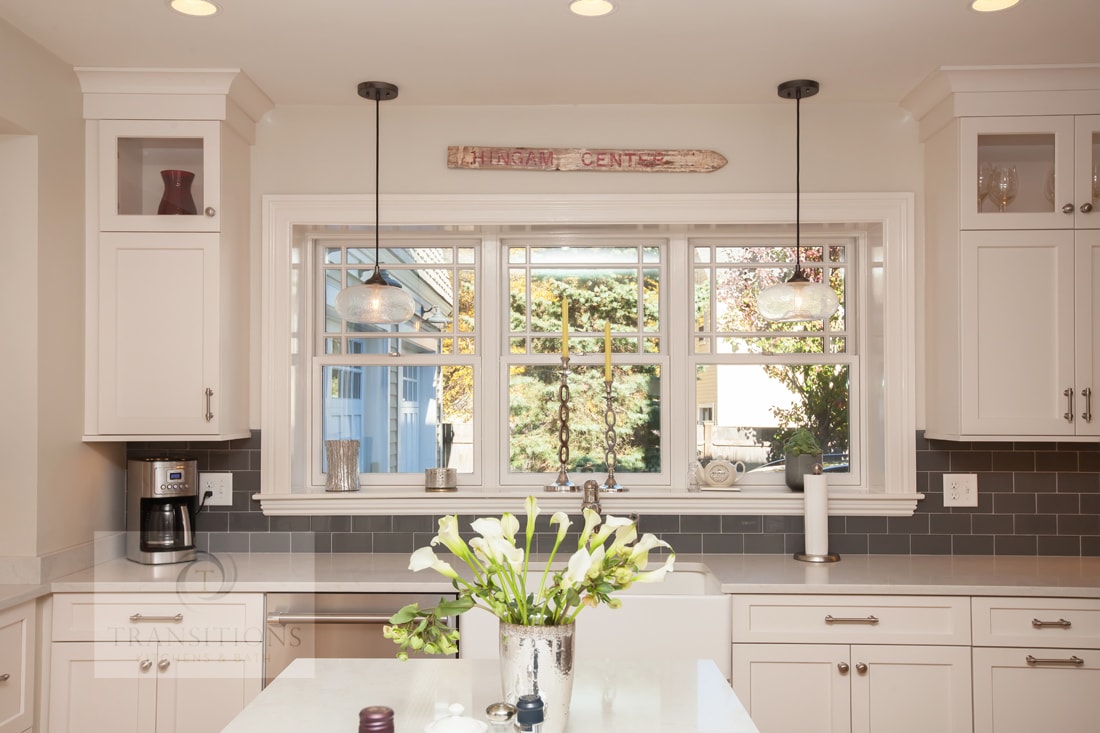 WALLFLOWERS
People really crave a connection to nature and what better way to introduce it into kitchen design than onto the walls around us. You could go full-on foliage and transform one side of your kitchen into a green wall, or just have a little vertical herb garden. Your kitchen remodel will always benefit from natural elements when looking for an outside feel. Rough brick is good for texture and color, while a smooth river rock backsplash is calming with its smooth, earthy tones. Locally sourced stone can also be incorporated into a custom range hood or an entryway.  Nature-themed wallpaper or a natural material like grasscloth wall covering or blinds will give an organic vibe. Using exterior doors like barn doors bring the outdoors into your kitchen design.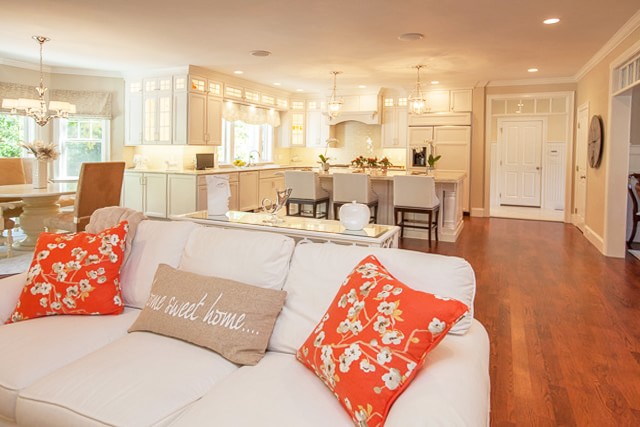 FLOORED FOR CHOICE
As with walls, taking outdoor materials like concrete for flooring will transform your kitchen design. This look can be softened with rugs and planters. Textured pavers are also rustic, but make sure they're pre-sealed. Wood, stone, bamboo and cork are all full of character, especially when contrasted with wall and ceiling materials. Go with your personal style, whether that's deep polished wood, or reclaimed floorboards.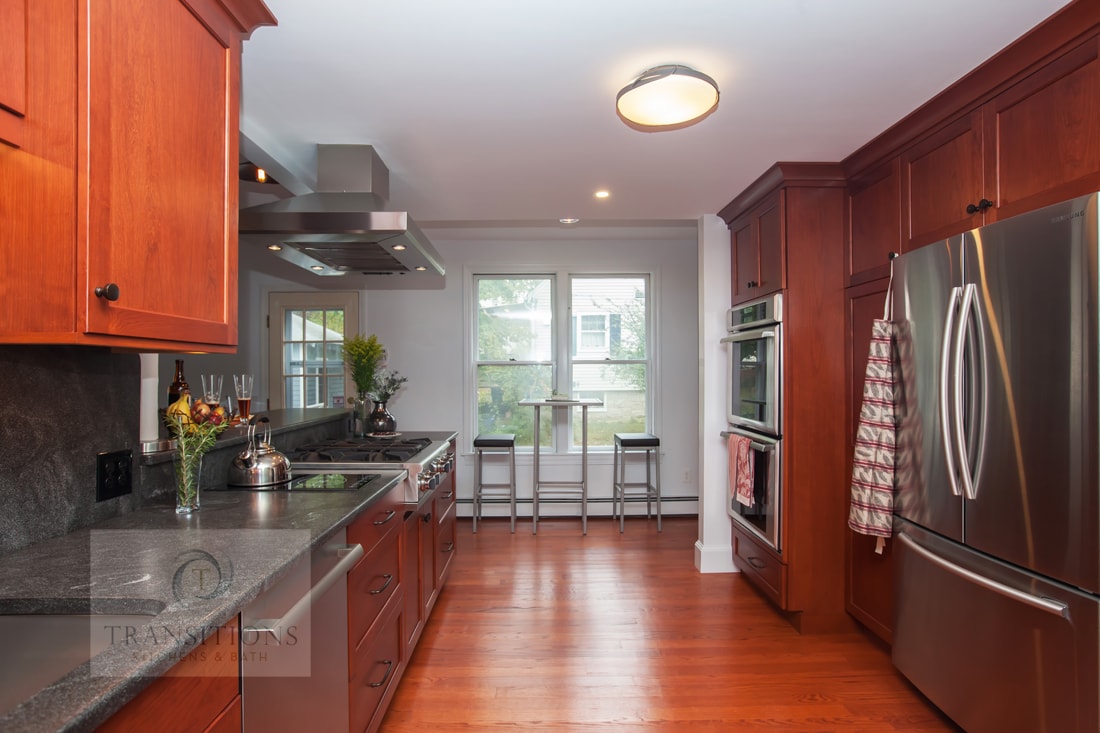 ELEMENTARY, DEAR WATSON
Collect natural elements like pine cones, stones and branches and use them as accents in your kitchen design. Fruits and vegetables can even form a centerpiece. Nature-themed china is ideally displayed on open shelving or in glass front cabinets. Take typically outdoor furniture like a little cafe table and chairs into your kitchen remodeling and turn it into the perfect breakfast nook. Live-edge wood (which keeps the outline of the tree) looks stunning on tables, shelves and countertops. A grey, carved stone sink can be an excellent choice alongside brightly colored cabinets, giving the feeling of rocks and flowers.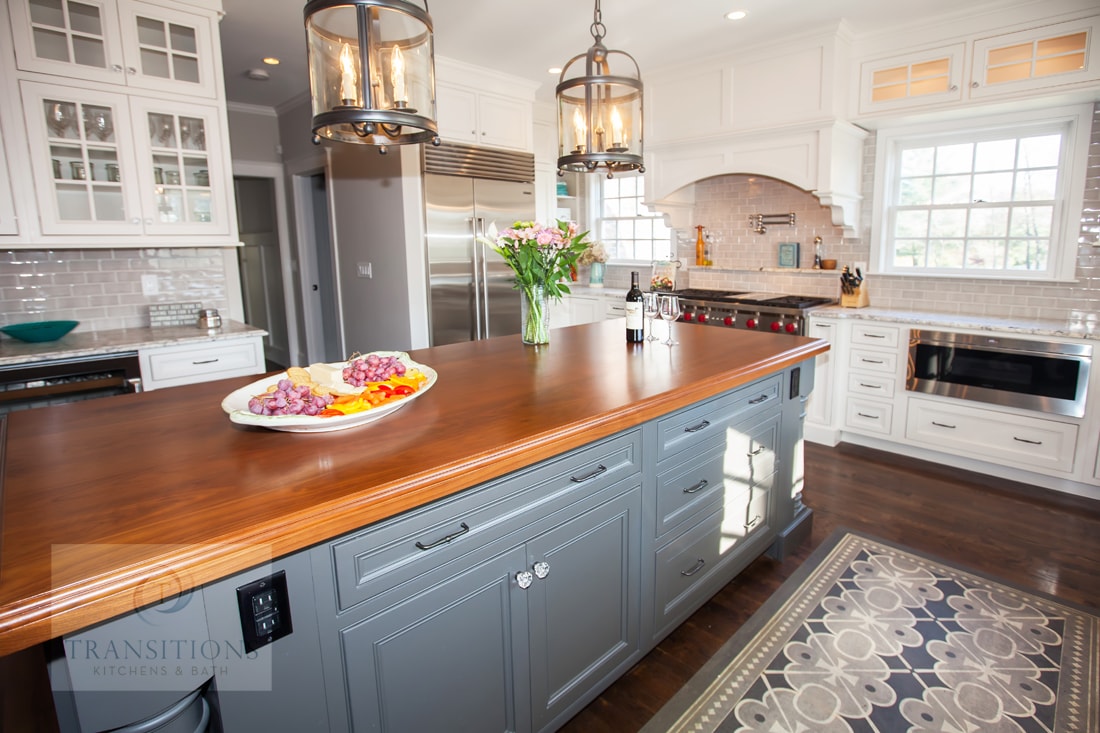 Depending on your
kitchen design
budget, you can add natural elements in big or small ways.  Consider accents like a feature wall that includes stone or brick, or go all out with reclaimed wood, locally sourced stone and river rocks, and a green wall with your favorite plants and herbs.
Why not talk to one of our kitchen design experts today to guide you through materials that will give your kitchen design a unique, natural look?