Everyone needs a little boost in January, as the days are still short and the weather cold.  A trip to the spa would be perfect, wouldn't it?  What if the spa were in your own home, so you could get that relaxing retreat without having to go outside your door?  This may sound too good to be true, but it is a very achievable goal with the right bathroom design.
Bathrooms are no longer just a functional space where we brush our teeth and shower.  They have become an integrated part of home design, reflected in furniture style vanities and stylish lighting designs.  A bathroom can also be a comforting haven within the home, incorporating features worthy of the best spa, nature-inspired color schemes, and natural materials that help to rejuvenate you.  A spa style bathroom remodeling project must combine style and function to create the perfect atmosphere for relaxation.
Here are five key areas to consider for your next bathroom renovation to create a spa style bathroom:
1.  The perfect shower
What is more relaxing than washing away the stress of your day under a soothing shower?  There is a reason why many people now opt to leave out a bathtub in favor of a big shower.  A larger, well-designed shower offers the perfect spot to unwind.  Do not overwhelm your available space, but go for a larger shower where possible.  You could even include a steam shower or a shower built for two.  Multiple showerheads enhance the experience, so consider incorporating a rainfall showerhead along with either a handheld showerhead or a massaging shower panel.  Make sure you include integrated storage and even a built-in shower seat so you can really relax!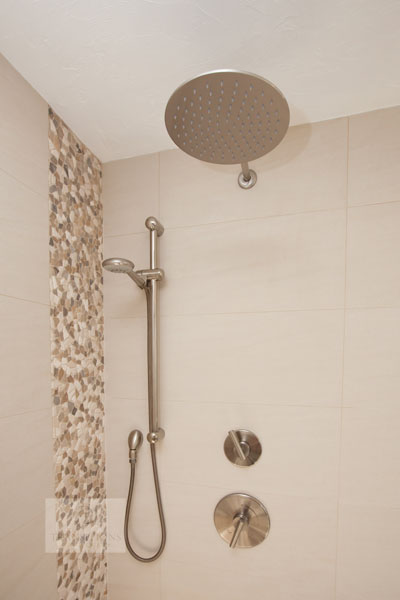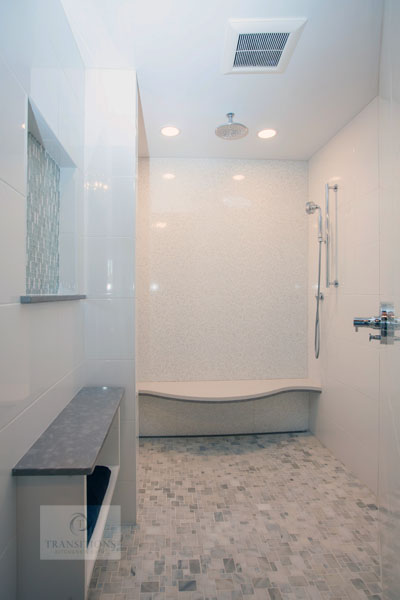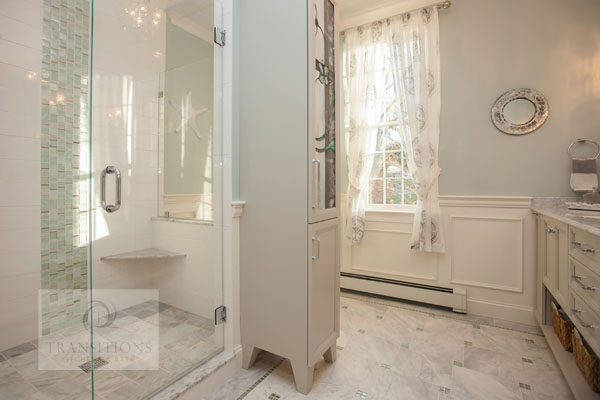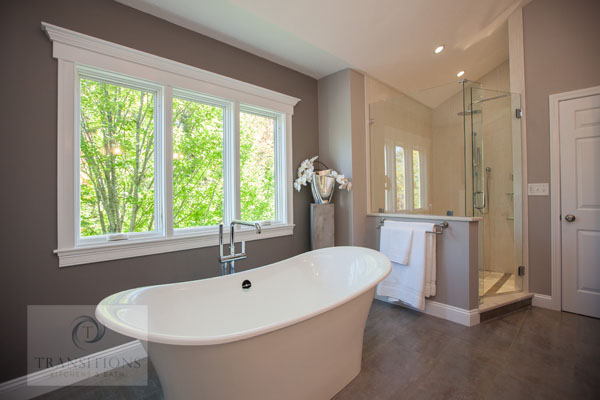 2.  A soothing bathtub
Despite the popularity of showers, for many people nothing can take the place of a soak in the tub.  If a bathtub is still important to you, then consider a freestanding tub.  This tub style combines form and function and will become a centerpiece of your design.  Whether you go for freestanding or built in options, think about the placement of the tub in your room.  Positioning the tub near a window adds the healing benefit of natural light.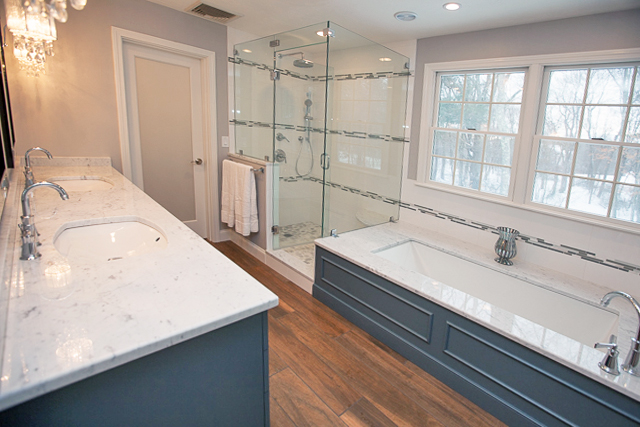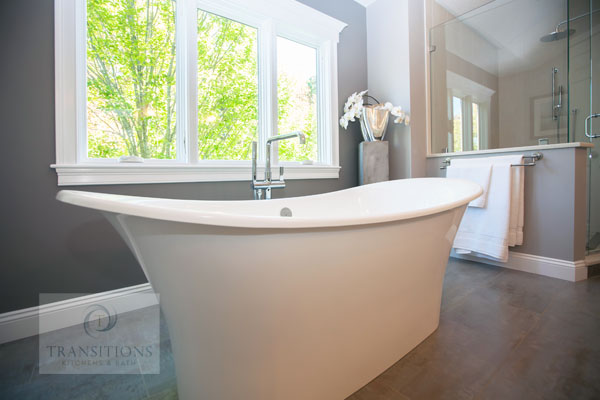 3.  Banish clutter
A clutter free environment is by far a more serene setting for your home spa retreat.  Make sure you can easily keep the room neat and always have towels and other necessities accessible.   Include integrated storage niches and specialized vanity storage so you always know where to find your supplies, and to ensure you do not have cluttered countertops or messy floors.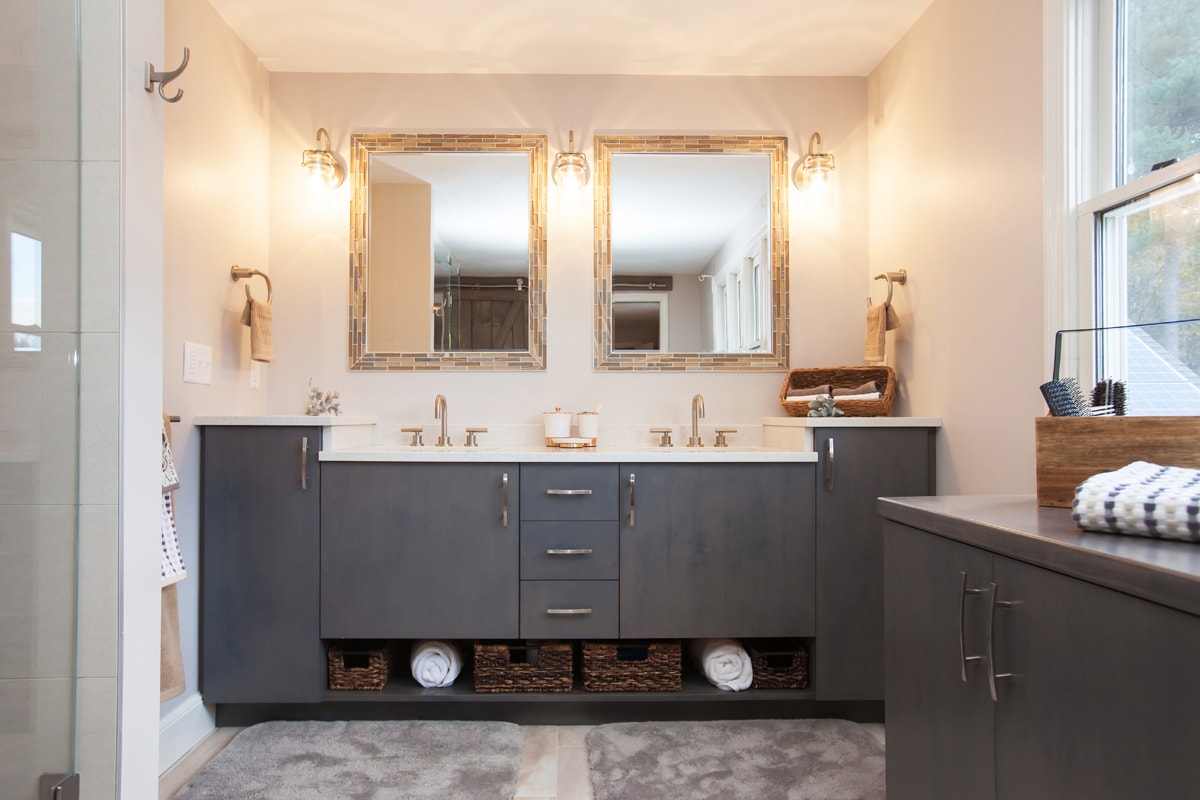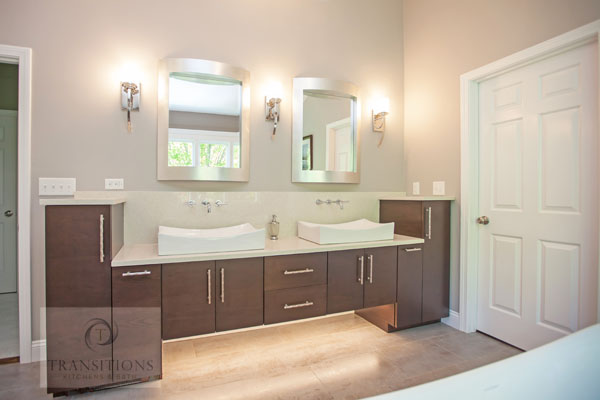 4.  Warm and cozy
A cold bathroom and freezing tile floor is sure to spoil your relaxation.  Combat the cold by including ample heating options in your bathroom.  Ideally this should incorporate radiant underfloor heating so your first step into the bathroom in the morning is on to a warm floor.  A radiator style towel warmer will also provide general heat and offer cozy, warm towels waiting when you come out of the shower or bath.
5.  Reflect and shine
Large mirrors help open up the space in your bathroom, while also making it easier to see your post-facial complexion.  A multi-layered lighting design ensures you can see clearly when getting ready, but allows for softer lighting to create a soothing environment.  Don't forget about lighting targeted to the bath, shower, vanity, and other key areas.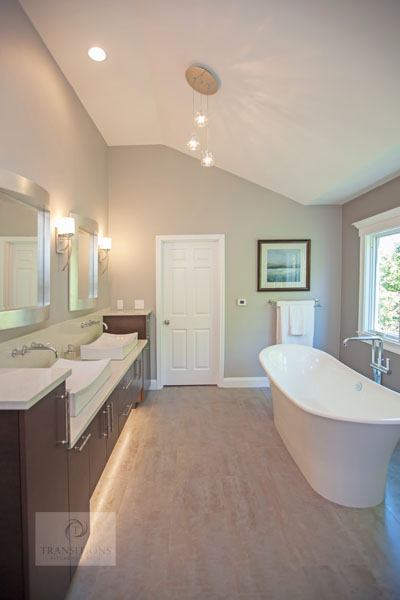 Pick one or two of these ideas to include in your bathroom or take advantage of your next bathroom remodel to completely transform your space into a spa worthy design.  Find more ideas in
our bathroom design gallery here
, or
contact us to get started
in designing your ideal bathroom spa retreat.