Thinking about a color scheme for your next kitchen remodel or bathroom design?  A remodel is an investment in your home, so it can be difficult to know what colors to select that will fit your home style for years to come.  Neutral shades are always popular, but the latest trends are seeing a shift from just grays and neutrals to more warm, intense shades paired with black. Colors can be layered in an all-over scheme of differing tones or you can try pops of color if you don't want 100% intensity. Whatever you do, color makes any room more welcoming and injects your own personality. Here are 5 ways to liven up your kitchen and bath design with the latest color trends.
1. Surfaces
Natural stone and wood always bring warmth to a countertop or floor but try quartz, porcelain, terrazzo, dyed cement, lava, resin or tiles for a vibrant color. Warm oranges, pinks, blues and greens are really on trend and a glossy finish can make a huge impact in a contemporary design. Dark grouting also makes brightly colored tiles pop or try a colored glass shower door with a black frame. You can also mix up textures with a wood border around your colorful floor. If the more modern, brighter colors don't fit your style, consider this year's Pantone color of the year, classic blue, which pairs well with warm wood tones and brass or gold fixtures.  Or, change up the traditional white kitchen with the warmth of wood cabinetry, which can fit beautifully in any style, like this contemporary kitchen design in Scituate.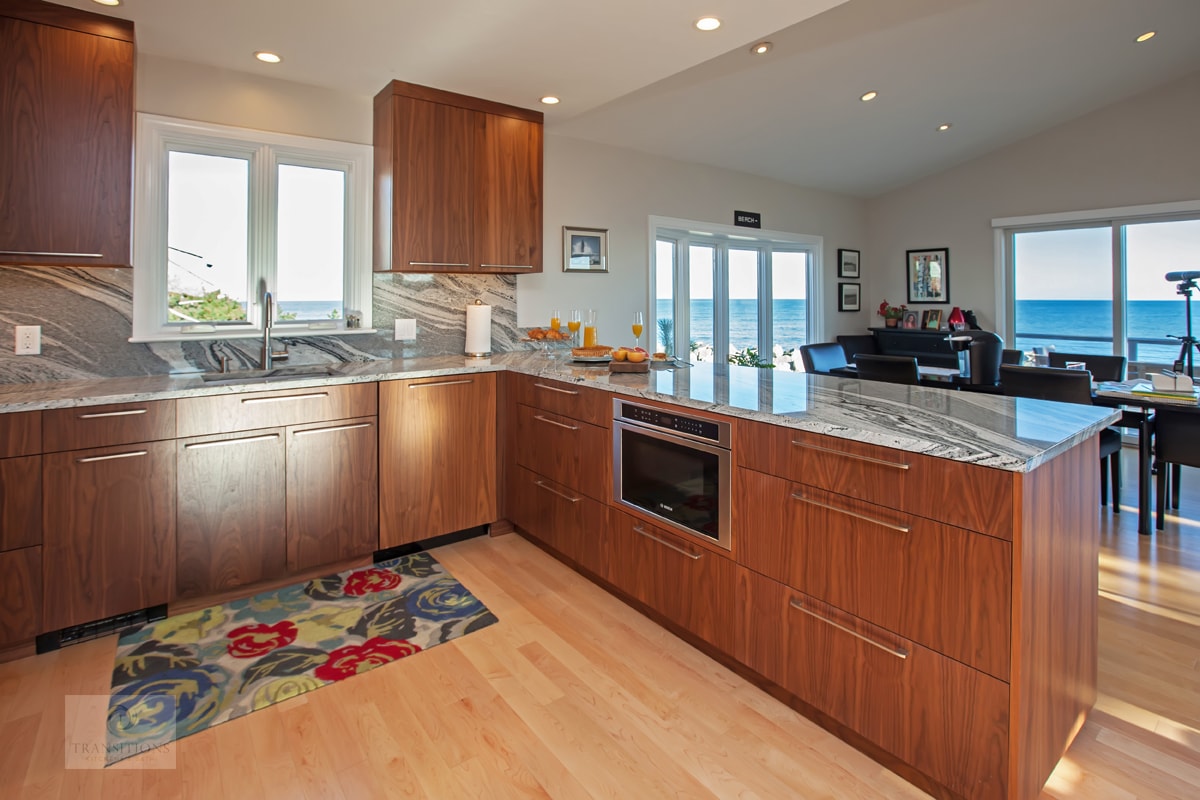 2. Appliances and Fittings
Colored appliances are a great way to liven up a kitchen design. Stainless steel will always be in style and black appliances have become more popular, but bolder kitchen designs are replacing traditional appliances with primary colored fridges, stoves and hoods, like these displayed at the 2020 Kitchen and Bath Industry Show. Pastel colored bathroom fixtures and accessories are also coming on stream in bath design, along with black, gold, and a range of other shades. Why not invest in a freestanding tub in your favorite color?  It will bring warmth and character and become a focal point in your bathroom design.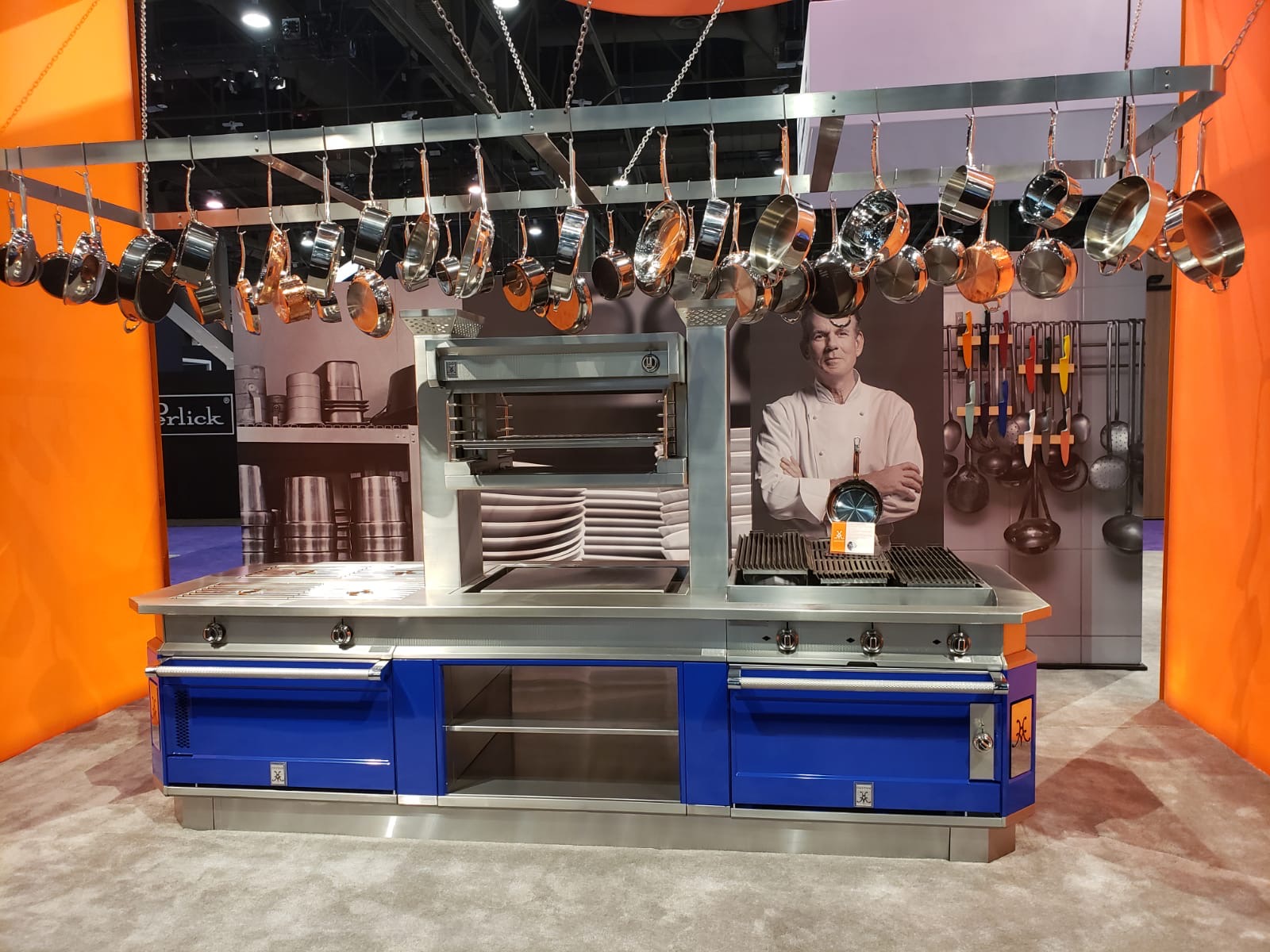 3. Open Shelving
Open shelving is huge for 2020. If you replace some kitchen cabinets with shelving it really opens up a design and gives you an opportunity to show off your wall. You can wallpaper, paint or tile the wall or the shelving itself or arrange vibrantly colored objects on the shelves for a polished and artistic look.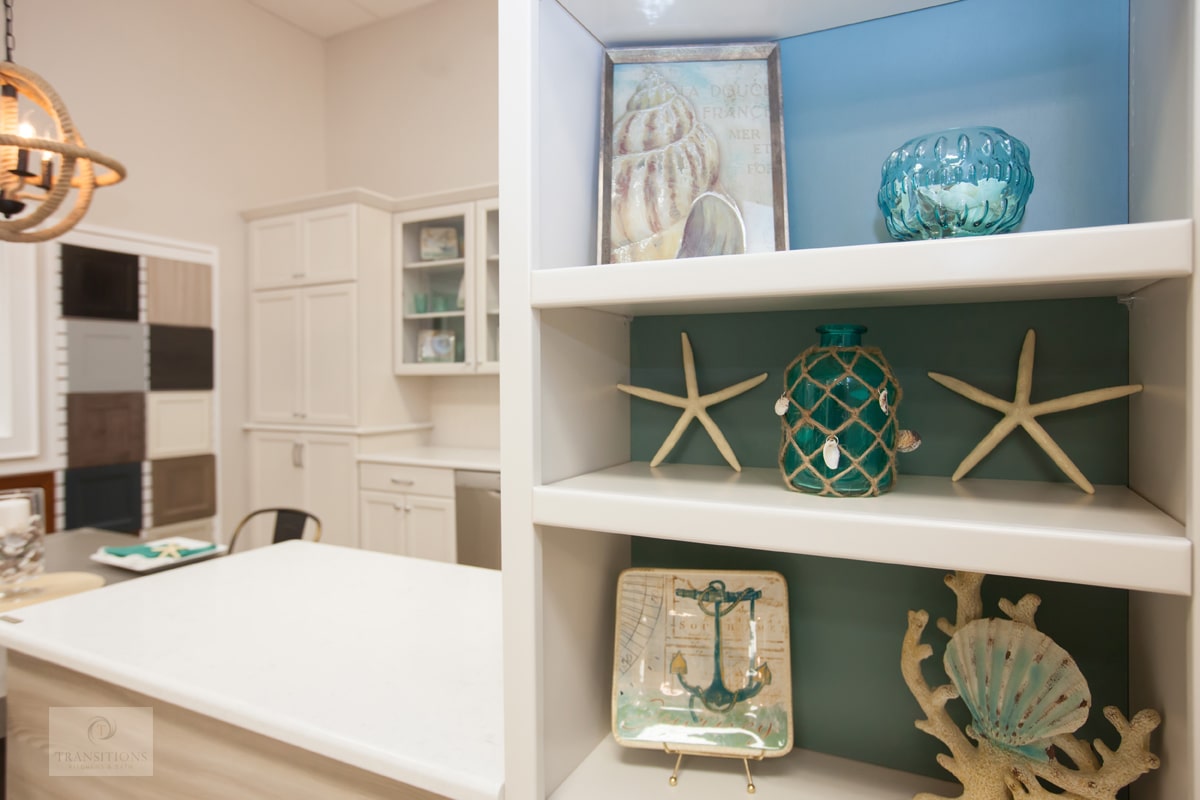 4. Sinks
Sinks are a necessity in both kitchens and bathrooms, but they don't need to be boring. Go glitzy with rose or yellow gold in a brushed or hammered finish. If you're sticking with a white color scheme, then gold faucets and hardware sparkle against cool surroundings and are a nod to trendy sunshine tones. Gold also perfectly offsets gray tones and especially the on trend black cabinetry.
5. Furniture
Furniture is the perfect way to be brave with color whether it's an orange island or a green bar stool. If a bright island is too much for your design, add a colorful bar trolley or other small piece of freestanding furniture in a favorite color for a whimsical touch.  Try a strong blue freestanding vanity cabinet or a pink velvet stool in your bathroom. Black chairs with jewel-toned cushions would be very du jour. If space allows add a comfortable chair to a corner of your kitchen design, upholstered in a favorite bright tone. All you need is one vibrant piece of furniture and you're on the way to embracing the color trend.
Whether you want color in one item or a whole room, your design always benefits from an injection of this year's colors. Deep blue, green, or even burnt orange can instantly update any space. The right lighting warms up color schemes too and a drum or pendant in any of these colors adds the finishing touch. If a bright color scheme is too bold, then consider adding color on a smaller scale with accessories or small appliances.  Check out our gallery to see all our projects and help you picture your dream kitchen design or bath design. Call us today to talk about your remodel and let us help you pick the perfect color scheme.