Showers have taken center stage in today's bathroom designs, with a variety of styles and sizes, and an array of options for showerheads, tile designs, and enclosures to suit any bathroom.  Many people choose to forego a bathtub to make space for a larger shower.  If your bathroom remodeling plans still include a bathtub, freestanding tubs are by far the most popular choice.  Why is this?  Freestanding tubs are as much about form as function, with styles ranging from antique claw foot tubs to sleek contemporary designs like the one shown here.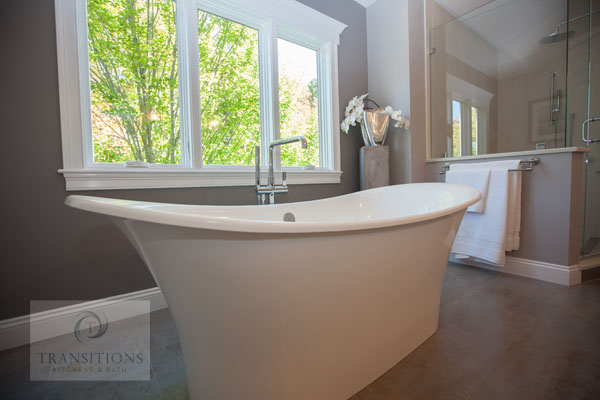 This tub style creates a clear focal point in your bathroom design, while also transforming it into a soothing retreat.  Yes, you can still use the bathtub to wash the kids and the family dog, but it also evokes a sense of luxury and relaxation.  Here is our guide to freestanding tub designs:
1. What is a freestanding tub?
Any bathtub that is standalone is considered a freestanding tub.  It can be located next to a wall or in the center of the room, once plumbing is available.  It is generally better suited to a larger room, which allows for greater flexibility in positioning the tub, though there are styles available for smaller bathrooms too.
2. What size tub should I get?
One size does not fit all when it comes to freestanding tubs.  Select one that is big enough to be comfortable depending on who will be using it.  At the same time, a larger tub requires more hot water, takes longer to fill, and can be very heavy depending on the material you choose.
3. Where can I position the tub?
Once you are able to position the plumbing fixtures, the tub can go almost anywhere.  You may decide to place it in a central location if your room is big enough to accommodate this layout.  This allows the tub to serve as a focal point and help define the style of your room.
You could also maximize natural sunlight by placing the tub near a window like the one pictured here.  Add privacy with blinds or even half-blinds that cover the bottom half of the window while still allowing sunlight in through the top.  Accessibility to storage may be accommodated by including a storage niche or shelves in a wall near the tub.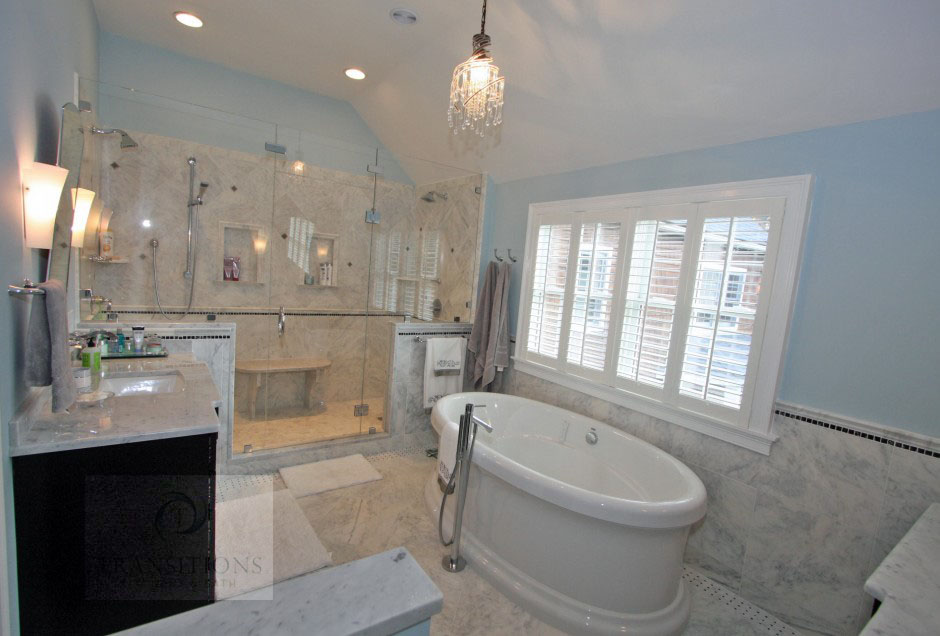 4. Which style is best for my design?
There is a freestanding tub to complement any bathroom design, but how do you find the ideal one for your home?  Tub styles are defined by a number of factors, including the shape of the tub and style of the base.  An oval, rectangular, circular, or freeform curved tub each evoke a particular mood for your bathroom.   The tub may also sit on either feet or a pedestal base, and each has its own distinct style.
5. Which faucet and plumbing works with my tub?
Finish the tub with your choice of faucet, which can emerge from the tub itself, the floor, or the wall.  Make sure your plumbing fits the faucet style or that it can be adapted.  Also, ensure the size and style of faucet suits your tub.
6. What is the best material for my tub?
Freestanding tubs are available in a wide range of materials, each with its own unique characteristics.  Ranging from copper, brass, or cast iron to enamel, fiberglass, wood, or stone, there are pros and cons associated with each material.  Beyond the look of the material, some of the key differences include cost, how well the material retains heat, how heavy it is, and ease of maintenance.
If a soak in the tub is your idea of the ultimate in relaxation, then a freestanding tub may be the ideal choice for your next bathroom remodeling project.  Find your design inspiration in our bathroom design gallery here or contact us to find out more about freestanding tubs.