Showers are more than just a place to get clean.  In today's bathroom design styles, the shower is a focal point.  It is a soothing sanctuary, a place to get inspired for the day ahead, or a retreat to wind down at the end of a long day.
Nothing beats the comfort of a refreshing shower, and the style of your shower helps to define this experience.  There are an array of choices available to meet your individual requirements.  How do you go about selecting the perfect shower for your bathroom design?  First, consider several factors that influence what type of shower is best suited to your bathroom renovation.
Size: A large bathroom affords more options for the size and shape of your shower enclosure, and the layout impacts the shape or style of the shower.  If you have a smaller bathroom you may need to either include a combination shower/bathtub or forego the tub in favor a larger shower.   More space allows you to have a larger shower or an alcove shower, perhaps in combination with a separate tub.
Household Requirements:
Requirements for a master bathroom shower differ from a guest or a child's bathroom.  Homes with small children typically require a bathtub, so do not remove your tub in favor of a large shower.  If you are planning your design around mobility issues or aging in place, an accessible shower is the best solution.  Consider the needs of your household for the foreseeable future and keep them in mind when selecting a shower style.
Personal Style: Bathroom features reflect personal taste and home style, and the shower is no exception.  The type of enclosure, the style and finish of the fixtures, and the tile design should be a fluid part of your bathroom style, whether that is contemporary, traditional, or beach style.
Consider how these factors will influence your shower design.  Then think about five design decisions you need to make when selecting your shower.
Enclosure
Shower enclosures no longer equate to a glass door framed in brass.  Once you know your available footprint think about whether you want a shower threshold or a curbless shower?   Would you prefer a frameless glass enclosure or a fully open shower?  In a shared bathroom you may want to create more privacy with an alcove shower or textured glass.
Shower Door
Doors can pivot or slide, and like the enclosure can be framed or frameless.  A sliding door is perfect where space is limited, plus it limits water dripping on the floor.  A frameless door offers a sleek look and is easier to maintain.
Fixtures
Showerheads range from a standard wall-mounted type to rainfall and handheld, and some include more than one showerhead, such as a rainfall and handheld like the bathroom design shown here.  Larger showers may accommodate body sprays with multiple showerheads on the wall or a massaging spray panel to give you the full spa experience.  Some very large showers include multiple showerheads on different controls to accommodate more than one person.
Tile
Tile is a practical consideration for a shower design as it should be easy to clean and slip resistant.  Tile also allows you to enhance the style of your bathroom by incorporating color, texture, and patterns.  Create a focal point in the shower with a mosaic tile detail or by incorporating a unique material like river rocks or sea glass, like the bathroom design shown here.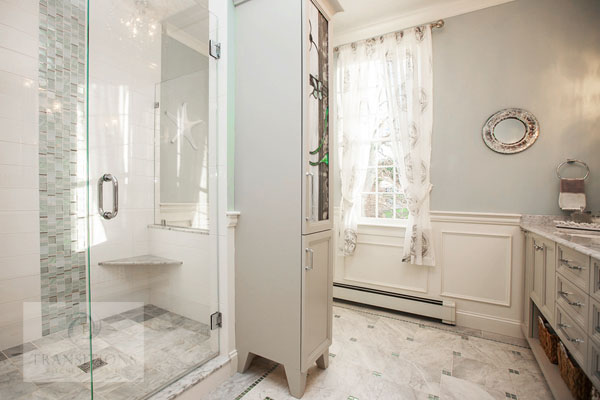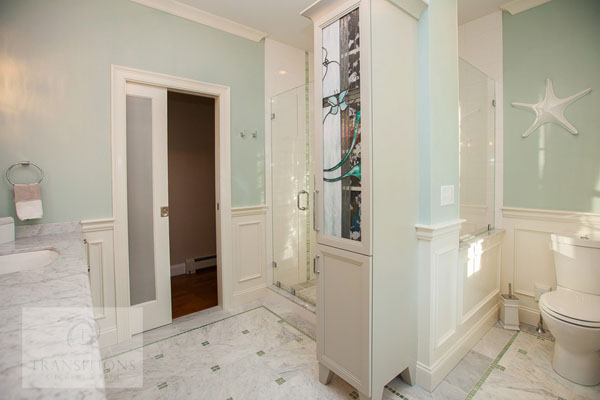 Storage!
When you think of bathroom storage, vanity cabinets probably come to mind.  Shower storage is also important, particularly for items you require to hand in the shower.  Include a corner shelf to hold toiletries, add a storage niche, or even a built in shower seat.  Remember to include hooks or towel bars within easy reach of the shower, or a radiator style towel warmer.
There are many things to consider when choosing a shower and an array of products to meet all your needs.  Take the confusion out of the process by consulting a bathroom design expert who can help you find the perfect choice for your home.  Look for more inspiring bathroom ideas in our gallery here, or contact us today for more information.Save