Choosing a countertop for your kitchen or
bath remodel
is a vital part of the design process. There are several factors to consider, from installation and material cost to durability and maintenance. Obviously, how it looks is also hugely important, as it must coordinate with your chosen style. The right choice of countertop can completely change the look of your
vanity or kitchen cabinets
, sink or island. It is a large surface in any kitchen or bathroom design, and so strongly influences your room's style.
How you use it should also be considered, as it must fit your family's lifestyle. If you are particular about the appearance of scratches or stains, then there are certain materials for you. Other types of countertops age according to use, so make sure you choose one that either remains pristine or increases in character.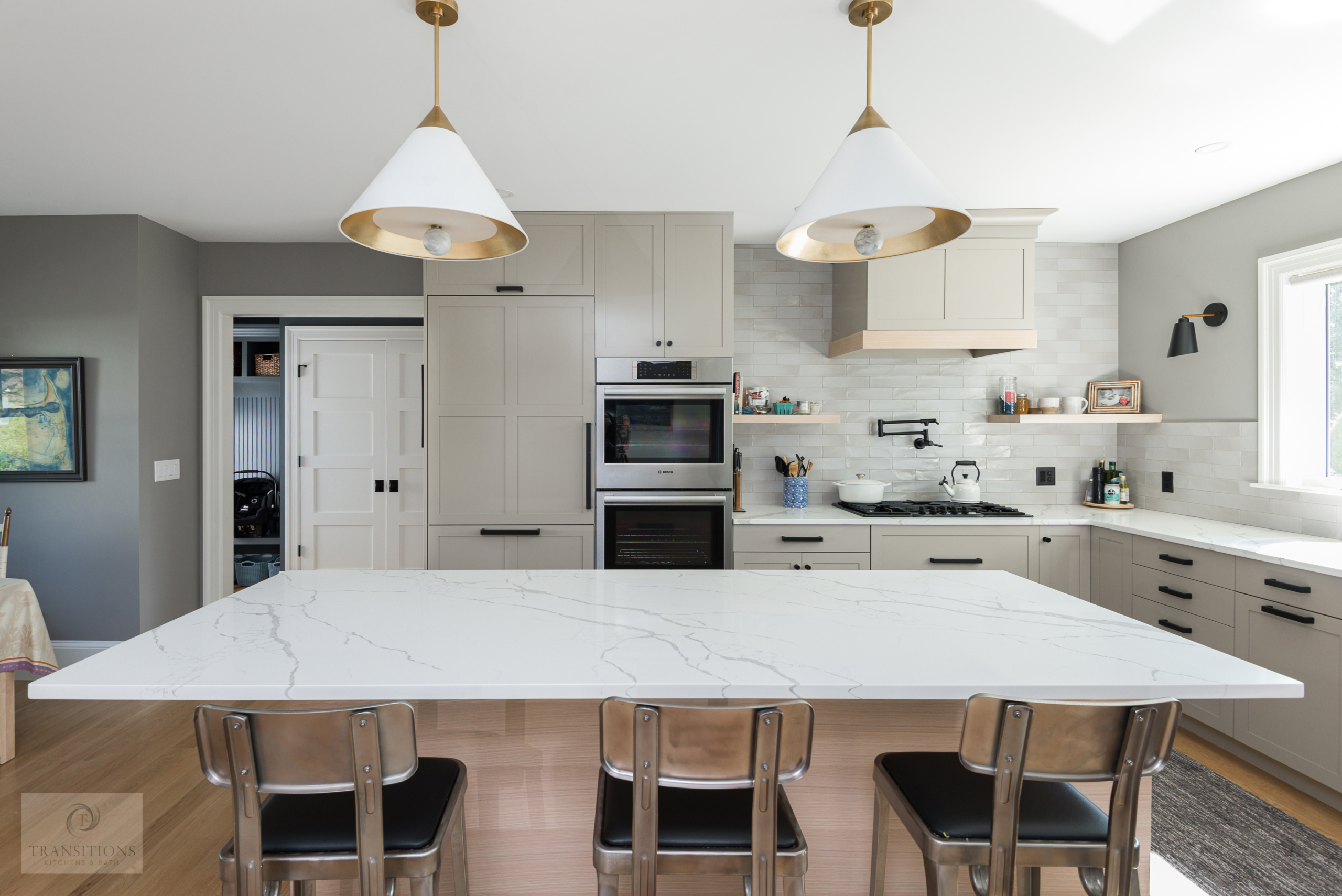 Get started with our complete guide to countertops to help you choose the perfect one for your kitchen or bath design.
What Are Your Requirements?
At the planning stage, consult with your designer about everyday requirements for your home. At Transitions Kitchens & Bath, we have many years of experience in kitchen and bath design and can guide you through the design process from start to finish to ensure you get the right countertop for your home and understand the costs upfront.
First, consider where the countertop will go, who will be using it, and how it will be used. These factors, along with your available budget, help to define which countertop material and style are right for you. If you want a vanity countertop, bear in mind that it needs to withstand moisture but doesn't have to be as durable as a kitchen countertop. If you have small children or family members with mobility issues, go with curved edges to avoid sharp corners that can cause injury. The pairing of your sink and countertop is also important. You can get a solid surface sink built into the counter seamlessly or get one undermounted, drop in, or sitting on top, like a vessel sink.
Choose a color, pattern, and material that you like and see what it looks like against your chosen cabinet material and tile. You can mix and match materials, which is a hot trend for this year. Try a section of butcher block or marble within a countertop made of another material. You could also make a feature of your island with a luxe countertop and then go more budget friendly for your perimeter countertop.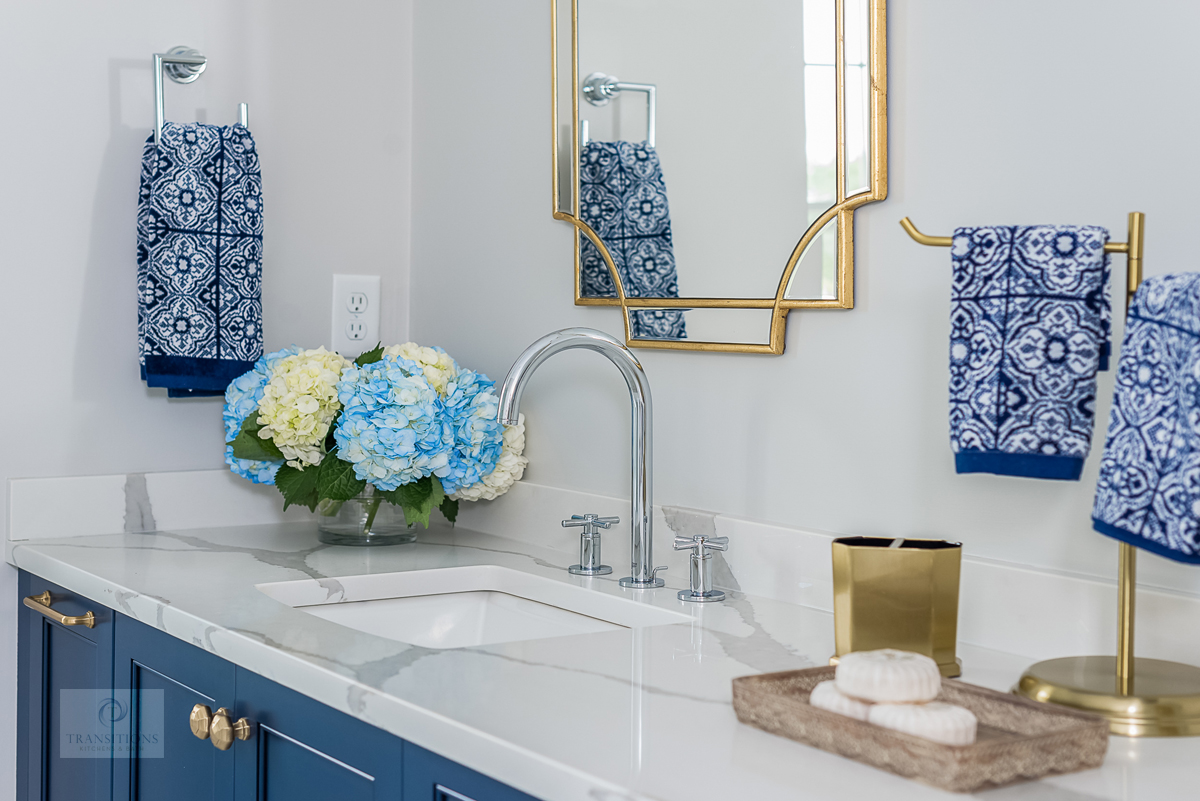 Once you clearly understand your requirements, both functional and style, it is time to select the material that fits your vision. Here is a rundown of some of the top choices in countertop materials to help you find the perfect one for your bathroom or
kitchen design
:
An engineered quartz countertop is an excellent investment for a kitchen or bathroom design. It is engineered from quartz and resin, which makes it very durable. When pigments are added to it, it has the ability to mimic materials such as granite or marble. You can get a natural stone look with this countertop material without having to worry about re-sealing it every year.
Under-mounted sinks work very well in a quartz countertop due to its water repellent qualities. It also resists scratches and moderately high heat.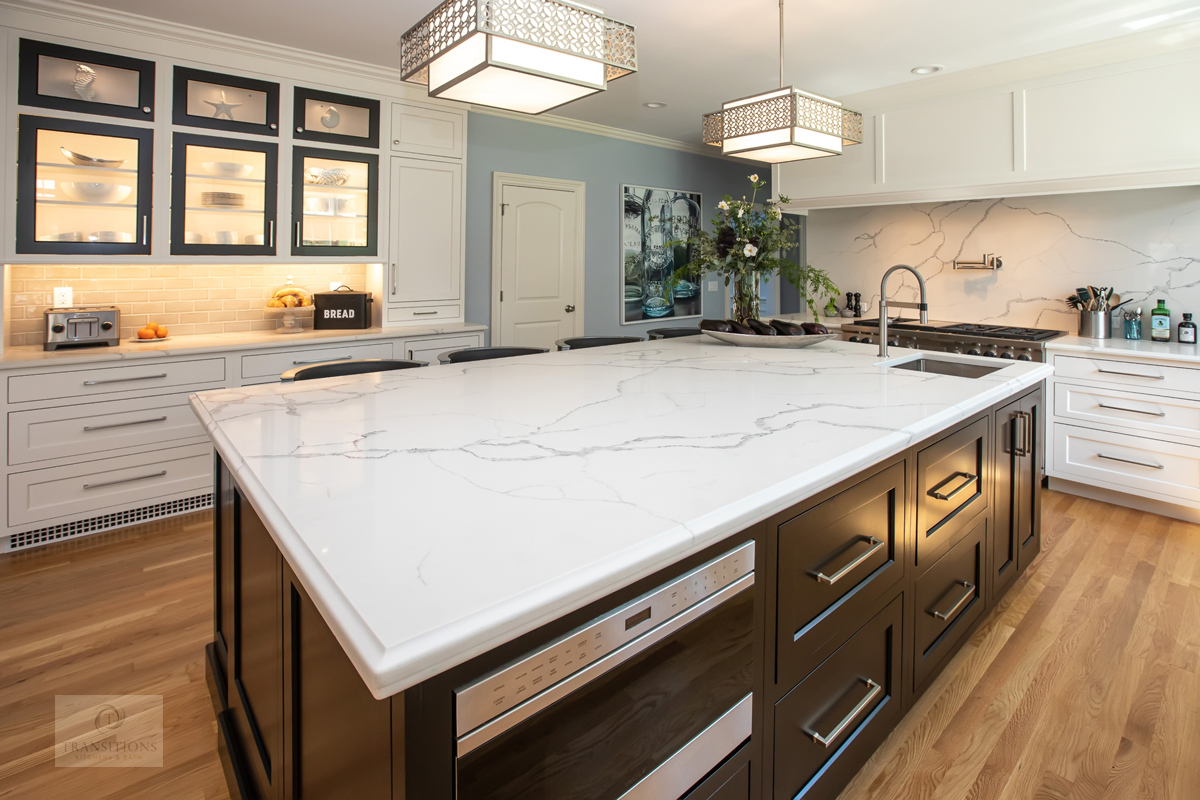 A Contemporary Countertop
A recycled glass countertop is ideal in a contemporary remodel. It is scratch and heat resistant but can chip and is not stain resistant. It can look stunning in a low-traffic area where it stands alone as a unique design feature.
This style is made by shaping glass pieces into a countertop. If they are large, then the shape of each shard is clearly visible. If they are finely ground, then this results in a solid color. The possibilities from which you can choose makes for an exciting result.
There's nothing like wood to bring warmth to a kitchen design. A butcher block countertop is made from various pieces of wood that are joined together. The countertop can be sealed or not, depending on how you use it. If it's sealed you can't prepare food directly on it, but it is stain-resistant. Treating an unsealed butcher block with oil or wax means it's safe to do food prep on but there could be marks as a result. If you decide to go for this look, then embrace the one-of-a-kind appeal of this design aesthetic. Bear in mind that moisture from a sink or dishwasher can warp wood, so design your butcher block countertop with this in mind.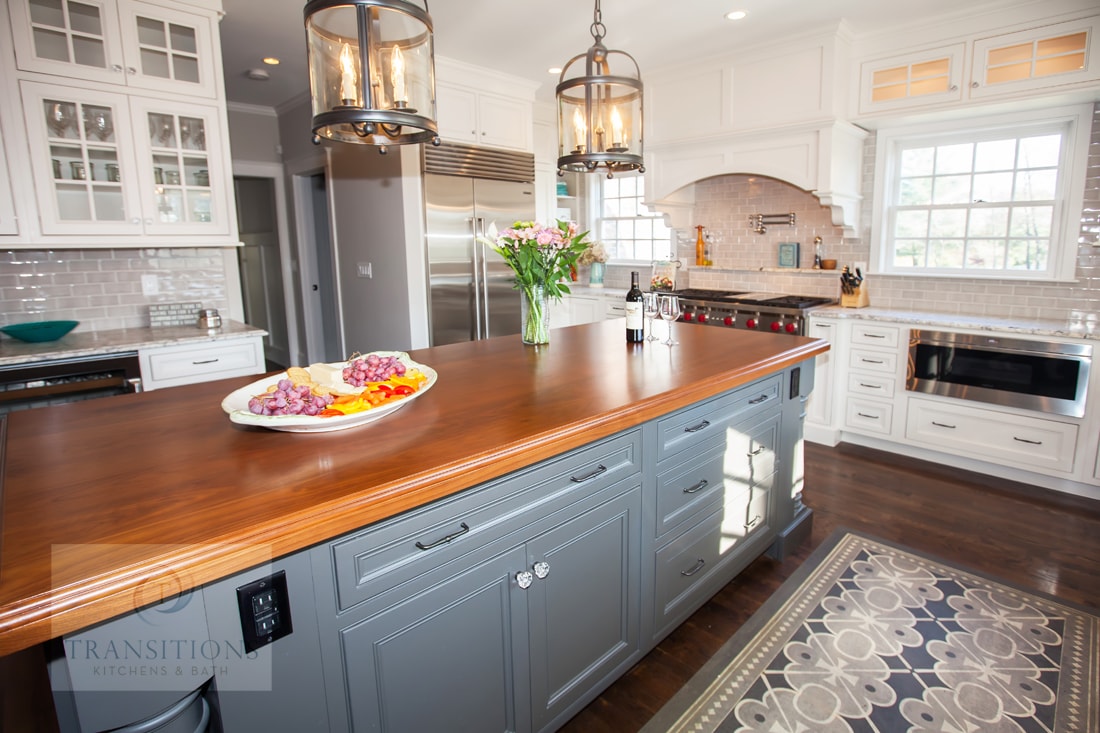 If you want a countertop in a neutral shade, look no further than limestone as a material. It is a natural stone that is patterned in shades that compliment any color scheme. Limestone is heat resistant but not durable enough to withstand many scratches, dents, or stains. It needs to be re-sealed every year as it's one of the more porous surfaces, but it is more budget-friendly than granite or marble. It brings a classic look to low-traffic parts of a kitchen or bath remodel.
For a modern twist on a material that has been around for centuries, try a terrazzo countertop. It's made from resin that has been imbued with pigment and filled with chips of materials such as natural stone, glass, or cement. The result is an exceptionally hard-wearing countertop that is heat resistant. The fragments you choose affect the price of your terrazzo countertop, while certain colors can make it appear dated. Choose wisely and you will have a countertop that's true to your style and will last for years. It's also beneficial to the environment as it doesn't release VOCs and uses recycled materials.
A Cost-Effective Countertop
Laminate has improved in quality and performance since its inception decades ago. It is an ideal solution for a countertop in a guest bathroom or rental property kitchen. Laminate is bacteria resistant but can be scratched or damaged by heat, so opt for a textured surface to hide any marks. It's made of paper or fabric that has been filled with resin and layered onto wood composite. Seams are blended together on the countertop through heat processing. Explore the stylish laminate options available as they might be sufficient for your project.
Gray is a great base for cooler toned color schemes, particularly in the popular gray quartz countertops, or even white with gray veining. Soapstone is another distinctive option that comes in various grays but does tend toward the darker end of the gray scale.  Soapstone has natural veining throughout, and it needs to be oiled to keep its color as it is non-porous. It lasts for years and accumulates a beautiful antique patina as it ages. Due to its talc content, it's softer than other natural stone countertops so it's harder to chip or crack and is heat and bacteria resistant. Soapstone can be stained and scratched but if you go for soapstone, embrace it and consider these as part of its unique character.
Modern kitchen and bathroom design has embraced stainless steel countertops. They are a stylish and highly functional choice as they are heat and bacteria resistant, but stainless countertops are also expensive. They're easy to maintain as any dents or scratches merely add to their utilitarian style. Stainless countertops are seamless and generally incorporate a sink, so can be expensive to install. Their durability will serve you well though. Why not coordinate with other stainless-steel elements such as shelving, hardware or appliances to make your kitchen or bath remodel an oasis of industrial design?
Piece Together a Stylish Look
There are a wide range of tiles to choose from if you'd like to go for a truly unique countertop surface. Pick up on an accent elsewhere in your bathroom or kitchen design for a unified look. As with walls and flooring, larger tile formats are popular this year. This makes a tile countertop easier to maintain, especially with darker grout. Tiles come in a huge range of materials, including ceramic and natural stone, all with varying degrees of durability, cost and maintenance. While tiles can chip, one advantage is that you can easily replace a damaged tile without affecting the whole countertop. Since this is a high moisture and spill-prone zone, any grout lines must be re-sealed regularly. Consider continuing your countertop into your backsplash or going with the mixing trend and customizing assorted tiles alongside each other.
Marble is the ultimate choice for a luxury countertop in your kitchen or bath design. It elevates your cabinetry, island, or vanity for a high-end feel throughout your remodel. Slabs of marble are expensive, but they come in various colors with natural veining that is unique to each piece. Its cold surface is perfect for making dough or other baking requirements. If you want a marble surface for this reason, then consider placing a section within your countertop to create a baking zone. Pair it with customized storage for baking supplies, such as a mixer lift.  As a natural material, marble must be sealed to avoid being stained. Since it is prone to stains, it may not be the ideal choice for a busy household with kids. It is very durable but it's advisable to use a cutting board to avoid scratches.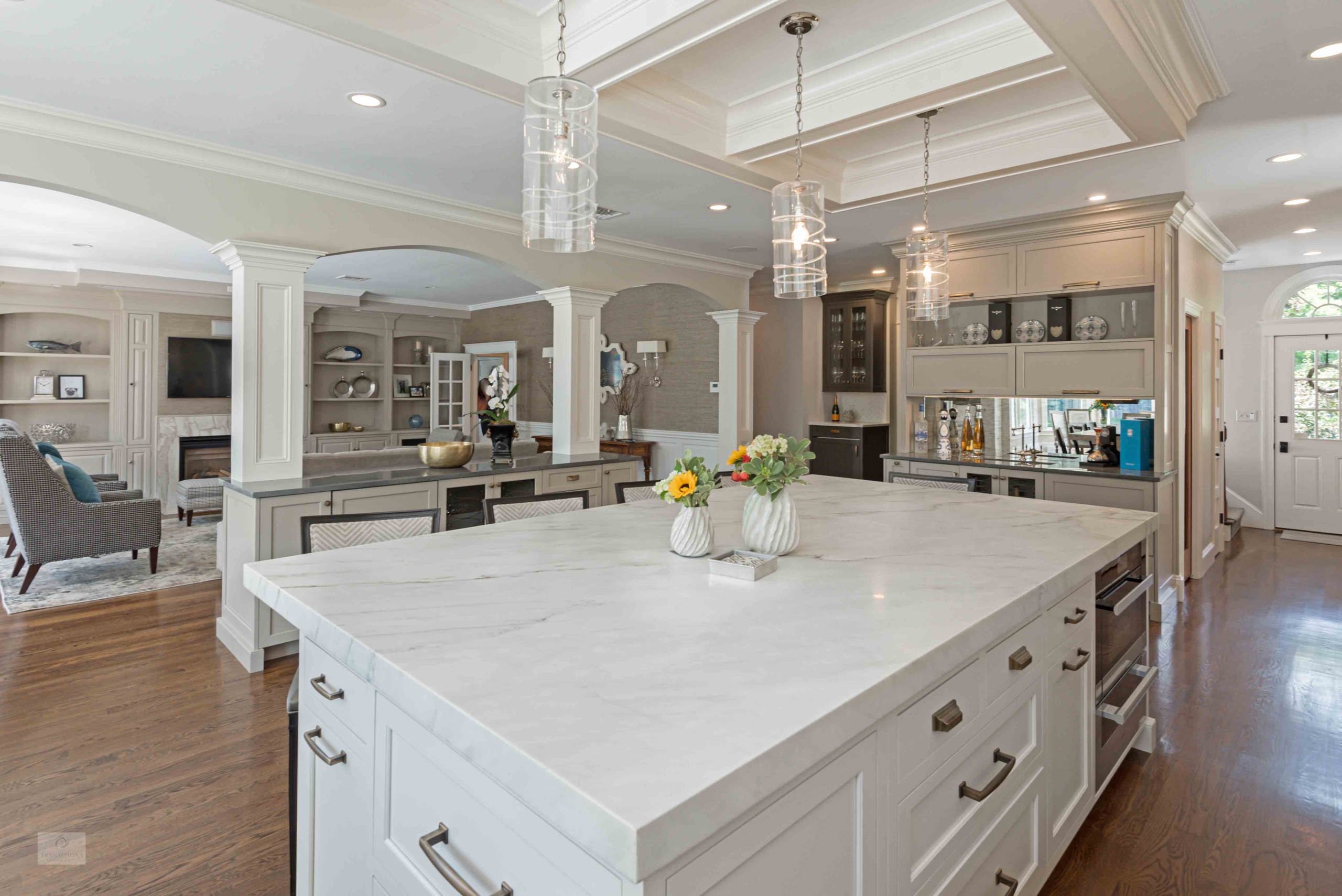 Solid Surface countertops are customized to your requirements and can incorporate a sink and backsplash for a stylish, streamlined look. Ideal for those on a budget, they give you the opportunity of investing more in your cabinetry without compromising on style. Since they cover a lot of surface area at a more reasonable price point, they are perfect for larger bath or kitchen designs. Solid surface is comprised of mineral fillers and acrylic resin along with other materials such as concrete or stone. Solid surface countertops aren't scratch proof, but they do resist stains and withstand moderate heat.
If you're looking for a classic option with impeccable durability, then consider granite for high-traffic areas. Granite needs to be sealed but is heat resistant and so hard-wearing that it blunts knives. Using cutting boards is recommended for this reason. Undermount sinks work well with granite countertops, and you can choose from a wide range of countertop edges to suit the style of your kitchen or bath remodel. Granite also comes in a selection of colors and pattern variations. While other materials have become more popular in recent years, granite is a classic, high-end choice that will always be in style.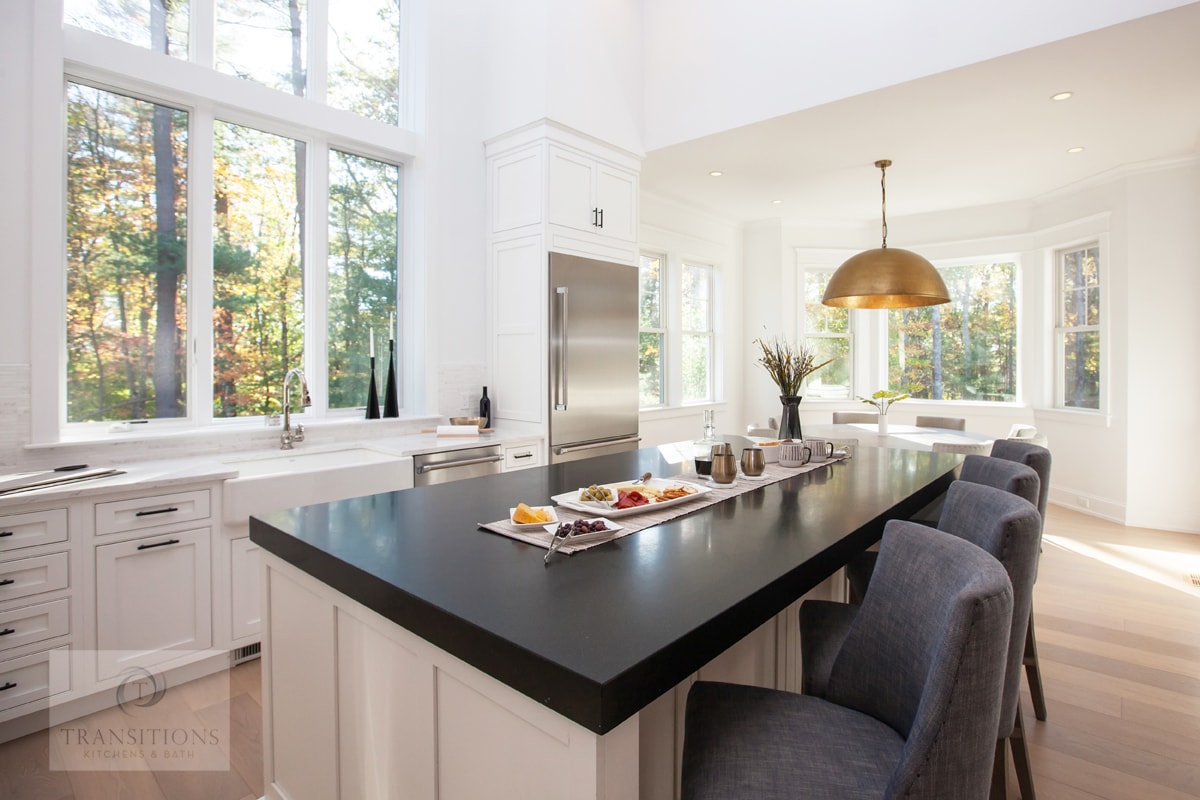 Concrete countertops are a daring, but stylish choice. They are expensive, since they must be cast on site, but they are durable and modern. Adding a concrete countertop to a traditional kitchen or bath design instantly makes it contemporary. As with concrete flooring, they can crack, scratch, and chip, but the good news is that this is easily repairable. You can prevent stains with a topical seal and resist heat with a penetrative seal. The choice is up to you and depends on your priorities.
At Transitions Kitchens & Bath, we can advise you on a countertop to suit your kitchen or bath remodel. Contact us today to meet with a kitchen and bathroom design expert to kick start your remodeling plans and see our wide range of countertop choices to enhance your room's style and functionality.