Showerheads, tubs, toilets, sinks, and faucets are essential components of
kitchen and bath design
. Just because they are functional elements does not mean they cannot also be aesthetic. It is important to select plumbing fixtures that you love and work well with the rest of your bathroom or kitchen remodel. After you have eliminated what is outside your budget there is still a wide range of fixtures to choose from. Once they complement your kitchen or bath's style and enhance your room's functionality, they can transform your newly remodeled space.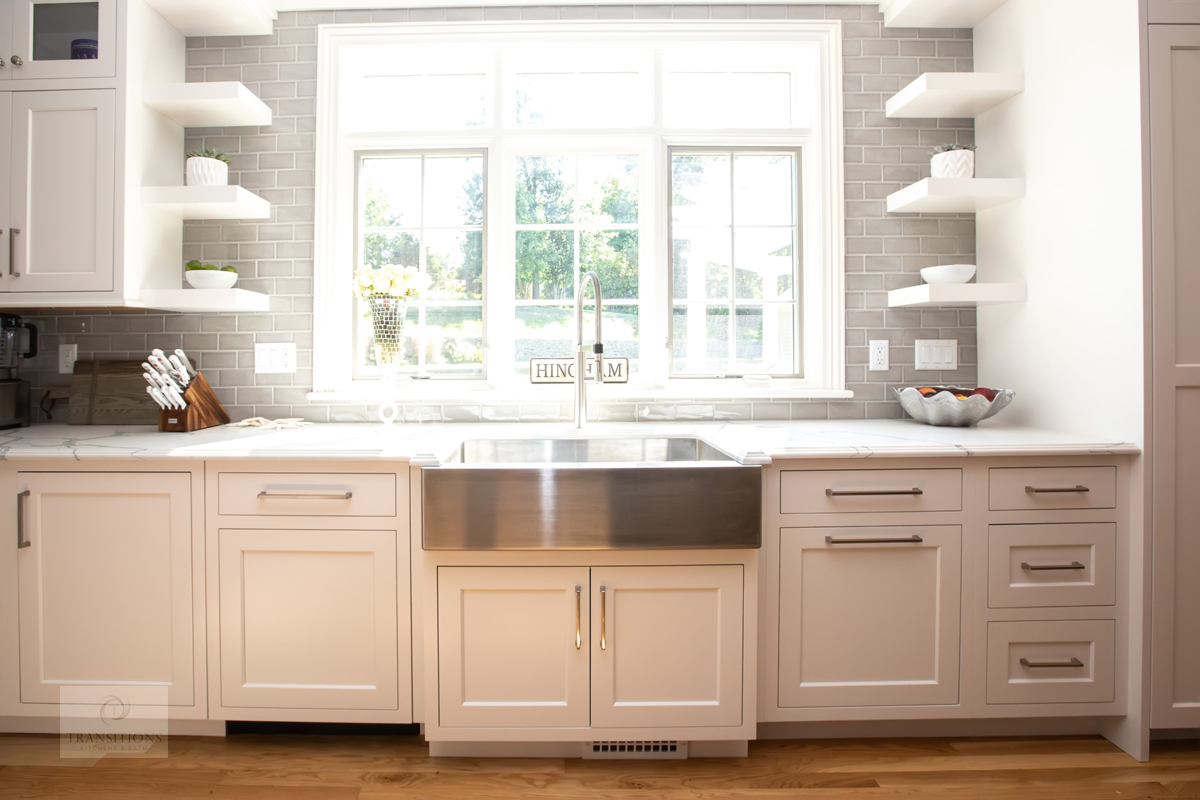 How do you start in selecting the right fixtures for your home remodel? Find out more in our guide to plumbing fixtures for kitchen and
bathroom design
.
Your Unique Requirements
Everyone's situation is different, so what you admire in an interior design magazine might not necessarily suit your requirements. It is an important first step to look at your individual requirements for your home and family.
Are you happy with the style of plumbing fixtures you have or is it time for a change? Maybe you like the shape of your faucet or sink but want to upgrade the material to something in oil-rubbed bronze or natural stone. If you have a family, how long will they be living at home and what is the age profile of your household? Should you think about universal bath design to cover all eventualities as you age?
A busy couple with small children has different requirements and might consider double sinks or showers as a luxurious, but time saving option for a bath design. Families with very small children typically want to maintain a bathtub in at least one bathroom, so a hall bath design with an alcove tub is a smart idea as it is easier to lift kids in and out of this style of bath. Similarly, look at kitchen faucet styles that fit your home's age profile, with touch free or single-handled faucets easier to operate and maintain. Whether you want a complete change or just small adjustments to your style of plumbing fixtures, assess what you need before finalizing your bath design.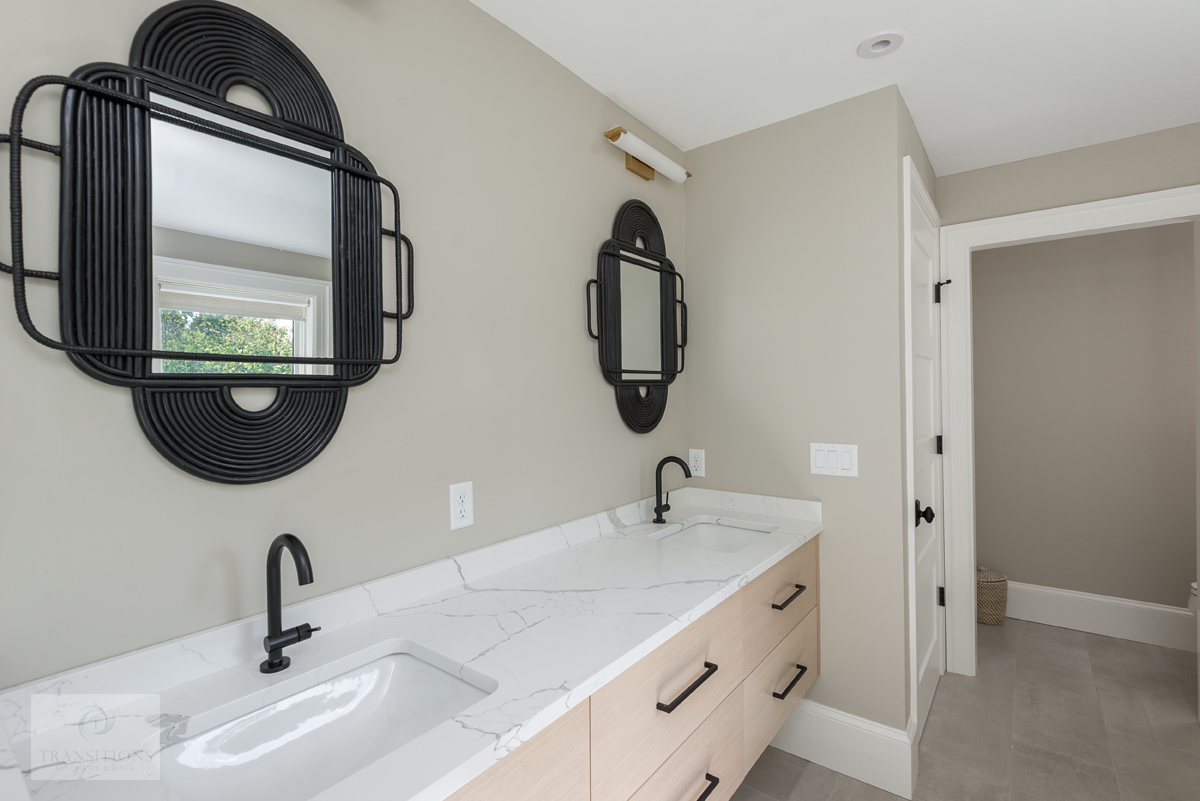 Get Help
If you decide to install your own plumbing fixtures, you could be taking a substantial risk. It is worth getting a design expert on board to take care of your kitchen or bathroom remodeling project. If you buy fixtures online, they might be from an unreputable source, and you will have to deal with the consequences if you install fixtures of inferior quality. You also need to be familiar with code compliance and know exactly what you are doing during an installation, or your house could be damaged. A bathroom or kitchen design expert lets you relax while they look after your remodel, avoiding potential headaches and advising you every step of the way. At Transitions Kitchens and Bath, we can guide you with our full range of services from design to product selection to installation.
The Fun Part
Once you have sorted out the practical necessities, it's time to look at styles for your design. Then you can narrow down plumbing fixtures to options that would enhance your kitchen or bathroom design and improve your lifestyle. You can choose fixtures that are the same style as your overall look, so everything matches (including mirror frames and light fixtures) or go for ones that are a complementary style. They should also be functional and tie in together to make your final kitchen or bathroom remodel polished and well-thought out.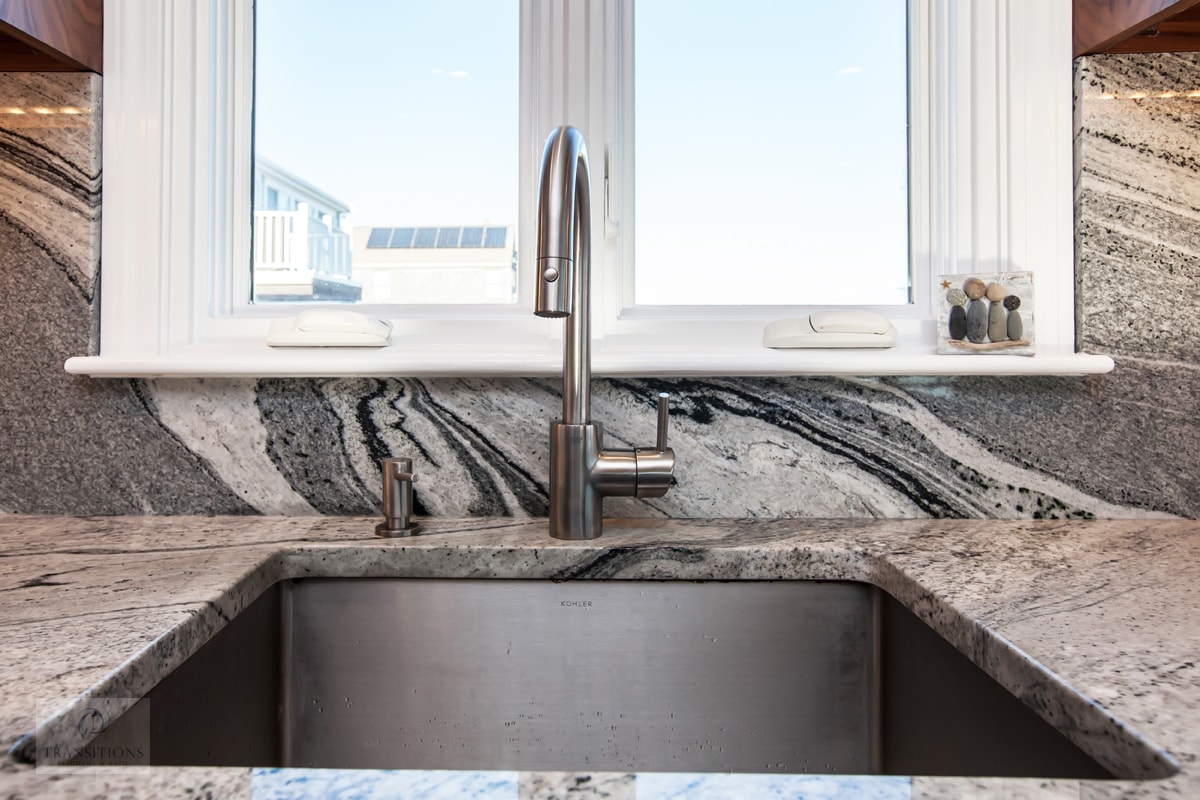 Sinks for Bath Designs
Bathroom sinks range from basic models to pieces verging on art. Spa-style bath designs are so minimalistic that the focus is on materials used, so invest in high quality materials for this look. A countertop vessel sink in sleek, natural materials will work well here. If you are going for another style, such as vintage or industrial, there are many fashion-forward materials and finishes for your sink. Glass or hammered copper make beautiful vessel sinks and look especially dramatic on a live-edge wood countertop. Natural stone and concrete are also quality materials for any style sink. Undermount sinks work in most remodels and suit any budget in stainless steel, enamel, or porcelain.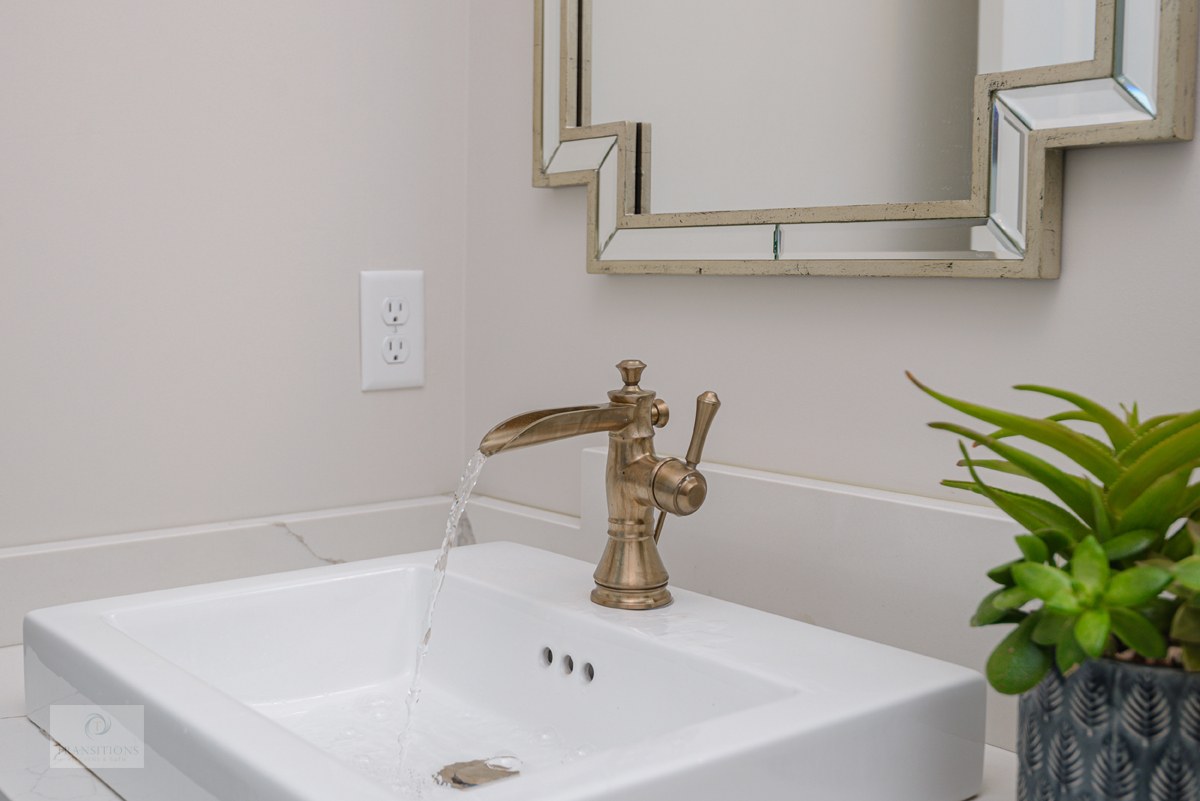 Faucets for Bathroom Sinks
If you go for a budget sink, you can always dress it up with a trendy or sophisticated faucet. The internal workings of a faucet are going to be better quality if you invest more, which means they will perform better and last longer. A current look is to mix and match styles and finishes. You could put a matte finish on an antique style faucet, for example, or a highly polished finish on a rustic style fixture. Ensure your faucets complement your vanity cabinet hardware to keep within the tone of the bathroom remodel. Brushed finishes are always a clever idea to hide fingerprints and water marks. Be sure to match up your sink and faucet style, including the number of holes your sink can accommodate and the style and size of faucet and sink. For example, a vessel sink may require a taller faucet or even a wall-mounted model.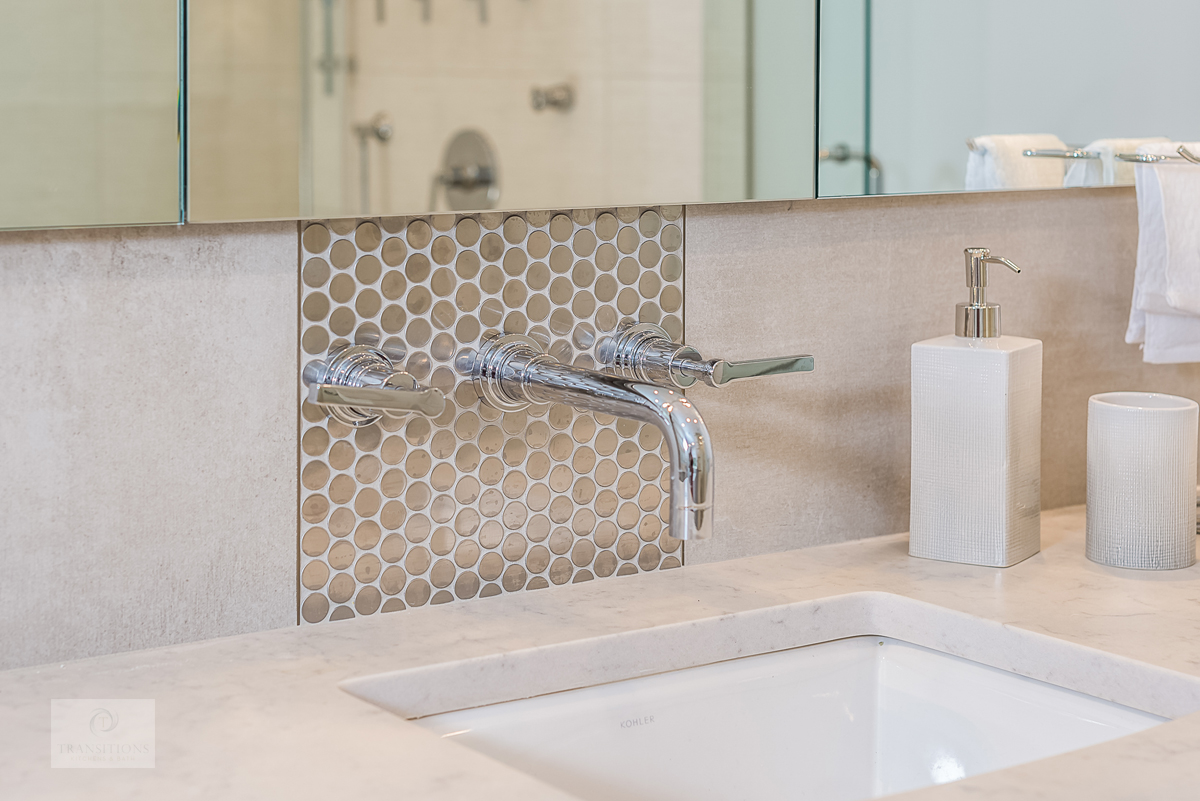 Tubs for Bath Designs
Tubs are easier to decide on as not all will physically fit in the space you have. Alcove, drop in and corner tubs have specific space and location requirements and must be measured accordingly to find a model that fits your bathroom design footprint. Freestanding tubs and garden tubs can go in whatever part of the design they will suit best, but make sure you have enough room to accommodate your chosen model so the final bathroom layout does not feel crowded.
Clawfoot tubs are a classic option that give your bathroom old world charm, but sleeker flat-bottomed tubs are the top choice in today's bathrooms. They work well in spa-style bath designs and come in smaller sizes that need less hot water, which is good for the environment and your pocket. Garden tubs are large fixtures that are lowered into a spacious bathroom floor.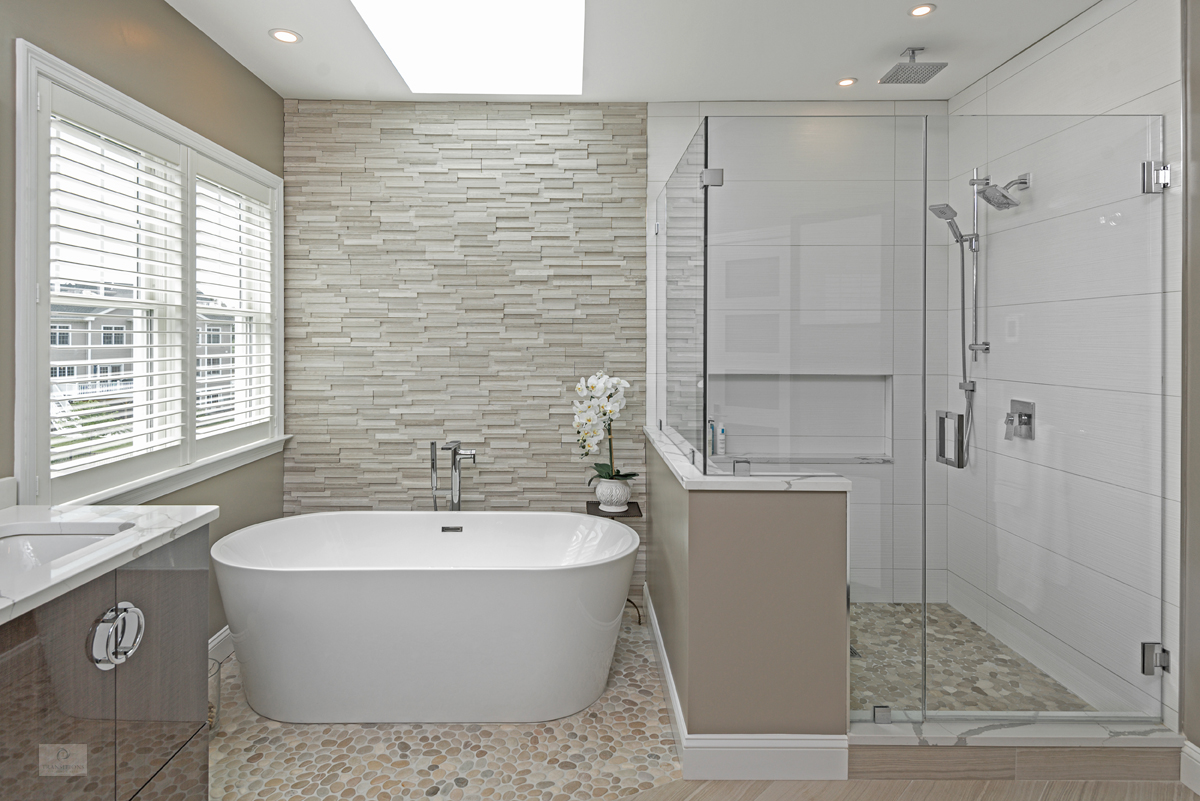 Whatever your tub style you will need a suitable material. Cast polymers are available in most colors and can mimic marble or granite but they can crack. Plastic is a budget option that is functional, but if you are looking for more durability then enameled cast iron or steel are a better, but heavy choice. A strong alternative are proprietary composites that are made to last and relatively lightweight. Bespoke and high-end tubs can come in such materials as hardwood, natural stone, or copper. Adding hydro-massage jets or whirlpools to your tub is also an option that instantly upgrades your bath remodel.
Fillers for Bathtubs
Tub fillers are larger faucets specifically for bathtubs. They have an internal mechanism to increase the flow of water to ensure the tub fills quickly so you are not sitting in a cold bath. The filler needs to be in a position that ensures water hits the tub at the right angle and the filler is easily reachable whether you are in the bath or not. To keep your bath remodeling budget to a minimum, keep the tub filler where there is existing plumbing as moving plumbing always comes with an extra cost. Wall or deck-mounted fillers are perfect for alcove or drop-in tubs, or a freestanding tub located next to a wall. A freestanding or garden tub works best with a floor-mounted filler. Choose a material and finish to complement the rest of your hardware and plumbing fixtures.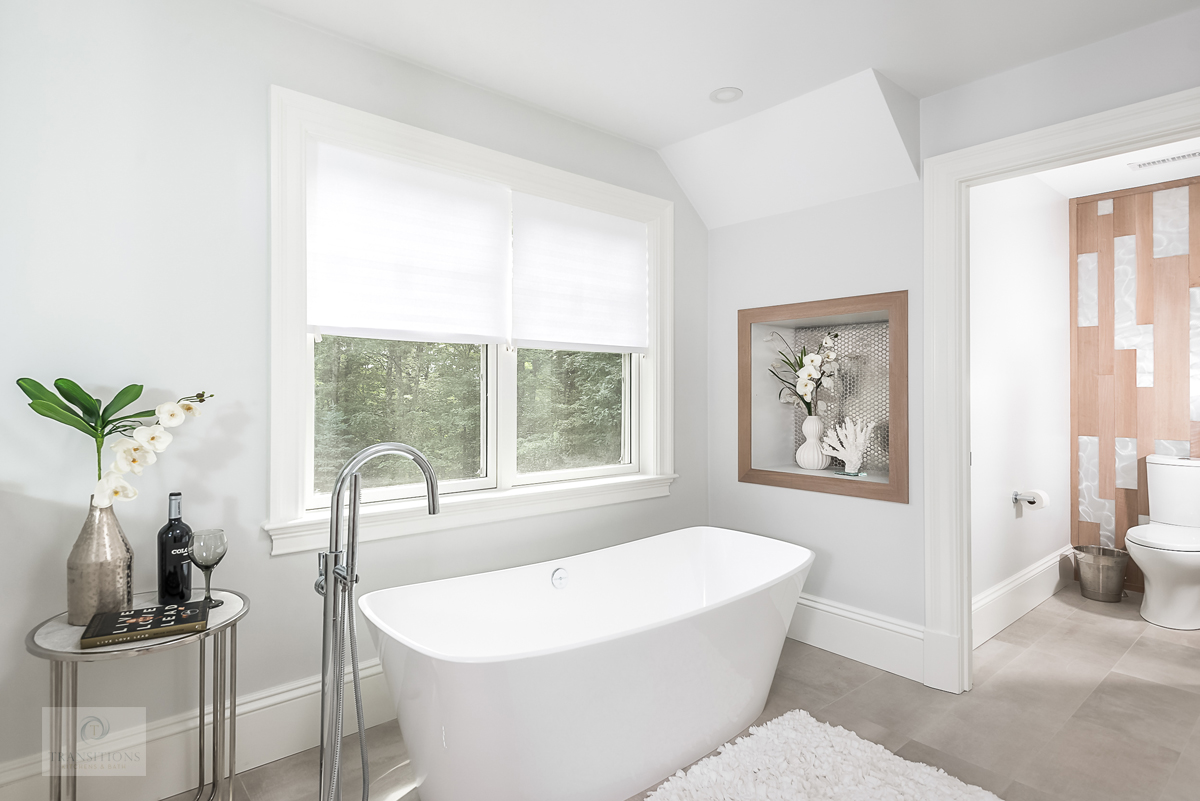 Showers for Bath Designs
As with faucets, the internal components in showerheads are better depending on how much it costs. A basic showerhead is fixed and with a single head. The most common showerhead material is chrome. You can also choose a brass or gold showerhead to amp up a white bath design or go sleek with matte black or quirky with colorful exteriors.
If you want to install a shower head suitable for an aging-in-place or universal bath design, then go for removable or height adjustable handheld shower heads. These are also invaluable for cleaning down the enclosure and surrounding glass. Double shower heads are ideal for busy couples, and they give bath designs with an extra-large shower a luxurious feel. Other high-end features include spray jets and waterfall shower heads or technological touches such as voice-controlled water temperature. If you install a shower head in a tub/shower combination it can still be as impressive as an enclosed shower if you choose the right fixtures.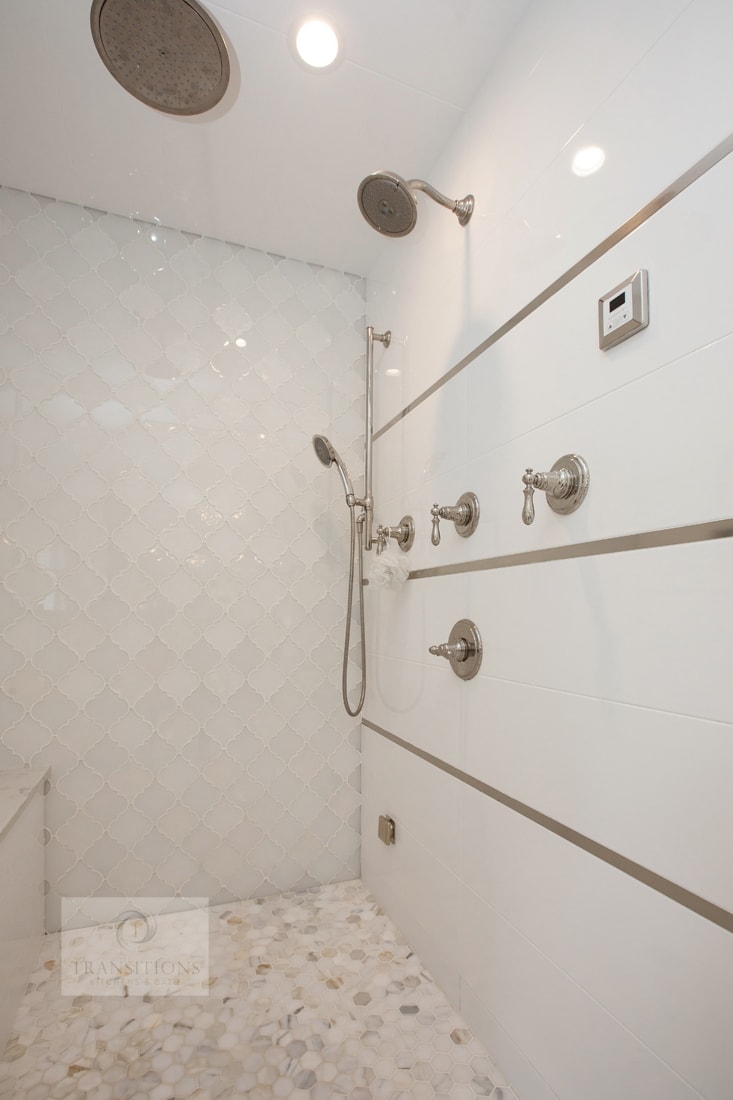 Toilets for Bath Designs
Toilets are a basic necessity in any bathroom design, but they can be as high-end as you can afford. App-controlled spray jets can be set to temperatures and pressures for different users. Self-cleaning and noise-masking technology are options along with built-in speakers and lights for night-time guidance. Two-piece toilets have a separate tank and bowl that are joined together. One-piece toilets are more expensive and come in one streamlined unit, which is stylish but also easier to clean. Sleek bath designs would benefit from a style such as a wall-mounted toilet where the tank is concealed within the wall. Toilets, while all serving the same purpose, can look completely different and make a huge impact on your chosen bath design style.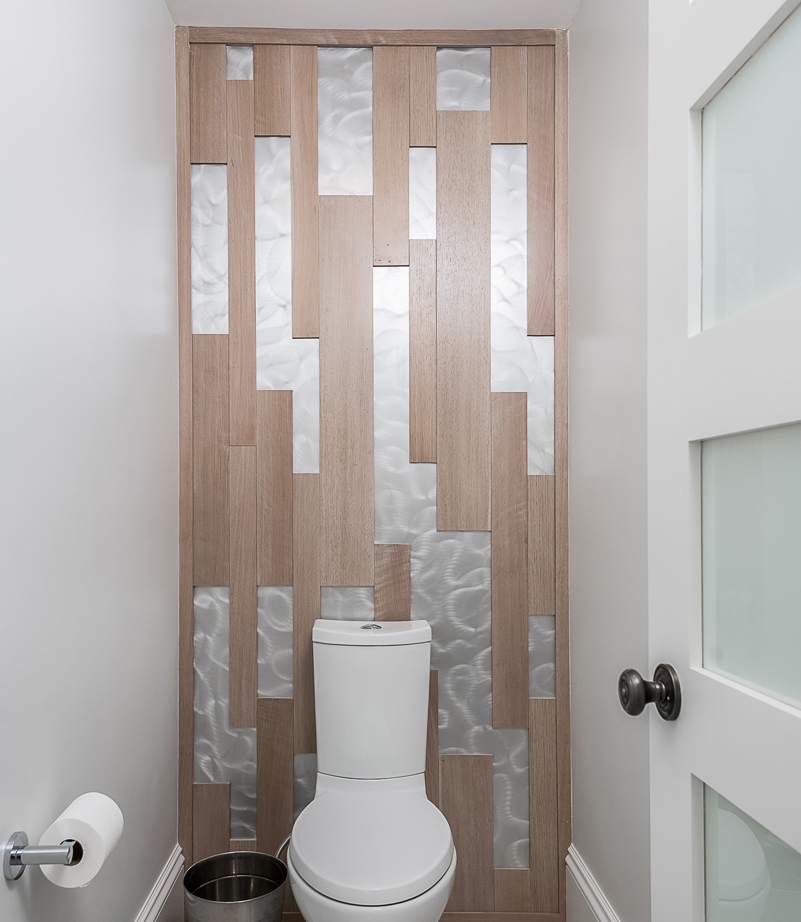 Sinks for Kitchen Designs
There is a wide variety of options for the all-important kitchen sink, but you should spend as much as your budget allows. It's such a workhorse in your kitchen design that you need it to be durable as well as stylish. The standard kitchen sink is made from stainless steel and comes as either a top or undermount model, or even an apron front model for an updated farmhouse sink. Cast iron and enamel are durable sinks that perform well in both form and function. A workstation sink is the ultimate solution as it is a modern culinary system that comes with built in accessories such as cutting boards, racks, and colanders. Decide on a configuration, materials and style for a workstation sink to suit your individual kitchen design needs. Then you can prepare, cook, serve, entertain, and clean in one convenient place.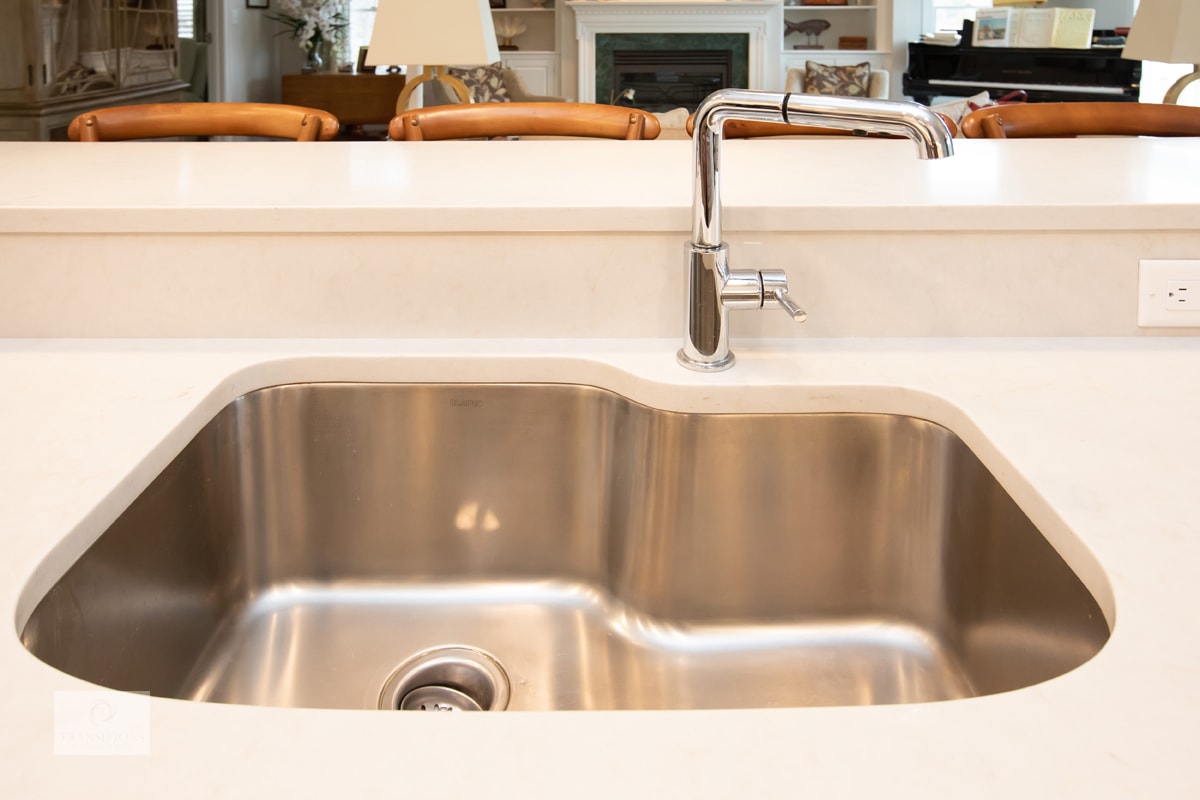 Faucets for Kitchen Sinks
At the most basic level, kitchen faucets deliver water to your sink but the more features they have, the less you must do. From filtering drinking water to efficiently cleaning every corner of your sink, your faucet can do more than ever before. At the most basic level, a standard chrome faucet turns water on and off and manually controls flow and temperature. You can add a touch or motion sensor or pull-down spray wand for extra efficiency. Why not install a faucet that can produce boiling or carbonated water for handy food prep and refreshment?
As with bathroom faucets, the more you spend, the better the internal workings are. Choose a faucet that complements the style of your kitchen design. Patina-ed brass, black matte and rose gold are some trending options, but chrome is always a classic choice. The finish you choose, while stylish, should also be easy to clean and hide water spots and fingerprints in a busy kitchen design, especially with young children around. Plumbing fixtures can be high maintenance unless you plan for a style and finish that is easy to keep clean.