Accessible Bathroom Design Ideas for Your Norwell, MA Area Home
A bathroom remodel is the perfect time to update both the functional and style elements of your space.  This could include a new color scheme, fresh tile, updated cabinetry and storage, and a larger shower.  Depending on your available space and budget, a new bathroom design is the prime opportunity to realize your vision for your master bathroom, hall bath, or powder room.  Your requirements may differ depending on the needs of those living in your home.  If you plan to age in place in your current home, or if anyone in your home has limited mobility, then a bathroom designed for accessibility may be the right choice for you.  Accessibility also does not mean that you must sacrifice style, as these changes can be seamlessly incorporated into any style bathroom design.
From the floor to the ceiling, here are our ideas for creating a stylish and functional accessible bathroom design.
1. Floors and Doors
Consider installing a full bathroom on your first floor, meaning you do not have to worry about going up and down stairs.  Check that all bathroom doorways are wide enough for easy access, particularly if you will be using a wheelchair or walker.  Make sure your door swings fully open and will not impede access and consider a handle instead of a knob on the door as they are easier to use when mobility is limited.  Within the bathroom, allow ample space to maneuver and access all essential elements of your bathroom design.
Your bathroom floor should be clear and easy to navigate.  Ample storage will help you maintain a clutter free floor, and limiting rugs and mats means you won't trip or get caught on them.  The bathroom floor can be treacherous due to the high level of moisture, so opt for a surface with some texture rather than a polished, smooth material. A bathroom remodeling professional can help you find the ideal choice.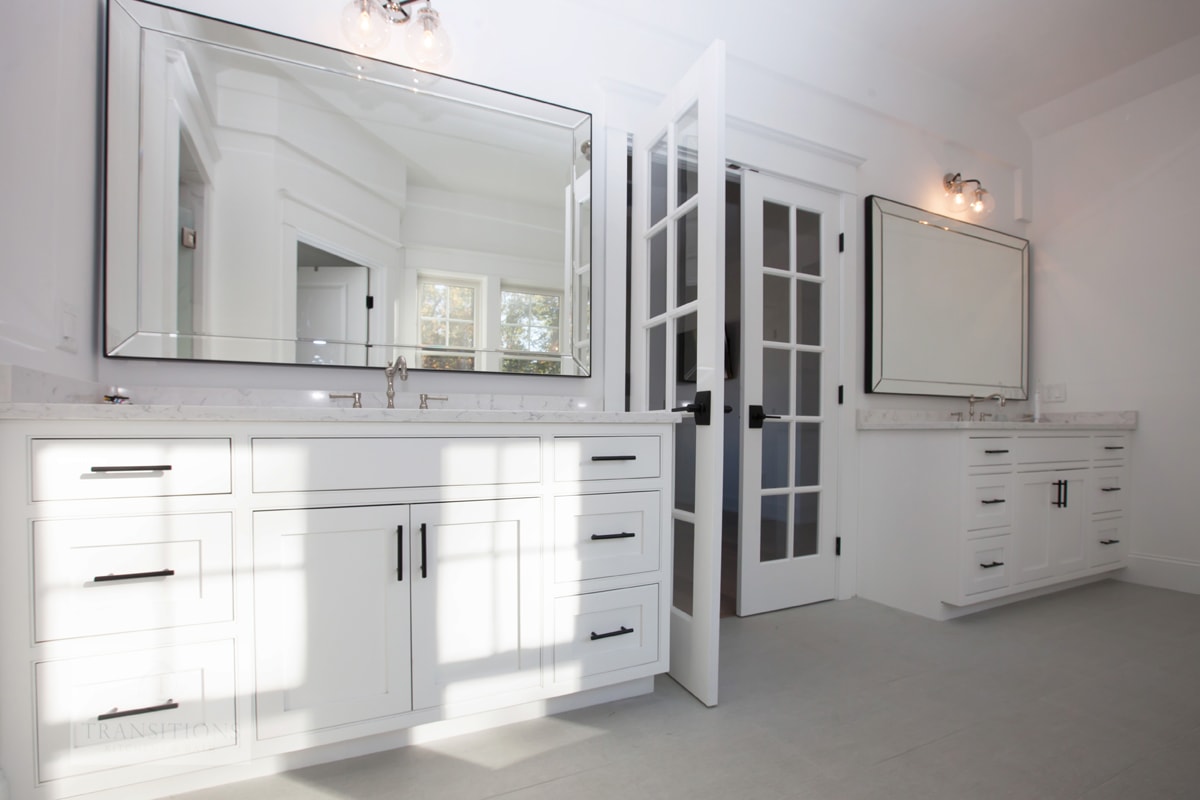 2. Vanity and Storage
Drawers or pull out shelves are a better choice for your bathroom storage, as they allow you to more easily view and access everything.  Customized storage inserts mean you can keep everything you need organized and ready for use.  This is a good idea for any home, but especially important when planning for aging in place.
3. Sinks and Faucets
Create a wheelchair accessible space by installing a slightly lower sink with no cabinet underneath and pay special attention to the placement of pipes.  If you are not planning for a wheelchair then just be aware of your sink height and opt for one that is easy to reach and clean.  An undermount sink meets both requirements, while a vessel sink may not be ideal. A single lever faucet is the best choice as it is easier to operate, or better yet go for a handsfree faucet.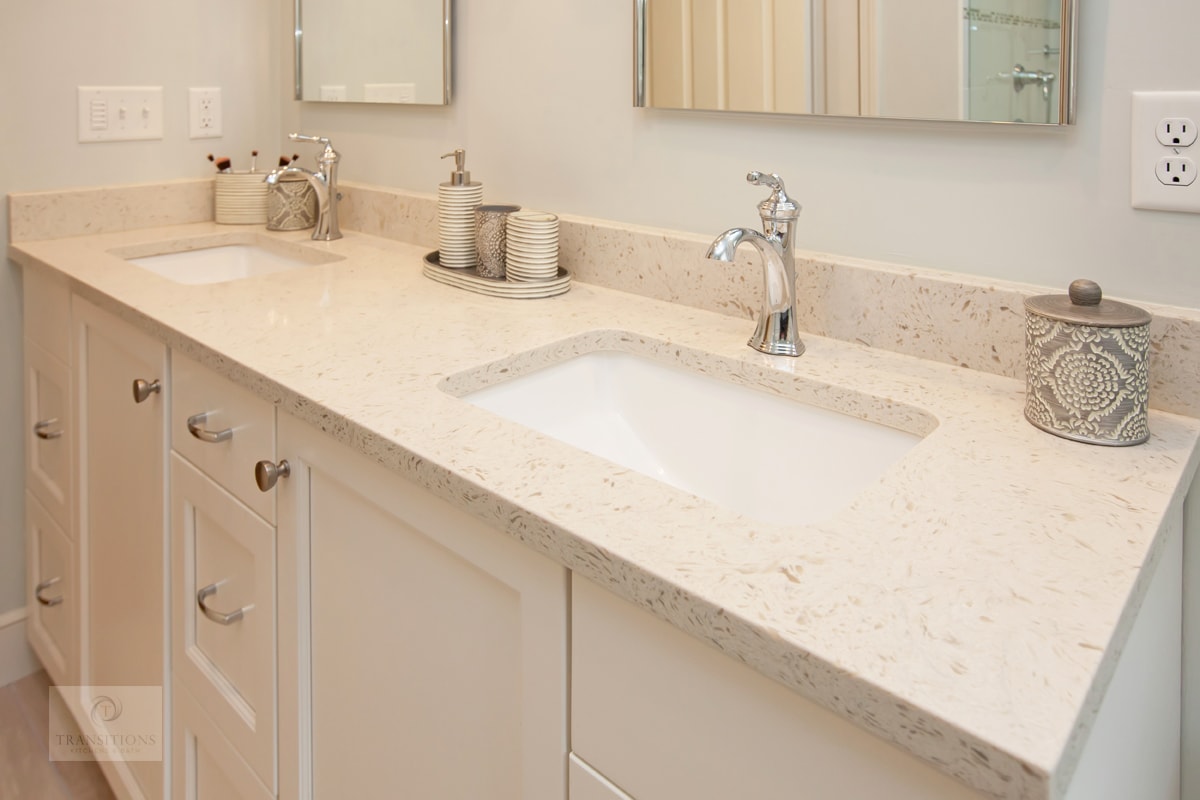 4. Toilet
While a standard toilet sits about 14-15 inches high, comfort height toilets are slightly higher at about 17-19 inches.   This makes it easier for an adult to sit down and stand up, as it is closer to the height of a chair.  Add grab bars near the toilet to help you steady yourself when sitting and standing. It is a perfect choice for accessibility but be aware it may be a bit high for young children so keep a step stool handy.
5. Shower, Baths, and Grab Bars
Stepping in and out of a bathtub is not ideal if you have limited mobility, but if you still want to have the option of a bath make sure you have grab bars or install a walk-in bathtub.  The ideal choice for accessibility is a curbless or fully open shower, which allows you to get in and out of the shower without risk of tripping and while using a mobility aid.  Add a built-in shower bench or include a rolling shower seat so you have a place to sit while washing and include a handheld showerhead to make washing easier.  Include grab bars in the shower too so you can hold on while moving around in the shower.  Grab bars can be easily incorporated into your bathroom design style by selecting a shape and finish that complements your bathroom hardware and accessories. Make sure your shower floor is slip-resistant and that all toiletries and towels are within easy reach when you need them.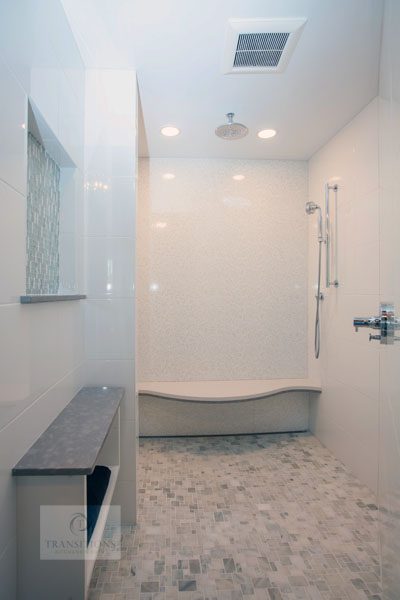 6. Lighting
Ample lighting is key to moving safely around the bathroom, so you can see where you are going and see yourself easily while getting ready.   Consider including a large mirror positioned where you can easily see yourself while using the sink.  Make sure light switches are positioned where you can access them without any difficulty.  Include toe kick or undercabinet lights that can be left on, or install sensor lighting that comes on automatically, to make accessing the bathroom at night safer.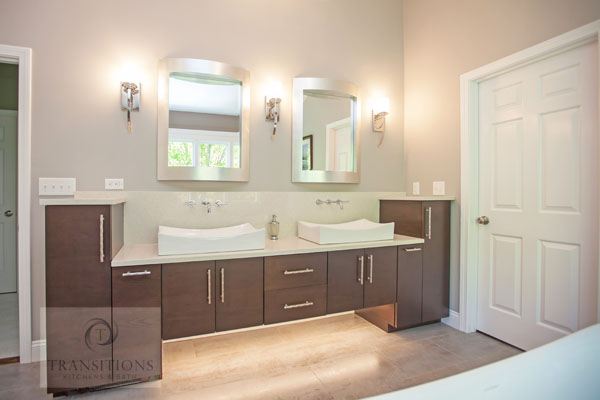 Your bathroom design should be created to suit your individual needs, and those requirements may change over the years.  If you are considering a bathroom remodel for aging in place or any mobility concerns, work with an experienced bathroom design professional who can help you find the perfect products and layout to suit your needs.  Find more
bathroom design inspiration in our gallery
or
contact us to get started
on your new bathroom.