If you are planning on remodeling your bathroom, there are a few key elements to consider. The vanity countertop is one that deserves some thought as the material, color and style all influence the overall feel of the room and therefore affects your bathroom design. Here is a rundown of countertops to consider.
First consider the style of your countertop, which is based on the style of sink you plan to incorporate:
A Vessel top is a very on-trend option, where a vessel sink sits on top of your countertop. There might be a drainage hole already cut, otherwise you could decide where you'd like it to be depending on where you want to position the sink.
An integrated top means the sink is molded into the countertop. The lack of a raised rim on the sink increases counter space. The backsplash can also be fused into the countertop to give a sleek, modern look. Bear in mind that the whole countertop will have to be replaced if you need a new sink.
A Cut-Out top includes a hole for a sink of your choice, so there's more variety available than with integrated tops.  Self-rimming sinks rest on the opening and undermounted versions are attached underneath the countertop.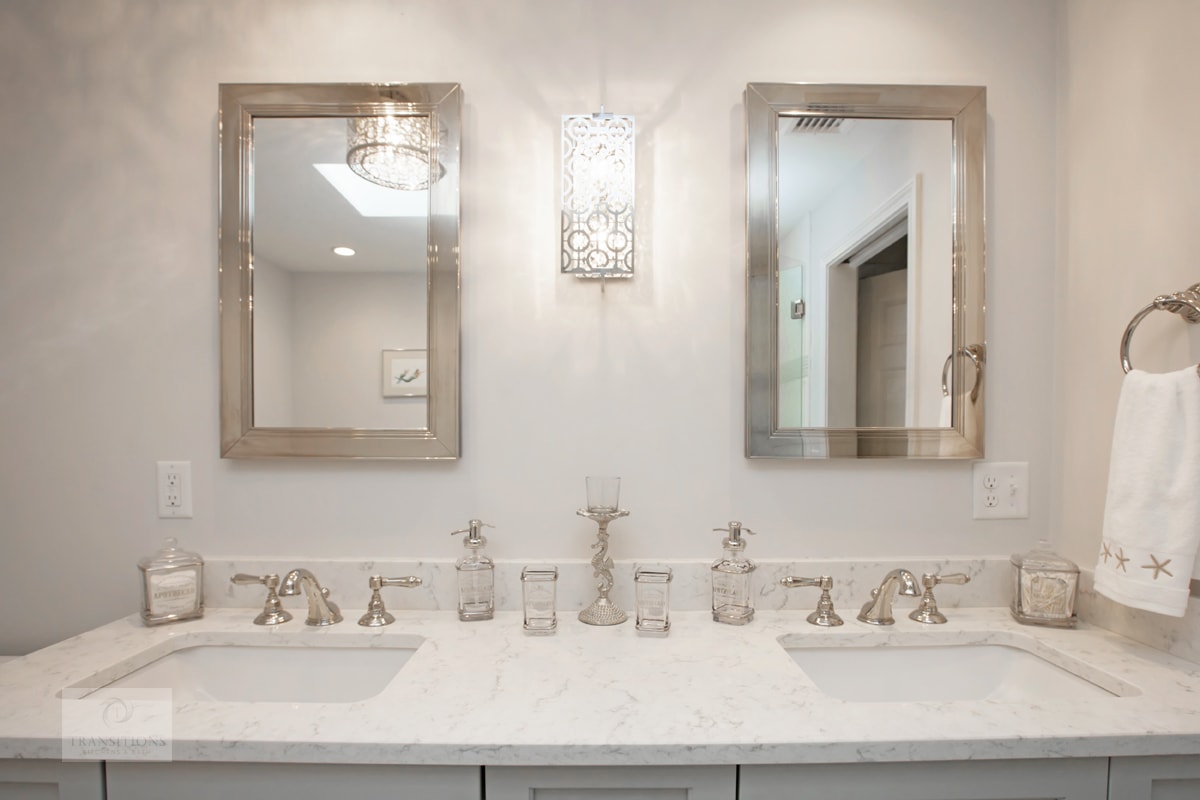 Countertop materials really set the tone for your bathroom design style:
Reflective
Stainless steel is often used in kitchen countertops but it's an ideal material for a vanity top used by a young family. It's practical, with a retro vibe and the backsplash can be fused on, making it sleek and smart. Glass tops are a unique choice too, especially with glass vessel sinks or glass-fronted vanities. Go for a recycled glass countertop to create your own look in a contemporary bath design.
Natural warmth
There's nothing better than wood or natural stone to warm up a bath design. Polished limestone has soft patterns and goes with cool surroundings such as grey, white or metallic. Travertine, formed by mineral deposits, makes a smooth, understated countertop. Bamboo or reclaimed wood have an interesting finish, as do butcher block countertops, due to the blend of woods used. As long as the wood is sealed from moisture, the sky's the limit.
Timeless
Classic looks such as marble or granite never date. Black or white marble bring a sharp sophistication, beige tones are more relaxed, green is a rich choice that goes well with brass and gray compliments every color scheme. Granite is durable and luxurious, coming in a variety of tones and veining. The only downside is that these tops need to be re-sealed every so often. Quartz is exceptionally durable and can imitate both marble and granite, so is a very popular choice for bathroom design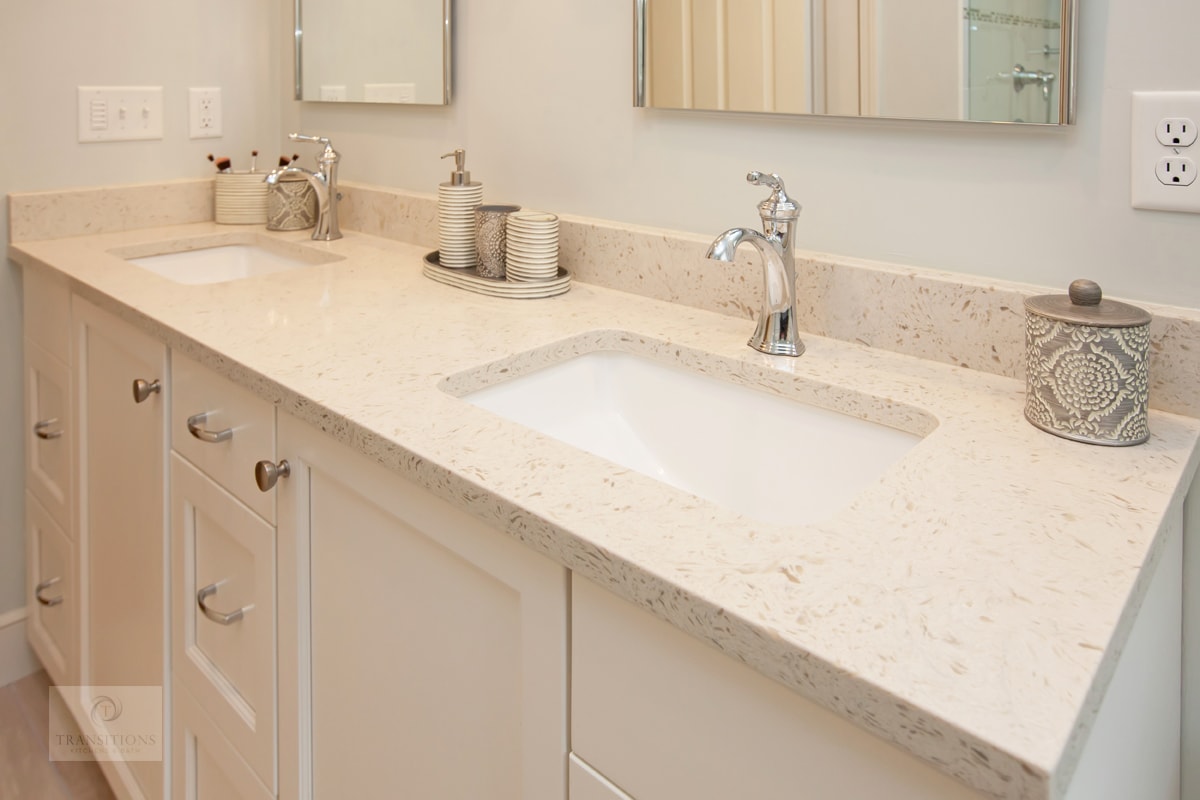 On Trend
More unusual options are available to take your bath design to the next level. Concrete countertops can be dyed and molded to incorporate sleek, integrated sinks. Solid surface tops also come in a variety of colors and opacities and can be cut to order. Terrazzo has seen a resurgence, also in a choice of colors, for a nod to mid-century design. Lava countertops are made from ancient lava that has been enamel glazed, creating a cracked appearance. It's an expensive, but life-long investment. Porcelain is now appearing as an imitation of stones such as marble, granite or slate. Since it is non-porous, it's also low maintenance. For a really characterful countertop, consider a tiled surface. You can mix or match different tiles for a unique pattern or color scheme or keep it uniform. Make sure the grouting is always sealed properly.
Browse our bathroom design gallery for more countertop ideas. Why not contact us today to discuss how you can start creating your perfect bath remodel?