The kitchen is the heart of your home, where everyone gathers for meals, conversation, and more.  From small children to elder family members to beloved pets, everyone should feel welcome and comfortable in the kitchen.  There are many ways to achieve the perfect balance of function and style, from careful planning of your kitchen design layout to selecting the right materials to employing experienced installation and project management specialists.
Your kitchen design requirements may also evolve over time, depending on your stage of life or changes in family circumstances.  This is particularly important if you intend to age in place in your home or for any family members with limited mobility.  Pick the right products and surfaces, and put them together in a carefully crafted layout, and your kitchen design will stand the test of time and be a welcoming space for everyone in your home.
Here are a few key areas to consider for an accessible kitchen remodel:
Get your measurements right.
A well-planned kitchen layout is the foundation of every kitchen design, but this especially important when mobility is a consideration.  The last thing you want is to have appliances or other items you use on a regular basis placed up high or down low where you cannot reach them, or to have to carry heavy items across the room.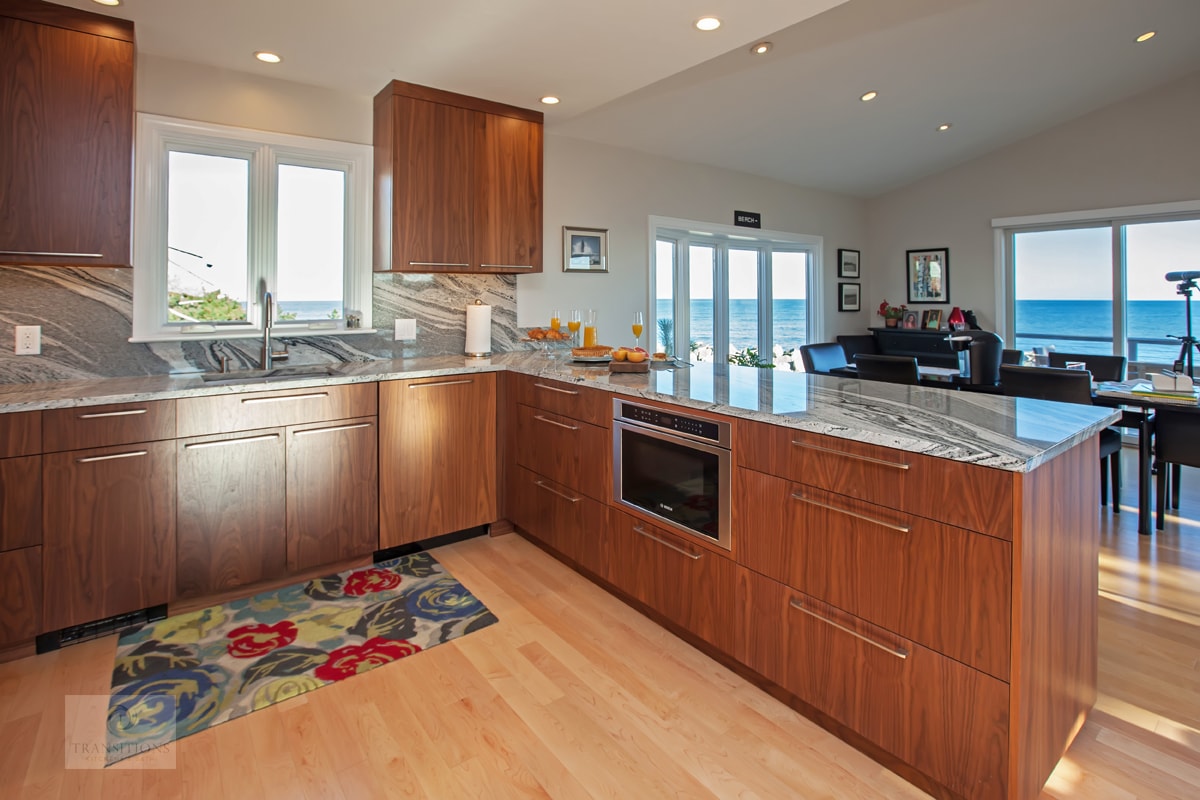 Position items you need to access frequently, like the microwave, at or below counter height to make them more accessible.  Carefully consider distances between your key work zones and ease of accessibility to get from one location to the next, such as the sink to stove.  You might include a pot filler faucet that allows you to fill heavy pots with water directly at the range.  Don't forget about clean up, by checking that you can easily move between the sink, dishwasher, and your trash and recycling area.
Make it easy to move around.
Once you know that your distances, heights, and location of key items make sense, make sure your kitchen design facilitates easy movement around the room. Stick to a simple style with limited adornments, clean lines, and rounded edges on kitchen cabinets, countertops, and other surfaces.  This means there are fewer things jutting out that could cause an accident or impede movement.  An added benefit is that a simple kitchen design style is easier to clean and maintain.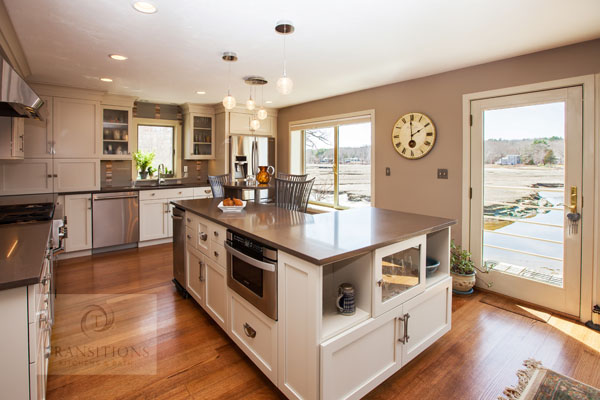 Select the right surfaces.
Every kitchen is prone to spills and messes from water, grease, and food.  Take this into consideration when picking out countertops, backsplashes, and floors, which will bear the brunt of this mess.  It is especially important that you select a slip-resistant, textured flooring material as these spills can make the kitchen floor treacherous.  Choose a flooring material with some texture for a better grip.   Consider also sticking to countertop and backsplash materials that are more moisture and grease resistant, and easier to clean and maintain.  Let your kitchen products do some of the work for you!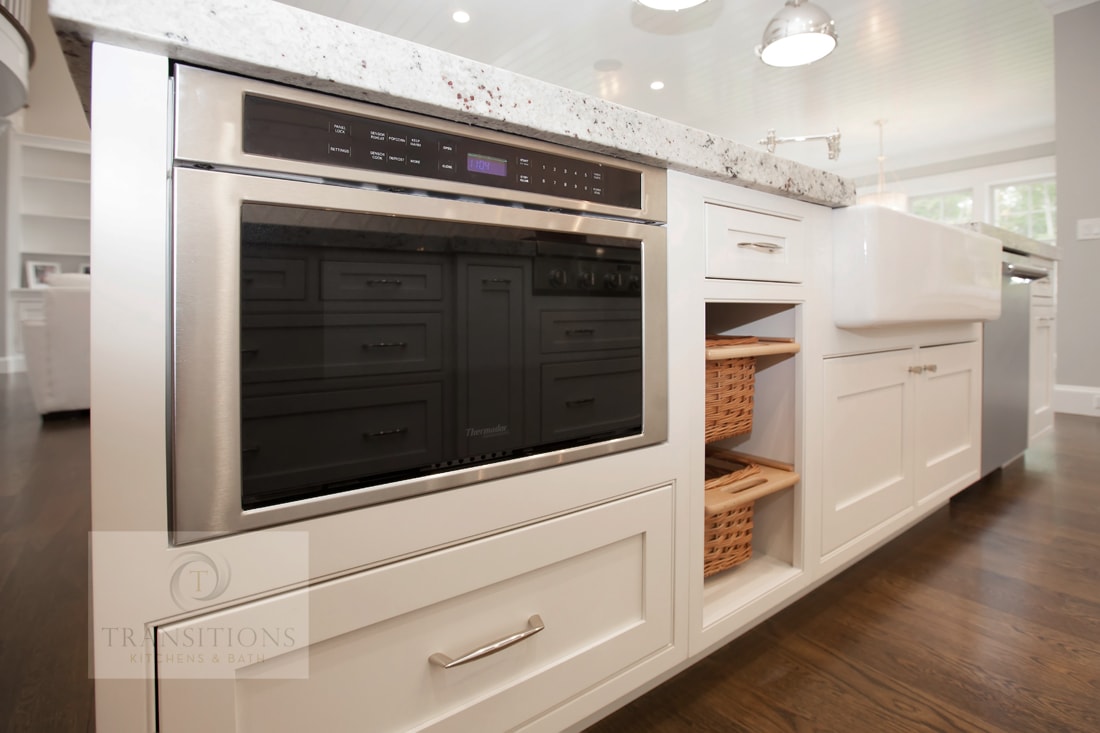 Make your storage easily accessible.
Customized storage solutions are all the rage, and it's easy to see why.  The right storage accessories turn your kitchen cabinets into an Aladdin's cave of hidden treasures.  When designing with accessibility in mind, having key items easily stored, visible, and handy is critical.  Include pull out shelves, lazy susans, corner cabinet pull outs, and specially designed storage inserts.  Cutlery drawers, spice inserts, and tray dividers all make it much easier to spot and access key items.  Deep drawers are ideal for heavy pots and pans or dishes.  Utilize custom accessories like a mixer lift to access heavier items or incorporate pull down shelving for upper cabinets.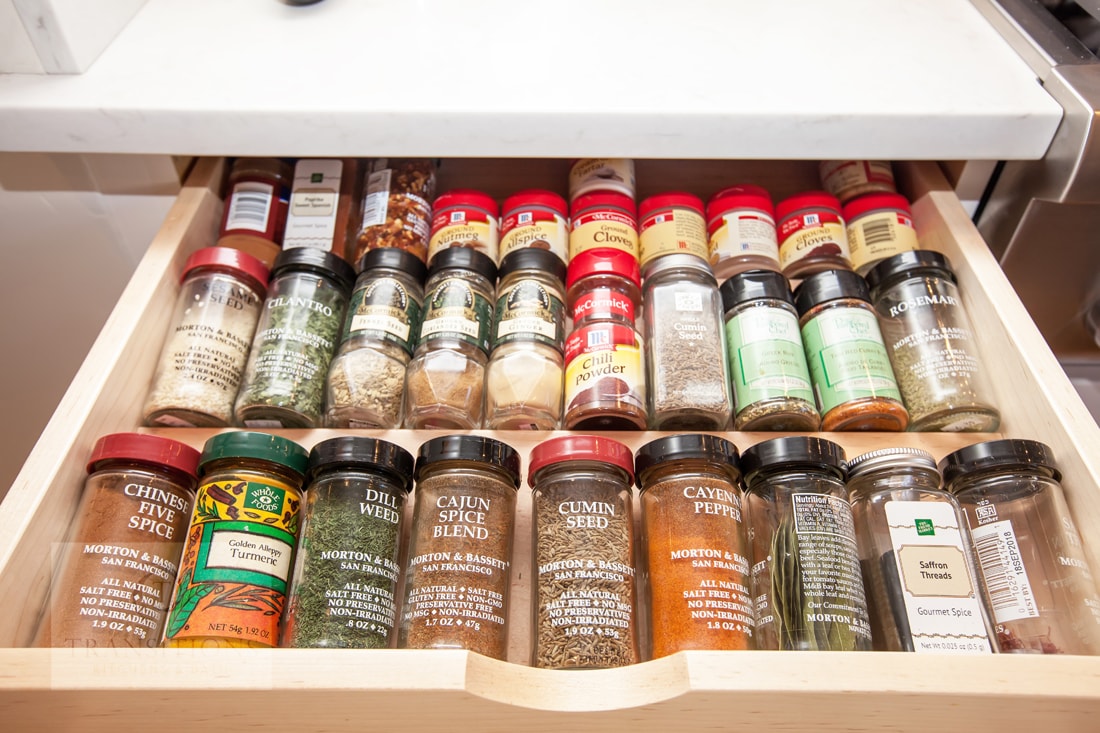 Get a grip.
Remember that handles are easier to grasp and operate than small knobs if you have any issues with your hands such as arthritis. Stick with handles, pulls, and cup pulls to remove this potential hurdle in the kitchen.  Similarly, incorporate single lever, easy to operate faucets, or better yet install a hands-free faucet.