It's the holiday season, and this means family gatherings and parties.  If you like to host events in your home, you know that the kitchen tends to be the gathering point for guests.  Gone are the days of mingling in a formal parlor while food is prepared and ferried out from a separate kitchen.
Most kitchen designs today are geared around an open plan layout where the kitchen is integrated with a dining/family room/entertainment space.  This makes it an even more attractive place for guests to congregate and allows you as the host to prepare food and drinks while still interacting with visitors.  It also means that your home is set up to welcome guests in the heart of your home, the kitchen, while allowing them to flow easily between the kitchen and other living/dining spaces.
An open plan kitchen design is just the beginning: there are many features you can incorporate into a kitchen remodel to make your home entertainment ready.  Here are a few ideas to get you started, or visit our kitchen design gallery for more inspiration:
An integrated entertainment system including television and music takes your party game to the next level.  Watch the big game with guests while you serve appetizers, host a "season premiere" party for your favorite show, or watch the ball drop on New Year's Eve while you pour the champagne.  An integrated music system with speakers allows you to set the tone for any event with the perfect music.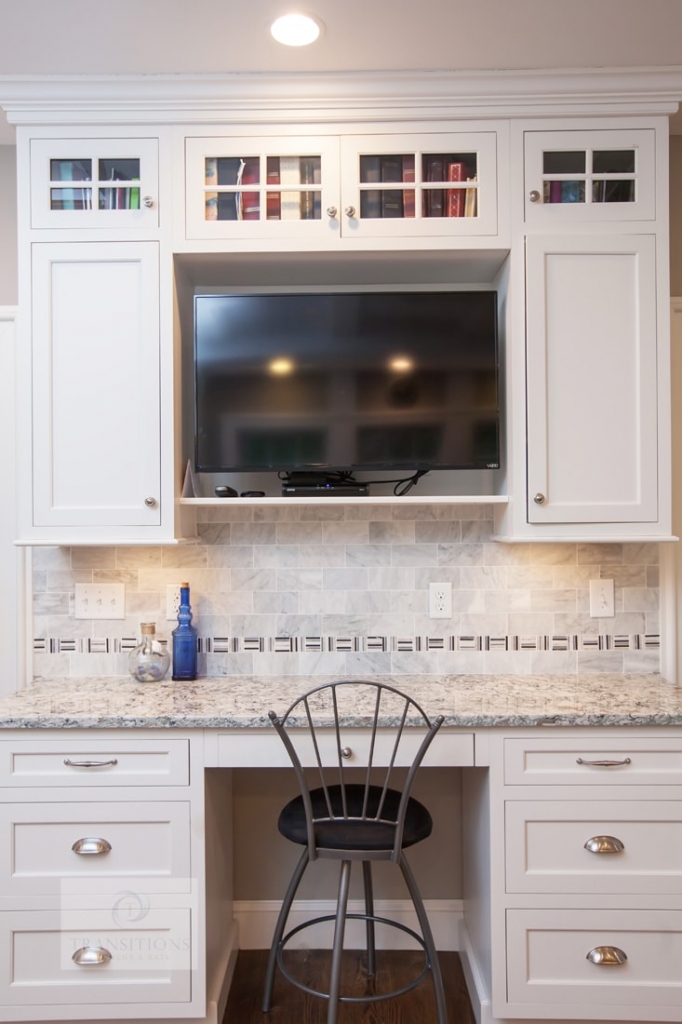 Speaking of electronics, include built in charging points and designated storage for your phones, tablets, laptops, or any other electronics you many need to have handy during the party.  House them in a drawer or perhaps a specific cabinet where you also keep your router and other electronics.  Since many of us control music and much more from our smart devices, this will make it easier to change up the music during the party.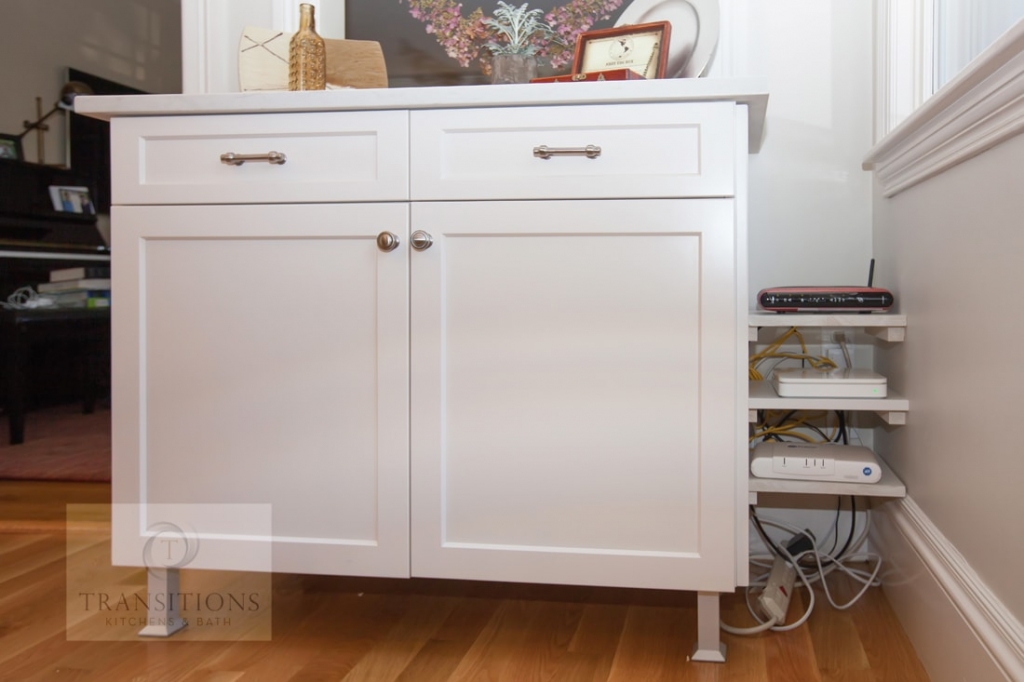 If playing music is your true love, consider incorporating a piano, guitar stand, or other musical instruments into your open plan kitchen and entertainment space.  They make an eye-catching point of interest in the room, and allow you or your guests to play their favorites during the party.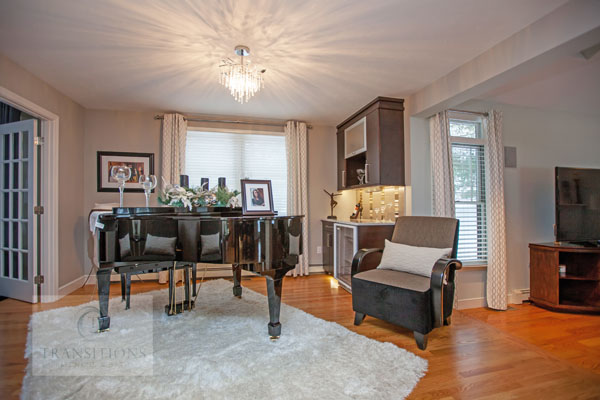 Yes, many holiday parties involve a lot of mingling and standing, but you must also have options for seating.  Depending on the nature of your party, you may require space for guests to sit and eat, a spot for them to have a drink and chat while you are cooking, or perhaps a comfortable chair for them to rest their feet for a few minutes.  Examine your space and the type of event you are hosting, and then consider how well your seating arrangement meets these requirements.  You can use a dining table and island seats, as well as comfortable chairs in the kitchen or an adjacent living room.  If you feel you will not have enough seats, then look at bringing in extra chairs and arrange them in such a way that it will not hinder the flow of traffic through the space.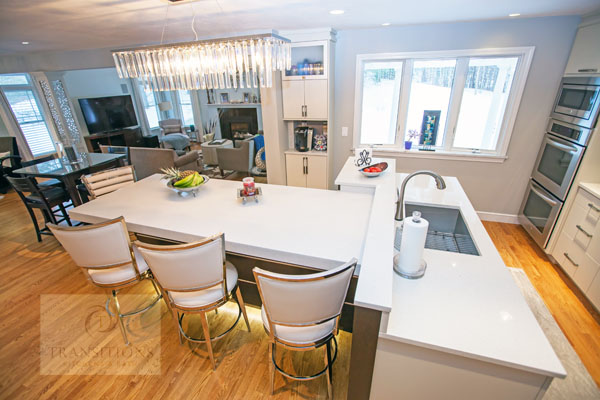 Whether you are hosting a family dinner or New Year's Eve cocktails, drinks will always be on the menu for any event.  A beverage center or undercounter refrigerator offers a designated place for guests to top up their wine, get a coffee, or find a soft drink, away from the main work zone in the kitchen.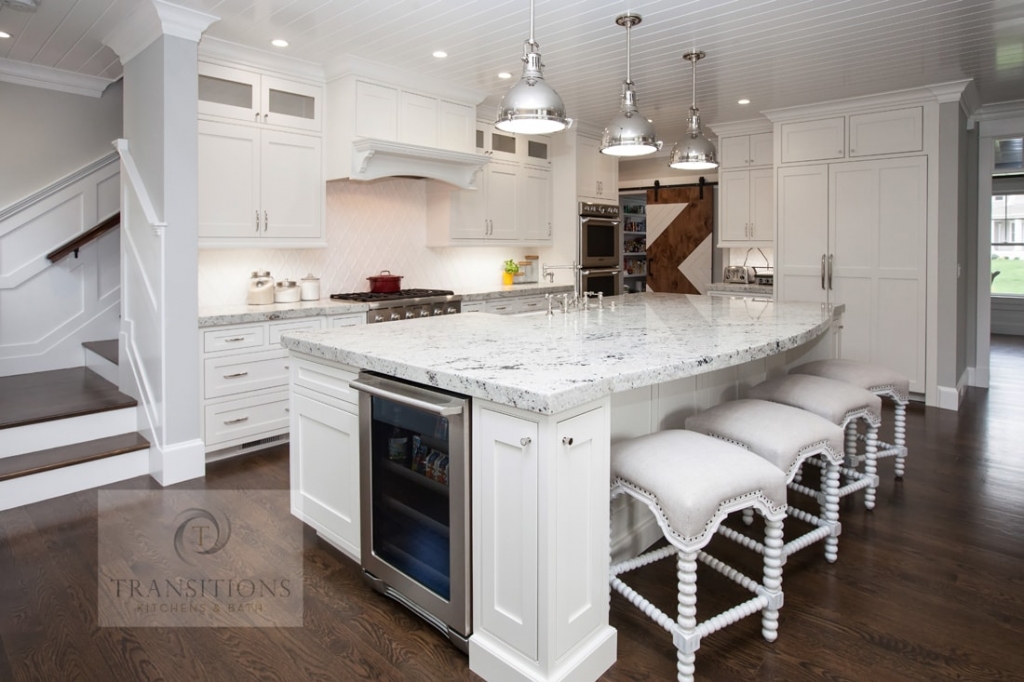 Multi-layered lighting is key to any kitchen design, but versatile lighting also allows you to set the mood for your party.  Create atmosphere with a dimmer switch or ample ambient lights, while also having enough targeted task lighting to read recipes and chop vegetables.  Put the spotlight on a favorite piece of artwork with accent lights, or use a decorative light fixture to create a dramatic focal point that will be a conversation starter at your party.