If you were not one of the Americans who worked from home either full or part time last year, this year's pandemic means you probably have experienced some form or teleworking or online study.  For some people requirements to work or study from home may continue. Trying to work at home is not without its challenges. Even if you already have an office, your partner or children might need a workspace, so repurposing or remodeling are the best solutions. Read on to see how to create the perfect home office space.
Location
When setting up a home office you need to choose an area that is large enough, with plenty of light and in a quiet part of the house. A room near the front or back entrance gives you privacy, as does a guest room, basement or attic. You could repurpose your walk-in bedroom closet, temporarily storing contents somewhere else to make space for a desk. If you prefer a space attached to the kitchen or living room, then a door gives you (and everyone else) more peace. This may not be possible in an open plan space, so any quiet nook or alcove is better to work from if you don't have a room to yourself. If you can only work from an open plan kitchen design or living room design then invest in a stylish room divider to carve out your own space and provide a unique zoom background!
Layout
An open layout gives your office an airy and polished look, but make sure your space affords some privacy if you need quiet to work or are frequently on voice or video calls. Your furniture needs to be functional but also suit the style of the rest of your house. Your desk should be as large as possible in case you need two monitors, with an adjustable and supportive chair. Consider a built-in desk, made to your specifications and choice of materials. Decide between shelving or cabinets, leaving some space to display plants, art, and objects of interest.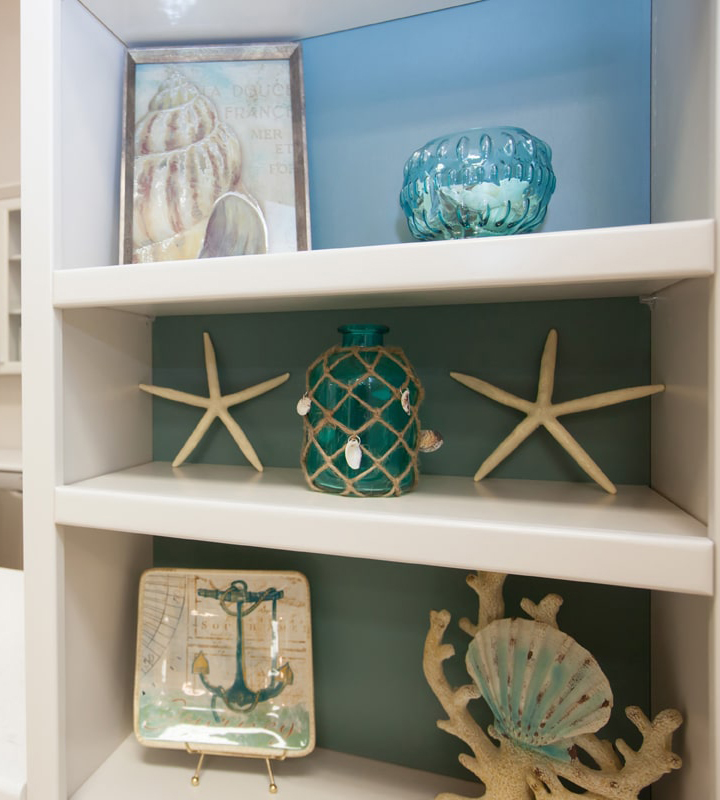 Lighting
Place your desk near a window, as natural light boosts productivity. Consider adding a window in a windowless room if possible, especially if this is a long-term situation. Make sure there is no glare from your monitor. A good mix of task and ambient lighting from lamps helps reduce eye strain and give a welcoming feel. Warm white bulbs are better than clinical, bright ones if you're working through the night.
Storage
Clutter is a major obstacle to efficiency. Custom built storage is the best way to deal with office files and equipment. No matter how many binders, printers, shredders, stationery, books, and cables you have, there is a storage solution for you. Boxes, drawer dividers, paper trays and cubby holes are all great additions to shelving and cabinetry. Choosing the same color for your walls and storage units also makes them less obvious and brightens up the space. Why not add a beverage bar with a fridge, Mad Men style, except for coffee and soft drinks, and maybe a little something else for your Friday homeworking happy hour!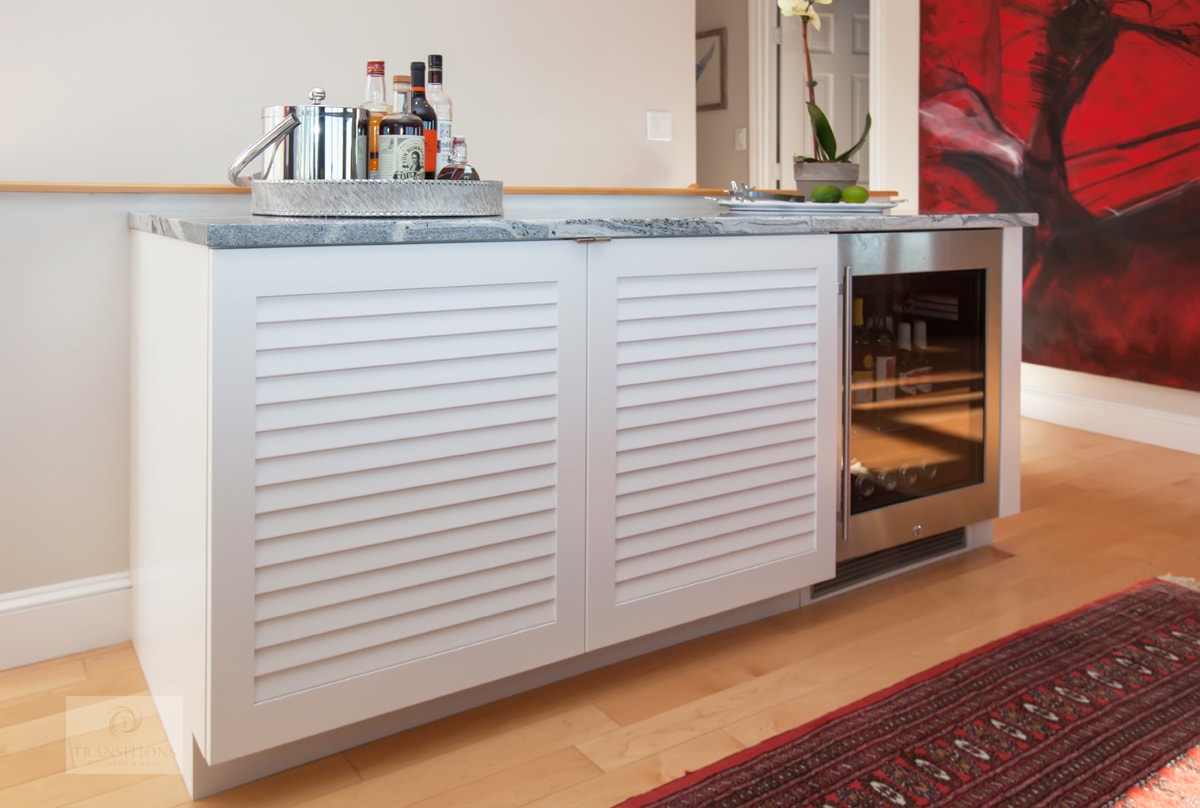 Maintenance
Once you've established an area to work from, it's important to keep it clutter-free, especially if it's part of another room. This will ensure you stay focused and organized. If you're in the kitchen, try to avoid cooking too much during the working day to keep your space fresh and clean. Accessorize with your favorite things, such as candles and flowers, but don't overdo it in case they become a distraction. If you go back to the office full-time, your new home office can easily work for kids to study in or for a craft room in the future.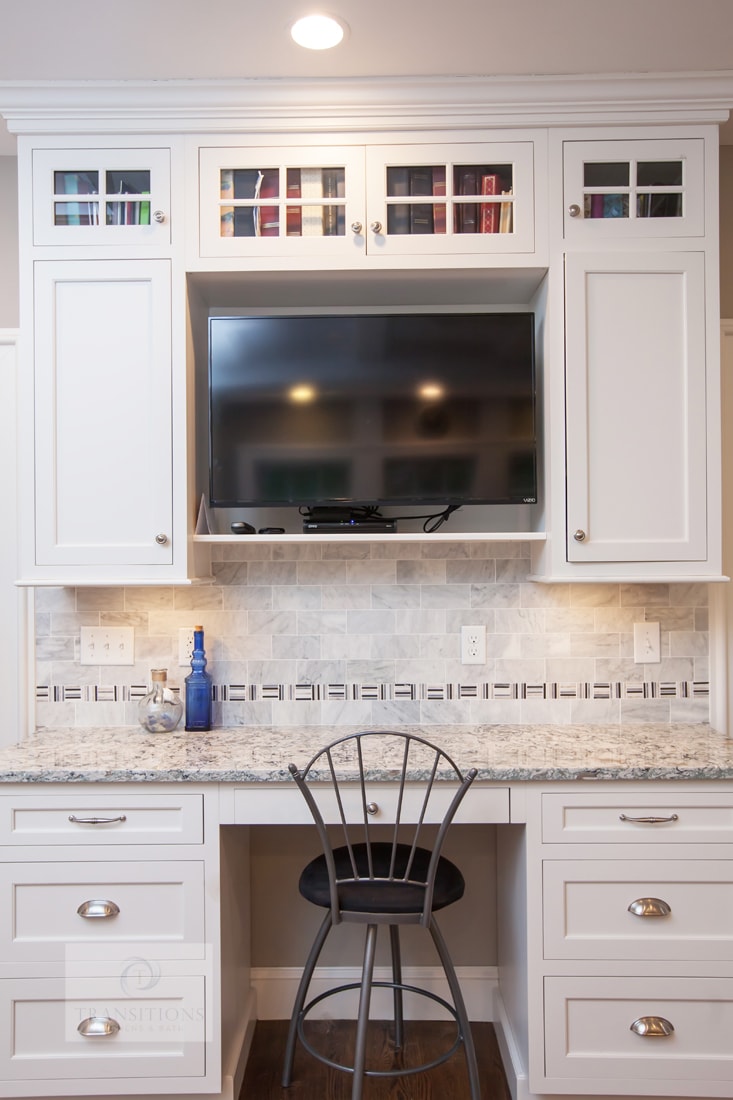 Whether you're repurposing a space, adding a home office to another area or remodeling a whole room, our design experts are perfectly placed to help. We can establish your requirements, whether they're long or short term, and create the ideal space for you to work or study from home.
Contact us today
to discuss the many options available.