Spa-style bath design is the ultimate in a
luxurious bath design aesthetic
. It embraces natural light and an uncluttered floor plan and uses calming materials and color schemes like crisp white alongside rich wood tones for a soothing atmosphere. Large showers and generous soaking tubs put an emphasis on relaxation in this type of bath design. Organic textures and high-end materials emulate an oceanic health spa.
The mantra of a spa-style bath design is that less is more, taking you away from everyday stresses with its minimalist style. The fact that this bath design has a sleek, uncomplicated look means it can also be more easily altered in years to come for another style, based on its classic fixtures and neutral color palette.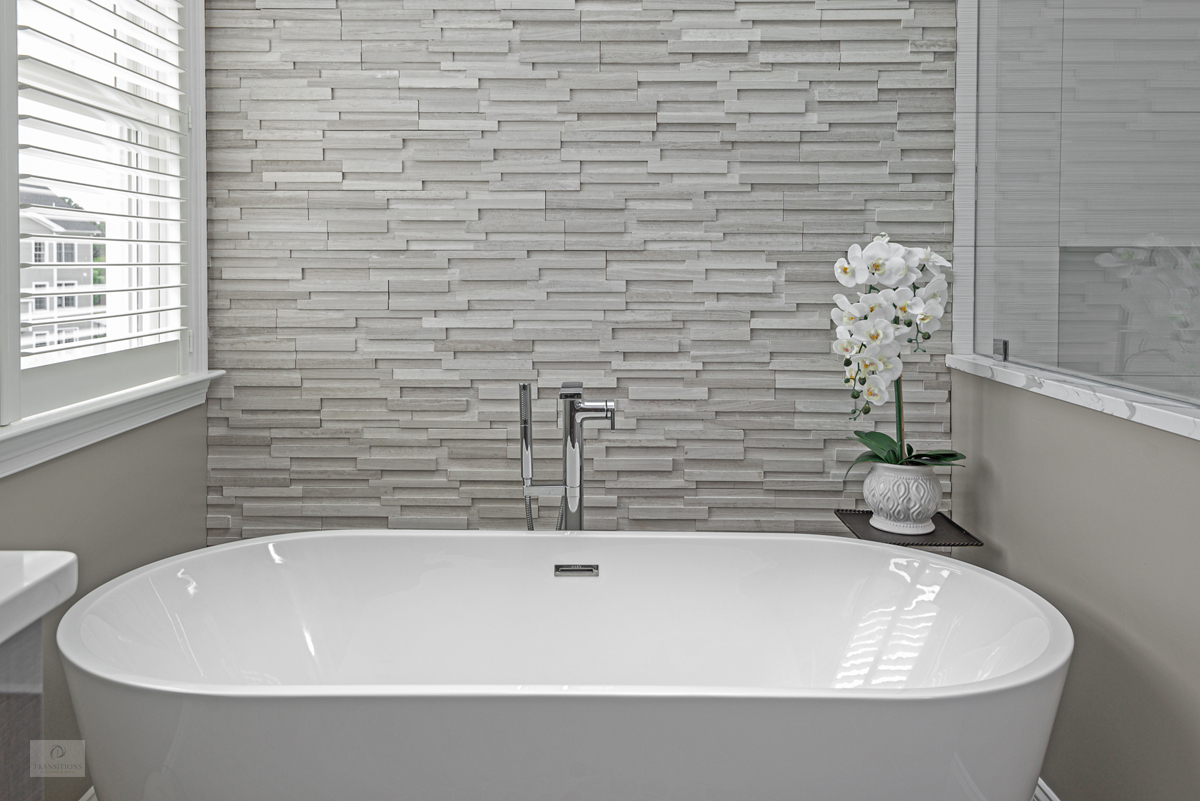 With its potential for universality and quality materials, this bathroom design style transforms your bathroom. You'll want to retreat here to
soak in your tub
, listen to music, and enjoy any outdoor views you may have. Read on to find out how to treat yourself to the ultimate spa-style luxury from the comfort of your own home.
Seek Inspiration to Motivate You
Have you been thinking about a new bath design for a while? The best way to get started is simply to take everything out of your bathroom and do a complete decluttering of your space. Whether you are simply updating an existing bathroom or embarking on a complete bath remodel, clearing out your existing bathroom is essential.
If it's not fixed to the wall or floor, remove it and place everything in different piles. Go through all the items you've removed and ask yourself if you really use them. If you do, does it suit the style you want? Recycle or dispose of anything you no longer use or that does not fit your bathroom aesthetic. Clear out old medicines and toiletries so you are now left with items you really want to have in your new bathroom. When you have decided what you want to keep, tailor-made storage solutions can streamline the contents of your sleek new spa-style bath design.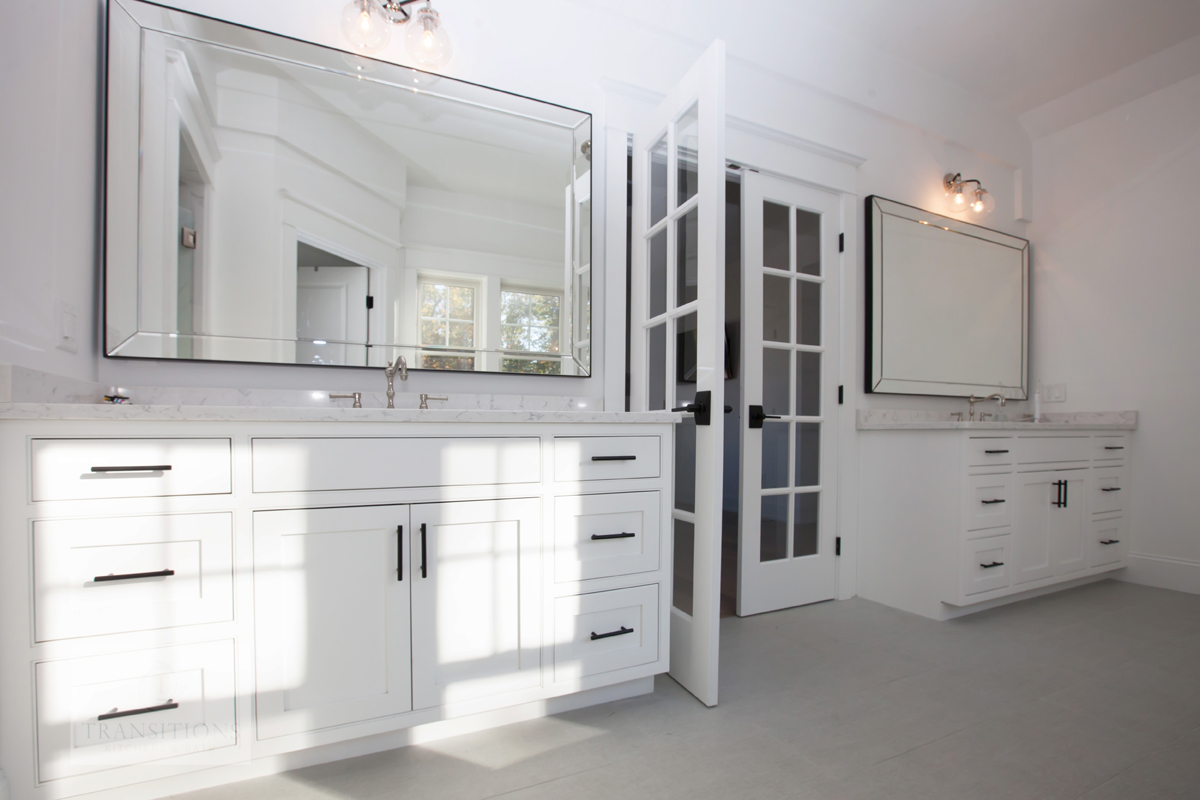 Now that your bathroom is free of clutter, you can more easily visualize what you want to do with your space. Explore spa-style bath designs and familiarize yourself with their features. Browse favorite
design websites
, social media pages, or magazines, and visit design showrooms in person to get inspired.
Now stand in your empty bathroom and imagine how you can achieve this style in your home. A bath design expert can help you make your vision happen, working with you to plan and install a design to suit your taste and requirements.
Incorporate Nature into Your Design
One of the easiest ways to incorporate nature into a spa-style bath remodel is to use natural materials in the design. Consider using wood, stone, or bamboo for flooring, countertops, cabinets, and walls. These materials have a natural warmth and texture that can help to create a calming and inviting atmosphere. If you are worried about wood in a moisture-prone bath design, you could go for a wood-look porcelain tile or luxury vinyl plank that closely imitates the look of this natural material.
Plants like bamboo, ferns, and succulents can thrive in the humidity of a bathroom and help to purify the air. Position plants on shelves, or countertops, or even hang them from the ceiling to create a lush and relaxing environment.
Incorporating natural textures into a spa-style bathroom design can help to create a tactile and sensory experience. Consider using materials like rough-hewn wood, river rock, and woven textiles to add texture and interest to the space. These materials can help to create a sense of warmth and comfort.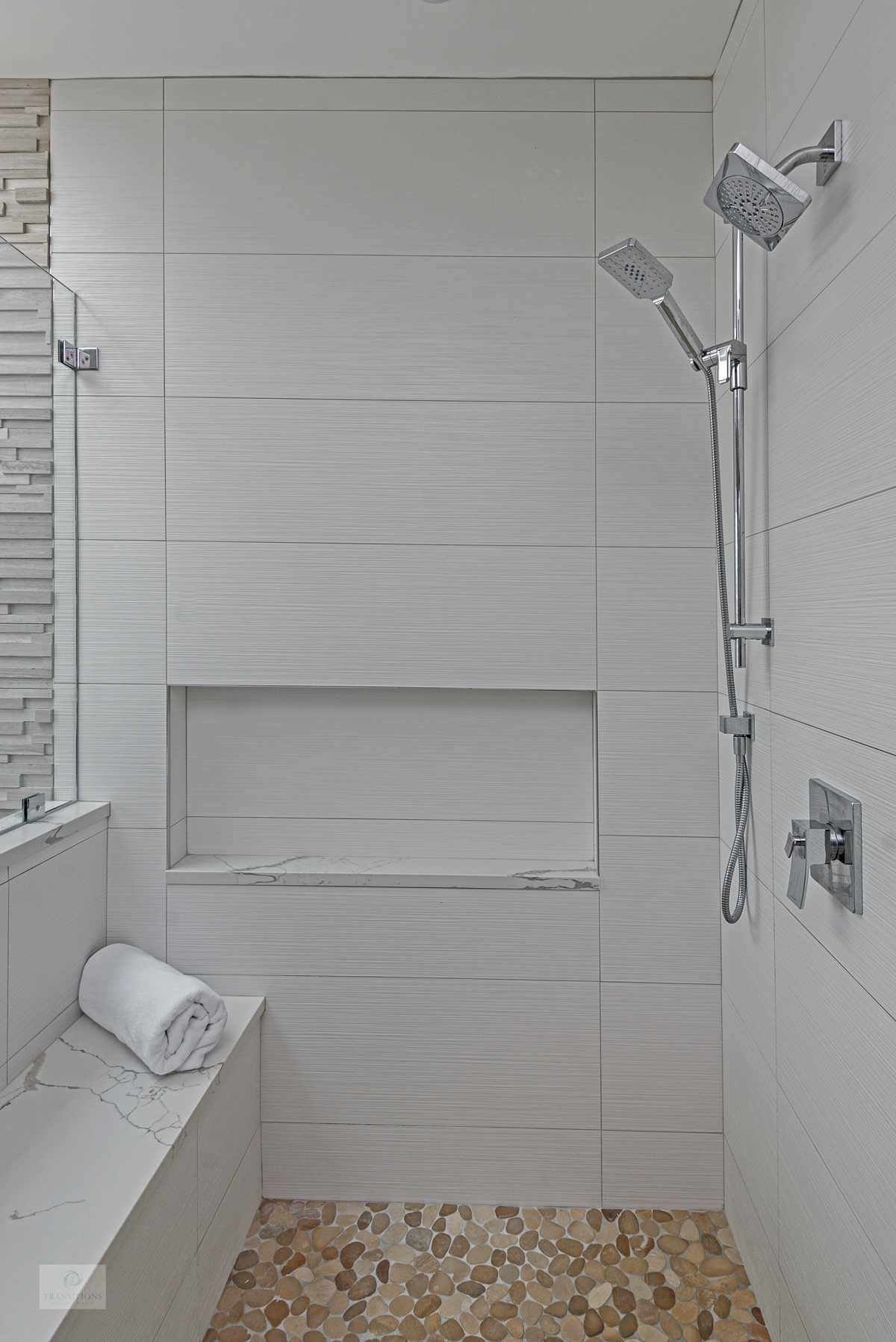 When incorporating
nature into a spa-style bathroom design
, it is important to create a sense of balance between the natural and practical elements of the space. Use natural materials and colors in combination with sleek and minimalist design to create a space that is both calming and functional. With the right design elements, a spa-style bathroom can be a peaceful and inviting retreat that helps you to relax and recharge.
Choose a Neutral Color Palette
The right color scheme helps create a serene and calming atmosphere that promotes relaxation and rejuvenation. A spa-style bathroom often features a neutral color palette, with soft, muted shades that promote a calming and tranquil atmosphere and allow natural materials and textures to shine.
Using earthy colors like browns, beiges, and tans gives you a natural and grounding atmosphere. Combine them with natural materials like wood or stone for a cohesive and soothing design. Neutral colors like whites, creams, and grays combine for a clean and minimalist spa-like atmosphere. These colors work well with modern design elements, such as glass and metal, to create a fresh and contemporary space.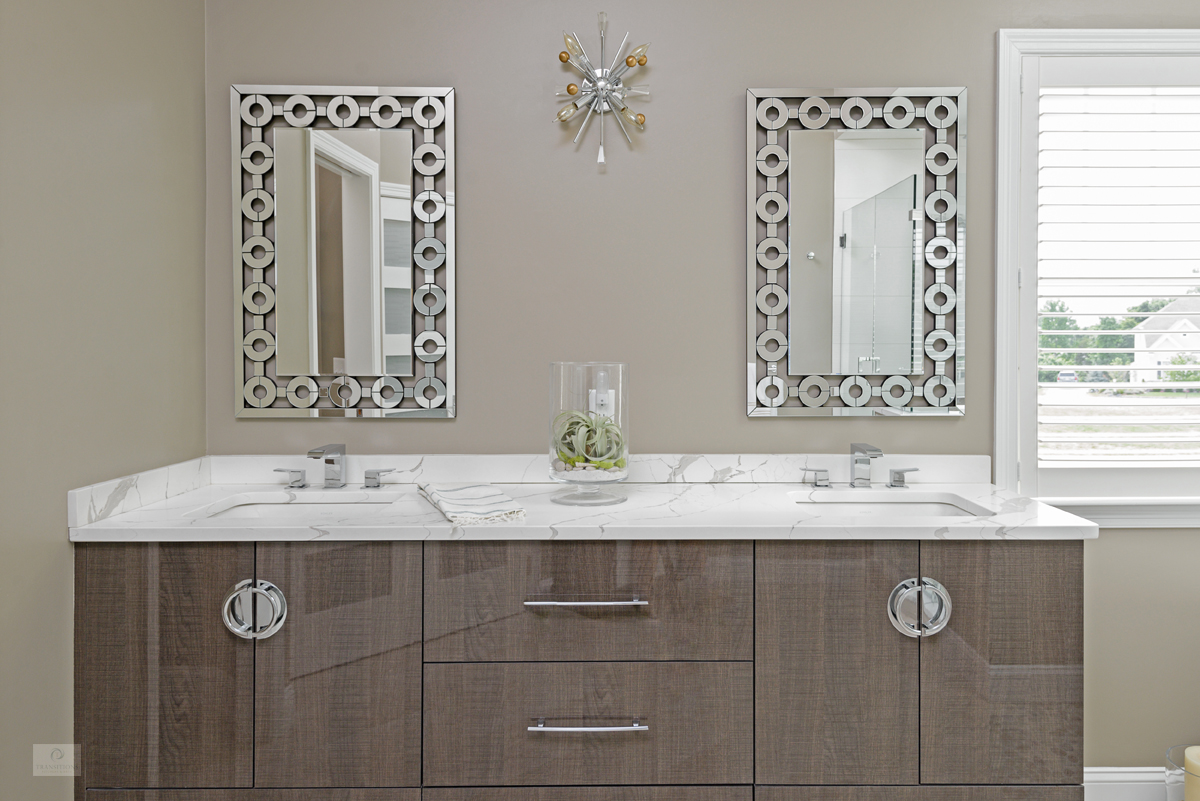 Adding a pop of color makes a focal point to add interest to the space. Consider using bold accent colors like deep reds, purples, or even black for a dramatic and luxurious feel. Different shades of the same color make a cohesive and harmonious spa-style bath design. Shades of blue, from light to dark, create a soothing and calming feeling. Metallics like gold, silver, and copper add a touch of luxury to a bath remodel. Incorporate them into
hardware, accessories, or tiles
for a glam look. Softer shades of blue or green create a soothing atmosphere and are reminiscent of natural settings like the ocean or a grassy meadow.
Lighter and softer colors result in a relaxing atmosphere, while bolder colors add drama and luxury. Ultimately, the right color scheme depends on your personal style and preferences and how they enhance your spa-style design.
Install Spa Style Elements
Bathroom fixtures are key elements of a spa-style bath design as they greatly impact the functionality and aesthetics of the space. A deep, freestanding tub in a sleek and modern design provides a luxurious and relaxing soak. A walk-in shower with multiple shower heads and body jets makes for a truly spa-like experience.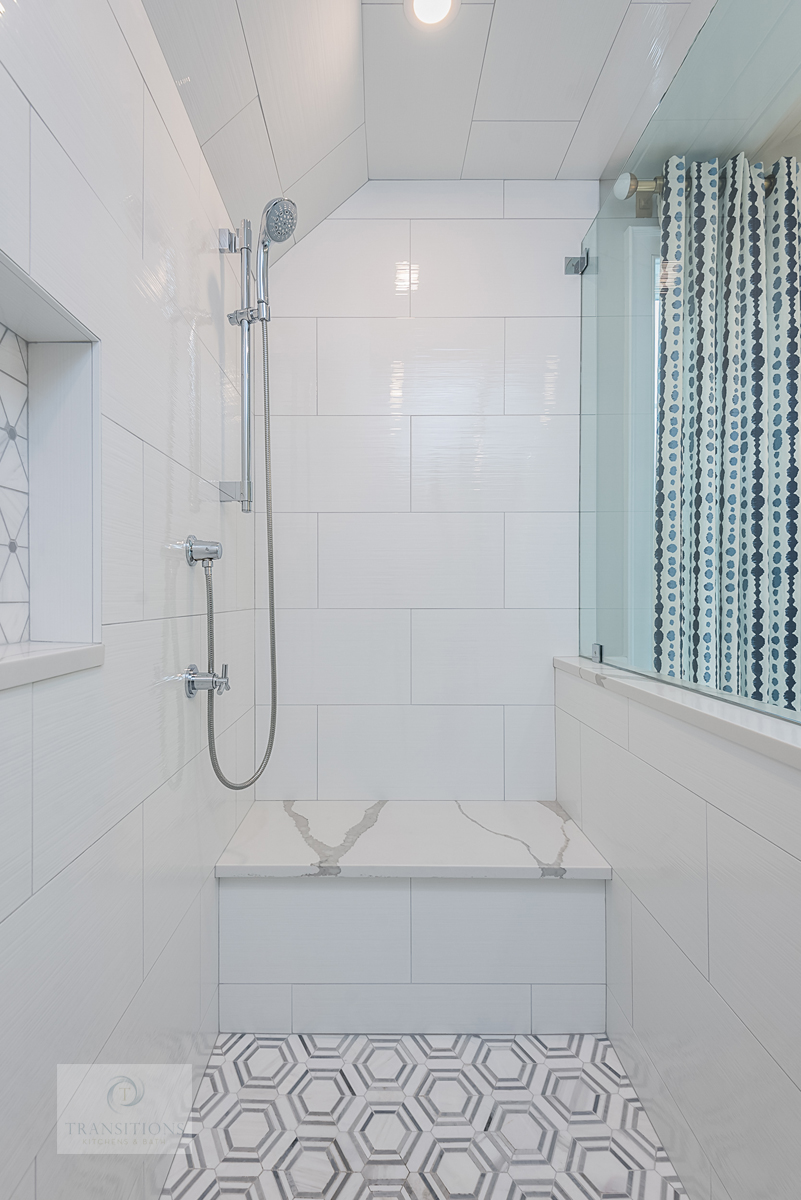 Consider using natural stone tiles or pebble flooring for added texture alongside a bench to sit on. A frameless
glass shower enclosure introduces light
and maintains the essential minimal aesthetic. A vessel sink fits perfectly into a spa-style design and you could even go for a natural material like stone or wood for a truly unique look. Consider using a wall-mounted faucet to increase counter space and streamline the sink area. Choose a statement metal finish, LED temperature indicators, and motion sensors to look stylish and be eco-friendly. A wall-mounted toilet is a sleek contribution to a spa-style bath remodel. Go for a washlet toilet with extra features like a heated seat and a cleansing spray within the toilet to enhance the whole luxury spa-style experience.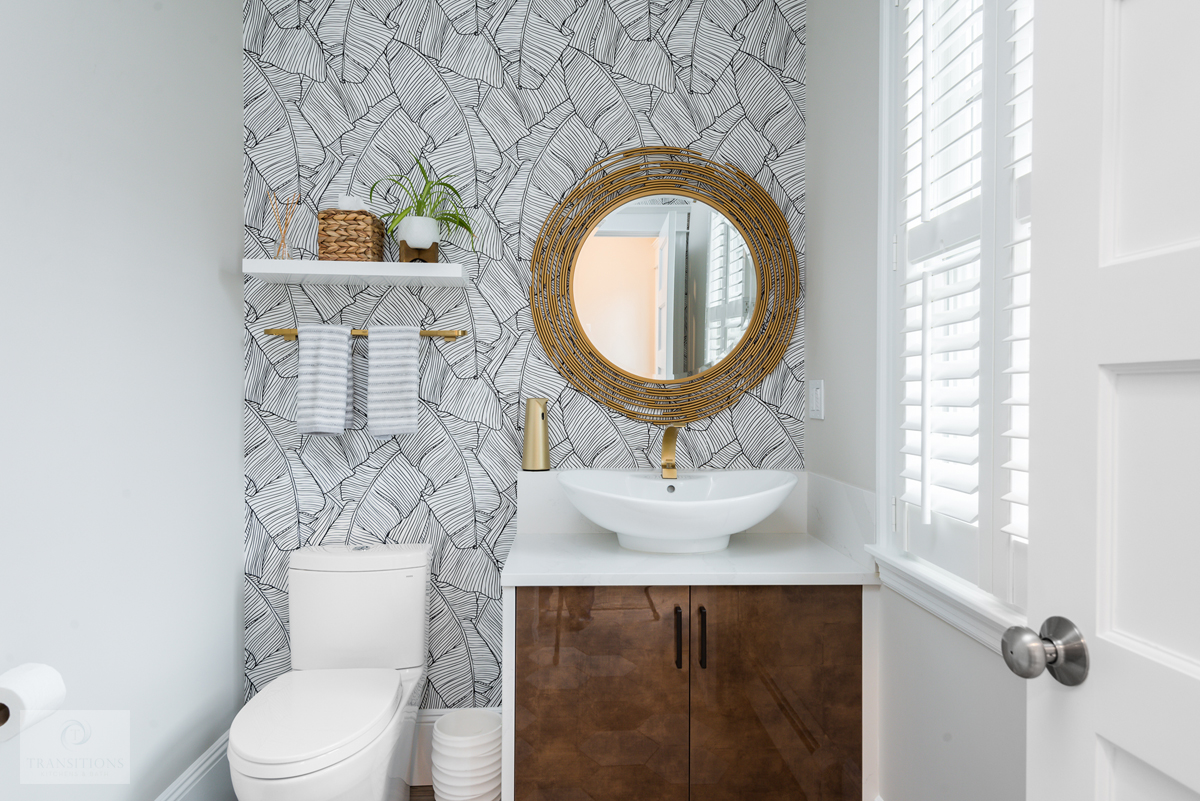 Consider Your Lighting Scheme
Lighting is a critical element of spa-style bathroom design as it greatly impacts the mood and functionality of the space. Layering different sources and types of lighting gives the perfect result.
Natural light brings a bright and airy atmosphere to a bath design. Consider using large windows or skylights to allow as much natural light in as possible.
Task lighting is important for specific areas like the sink, shower, and vanity. Consider using recessed lighting or pendant lights to illuminate these areas.
Ambient lighting can create a warm and inviting atmosphere. Go for wall sconces or flush-mounted ceiling lights with a dimmer switch to create soft, diffused light.
Dimmer switches are a great way to adjust the lighting to fit your mood. Or take it one step further and incorporate smart lighting that can be controlled from an app or remote, or even with voice controls.
LED lighting is energy-efficient and long-lasting, making it a great choice for bath remodels. LED strip lighting works well under cabinets or behind mirrors to create a soft and warm glow.
A statement light fixture, like a minimalist chandelier or pendant light, adds drama to spa style when hung over a tub.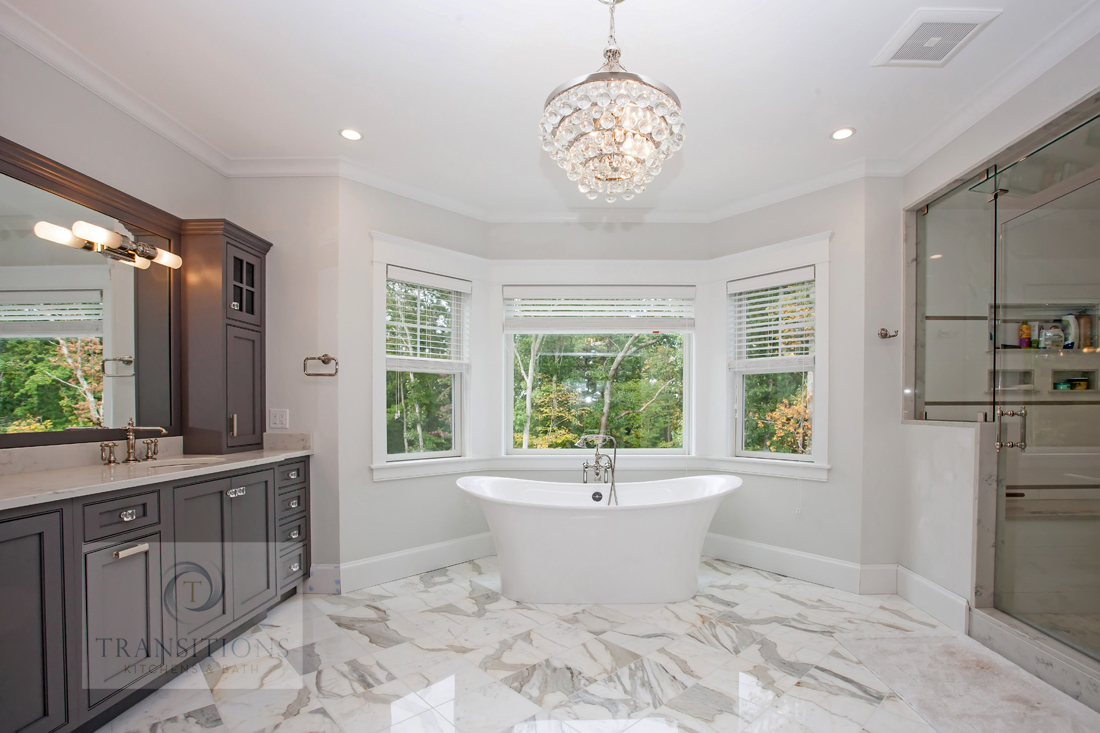 Create an All-Round Experience
Creating a sensory experience is a key element of spa-style bath design. Essential oils and scented candles help you feel relaxed. Choose scents such as lavender, eucalyptus, or peppermint. Soft music or the sound of running water brings a tranquil atmosphere to a bath remodel. Consider installing a sound system or a small fountain to create a calming sound effect. Natural materials create a tactile experience but add plush towels and bathmats for added texture and comfort.
Adjusting the temperature of your bathroom can greatly impact your overall sensory experience. Invest in a heated towel rack or underfloor heating to keep your feet warm and cozy. Use quality soaps and shampoos for a feeling of indulgence. When designing your spa-style bathroom, it's important to create a cohesive and relaxing atmosphere. By incorporating sensory elements like aromatherapy, sound, texture, lighting, temperature, and color, you can create a truly immersive and rejuvenating experience.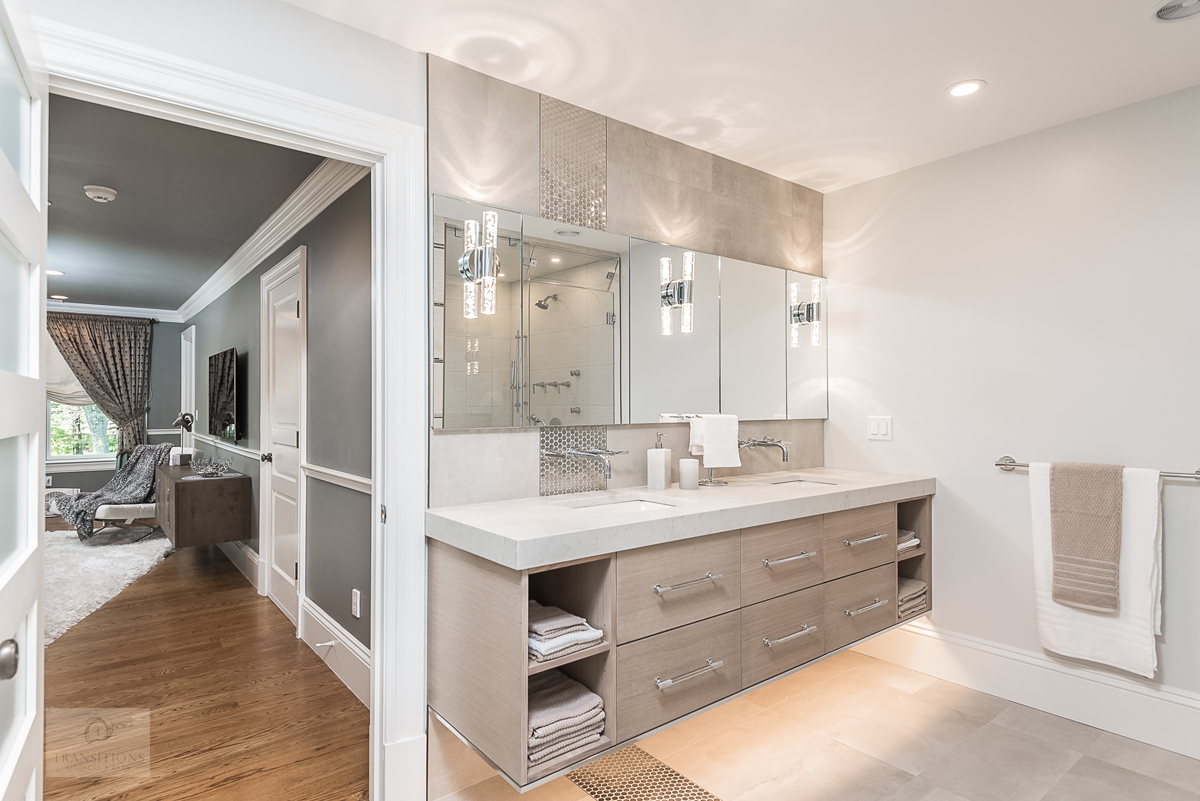 Plan Effective Storage
Storage in a spa-style bathroom should be functional, but also visually appealing and in line with the overall design aesthetic of the space. Plan your storage so it is minimal and unobtrusive.
Custom storage is a great way to maximize storage space without sacrificing the sleek and minimalist look of spa style. Floating shelves are a popular storage option in spa-style designs. They are visually appealing and provide a convenient place to store items such as candles or plants. They can also be used to store towels and other bath products in a stylish and functional way. Recessed storage niches are ideal for keeping shower supplies handy in the shower but can also be included elsewhere in the bathroom to store extra toiletries or for decorative items to accent your style.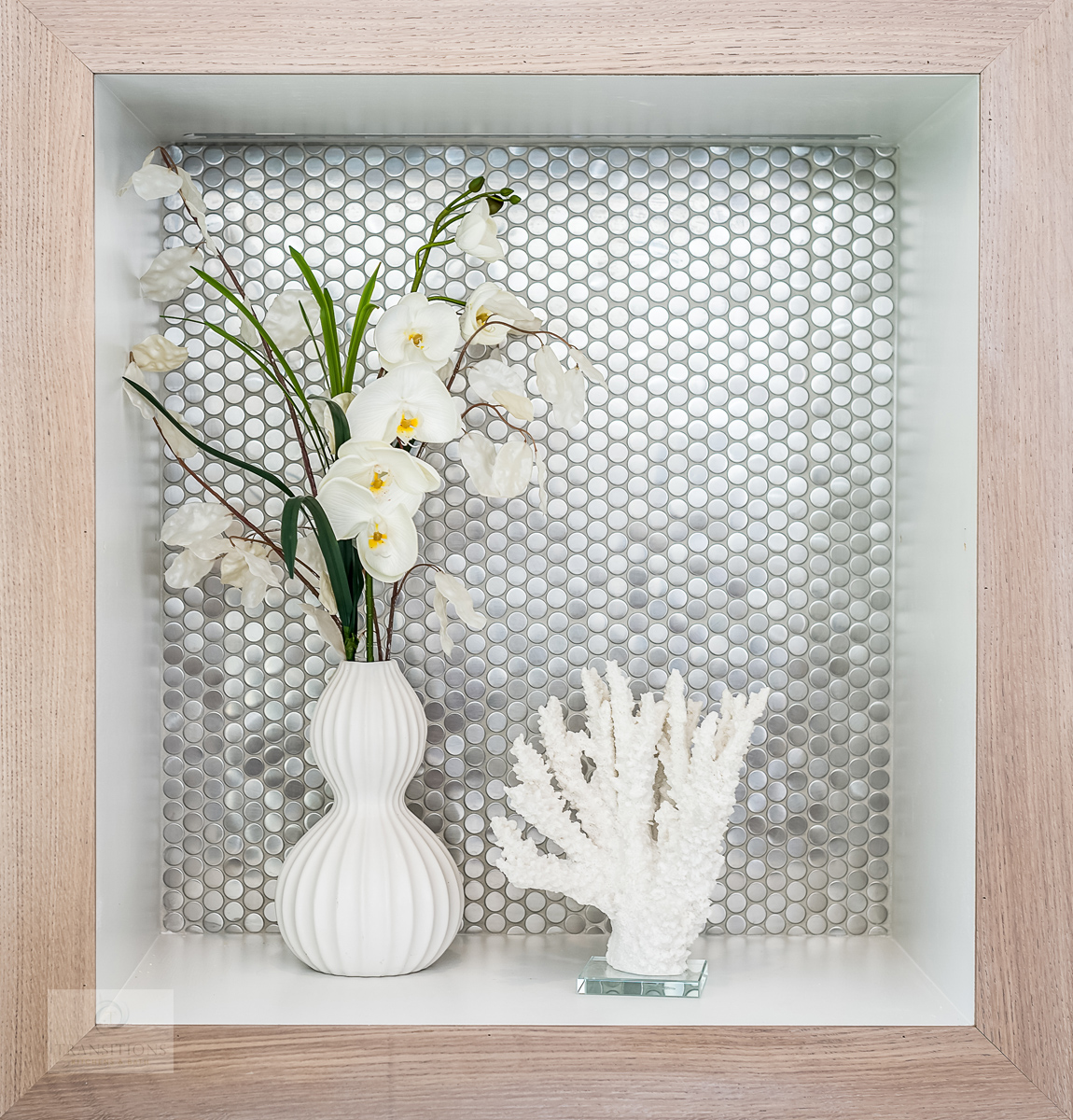 A well-designed vanity provides
ample storage space
. Choose one with drawers, cabinets, or open shelves to store towels, toiletries, and other essentials. Internal storage solutions keep everything highly organized. Incorporate room for toiletries, styling tools, makeup, and more so everything is neatly stowed and ready when you need it. Better yet, include charging points and outlets to plug in hairdryers and more so they can be used straight from their storage compartment.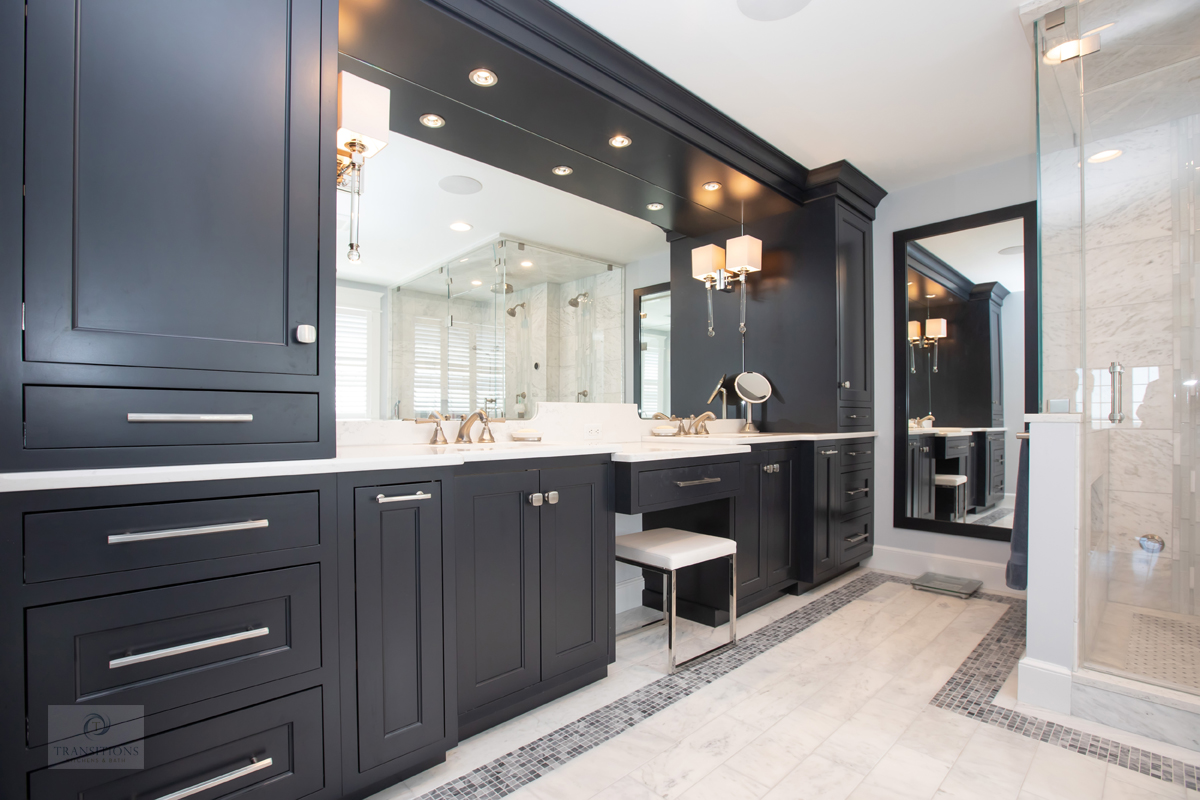 Freestanding storage pieces, such as a ladder shelf or a decorative basket, add an extra layer of storage to a spa-style bath remodel. These pieces can store towels and bath products and add a decorative touch to the space. Wall-mounted storage, such as a rack or hooks, provides a convenient place to store towels and bathrobes. Choose natural materials, such as wood or bamboo, to add warmth and texture. Hidden storage options, such as a bench with an internal compartment, are great ways to maximize storage space and reduce clutter.
Your spa-style bath remodel should be a relaxing and luxurious space that incorporates elements of your favorite spa experience to create a calming and rejuvenating atmosphere. It is a minimalist design with clean lines and simple, uncluttered spaces to create a sense of calm and allow the natural materials to become the focus. The right storage, lighting, textures, and colors transform your bathroom into the ultimate spa-style retreat. Contact us today at Transitions where our bath design experts can give you the best advice for your bath remodeling project.