Are you remodeling your kitchen? When planning your
dream kitchen design
, it is a small extra step to include invaluable utility areas like a mudroom, walk-in pantry or a custom laundry space in your home remodeling plans. Let's look at how you can create a tailor-made laundry room to maximize efficiency and enhance your home. It's also possible to incorporate mud rooms or extra pantry storage within the same space.
Planning what you need means it will serve your specific requirements and suit your style. Having an area to wash, dry, and sort laundry is also an asset to your home that boosts its resale value. Consider including a laundry room, if you are renovating to sell, to impress prospective buyers. If you aren't selling, then why not experiment with styles in your laundry room, making it a welcoming place where you'll want to spend time? A design expert can work with you from the start of the project to foresee any issues. Whether you're creating a new laundry room or remodeling an old one, follow our handy tips to ensure you get the best value for money and a stunning end result.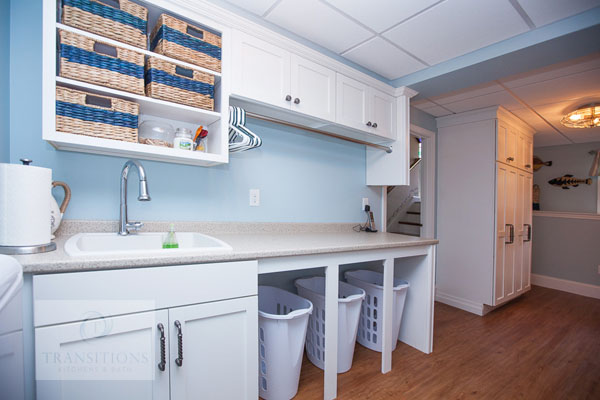 ASSESS YOUR NEEDS
First of all, consider how many people will be using your laundry room. I know, that can feel like a trick question when you are the only one who does laundry, but maybe an organized laundry space will encourage the whole family to help out! What will everyone be using it for? There are many different activities that can be performed in a laundry room. In addition to washing, drying, folding, and ironing clothes you could use a large sink to clean sports equipment. This could also be used for washing delicates or treating stains.
In a large laundry room, you could include extra pantry storage as long as it can be separated from laundry and cleaning supplies. You might even consider adding a spare refrigerator or freezer to this room. As well as food storage, your laundry area can be designed to store large items such as bikes or scooters, which could be hung on a wall.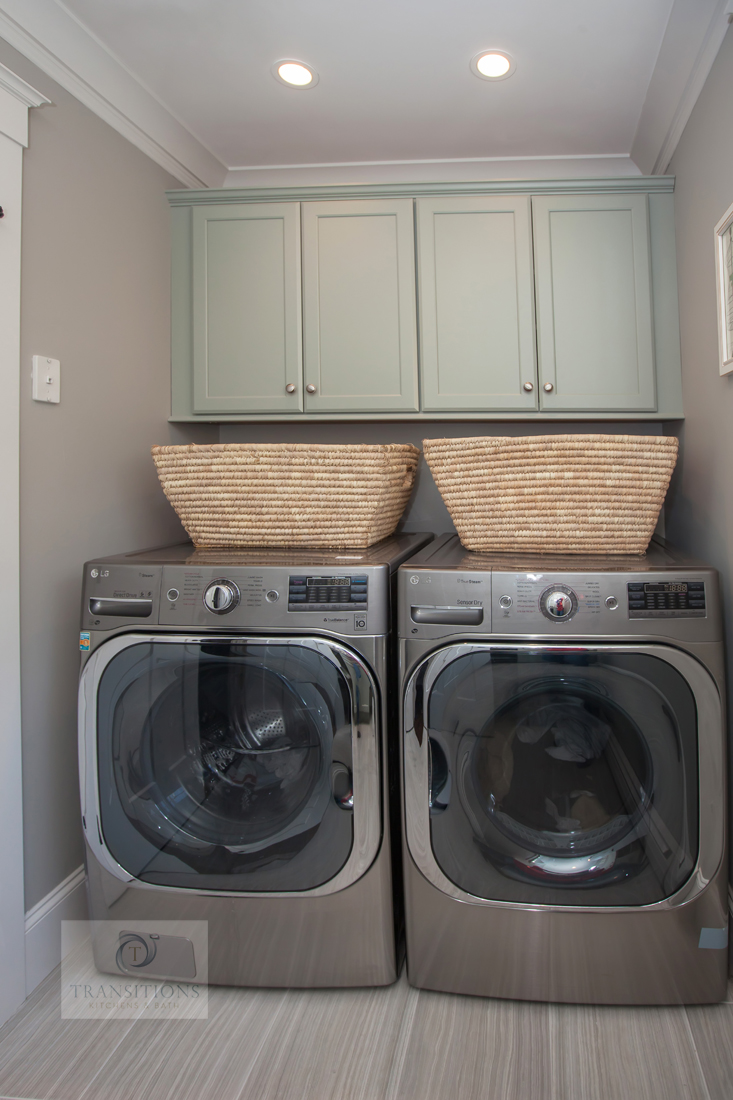 PLAN FOR FUNCTIONALITY
What size laundry room do you need to maximize functionality? It just needs to be large enough to take a washing machine and dryer with a little space behind them. You'll need a couple of feet in front of a washing machine if it's a front-load model. Give yourself some extra space to allow for larger models you might purchase in the future. Ensure there is adequate ventilation in your laundry room by installing a window, if possible, along with a vent in an exterior wall. Plan where you will put power points as your room will need to have a strong power supply. Hot and cold water are also essential in a laundry room. To prepare for a possible leak, install drainage and keep any extension sockets up off the floor. Ask your electrician to set up an automatic power shut-off in the event that you have a leak in your laundry room.
A MULTIPURPOSE SPACE
If space allows, you can transform your laundry room design into an area that caters for many functions. You could incorporate a mud room into your design. Install storage for outdoor boots and hooks for coats and put them in a space where they can dry out easily. Plan for a seating area with a storage bench to harbor essentials as you sit on it to change your shoes. Why not look at a dog wash area to quickly wash down muddy dogs after a walk. If you incorporate pantry space, avoid storing fresh food due to the warmth of the dryer. A durable countertop and even a dishwasher give you everything you need for extra food prep and clean up in a multipurpose space. Although the room can have different functions, it should be consistent in style to pull it all together.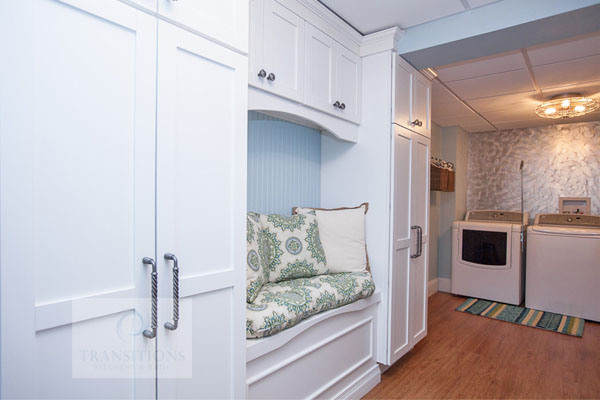 LOCATION, LOCATION, LOCATION
If your kitchen and the laundry room are connected, it makes sense to remodel both at the same time as the essentials like plumbing and electricity will be linked. Choose a consistent style to give the feeling that your kitchen design is larger. If you don't have a suitable space next to your kitchen remodel for a laundry room, there are many other places you can decide on for a location. As long as you have ventilation and preferably some natural light, you're good to go.
It could be positioned in or beside a bathroom design, in your garage, or even in a purpose built space in your backyard with a covered walkway for all-weather access. A laundry room could also be located upstairs. As most clothes are stored in bedrooms, it makes sense to wash and sort them nearby.  Just ensure that the door is solid, and your appliances are rated low decibel to ensure noise control. Placing thick rugs on the floor also helps with sound absorption.
THE LAYOUT
How do you decide on a layout when creating a custom laundry room? First, measure the walls of your designated space.
If you're working within a small space, a galley design is the best option as it positions your appliances together on one wall, keeping plumbing and wiring together. Having your cabinets, washer, and dryer on one side facilitates ease of movement in a tight area.
A galley layout works in any size laundry room but if you have more space then an L-shaped layout gives you more potential. With this layout, you can keep a mudroom, sink, or sorting area at the hidden end and position the rest, galley-style in the entrance section.
An ample sized laundry room could be designed with an island layout, placing the island at the center as a work and storage space.
Whatever layout you choose, maximize your vertical space with hooks and shelving. This keeps your layout true to its aesthetic origins and frees up floor space.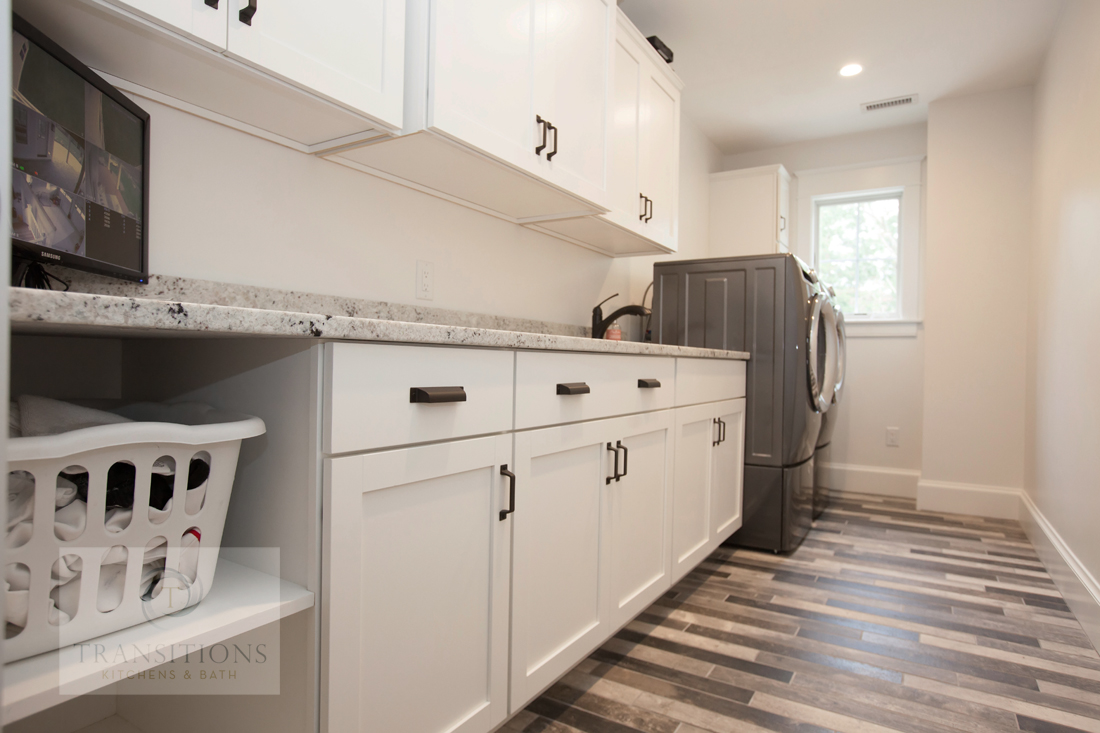 THE CONTENTS
Your custom laundry room needs to be equipped with everything you require to make life easier. This makes a high-performance design that should be low maintenance. Ensure that you have waterproof flooring for extra longevity. Adding underfloor heating also means that your laundry will dry faster when placed on a rack in your laundry room. Once you've decided on your layout, choose durable work surfaces that are positioned for easy navigation. Place your appliances together so your workflow is not interrupted. You can fold clothes on a countertop over a washer and dryer, for example or hang them on a rod suspended from upper cabinets or shelving.
An adjacent sink is perfect for hand washing delicate garments, keeping hands clean, and also prepping food. Other space-saving solutions include tilt-out laundry containers and fold-out ironing boards. A clothes rack on casters lets you move it where needed and wall or ceiling mounted clothes racks fold back neatly when not in use. Why not include a tv or radio for entertainment as you iron?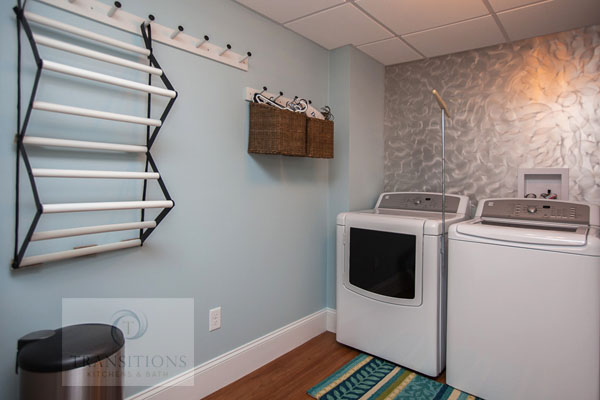 STORAGE
You can maintain a style for your laundry room that is consistent with adjacent spaces, including for your chosen storage. Select cabinets in the same style so the aesthetic of the two spaces work seamlessly together.  The finish on your cabinet doors also makes a difference to your design. The lighter and glossier they are, the more light is reflected, which works well in small spaces. You could have a lighter, shinier version of your kitchen doors in your laundry room to make it appear larger.
Customize your storage to take the specific items you need to store. Ironing boards, vacuum cleaners, and laundry supplies are essentials of different shapes and sizes so design a space for them. Combine both open and closed storage in your remodel to provide interest and allow for essential items in decorative containers on open shelves. Choose a countertop that is appropriate for its functions. Make sure you have adequate lighting over countertops and try to keep them free of clutter. The key to an efficient and stylish laundry room design is highly functional storage.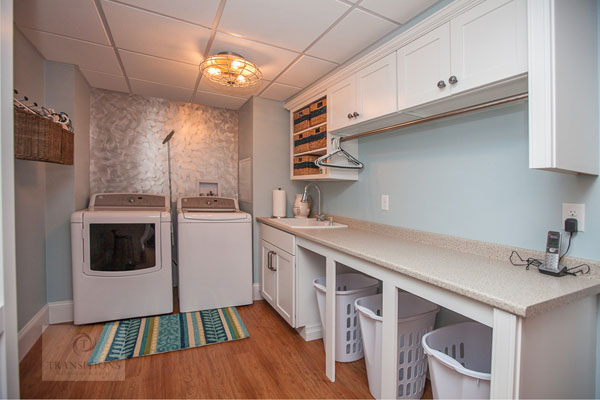 DECOR
After designing and equipping your custom laundry room, it's important to put your own stamp on it. Otherwise, it's just a utility room without personality that you won't enjoy being in. Decide on a look that suits your style and complements your home decor. You can experiment, but keep a common thread throughout with color, texture, or form. Consider making it a warmer, livelier room, for example with wallpaper or a rich shade of paint.
Investing in a luxurious backsplash material can make a big difference to a bland space. There are a multitude of modern materials available, from metals to quartz and you can incorporate storage behind your backsplash for the ultimate in streamlined chic. Add softness and warmth with accessories such as drapes, rugs, and lampshades. Pay attention to detail and even consider your ironing board cover and how it works in the general color scheme. The containers you have on countertops or shelving should also be carefully chosen to work with your style. Take time to pour laundry products into stylish containers for a high-end design aesthetic.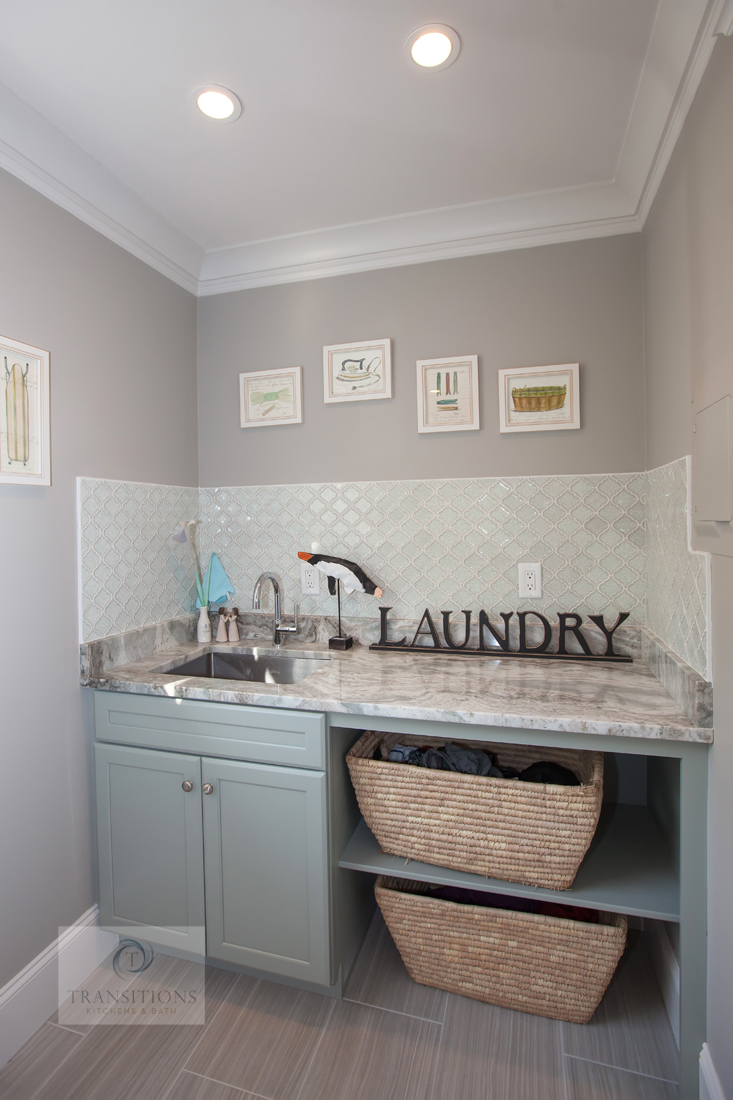 Creating a custom laundry room can be done with careful planning and by considering the style of adjacent rooms.
Contact us to find out more
about how you can design a laundry room that is tailor made for your requirements.