If you've ever spent some of your precious minutes before work digging through the closet to find your favorite shirt or kid's sneakers, then you may want to consider custom closets. Custom closets are an ideal addition to any master bedroom or master bathroom design and can save you time and frustration when your original closet stops meeting your needs.
There isn't a one-size fits all solution to any problem, and no one custom closet will meet everyone's organizational goals or space limitations. We have extensive experience in designing closet solutions and will work with you to create a closet design to neatly store all your shoes, tops, pants, and accessories.
Below are some of our favorite ideas that can be incorporated into the closet design to take your organization to the next level:
Custom Shoe Shelves
You don't have to be Carrie Bradshaw to need or appreciate fantastic shoe racks and storage cubbies. Customized shoe shelves are the perfect solution to organize and display all your foot wear, leaving you with ample space to look at all your options and choose the right shoes for every outfit!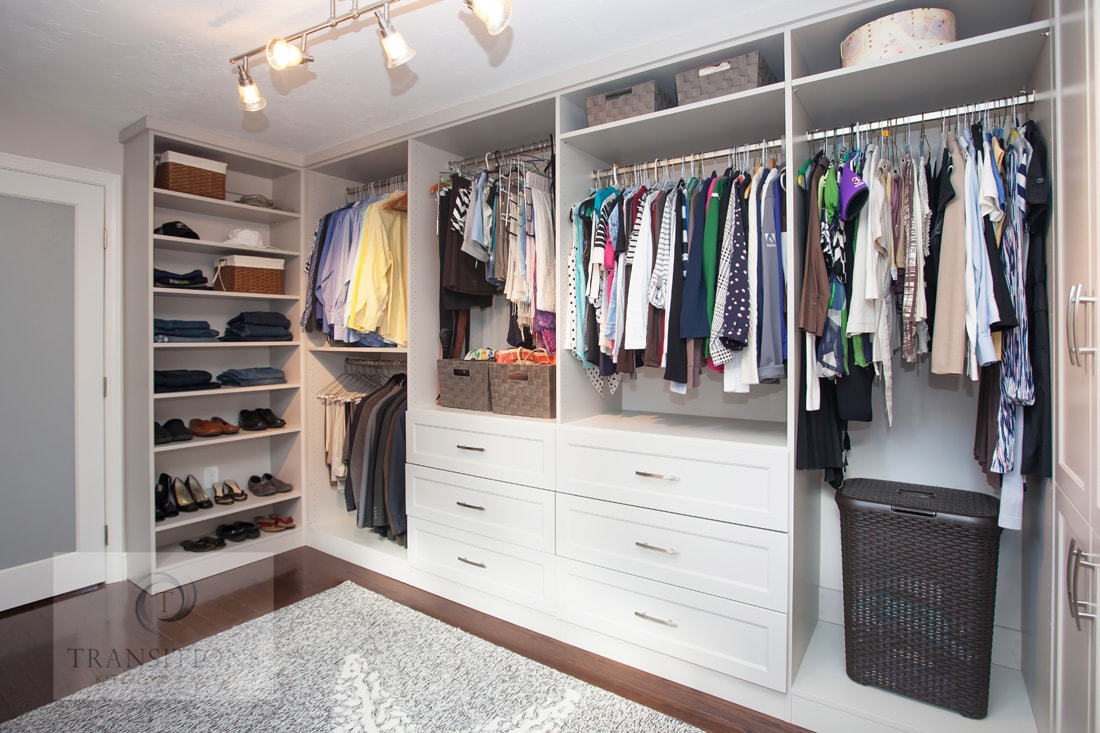 Jewelry Drawers
Imagine a master bedroom design with a custom closet, complete with jewelry drawers! These pieces can store your grandmother's pearls, as well as sunglasses and other small personal belongings. When installing these drawers, it is best to place them slightly above hip level. This makes them easily accessible, but securely out of sight.
Islands and Hutches
Islands and hutches aren't just for kitchen designs – they're also a great way to add storage and counter space to a large closet with underutilized floor space.
The island is the perfect spot to plan your outfit for the next day or to display jewelry and perfumes. You can also use it as a work space to hem dresses and pants or sew on a new button.
Consider placing a hutch in the center of the closet to divide items into his and hers or business and casual sections. You can fill the hutch drawers with other articles of clothing or eliminate the doors to create display shelves for your purses, keys, earrings, and more.
Hideaway Ironing Boards
Home organization throwbacks, like Murphy beds and hideaway ironing boards, are once again becoming increasingly popular since they reduce clutter and are easy to store. With a built-in board, you can complete your ironing and put your clothes away quickly, leaving you more time to relax.
Adjustable Shelving
Adjustable shelving and closet storage units can be easily altered for those that are constantly looking to reorganize and make life more efficient. They're also ideal for young children, since the closet won't need to be updated every five years to accommodate their growth spurts.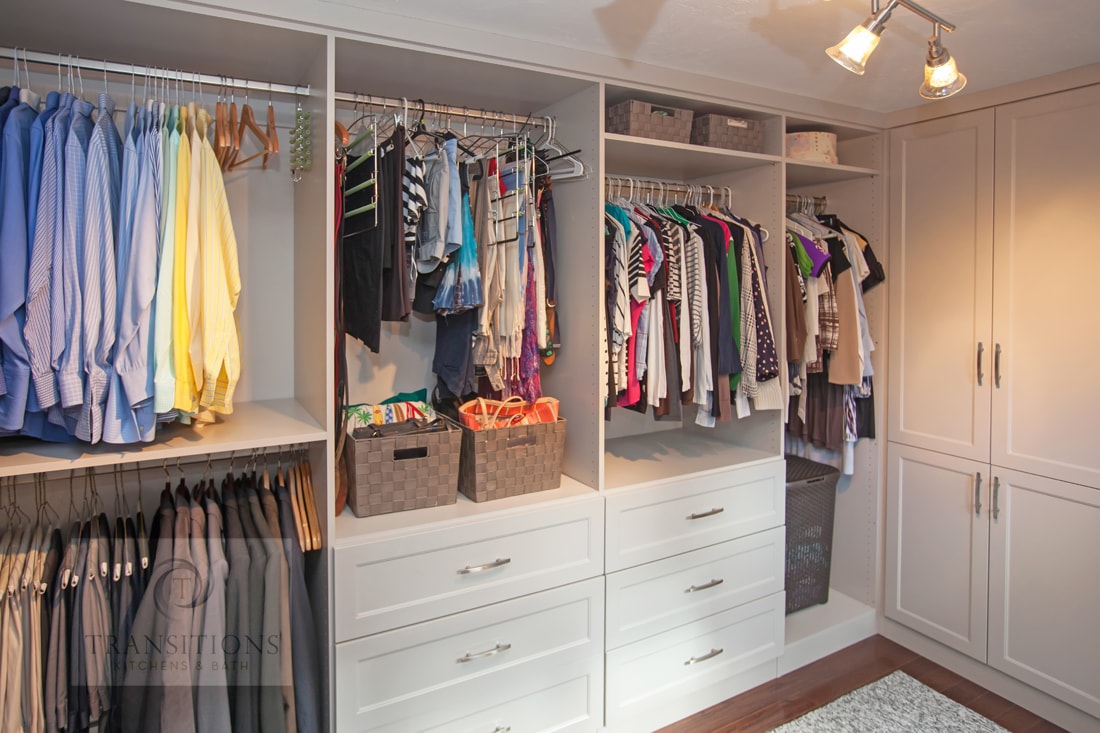 Accessories
When it comes to custom closet design, you can't forget about your accessories. Consider a belt rack that will offer a home to each one in your collection, a tie rack that holds dozens of neck ties, a sliding storage rack to keep all your pants free from wrinkles, or a concealed laundry hamper. Ensuring each item has a designated space will allow you to remain organized and keep your bedroom free from clutter.
If you're looking to add a custom closet to your home, or for any of your kitchen remodeling or bathroom design needs, contact Transitions Kitchens and Bath to get started today! Visit our kitchen design, bathroom renovation, or other spaces remodeling galleries to get more ideas for your next project.