When you are remodeling your home, you need to consider all family members, including the furry ones! Creating areas for cats and dogs reduces stress for both them and you. It makes them feel part of the family, with their own space to retreat to. Here are some practical pet-friendly things to consider in your kitchen design, without sacrificing style.
Catnaps
We spend so much time in the kitchen and dogs want to be with us there as much as possible. A snoozing dog can present a trip hazard while cooking however, so built-in beds are an excellent idea. The bed can be incorporated into your remodel at the kitchen design stage. Even a large dog can cozy up in a custom-made den under your kitchen island or in an out of the way corner of the kitchen. Can you spot the cozy dog bed in the Hingham, MA kitchen design below? Cats need a place to retreat to also. It must be easy to access but private, so consider putting their bed in a special cabinet, customized with a cat-sized hole in the door for them to slip in and out. These sleeping solutions save floor space and your pet will love their quiet place in the middle of all the action.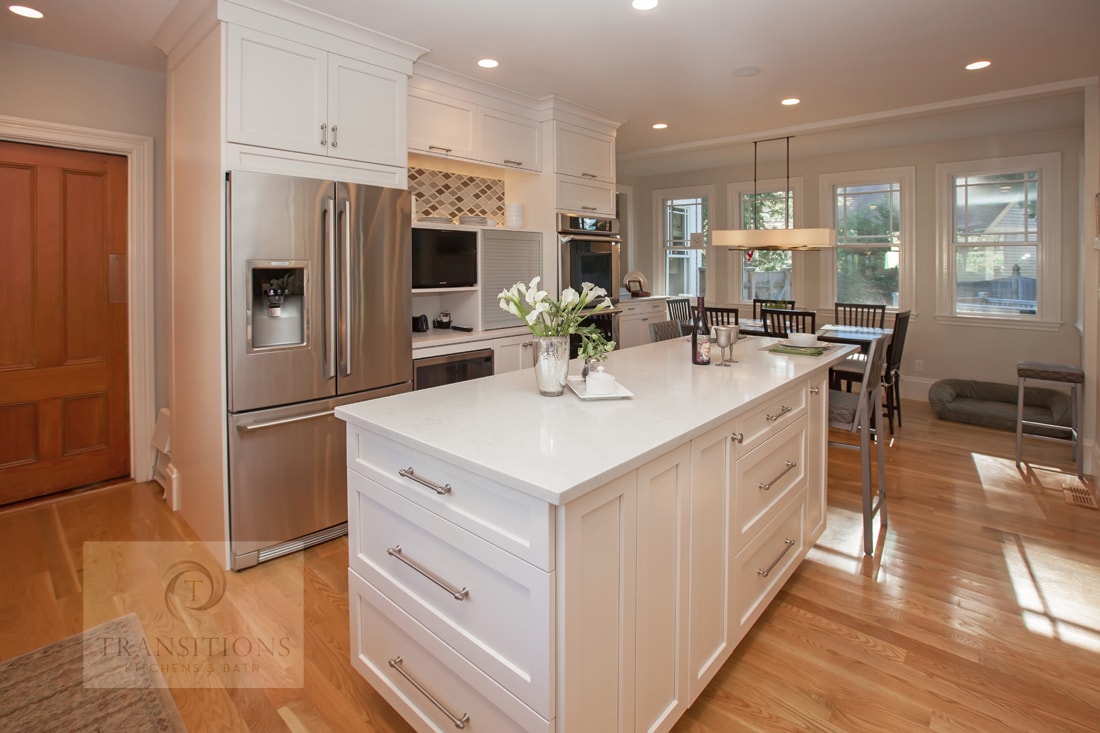 Comfort Eating
Another space saving idea is a feeder station. Taking bags of pet food out of your pantry and having feeding bowls in sliding drawers, along with leashes and toys, increases floor and storage space, and it looks great too! You could also install a small faucet for water.  Your kitchen design expert can work with you to create a feeding station to suit your pet's needs that fits perfectly with the style and functionality of your kitchen remodel. A small chest of drawers could be customized either if you want to include a station in an existing kitchen design.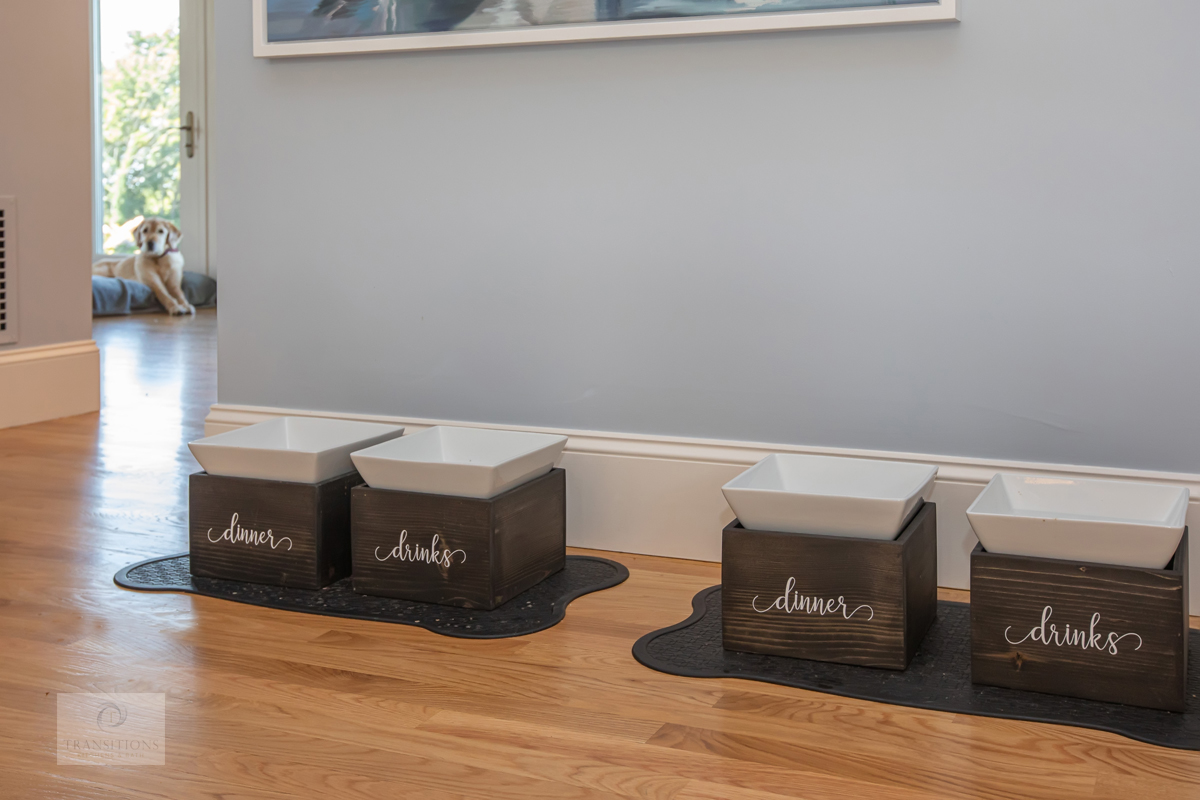 Scratching the Surface
Think about your pet when choosing kitchen flooring. It should be scratch resistant and the right shade to hide the hair your pet sheds. Tile or stone are great options, being durable and low maintenance. These hard materials are not comfortable to lie on though, so you'll need bedding or a rug for your pal. Cork is warmer, antimicrobial and absorbs the sound of little claws pattering around. Bamboo is very durable and stain resistant, giving a wooden appearance while being sustainable. Vinyl flooring is a low-maintenance option that can imitate stone or wood and is kind to paws.
Playstation Time
As well as comfort and food, play is an important part of a pet's life. It also makes them feel welcome and safe in the kitchen. Try to factor in an area for pets to have fun in your new kitchen design. It could be a scratching post in the corner for your cat or a place your dog can find a ball. Cats really love being off the ground, so stylish, curved shelving hung on the wall would be paradise for them to jump and curl up on.
Paws for Thought
Sometimes you do need to cordon off parts of the kitchen, whether you're leaving food out or have just mopped the floor. Pull-out gates are perfect for temporarily blocking access. Slot them into your kitchen design where they can slide in and out and be concealed when not in use. Conversely, access for a pet is also important, so try to include small doors within doors for them to enter and leave easily. Remember to store chemicals, medicines and pesticides where pets can't reach them. If your cat likes to jump onto countertops, consider an induction cooktop which heats the pots with magnets, so the cooktop doesn't get hot and pose a risk to a curious cat.
These ideas work well in any kitchen design to make it pet friendly. Check out our kitchen remodeling project gallery to see what else would suit your taste and lifestyle. Contact us today to start making plans for your new kitchen design.  We are available for appointments in our showroom or we are happy to arrange a telephone or online consultation to kick off your remodeling plans! Contact us today on (781) 871-0881.