Now is the perfect opportunity to plan a remodel focused on entertaining, whether that is a small family gathering or a big get together with friends. Get your entertainment zones right, and it will be perfect for keeping the immediate family amused if you are all spending more time at home together. A well-planned kitchen design also means you have the perfect set up in the future for dinner parties, cook-outs, game nights or birthday parties. Your entertainment zones take the stress out of hosting any occasion and make everyday family life more comfortable. Here are some key features to consider when designing entertainment zones in your remodel.
Go Open Plan
An open plan kitchen design works for any event and makes everyday home life more enjoyable. All gatherings center around the kitchen, so knocking down walls creates a flow around each area. As host, you can still be present for all the festivities in an open plan design. Open plan is perfect for family dinner and movie nights too, meaning you can grab another drink from the beverage refrigerator or get more popcorn without having to pause your movie!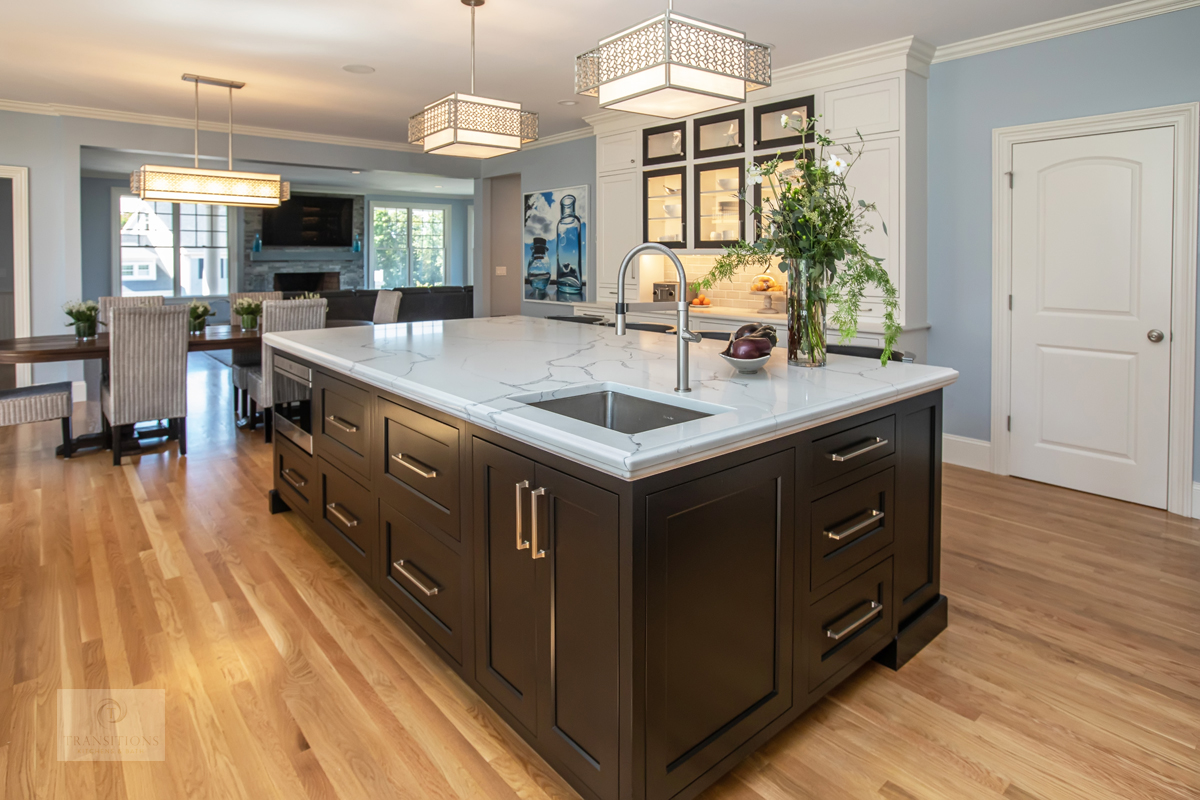 Take a Load Off
For everything from parties to family game nights, seating is paramount for people to relax. When you are entertaining, allocate seating for people to sit and talk to you while you cook, for them to eat and comfortable seating for tired guests to sink into. Seating at islands and dining tables as well as banquettes, couches and armchairs should cover all requirements in your open plan kitchen and living spaces. Just arrange all seating so that it doesn't disrupt the flow of traffic.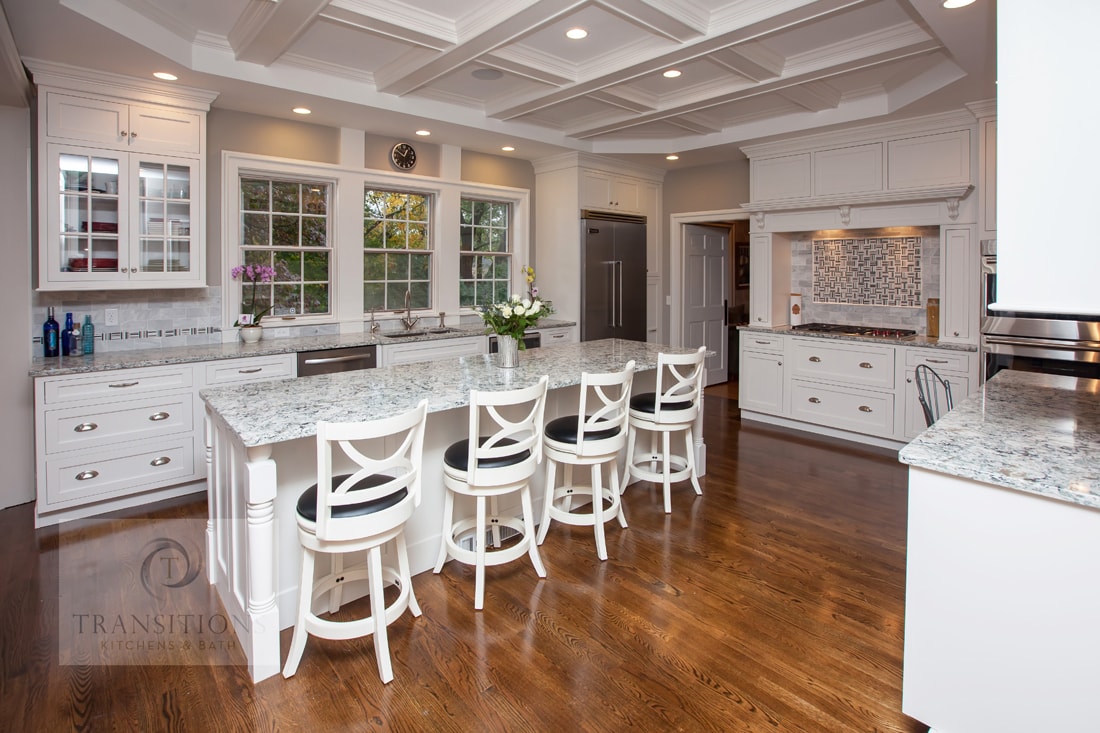 Island Essentials
The island is often the focus of modern kitchen remodels and the center of family life. It works well for storing, preparing, and serving food as well as for seating. It marks out a space where guests can relax and talk to you while you work on the other side. By day, the kids can do schoolwork or crafts here. Customized islands can serve your every need and set the tone for a stylish kitchen design such as this one in Norwell.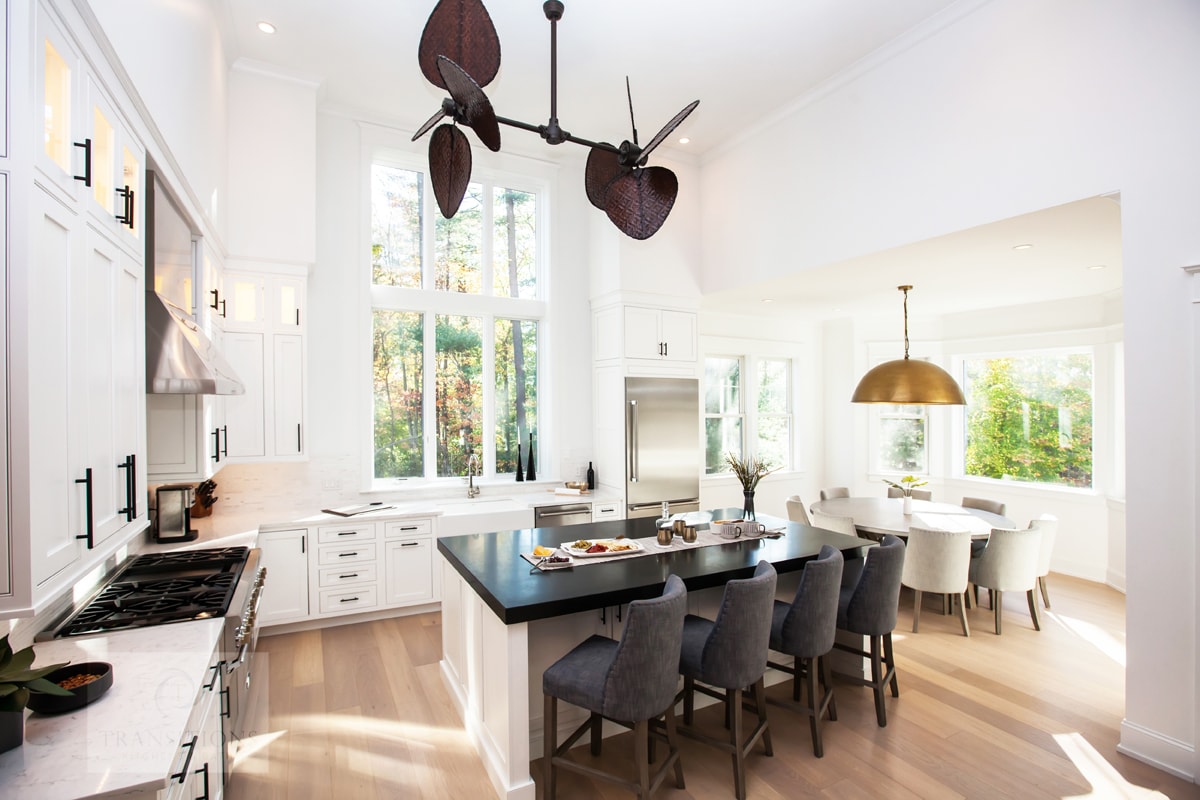 Turn Up the Volume
Set up an area with an integrated entertainment system. You can watch the big game or the season finale of your favorite show. Silent home movies or music videos are great for adding atmosphere in the background when entertaining friends and family. Access playlists to set the tone for any event with built in speakers around your kitchen design. Include charging points in drawers which provide handy storage for devices.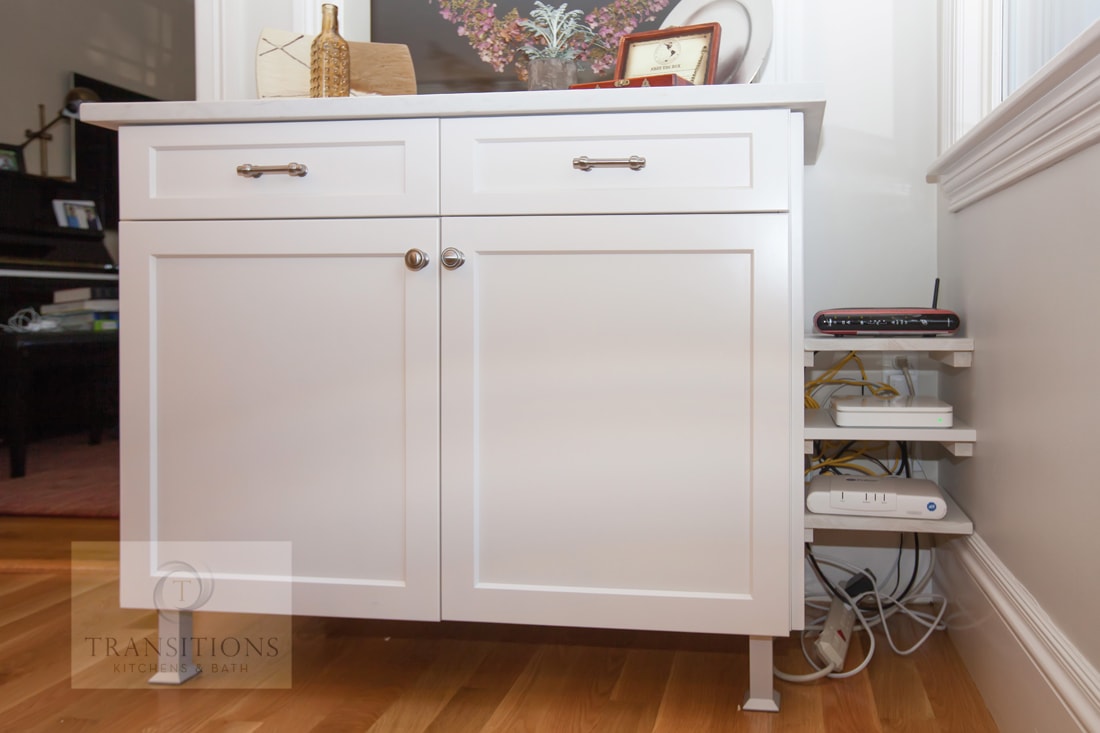 Store It All Up
A large room is ideal to host a gathering, but the right layout and storage means any size remodel can work for entertaining. Bespoke cabinets and shelving keep countertops and floor space clutter-free for parties or holiday dinners. Designate a space for a beverage bar so guests can fix themselves drinks away from the busy food prep area. It also gives you a place for your coffee machine or a wine refrigerator to keep your favorite beverages.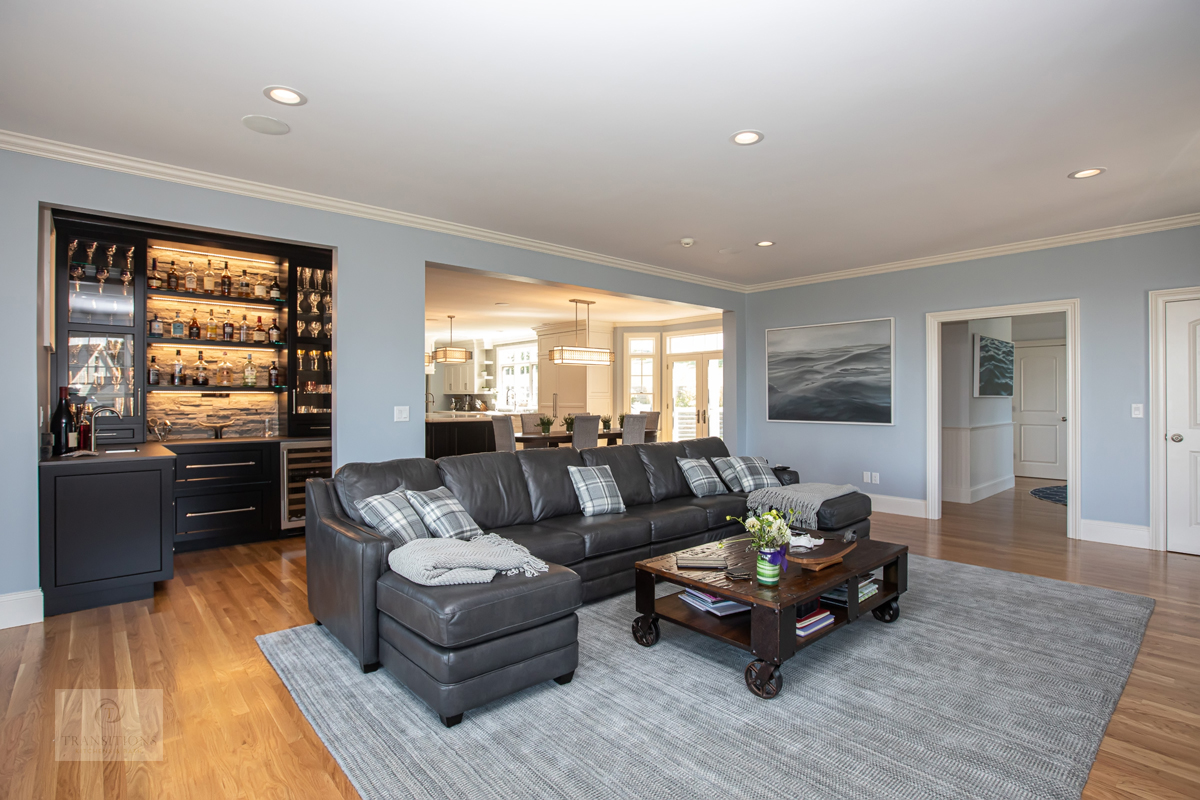 Be Smart
Incorporating smart technology in your remodel means you can order supplies or view recipes at the touch of a button. Set the oven, room temperature and lighting from your phone and then get an iRobot cube to vacuum for you while your smart refrigerator stocks up on food after the event. Invest in appliances such as pizza ovens or espresso makers that fit your personal tastes and lifestyle. A professional oven, extra dishwasher or fridge take the fuss out of party preparations.
Lighten Up
A layered lighting plan allows you to set the mood for any gathering. Bright task lighting is essential for food prep and dimmer switches can adjust lighting levels in different parts of your design. Spotlights highlight art and a glass cabinet or island can be up lit. Lanterns and lamps add atmosphere and dramatic light fixtures create a talking point, such as these pendants in a Cohasset kitchen design. A well-planned lighting design is also essential for everyday cooking and meals, as well as studying or working from your kitchen island or table.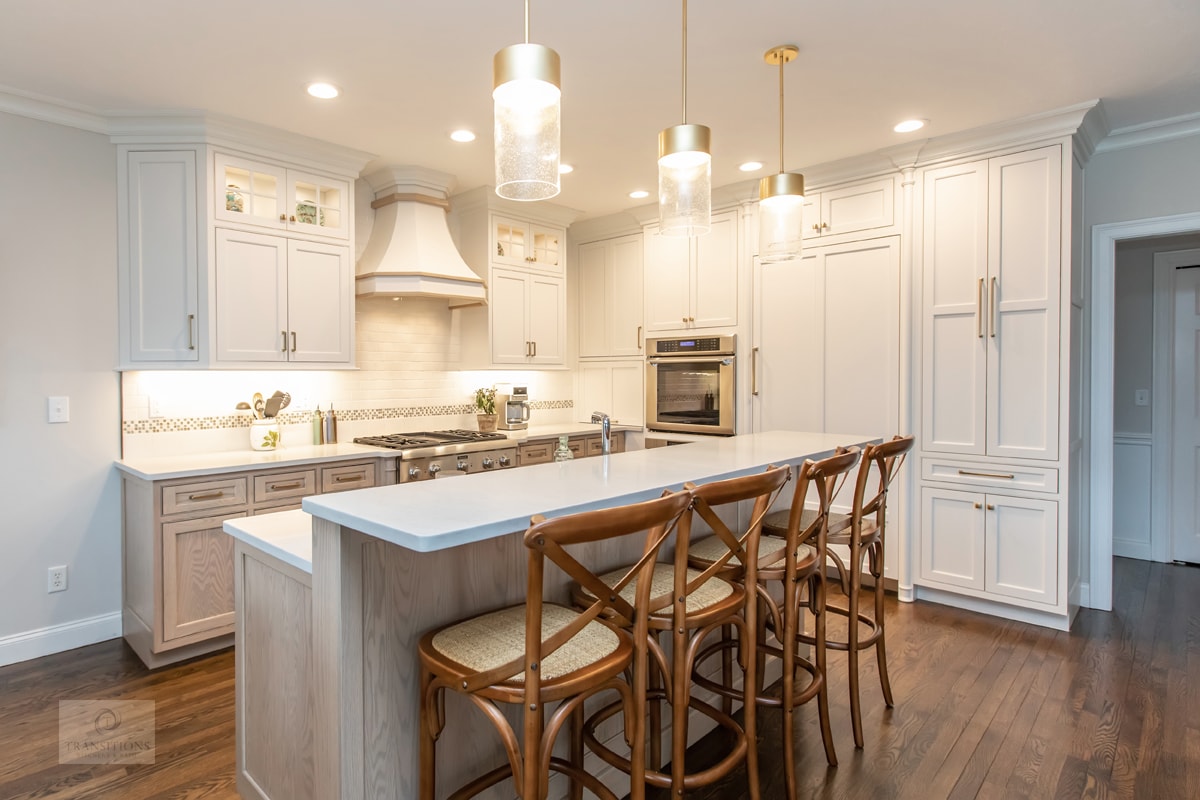 The Great Outdoors
Entertaining outside has become more prevalent of late. Extend your kitchen design out onto a patio or decking with heaters and speakers. Arrange seating with blankets, candles and strings of lights and this entertainment zone could be the key to your party's success. A built-in barbecue, custom storage and food prep area can provide a whole new dimension in your kitchen design.
With the right planning, even the smallest kitchen can host family and friends for any size event. Explore our kitchen design gallery for more inspiration or contact us today to discuss the perfect kitchen for entertaining.