With the holidays quickly approaching, many people are hosting parties and welcoming guests into their homes. Decorating and preparing special treats are a great way to get in the holiday spirit at this time of year.  Did you realize your kitchen design can also play an important role in making your guests feel welcome and you more relaxed when entertaining?  There are many ways to design your kitchen to make entertaining not only easier, but also more enjoyable.
Open plan kitchen: There is a reason why open plan kitchens are so common today.  The kitchen is the hub of the home, and tends to be one of the most popular gathering places.  Holiday events and parties are no exception to this rule.  Have you ever noticed that party guests migrate to the kitchen?  This is where all the action happens, and where you will find the food, beverages, and quite often the party host.
An open plan kitchen design is ideally suited to entertaining, as it provides a fluid space for hosts and guests to mix.  Integrated electronics, such as a wall-mounted flat screen television, built-in docking and charging stations, and speakers, allow you to easily play music or watch television.  Watch your favorite program or even an instructional cooking video while preparing food, play your favorite music during dinner or a party, or watch the New Year's Eve ball drop while you cook and socialize.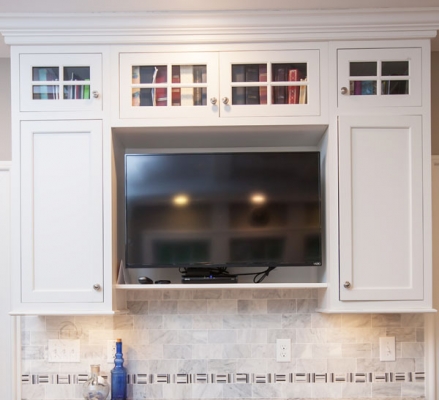 Island entertaining:  The kitchen island is a central feature in most kitchen remodeling projects.  It serves as a key component of the layout by clearly marking out different zones for work vs. dining and entertaining.  It becomes the meeting point for hosts and guests at a party, allowing the host to prepare food or clean up on one side while guests sit across the island drinking, eating, or just chatting.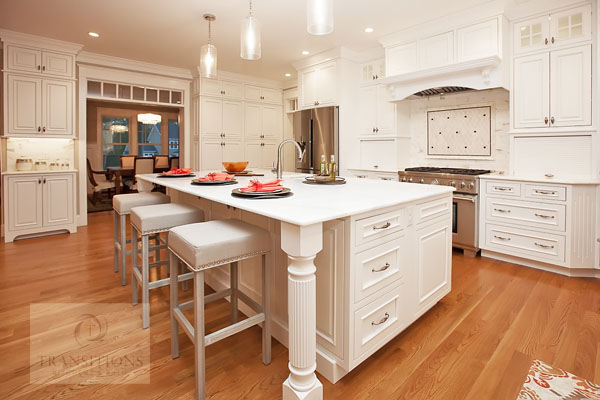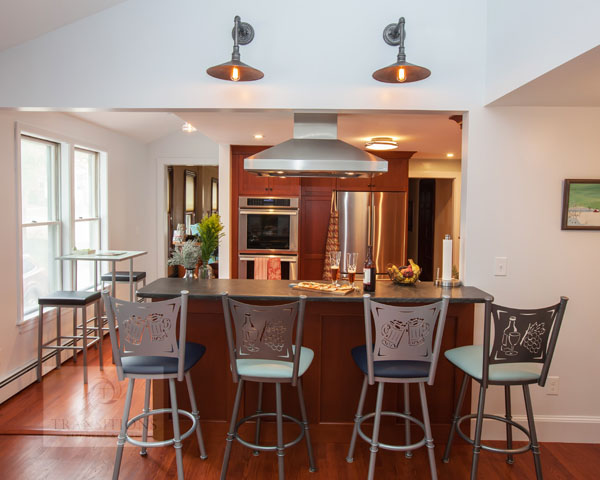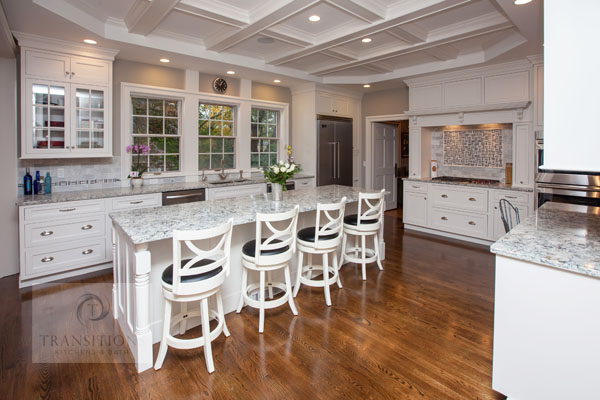 The island is both practical and stylish.  It can be a design focal point, helping to set the tone for your kitchen style.  On the practical side, it offers extra worktop space and storage.  Customized island storage is the perfect designated place to keep holiday linens, dishes, and baking supplies.  Built-in island seating solves your requirement for extra seats at large family gatherings or parties.
Beverage bar: Inviting family and friends to your home during the holidays is a lot of fun, but also means extra work for the host: preparing food, answering the door, and setting the table or putting out party nibbles.  Offering beverages is often high on the list of priorities at a social gathering. Provide visitors with a designated place to get drinks during the course of the event, and make your job as the host much simpler and your guests feel more at home.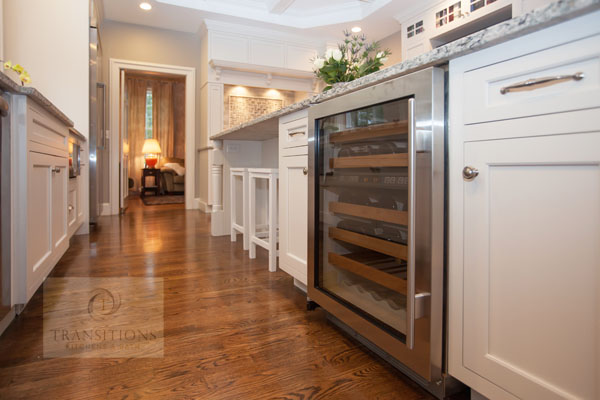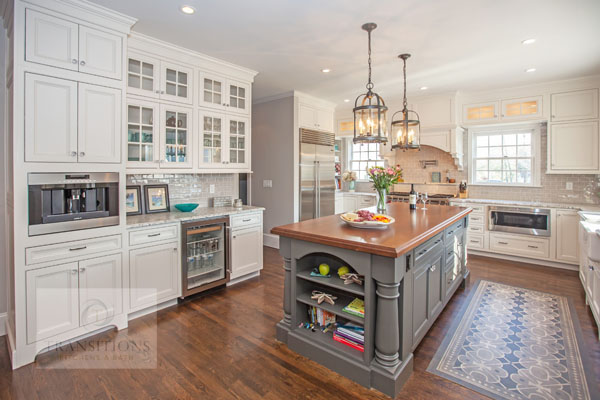 A beverage station can take many forms, depending on the space available and your personal style.  A full beverage bar could incorporate kitchen cabinet storage for an array of drinks and glassware, a countertop and separate sink, a beverage refrigerator, and possibly even a separate dishwasher.  This area could also include a coffee station with coffee making facilities.  A kitchen renovation is the ideal time to add a full beverage bar.  On a smaller scale, a designated niche in your kitchen, an area of countertop for coffee and drinks, or an undercounter refrigerator could serve as a beverage station.  Aim to place this area where guests can easily access it without interfering with the work of the kitchen.
Lighting:  A multi-layered lighting design is important to any kitchen design, but the right lighting is more important than ever when you are entertaining.  You need task lighting in the right places to offer concentrated light for cooking and food preparation, while also creating the right mood for dining and entertaining.  Different light sources targeted at particular areas, along with a dimmer switch to control lighting levels, are the ideal way to achieve the perfect lighting design.
Visit our kitchen design gallery for more inspiration, or contact us here to find out more!