You may not be a professional chef, but you like to cook and bake like one at home.  If this describes you, it is important to have the right tools in your kitchen design that allow you to realize your creative culinary vision.  A high-quality oven and range are at the heart of cooking, so choose carefully when selecting a new model.  For the avid home chef, is it worthwhile to invest in a professional style oven and range?  Let us help you decide, and then
contact us
to discuss all your
kitchen remodeling requirements
including
appliance selections
.
Why go for a professional style oven and range?
Are you the type of person who cooks regularly, and doesn't just make the bare minimum for family dinners?  Do you watch your favorite cooking programs and immediately want to try those creative masterpieces in your kitchen (or come up with a few of your own)?  Do you entertain regularly, having friends and family over for dinners or parties?  If you answer yes to these questions, then a professional style range may be a worthwhile investment for you.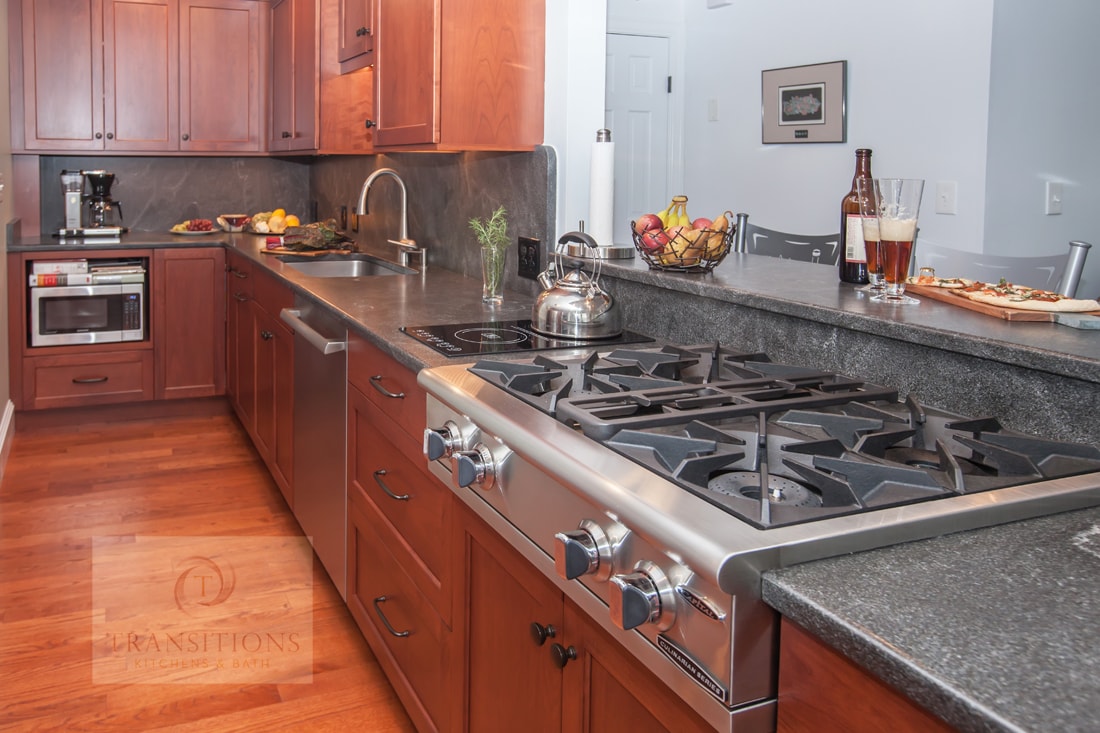 What is a professional style range?
Professional style ranges offer many of the benefits of those used in a pro kitchen but modified for home use.  They are ideal for a busy household with an avid home chef who loves to cook.  These ranges and ovens offer high capacity with more multiple burners than a standard range and greater oven capacity.  They typically have other attachments like a griddle pan.  They are a high-powered appliance with higher BTUs, up to 25,000 compared to basic ranges that go up to 12,000.  These ranges also offer convection fans that help distribute heat evenly.
Think of the commercial ranges and ovens professional chefs use in restaurants, which are essential to the culinary masterpieces they create.  They won't make you a great cook, but the right range and oven give you the tools to carry out your culinary vision.  In a busy family household, it also means you have the capacity to cook large meals and keep everyone fed without driving yourself crazy!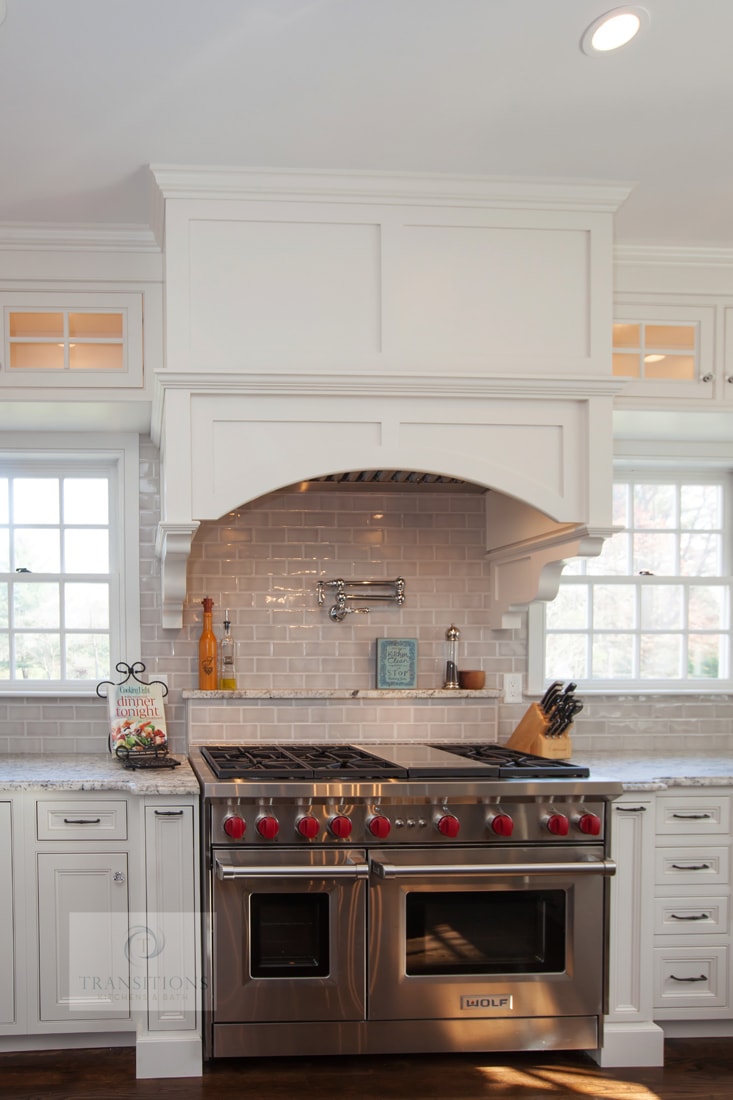 How to select a professional range and oven?
Professional-style ranges typically come in widths ranging from 30-inches to 48-inches, with some going even larger.  Your available space, cooking requirements, and budget will inform what size range you should select, with larger models having higher capacity for multiple burners, griddles, and more.
Before buying a professional range, make sure your power source is properly configured and suitable for the range and oven you plan to install.  A professional range also means you will be cooking regularly…and a lot of food, which means you need to make sure your exhaust is up to the task.  If your new range is larger than your old one, you will require a larger range hood.  When upgrading as part of a kitchen remodel, your kitchen design expert can advise on the best combination of range and hood to meet your requirements.
Consider your cooking and baking style before selecting a range and oven.  Do you always cook meals that have several pots on the go at once?  Do you like to flip burgers for family at the weekend or make pancake breakfasts every Saturday?  Are you an avid baker, making cakes and treats for every special occasion?  Do you typically host special meals like Thanksgiving dinner?  Discuss your requirements with your kitchen design expert and let them guide you in determining which range and oven are right for you.  How you cook and live will inform how large a range you need with what combination of burners and griddles, as well as how large an oven.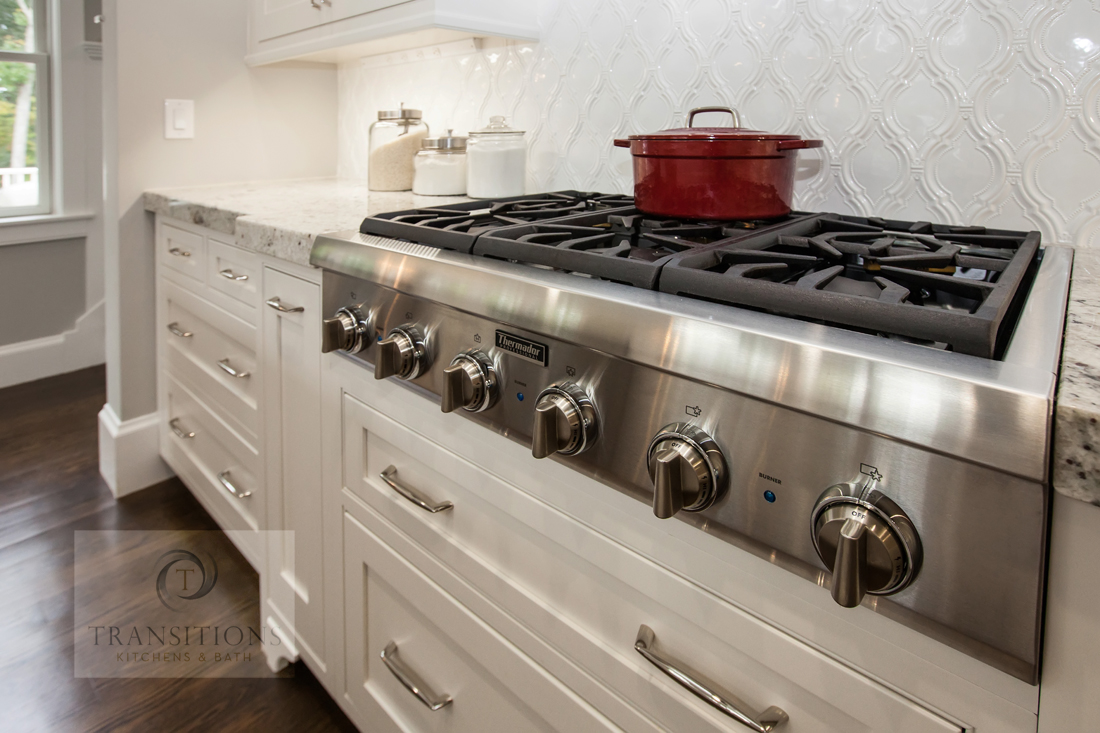 Your kitchen remodeling professional will also help you determine how much space you need to accommodate your preferred option. You may want the largest professional range available, but if you do not have the physical space it will overpower your kitchen layout.   At the same time, discuss how much of your budget you can set aside for appliances and how much you want to dedicate to the oven and range.  If budget and space are tight, consider alternatives like high end standard ranges that do not offer quite as high a capacity as professional models but come very close and will get desired results.
Does the idea of a professional range and oven get your culinary creative juices flowing?  Find more appliance inspiration in our kitchen remodeling gallery, then make an appointment with us today to start designing your dream kitchen for 2020!