If doing your part to take care of the environment is on your mind, you may be taking steps to recycle more or to reduce your carbon footprint.  Being environmentally aware has never been more important, so it's no surprise that sustainability is increasingly recognized as a factor in kitchen design. There is no need to sacrifice the look you want though, as most modern kitchens are eco-friendly in a multitude of ways and there are an array of environmentally friendly materials and design principles that can be incorporated. Being mindful of sustainability from the start of the kitchen design process means you get the most eco-friendly, sophisticated kitchen, without compromising on style.
PLAN LONG TERM
When looking at a kitchen remodel, think long term. Plan for you and your family's requirements over the next 20 years, considering everything you will need as well as anything you won't. Use the highest quality products you can afford to avoid unnecessary replacement or repair, saving you money in the long run. These kitchen cabinets in Hingham are an excellent example of customized storage ideal for a busy family's needs. Sleek, high quality cabinets accommodate everything from electronics and appliance storage to workspace.
SOURCE ETHICALLY
Interior design is looking more to re-using, recycling and reducing materials. Always check that the products you choose originate from verified manufacturers, where they are ethically sourced. There are many recycled products, such as wood composite or glass tiles, that look great and reduce your carbon footprint. Consider incorporating chic upcycled furniture or repurposed items, which are widely available and help make your kitchen truly unique. If your appliances still have a few years left in them and fit into your new kitchen design layout, don't automatically dispose of all your appliances in a kitchen remodel.
SUSTAINABLE WORKTOPS
Quartz and Corian produced the USA are better for the environment than granite, which is heavily mined. Also, they're easy to maintain, very durable and don't need sealants that might have a toxic content. It's also important to check that the manufacturers recycle the water and excess materials from the production process. These kitchen cabinets in Cohasset are complemented by a subtle, gray quartz countertop, which looks especially stunning on the large, bi-level island.
AVOID CHEMICALS
When you're designing an eco-friendly kitchen, it might seem obvious, but toxins must be kept to a minimum. Make sure your kitchen cabinets and work surfaces are zero or low VOC. Volatile Organic Chemicals release gas at room temperature, affecting your health. The 'Greenguard' certification is a reliable assurance that what you're buying is chemical free. These contemporary warm wood kitchen cabinets in Scituate are by the environmentally committed manufacturer Masterbrand Cabinets Inc.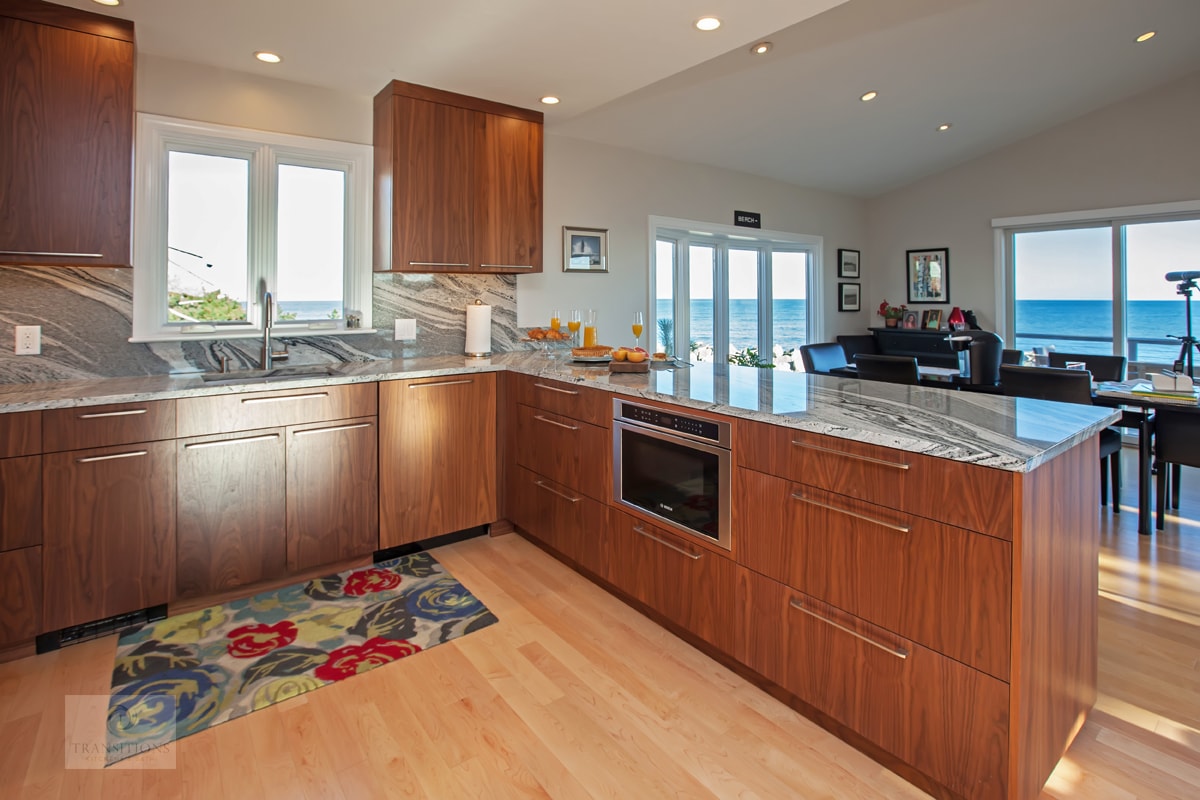 BE ENERGY EFFICIENT
Always prioritize energy efficiency in your kitchen remodel by buying appliances with the 'Energy Star' symbol. Get into practical habits, such as keeping your refrigerator full, at a regular temperature and closed as often as possible, to reduce energy consumption. Also make sure dishwashers and washing machines are full for each cycle, that you use a lower temperature and your detergents are eco-friendly.  Aerators and sensors on faucets save gallons of water too. Timers, dimmer switches and LED bulbs save energy, as does having several plugs in a power strip so they can be unplugged together. It's little changes like this that can make your kitchen design ten times greener.
Follow these tips to get a kitchen design that is both sustainable and stylish. Check out our kitchen gallery to see projects using only the best suppliers and designers. Talk to us today, to make your kitchen remodel a shining example of style and environmental responsibility.