Remodeling a master bathroom gives you the opportunity to plan a design that is a highly functional, yet luxurious, retreat. Creating a
master bath design
for your own use lets you tailor it to your own requirements. Planning for resale also increases the value of your home as potential buyers can envisage
having a home spa experience
.
Whether you're changing your floor plan, designing a new build, or updating your master bath, there are ways to ensure your space reaches its full potential. Toilets, sinks, showers, and tubs are available in different styles and finishes and there is a myriad of fittings and accessories to work with your fixtures.
The color scheme, storage, and flooring you choose also impact the form and function of your master bath remodel. If you want a bath design with a spa feel, it's important to choose quality materials, as they become the focus of a minimalist design.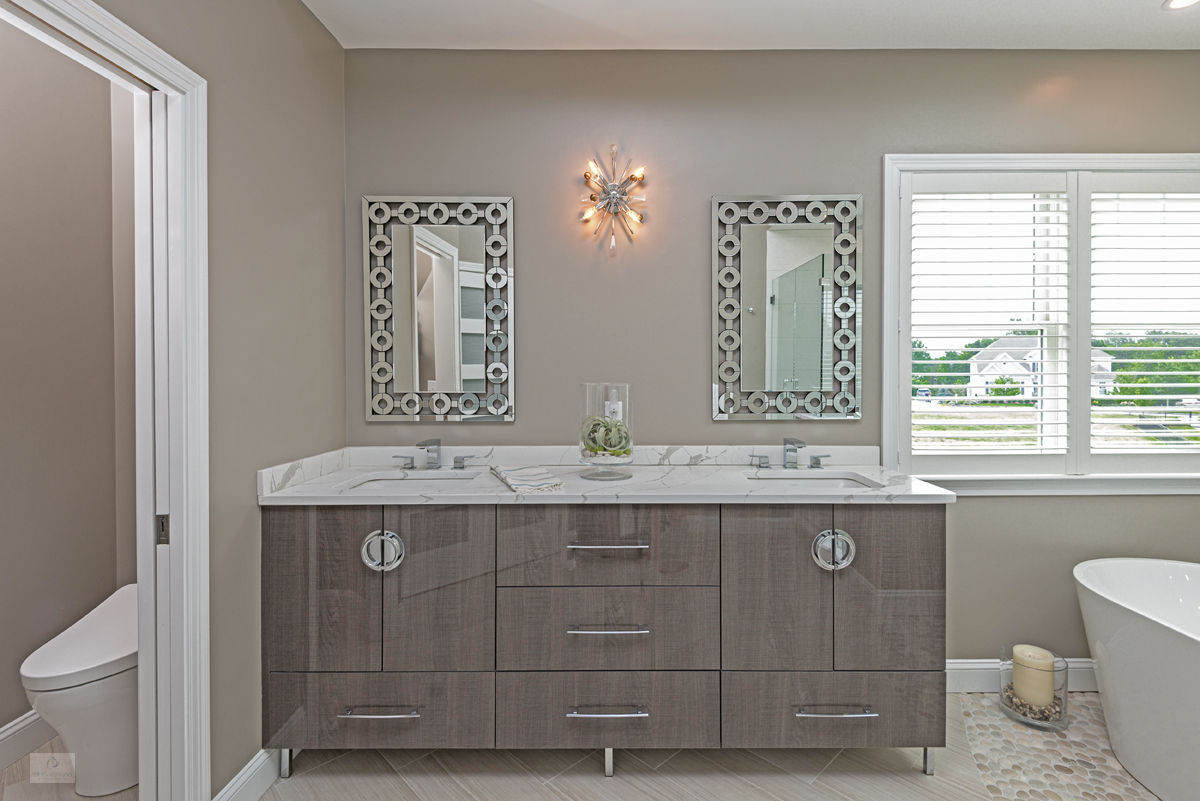 How do you improve on what you have in your master bath, or create one that's next level? Here are our ten essential elements of a
master bath remodel
.
1. A Double Vanity
A vanity is an essential element of any bath design. The style of vanity you choose helps to define the look of your master bath design as well as declutter your room with its storage capability. A custom vanity is an ideal way to store styling tools and products and keep countertops clear. You can even include charging docks and electrical outlets within your vanity drawers for handy storage and powering devices.
A double vanity is a perfect solution for a master bath shared by two people. Two sinks mean that your mornings and evenings run more smoothly. Go for a natural stone or engineered quartz countertop and undermount sinks. Vessel sinks would also look stylish and create a style focal point. A double vanity comes in many size options and doesn't have to overwhelm the space. Or go for a floating vanity, which gives an airy feel to the bathroom. Using natural, quality materials let your vanity do the talking without much else.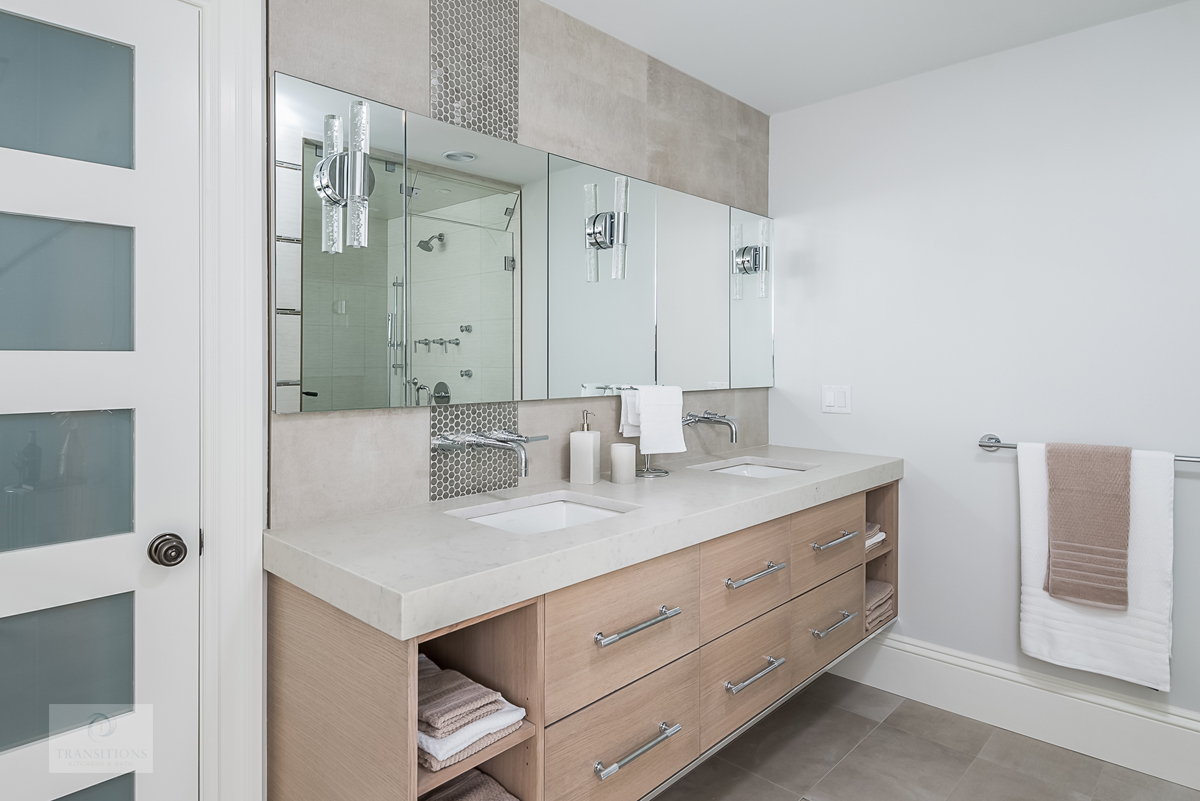 2. Luxury Faucets
Choose a faucet style, material, and finish that complements your room's design aesthetic and meets the demands of your daily life. Touchless faucets are one option to complete the sink in your vanity, and they are growing in popularity. They are easy to use and low maintenance, thanks to the fact that fingerprints and smudges are kept to a minimum. They are highly functional but bring style and luxury to your master bath design.
The look and finish you choose should complement the sink and other hardware in your bath remodel. Brass is overtaking matte black as this year's must-have faucet material. Oil-rubbed or brushed brass are sure fire ways to avoid obvious water spots on your touchless faucet. Shiny chrome and stainless steel are also still popular choices for a classic master bath design look.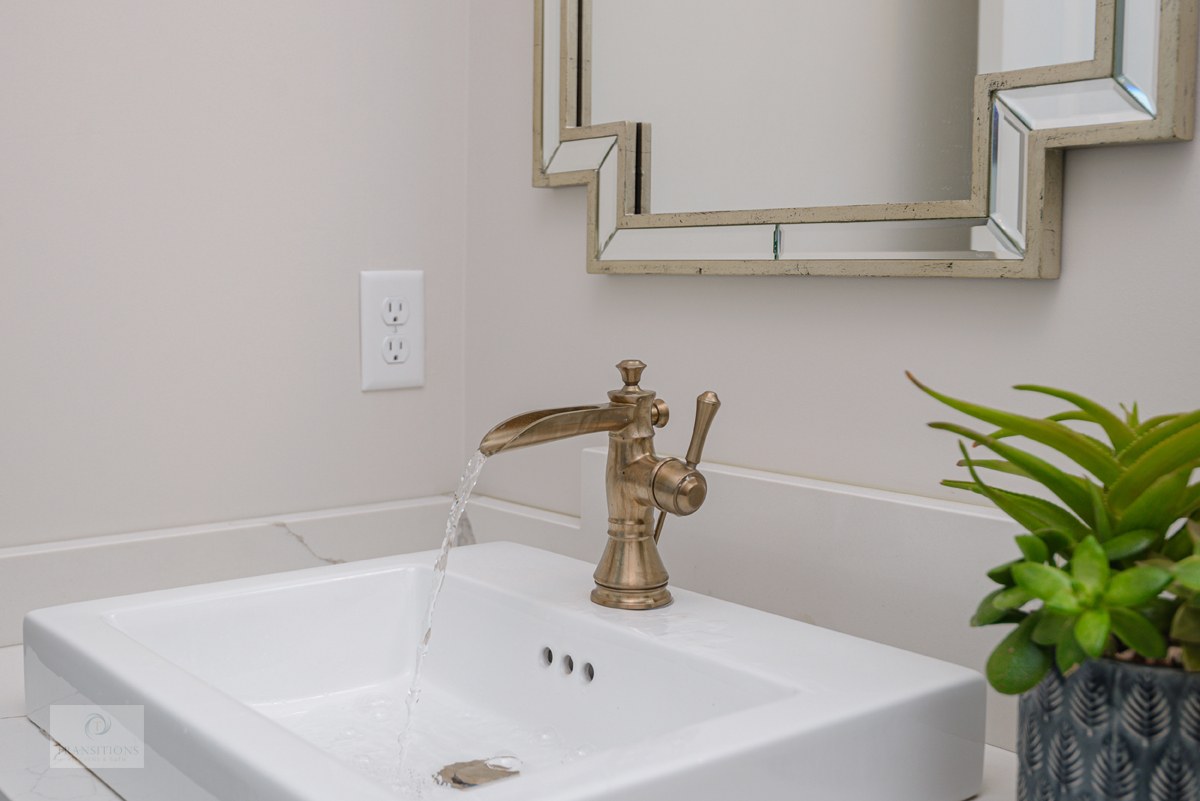 3. Walk-In Closet
Another stress-busting solution is to install a walk-in closet that is connected to your master bath remodel. Design it to be large enough to hold clothes and changing areas for two people. Custom storage in your closet means clothes, shoes, and accessories are instantly accessible on any busy morning, which also makes it easier to put things away neatly and maintain a clutter-free master suite. Why not include a seating area with storage benches or a space to iron last-minute outfits? Hat stands, coat hooks and jewelry trees are all additions that can be included. Plan your ultimate closet requirements and then your design expert can include them in your master suite remodel.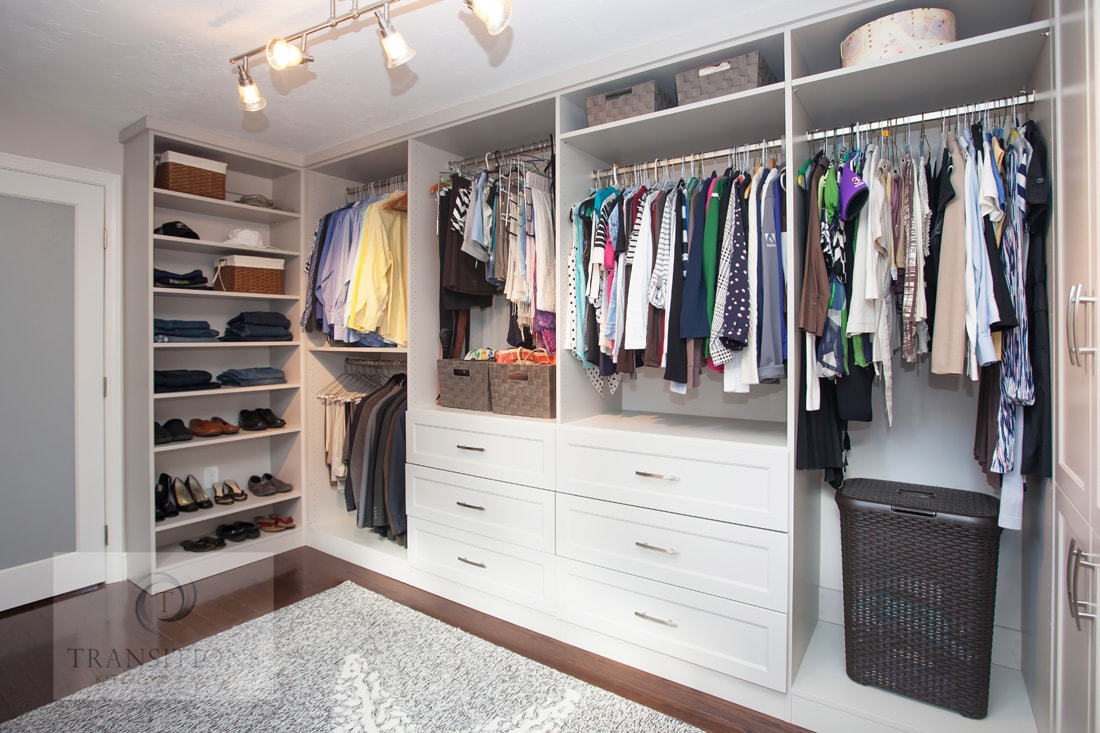 4. Combination Storage
Installing both open and closed storage in your master bath remodel means you have the best of both worlds. Tailor-made closed storage, such as your vanity, along with baskets, crates, and medicine cabinets keep all manner of things stored neatly out of sight. Choose materials for your closed storage receptacles that suit the style of your bath design.
Open storage is slightly higher maintenance as items displayed should be attractively arranged and kept dust free. Tiny items can be placed in small jars or boxes and liquids decanted into stylish dispensers. Open shelving breaks up a blank wall and adds character to your bath design. As with containers, you can add texture and contribute to the style of the room with the items you choose to keep on the shelves as well as the shelf material itself. Niche shelving in showers or over tubs allows for unobtrusive storage of essentials and can provide space for an accent tile that adds color or pattern to your shower tile design.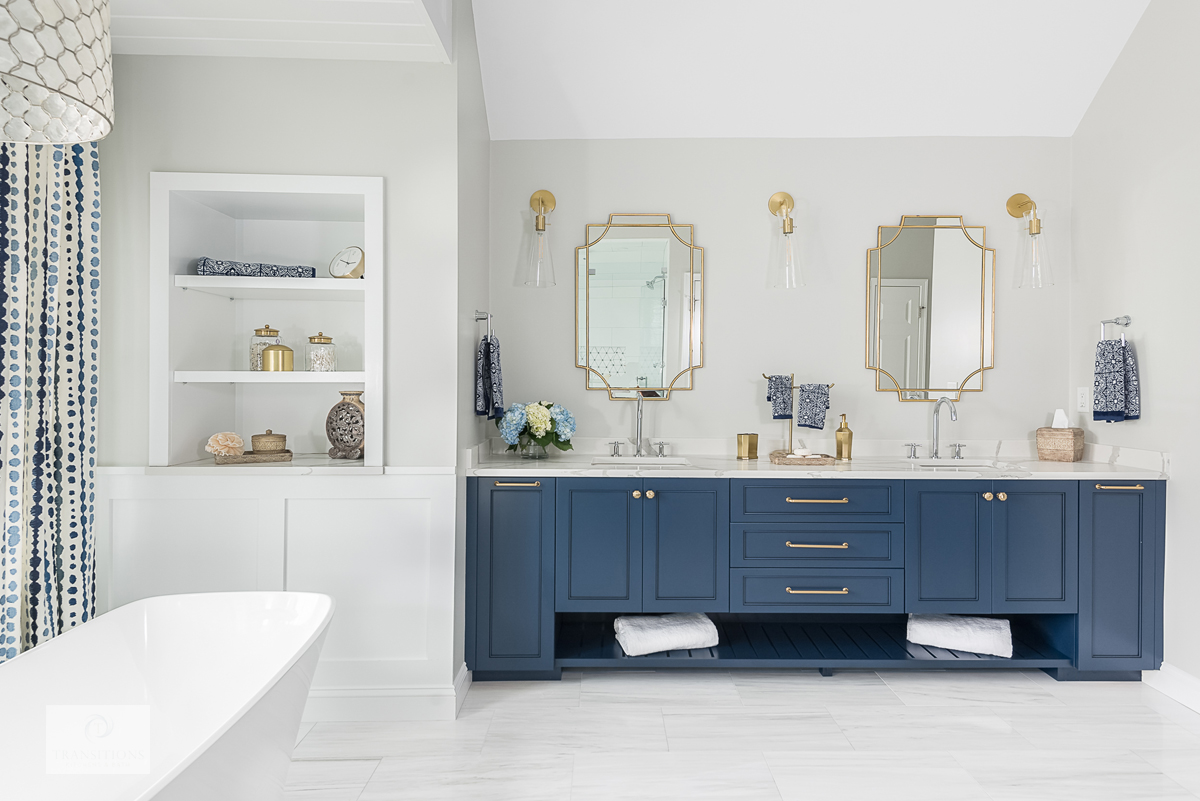 5. Stylish Tubs
If you really want to take your master bath to the next level, then a sleek, stylish freestanding tub will be the center of attention. If you have a traditional-style bathroom then go for a clawfoot model, but a spa-themed space demands a minimalist flat-bottomed tub. Slipper tubs with massage jets let you sink back and relax after a long day. If you only have a small space available and want a separate shower and tub, then consider a chic Japanese soaking tub. Ideally, place your tub next to a window, preferably on a platform so you can enjoy the view and natural sunlight.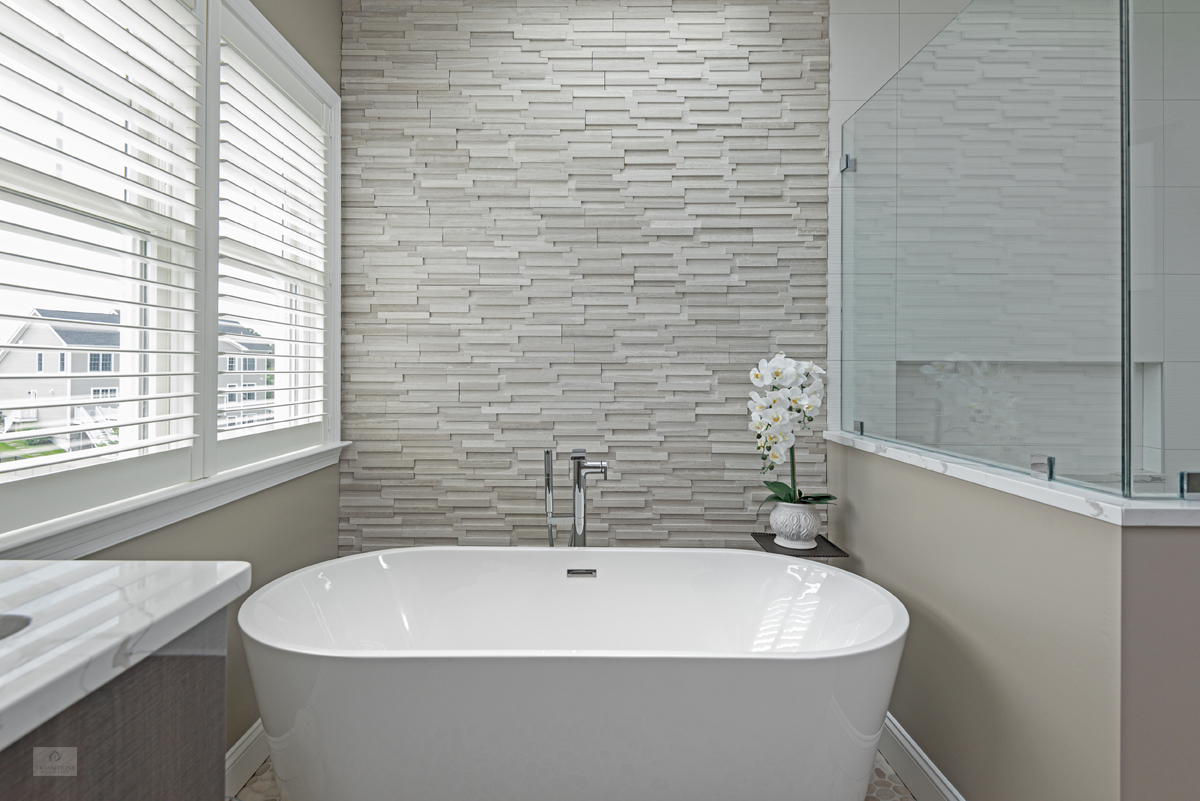 6. Wet Room
If you're planning for a couple's walk-in closet and a bath design with a double vanity, then consider a wet room with two shower heads for the ultimate master bath built for two. Include smart features like voice-controlled lights, music, water temperature, and pressure for a truly luxurious showering experience.
A high-end natural stone or tiled floor with a linear drain ensures no shower door is necessary in this low-maintenance design.  As there is no threshold on an open shower enclosure, it is perfect for an aging-in-place bath design if you are planning for the future.
Underfloor heating is also a great idea in any bathroom, especially in a wet room. Include it at the planning stage so it can be installed before your floor is laid. It warms up an otherwise cold surface and helps it to dry more quickly. While it adds to your remodeling budget, it is more energy efficient in the long term.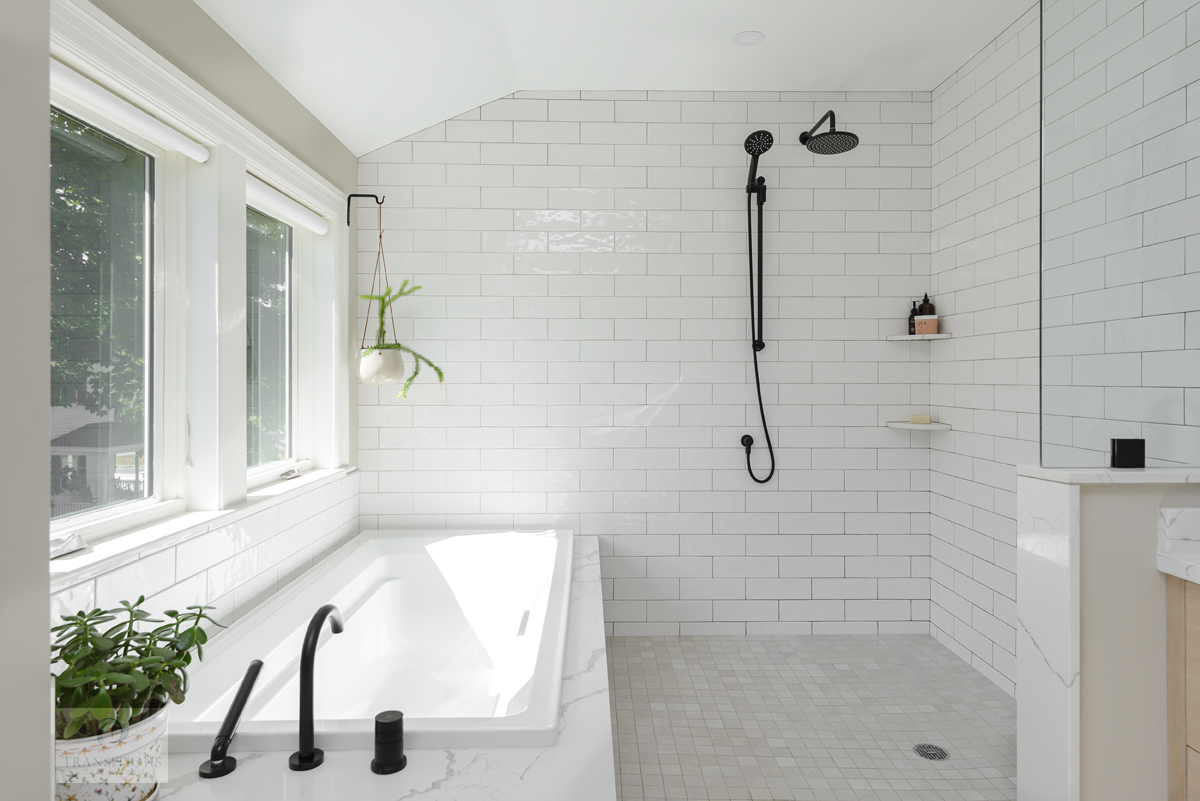 7. Ventilation
Whether you decide on a wet room or a regular master bath design, ventilation is key to a highly functioning bathroom. Invest in a system that has at least one cubic foot of power per 60 seconds for each square foot of your master bath. A model that has low noise output is conducive to a relaxing bath experience. Good ventilation adequately removes odors and moisture from the air, giving your bath design longevity and providing a pleasant atmosphere.
8. High-End Toilets
The toilet is often taken for granted as a functional fixture of a bath design, but technology and design have taken this humble fixture to a futuristic standard. As with vanities, wall-hung toilets give a streamlined look to a bath design and open up floor space. In a master bath designed for two, you could create an enclosure around the toilet with clean, strong lines to make a statement while serving to add privacy. If space allows, you could even include a separate toilet compartment.
Smart toilets come in whatever style you choose and have many possibilities such as music, noise maskers, and illuminated bowls for nocturnal use. Toilets can have height-adjustable, heated seats, flush automatically, and spritz the room after use. It's also possible to input your personal settings in a shower toilet or washlet, which cleanses at your preferred water temperature and pressure. Whether your master bath is shared or not, there is a toilet that suits your every need.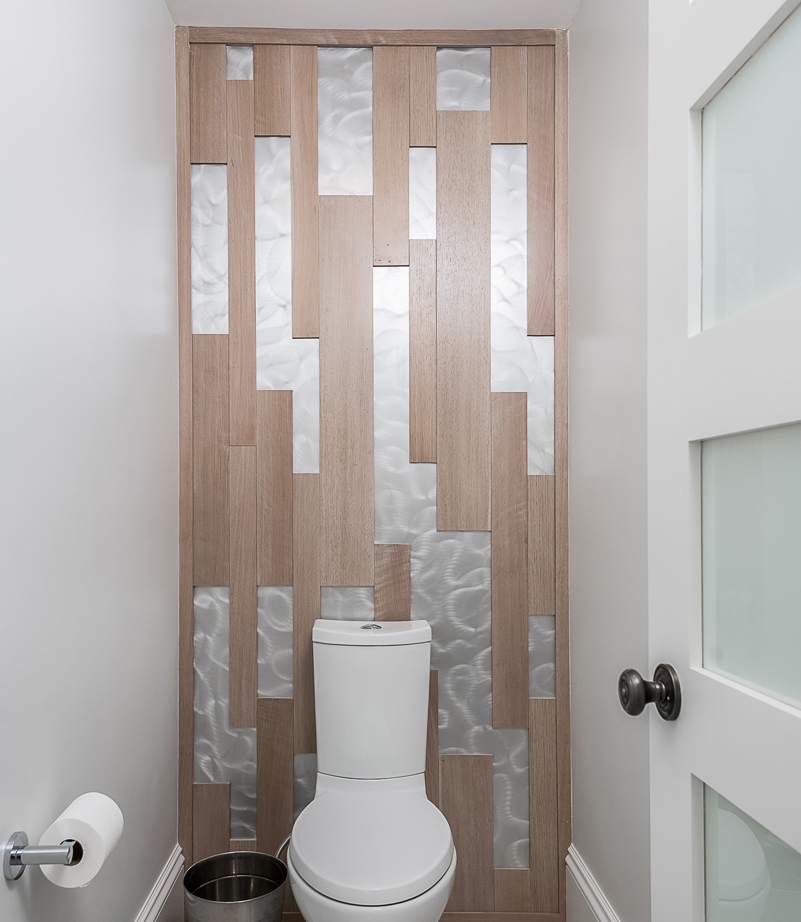 9. Lighting
When you are designing your master bath, it is essential to think about your lighting plan. The bathroom is a place that needs strong lighting as well as soft and really benefits from windows for natural light and ventilation. Technology can play a part here too with voice-activated lighting that can be brightened or dimmed as you choose. Automatic lights that switch on and off as you enter or leave are an excellent eco-friendly option in addition to working well in an aging-in-place bath design.
Layering your lighting plan means you can combine different types of lighting such as sconces, recessed, and decorative lighting, and achieve any level of lighting required depending on your needs. An oversized pendant over a tub, for example, can be counterbalanced by recessed lighting throughout the rest of the bath design. Mirrors bounce light off their surface so are excellent elements of a complete lighting plan. Why not get a mirror with lights around it to act as task lighting but also illuminate the space? LED-lit mirrors are ideal as they prevent shadows and glare on your reflection. Mix your lighting fixtures but keep them within the same style and finish for a cohesive look.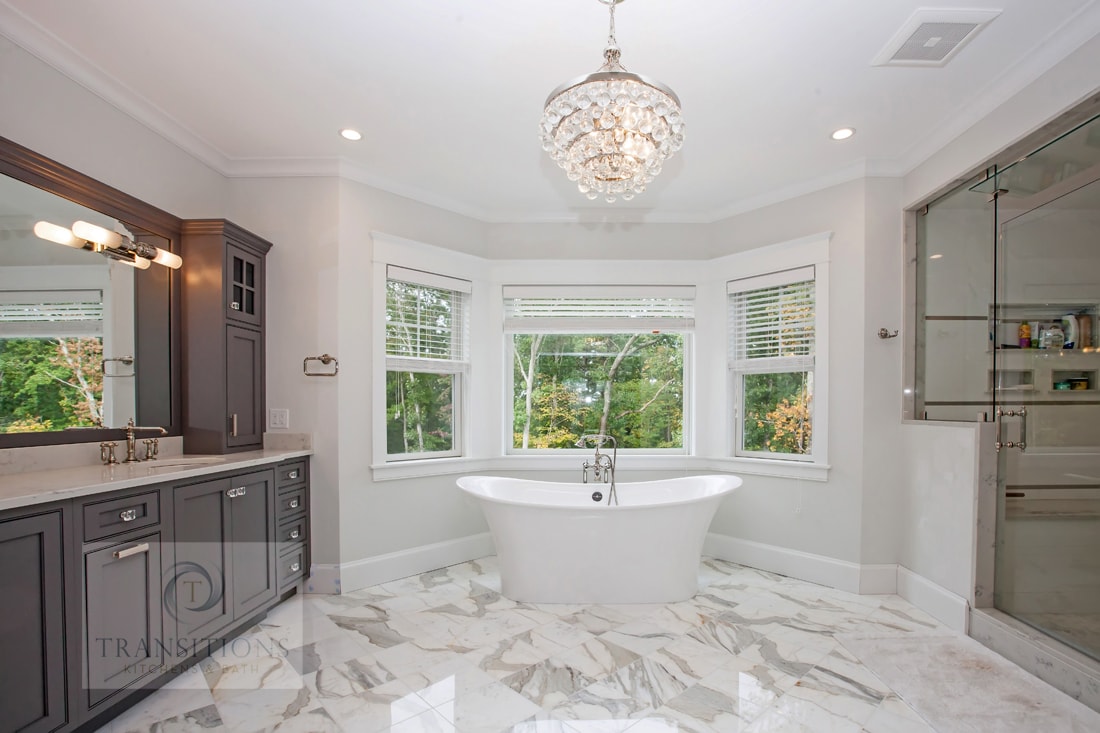 10. Accessories
The final elements of a bath remodel are just as important as the initial ones. Well-planned accessories give a design cohesion and inject character and warmth into a bathroom. Choose well-crafted, quality items to give your bathroom design a polished aesthetic. Something as small as a toilet paper holder or towel bar should be low maintenance and fit your design aesthetic.
Your hardware should all complement each other for a feeling of zen, even if it's not a minimalist design. Towels should be of the highest quality possible and rolled into neat stacks, perhaps arranged on floating shelves, before use. You can hang towels currently in use on a luxe heated towel rack to dry and be warm for their next use. If your floor has a tendency to be slippery, put down rugs or wooden bath mats that work with your color scheme and add texture.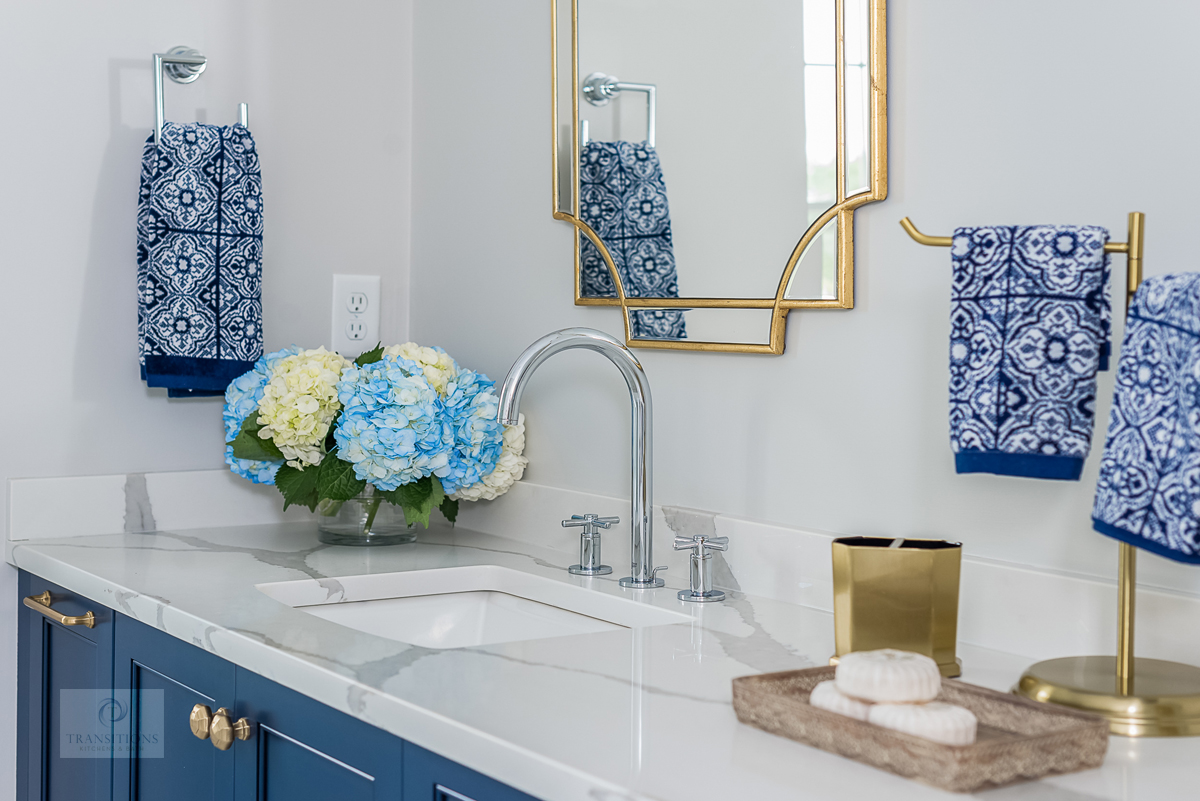 Design a master bathroom that fits your needs and enhances the style and functionality of your home. Choose materials, textures, and colors that create a cohesive design aesthetic and make your master bath one of the favorite rooms in your home.
Contact us today
at Transitions to discuss a
master bath remodel
with our
bath design experts
.