Which element of a kitchen design catches your eye first?  Is it the kitchen cabinets, backsplash, or countertop?  What about the kitchen floor?  This surface covers the entire area of the room and is critical to the style and functioning of the space.  Your kitchen floor is the glue that pulls your design together, and must withstand heavy foot traffic, moisture and food spills, and much more.
How do you select a material able to meet these superhero requirements? Here is our guide to selecting the perfect floor for your new kitchen design.
Assess your requirements:  As with any product selection, first look at the unique requirements of your family and household.  Do you have a young family with kids running around or a busy household where you entertain frequently?  You may require a floor material that is more durable, easy to clean up frequent spills, and slip resistant.  Is your household primarily adults, a quiet setting for cozy dinners, or infrequently used for cooking?  You may have more flexibility in the material you select.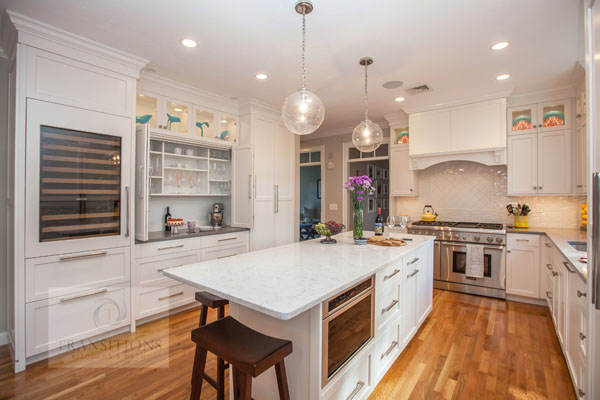 Consider your style:  Today's kitchen is often an integrated part of the home's living space, so your kitchen should complement and accent your overall home style.  The floor you choose connects the dots between the different elements of your kitchen design.  Selecting the right colors, patterns, and textures for your floor plays a key role in defining the style of your room.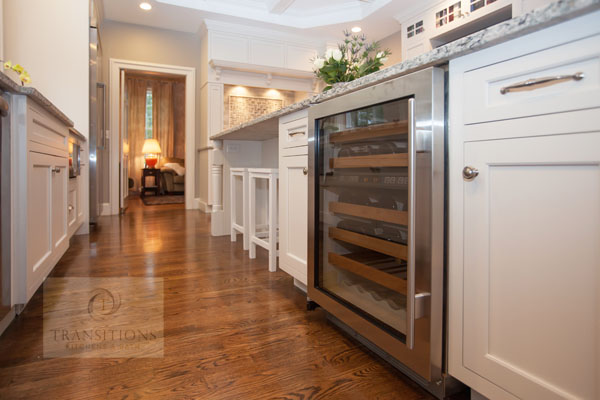 Select a material:
  There are an array of materials available for kitchen floors, and each has its pros and cons.  Based on your household and style requirements, carefully review the materials available and select one that ticks all of the boxes.  This can be a difficult decision,
but an experienced kitchen design expert
can help you find the perfect floor material.  Some of the options include:
Stone is a hard wearing, durable surface that is easy to clean and maintain, though this can vary depending on the type you select.  Some are more prone to chipping and some can be less impervious to stains.  Typical stone materials include limestone, travertine, and slate.  It is a natural material that gives the floor a unique appearance, but can be cool so you may want to add radiant underfloor heating.
Tiles are available in a variety of materials like porcelain or ceramic, or even in a wood effect that gives the appearance of wood floors.  They can be found in a range of shapes and sizes, and are generally easy to clean and maintain.  Remember that grout lines are an integral part of tile floors, so check out the maintenance requirements for your grout selection too.
Wood is popular for creating a warm, welcoming space and giving the room a luxurious feel.  Wood can be tricky in a kitchen where you are prone to spills and splashes, so make sure you understand the maintenance required to protect against moisture and scratching.
Vinyl has come a long way and can now mimic almost any surface.  This man-made material is water resistant, generally easy to install, and inexpensive.  Linoleum, on the other hand, is an all-natural surface available in almost any color and can be cut to form unique patterns.   Both materials are easy to maintain and more budget friendly, though they are not as hard wearing as some other materials.
Other possible materials include laminate wood, bamboo, concrete, cork, carpet, and more.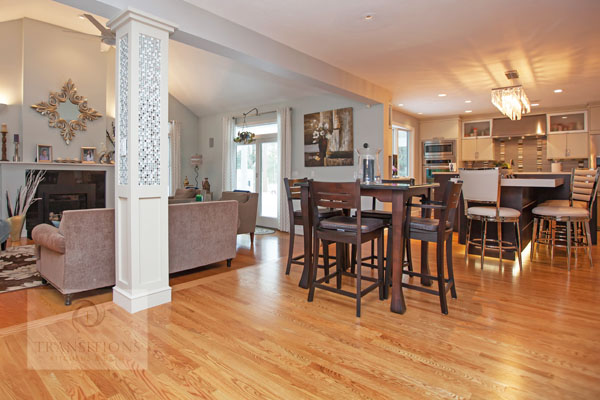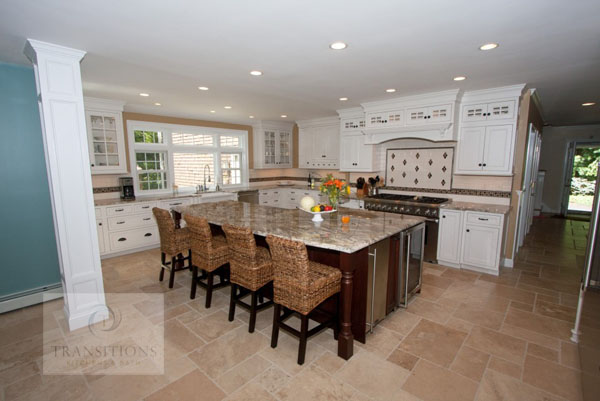 Review price and budget:  Floor materials can be found in a wide range of price options so understand the costs and review it against your overall kitchen renovation budget. You must take into account the size of your space and therefore the quantity of material required, as well as the price of the material, and the cost to install it, along with any long-term maintenance costs.