Kitchen Designs with Beverage Storage
Kitchen designs have become larger, multi-purpose spaces that take on a central role in the home and family life.  As more activity takes place in the kitchen, the design, layout, and workflow of this space is more important than ever.  This is why so many kitchens are now organized according to work zones, with perhaps a food preparation, cooking, baking, dining, study, and even pet zones.  Each area has a specific purpose around which it is organized, and all zones fit together in the overall kitchen layout to work in harmony.
What about a beverage zone?  In addition to food, beverages are a key part of kitchen storage and preparation.  This could include coffee or tea in the morning, drinks for the kids and their friends in the afternoon, and wine or cocktails with friends in the evening.  When you have people over for dinner or just to hang out, one of the first things you typically offer is a drink.  Having a designated beverage zone in the kitchen simplifies the storage of and access to beverages, particularly when you have children or guests in the home.
Your beverage zone can be as big or as small as you want, depending on available space and your individual requirements.  Here are 5 ideas for incorporating beverage centers into your kitchen renovation:
1.  A separate beverage station is the obvious choice if you have space in your kitchen and budget, particularly if you have a very busy household or entertain frequently. A distinct beverage station is an integral part of the kitchen design but acts as a standalone area for storing, preparing, and serving drinks.  This could be a freestanding hutch or a separate section of built-in kitchen cabinets.  You might include storage for glasses and drink supplies, a wine rack and beverage refrigerator, space for a coffee maker or even a built-in coffee maker, and designated counter space for preparing beverages.  It sits in an area that is away from the general flow of traffic in the kitchen so family and guests have easy access to beverages without getting in the way of cooking and clean up.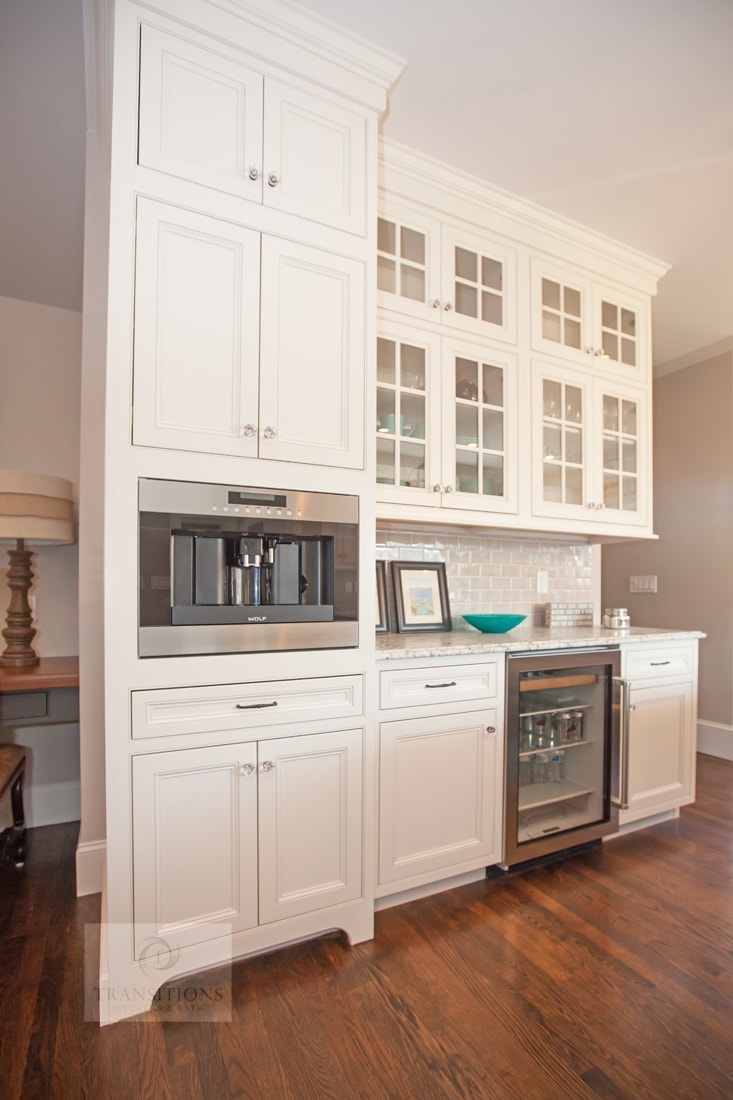 2.  A specialized wine/coffee/whiskey/name your favorite drink bar. Are you a wine connoisseur?  A fan of specialized gin or bourbon?  Or, perhaps you are a home barista, fixing customized coffee drinks for guests?  If you have a favorite beverage, why not design your beverage area to suit that drink.  You may also decide to designate two separate beverage areas to suit your requirements.  This kitchen remodel in South Hanover, MA included a beverage bar in the open plan seating area (pictured below), with a separate coffee station in the kitchen (pictured right).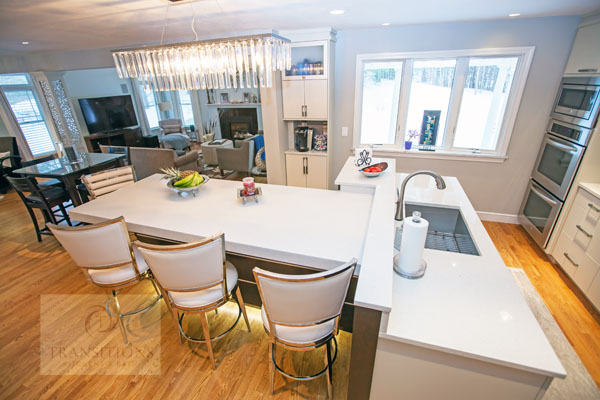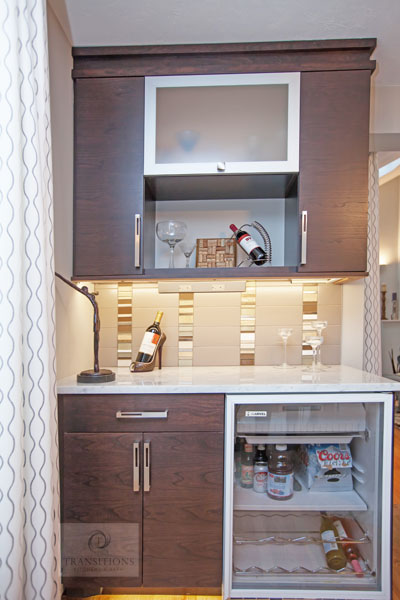 3.  A wine or all-purpose beverage refrigerator is the perfect solution to give everyone ready access to chilled beverages away from the cooking area when you do not plan to designate enough space for a full beverage bar. Store cold drinks for the kids and their friends here so they can help themselves without interfering with dinner preparations.  Offer guests the options to get their own beer or open a new bottle of wine while you are busy cooking.  An undercounter or full size beverage refrigerator makes your life easier as the host and allows guests to feel at home in your kitchen.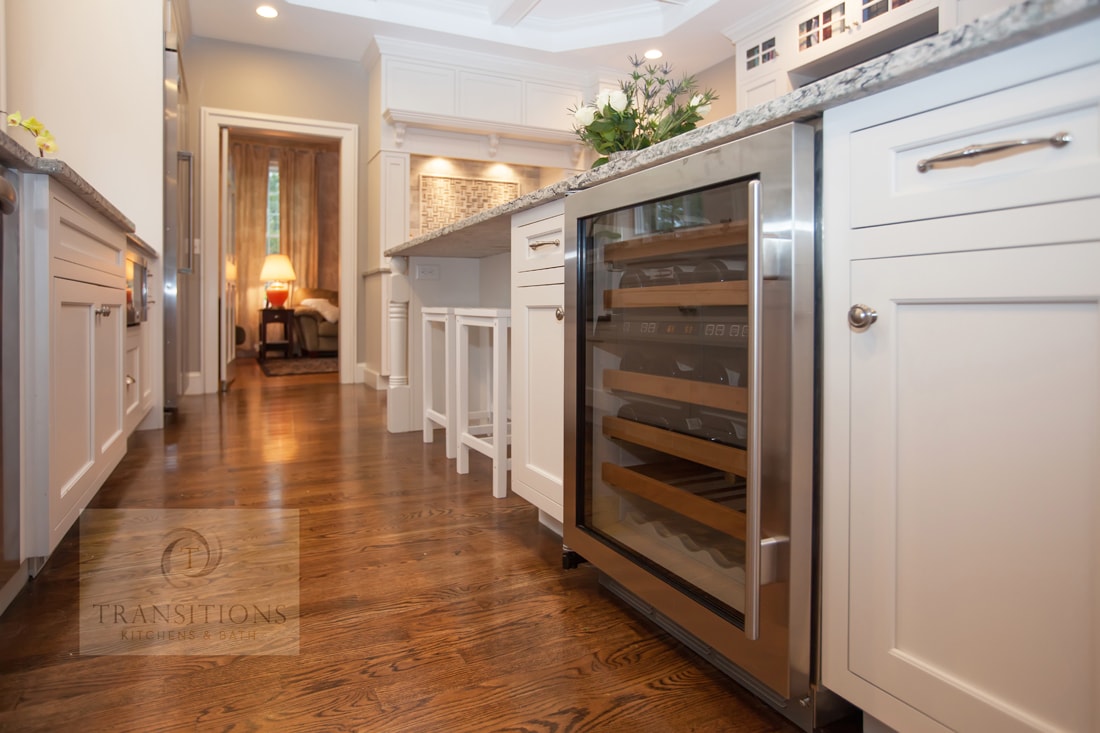 4.  A built-in coffee maker
is the ultimate in luxury for the coffee lover. Start your day with the perfect cup of coffee or wow your friends at a coffee afternoon with a high end built-in coffee maker, like the Wolf coffee maker in this
kitchen design in Norwell, MA
.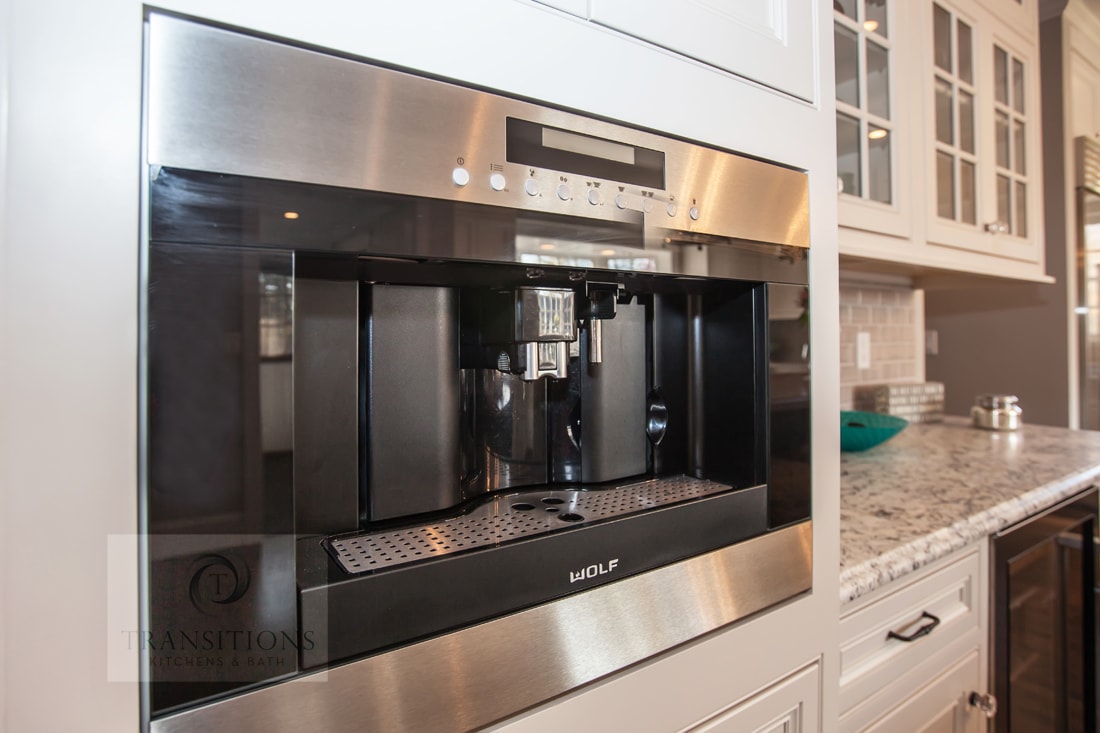 5.  A designated cabinet and countertop space may be enough to meet your needs, and is a perfect solution if space is more limited in your design. Review your kitchen layout and find an area of the kitchen where you will store drink supplies, display glassware, and put your coffee maker.