Did you find it a struggle to store everything you used over the holidays? Is there a chance a Christmas serving platter will fall off an over-stuffed shelf next July when you are pulling out the barbeque supplies for your 4th of July party? If clutter and lack of proper storage is driving you crazy, then check out our tips to get you started on a clutter-free, organized home for 2020.
Pare Down Your Mudroom and Entryway.
Whether you enter your house from the front or back, the last thing you want to greet you is disorganization. This is a good place to start streamlining your home. Keep only seasonal items and pack the rest away in vacuum sealed bags. Organize the items your family uses daily and plan storage for bags, shoes, coats and sports equipment. Hooks, shelves and cubbies for each person mean they can be found easily when running out the door. If you have the space, why not give everyone their own cabinet? Once your layout and storage are planned well, you just rotate what you need seasonally, giving you a mudroom fit for Instagram.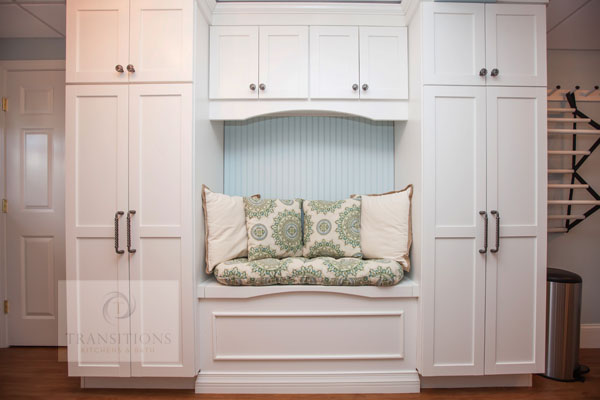 Make the Most of Your Laundry Room.
Though small, a mismanaged laundry room can create all sorts of headaches. Clever design means everything has its place and clutter is reduced. Install cabinets to store most laundry and cleaning supplies and include open shelves, which are perfect for frequently used items. Countertops are ideal for folding laundry, which can be sorted into tilted or pull-out hampers underneath.  Figure out how you want your laundry to be organized and set up your hampers to accommodate this.  You could have one hamper per family member, or to divide colors from whites, or to separate dirty, clean, and ready to be ironed clothes, The key to a well-organized laundry room design is to utilize every inch of space with clever storage solutions.  The narrowest of spaces can neatly store an ironing board or maybe incorporate a drop down or island-top model into your design. Drying racks that collapse, fold up or hang from the ceiling alongside rails to hang shirts all make life much easier.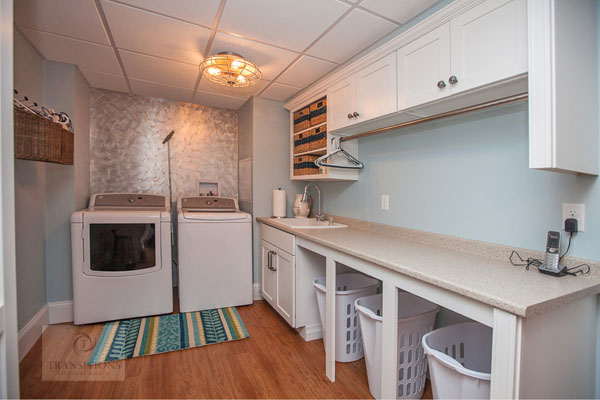 Rethink Your Kitchen and Pantry Storage.
Decluttering is the first step to an efficient and beautiful kitchen design. Empty your kitchen cabinets, refrigerator and freezer and discard expired or broken items. Donate anything that's never used. After cleaning everywhere, stand back and assess what you need. If a new layout is called for then talk to us at Transitions and an experienced kitchen designer can customize storage solutions to fit your space. A combination of deep and shallow drawers along with adjustable kitchen cabinet shelving means you can store and access everything easily. Pull-out shelving, lazy susans, appliance garages, and charging drawers are just some of the excellent kitchen design storage solutions on offer. Bringing these ideas into your pantry means you can store lesser-used items there, making your kitchen design even more usable and streamlined, and regular decluttering much easier.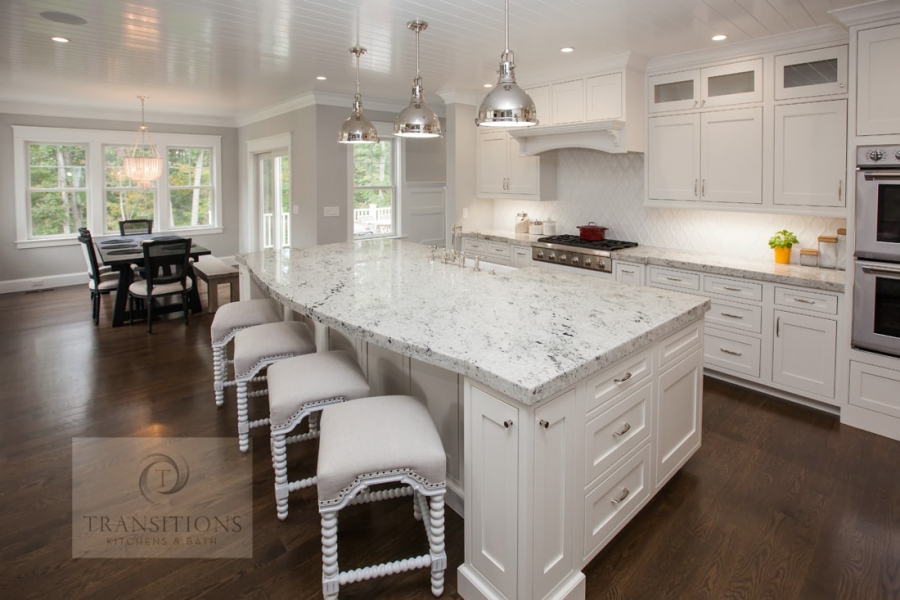 Blitz Your Bathroom.
Clutter can really build up in a bathroom. All the creams, potions and candles we buy to relax us can in turn cause stress when they clutter vanity drawers and gather dust on the countertop. Clear everything out of your bathroom and discard or donate things accordingly. Clean everywhere and then plan your new look, incorporating custom storage into your bathroom remodel if possible. Countertops should be kept clear so look to the rest of the room for storage. Pull-out laundry hampers, beauty products, accessories, and trash cans can all be stored away. Designate a space for each family member and they can hang robes and towels and keep other items in their own customized drawer or cabinet. Now that everything has a home and there is no excuse for cluttered surfaces, you can go for a spa-style, minimalist bathroom. You start and end your day in the bathroom, so your bathroom design affects how you live. Get the right layout and maximize your storage potential to make life easier. If you're tripping over your toilet and struggling with poor lighting in the shower, then it's time to consider a bathroom remodel in 2020.