Bathroom sinks are a hard-working feature of any bathroom design, particularly in a busy master bath or kids' bathroom.  You spend a lot of time at the sink – washing hands, brushing teeth, shaving, and much more.  Yet, they are more than just a functional requirement for a bathroom renovation.  Sinks make a style statement, either by smoothly blending in to their surroundings or by standing out as a unique design feature.
Here are some of the main sink styles to consider when embarking on a bathroom remodeling project:
Top mount, or drop in, sinks are the most common and typically the cheapest to install.  This style sits on top of the surrounding countertop, and can easily fit almost any countertop material and vanity style.
Undermount sinks are fixed to the underside of the countertop.  They offer a seamless appearance, but can only be used with a solid surface countertop.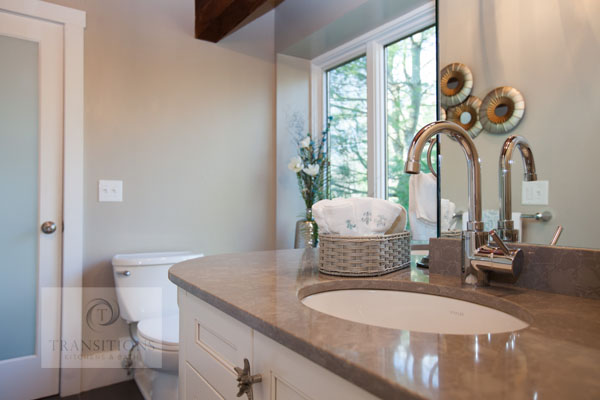 Wall-mounted
sinks are fixed directly to the wall with no surrounding cabinet, offering a minimal profile.  They require the plumbing to come from inside the wall, and are ideal for a smaller bathroom.  The downside is that they offer no real countertop space or storage.
Pedestal style sinks are simple and give the space a classic or vintage vibe.  This type of sink works only with pipes that come through the floor, and they also lack in countertop and storage space.
Semi-recessed sinks are a standard sized sink combined with a shallower cabinet, meaning the sink sticks out past the cabinet.  It allows for some cabinet storage, without intruding on the floor space too much.
Vessel sinks sit on top of the countertop and serve as a clear design focal point, like this bathroom design in Marshfield, MA.  They may be found in various shapes, sizes, colors, and materials.  Pay careful attention to the height of the vanity/countertop since the sink sits above it, and the positioning and height of the faucet.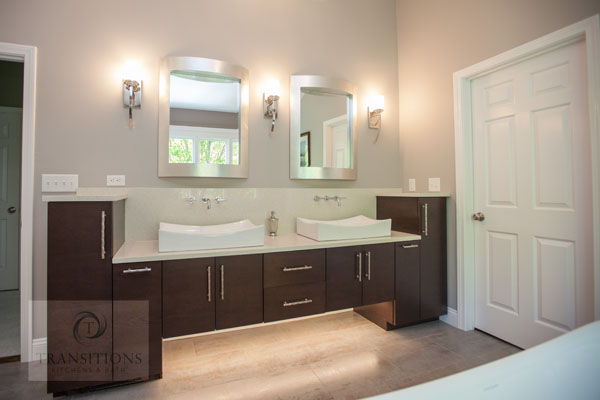 All-in-one
sinks are a sink and countertop made from the same material.  They have no ridges and are easy to clean.
With so many sink styles available for a bathroom design, how do you pick the one that will best suit your space?  While style is an important consideration, it must be reviewed in conjunction with other key factors, including:
What type of bathroom is it? A master bath may call for a different sink style than a powder room or a kids' bathroom.  Also, consider including two sinks in a busy bathroom used by more than one person.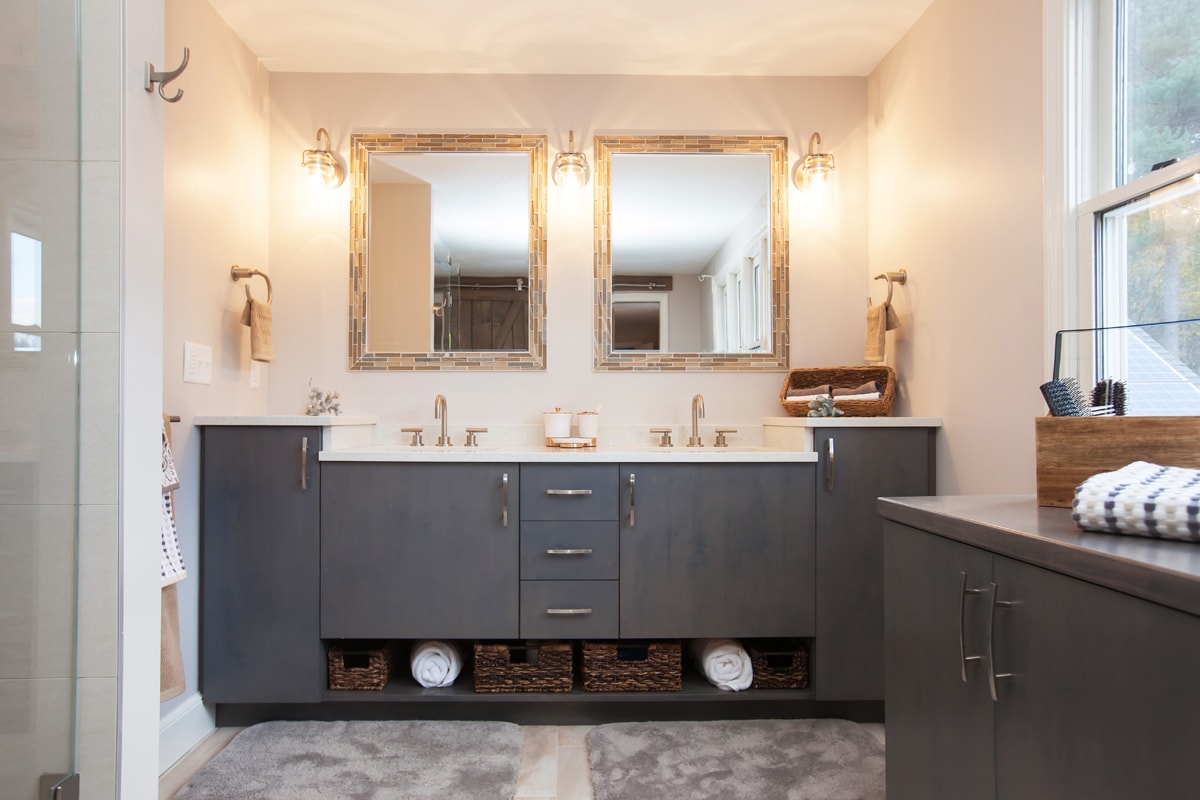 Who will use the bathroom?
A vessel sink may be a striking design feature in a powder room or guest bathroom, but may not make sense for a bathroom used by small children.  The type of sink you choose may be partially influenced by who will use it and how often it will be used.
How much storage do you need? If this is a main bathroom used daily, you may require storage in the form of a vanity cabinet.  If so, a pedestal or wall-mounted sink is not the best choice.
How much space do you have? In a small space, you may require a smaller size sink or a sleeker profile like a wall-mounted sink.
What is the current footprint and can you change it?  Do your pipes currently come from the wall or the floor?  Where do the faucets sit? Consider the existing footprint and whether your desired sink choice matches these specifications.  If not, are you willing to include room in your design budget to alter the footprint?
What shape, size, color, and material do you prefer? Sink style is about so much more than top mount vs. undermount.  Sinks come in a wide range of sizes and shapes, including round, oval, rectangular, and asymmetrical.  They are also available in numerous different materials and often in different colors.  Consider how you want your sink to impact your design.