The holiday season is a busy time, and with it comes visits from family and friends, special holiday meal preparation, and hosting holiday get togethers! Don't stress though, as good kitchen design is the key to successful entertaining.  Get your design right, and everything else will fall into place, from seating arrangements to serving drinks. Here are some tips and tricks to ensure your holiday hosting is a piece of cake.
Entertainment System
An entertainment system can be incorporated into any kitchen design. No matter how large or small your gatherings are, it's essential to have music to set the mood. Why not install speakers in your kitchen and adjoining living areas, including the yard if extending the party outside? A wall-mounted TV is also perfect for watching sports or any event together. Why not show home movies or music videos during a party, depending on the occasion, or watch the ball drop at midnight on New Year's Eve?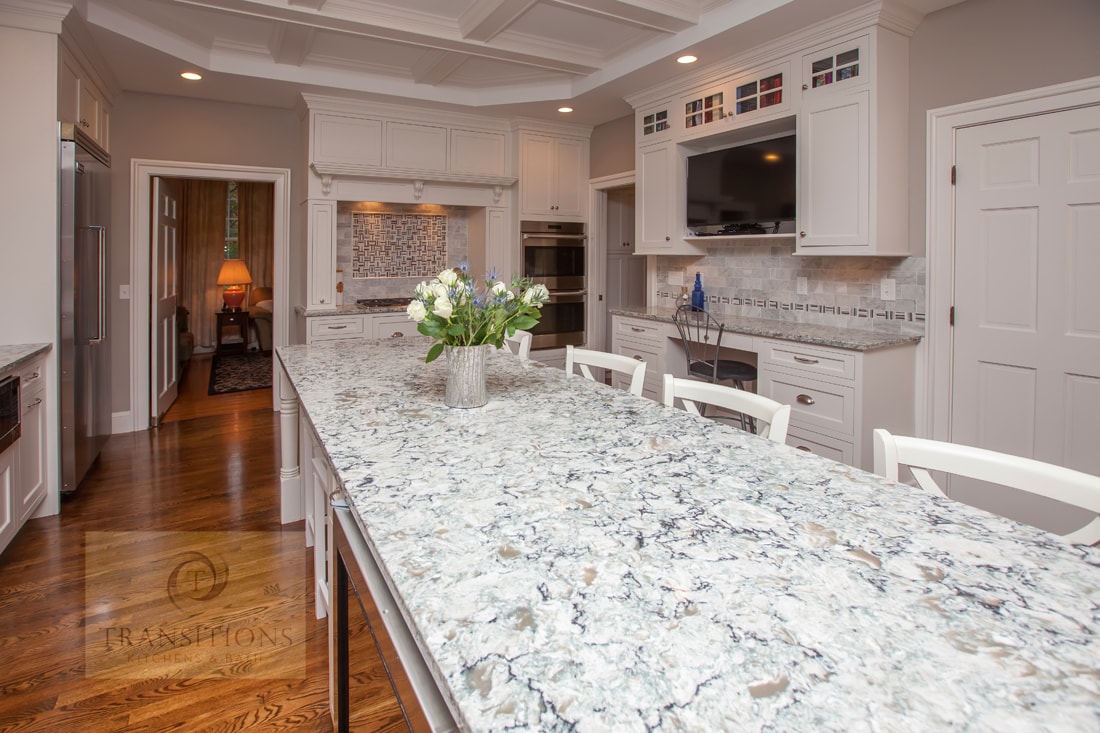 If controlling music, TV or lighting with a smart device, just designate a storage drawer that includes a handy charging station. If live music is more your thing, then bring instruments into your kitchen and set them up for guests to play or turn your adjacent living area into a music room. There's nothing better than a Christmas singalong.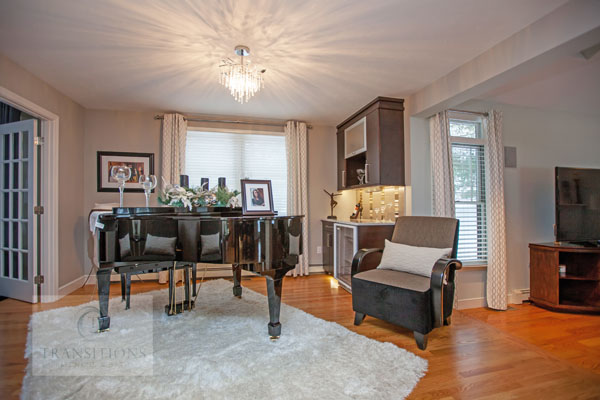 Layout
Look at how your kitchen design is laid out and think about what you need when entertaining. The way things are positioned is crucial to performing both everyday tasks and hosting parties with ease. Incorporate distinct work zones for preparing food, cooking and cleaning up. Plan where you'll serve the food and where people are going to eat. Position your island to face the room, preparing food while your guests gather around you with appetizers, so you feel part of the proceedings as you work.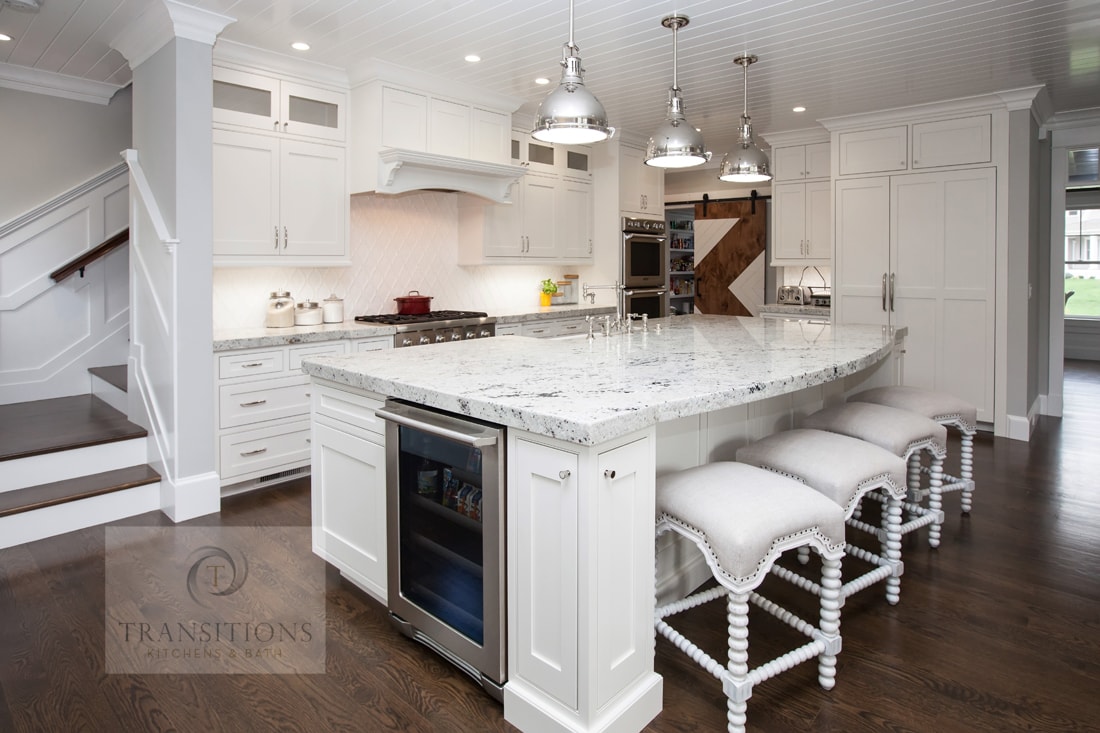 Beverage Bar
As well as music and food, drinks are an important element of any festivity, starting with offering your guests a welcome drink. Instead of having to keep them topped up for the night, why not set up a beverage bar where everyone can help themselves? Make it as basic or as sophisticated as you like, but it's essentially an area for all things drink-related, preferably away from where you'll be preparing food. Clear counter space for a coffee machine, spirits and soft drinks, cups and glassware and then consider a small undercounter refrigerator to chill wine and beer. If space allows, include a full, purpose-built beverage center with storage, serving space, as well as a dishwasher and sink.  Here, at Transitions, we can find the perfect place for your beverage bar and incorporate it seamlessly into your kitchen remodel.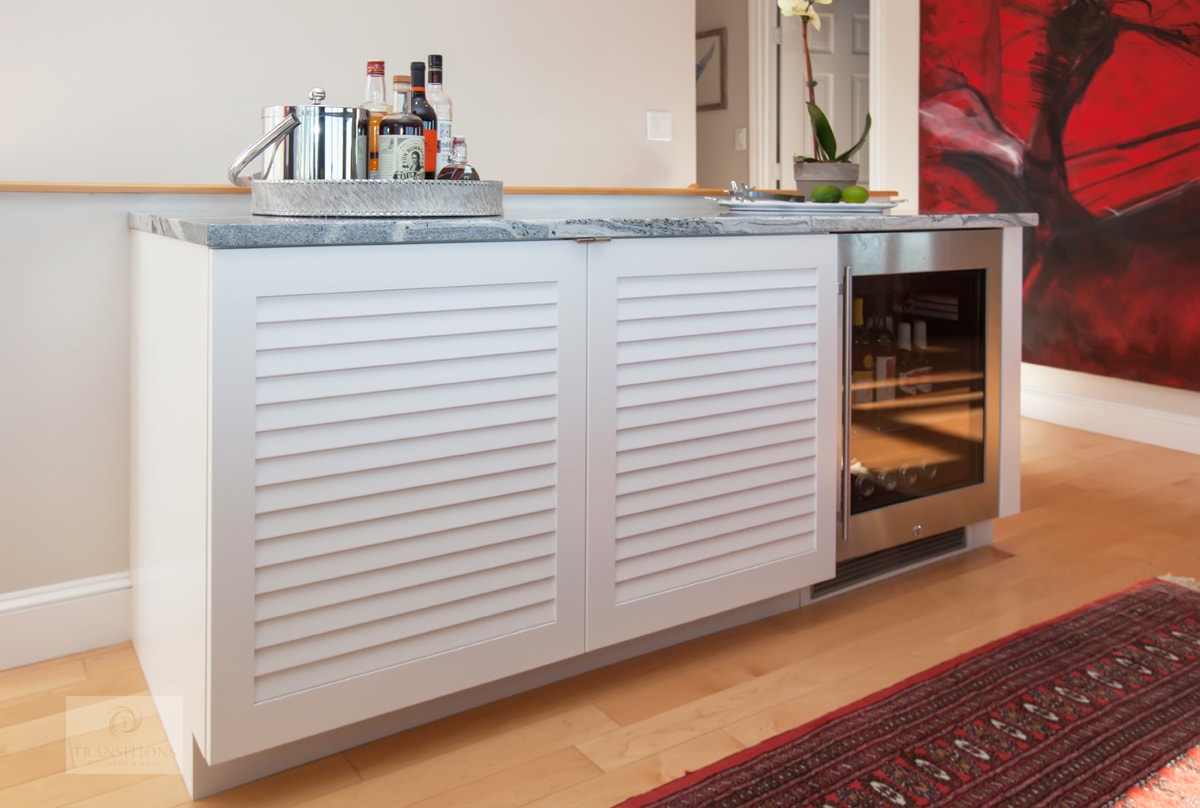 Open plan kitchen
The best kitchen design for entertaining is an open plan space. Today we spend so much time in the kitchen, doing a variety of things, so it makes sense to embrace it as a living area and not just a place to cook. As guests arrive, we can prepare and serve food while still enjoying their company as they move easily around the areas we've set up for entertainment.
Seating
Music, mingling, food and drink combine to make an excellent party, but seating is essential for guests' comfort. Think about how many people are coming and what type of party it will be. Then decide what seating you need. Barstools at the island are the first port of call, along with plenty of chairs around a dining table. Banquettes, armchairs, couches, beanbags and footstools will all serve you well, placed around living areas. Just ensure that the flow of traffic isn't hindered, and people can move around as easily as they can sit down.