Bathroom flooring is expected to look stylish and complement your bathroom design.  At the same time, it must withstand high levels of foot traffic, moisture, and dirt, all while remaining easy to clean and highly durable.  It's no wonder selecting the right floor for your bathroom renovation is a daunting task.
Bathroom flooring may be one of the most under-appreciated aspects of home design.  When it is doing its job you may take little notice of it, but if it does not live up to expectations it can dramatically affect your bathroom.  The color, texture, and design plays a key role in pulling together the overall bathroom style.  In addition, it must be hard-wearing and slip resistant, particularly in a master or family bathroom.
How do you go about selecting the flooring material and design that is right for you?  Here are 6 factors to consider when choosing bathroom flooring:
1. Color and style: The bathroom floor connects the dots between your vanity, tub, shower, and walls. You may decide to select a neutral color palette that leaves a blank canvas and lets the rest of your design stand out.  Alternatively, allow the flooring to create a design statement by selecting a contrasting color or adding a tile feature.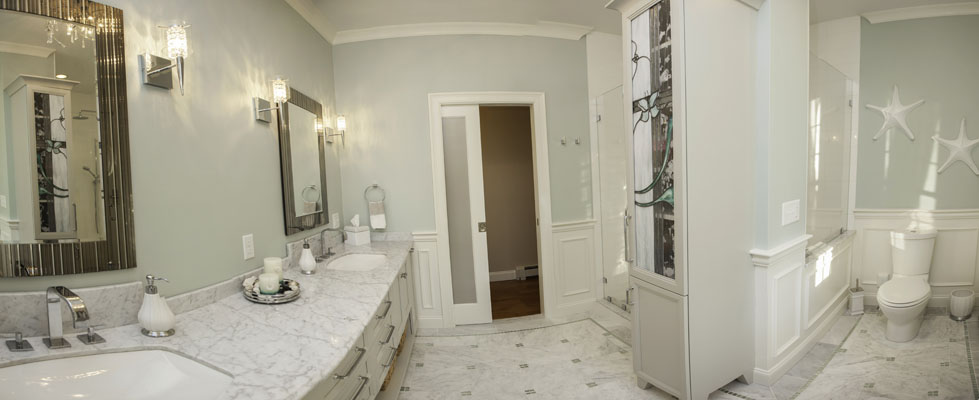 2. Durability: You do not want to worry about having to replace your bathroom floor for a long time. Select a material that can withstand the foot traffic and moisture you anticipate.  Not all bathrooms are the same, so you may require a different material in a master bath than you do in a powder room.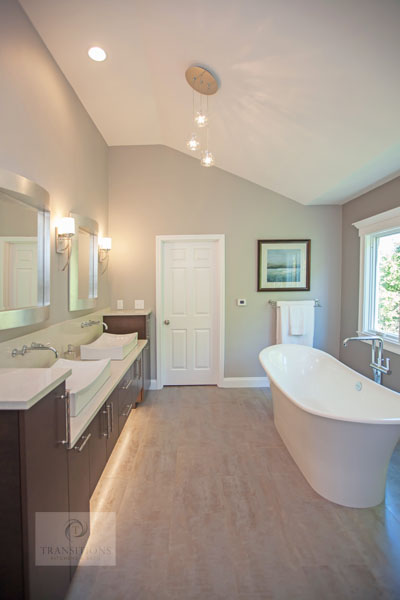 3. Ease of maintenance: Bathrooms require constant cleaning and maintenance. Make life simpler by selecting a material and design that is easy to clean.  Don't forget in the case of tiles that this includes cleaning grout lines, and be aware that some materials may need to be re-sealed over time.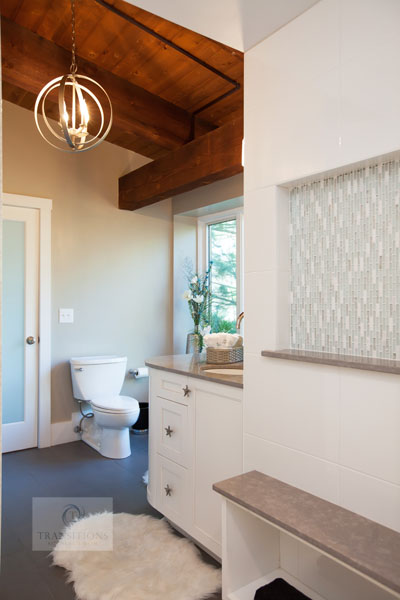 4. Price: There are as wide a range of prices as there are flooring options. Check out the materials that meet your bathroom design requirements, but also review the cost of the material and ease of installation to be sure it fits in your chosen budget.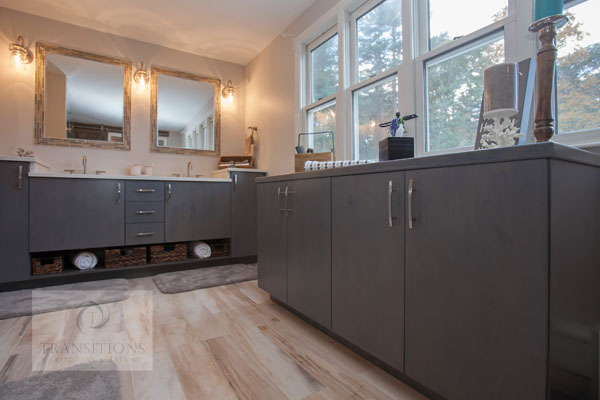 5. Slip factor: Think about how the floor will feel under your feet, and even more importantly how slippery it will be when wet. Ideally you want to pick a floor material with some texture to it, as a surface that is too smooth can be hazardous in a wet bathroom.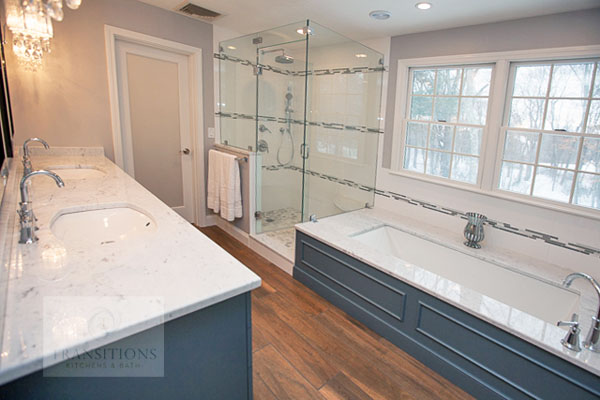 6. Warmth: Many bathroom flooring materials can be very cold, particularly during the winter months. Consider which materials are most likely to retain heat, or look at adding radiant underfloor heating to give you a warm, welcoming floor all year round.  A renovation is the ideal time to add underfloor heating, but keep in mind this will also increase your overall bathroom remodeling budget.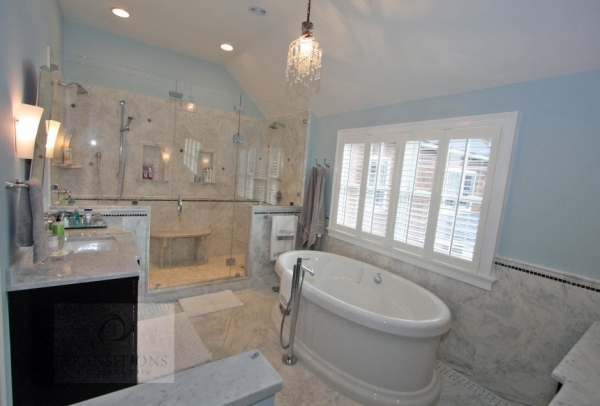 You can select almost any material for your bathroom floor, though some materials are obviously better suited to a space that is prone to damp, mold, splashes, and spills.  Tile is typically the surface of choice for bathrooms, with porcelain or ceramic tile offering a classic look that is durable, waterproof, and stain resistant.   Other options include porcelain wood effect tiles or stone tiles that give a more natural look and organic feel.  If you want an alternative to traditional tile flooring, vinyl, hardwood, laminate, or even eco-friendly materials like cork or bamboo offer other options.  Each of these materials has pros and cons, so consider your choices carefully to determine which one best meets your individual requirements.
Find the ideal flooring material that offers you the durability, ease of maintenance, color, texture, and style that best complements your space.  Our experts can help you navigate the many options available to find the right one for you, or visit our bathroom design gallery to find your inspiration.