Open plan
kitchen designs
are still a very popular choice in today's homes. They allow for an easy flow of movement between the kitchen, dining, and living spaces, and can even include outdoor entertainment areas. The latest styles and design techniques mean that modern kitchen designs include high quality cabinetry and furnishings that blend neatly with living room furniture and color schemes.
In an open plan design, it helps to integrate your kitchen and living room styles to create a natural connection between these spaces. At the same time, open plan designs depend on having distinct zones for everything from food prep to dining, entertaining, and relaxing. Use your design, layout, furniture, color scheme, and textures to connect the spaces while also creating designated areas for each room's purpose.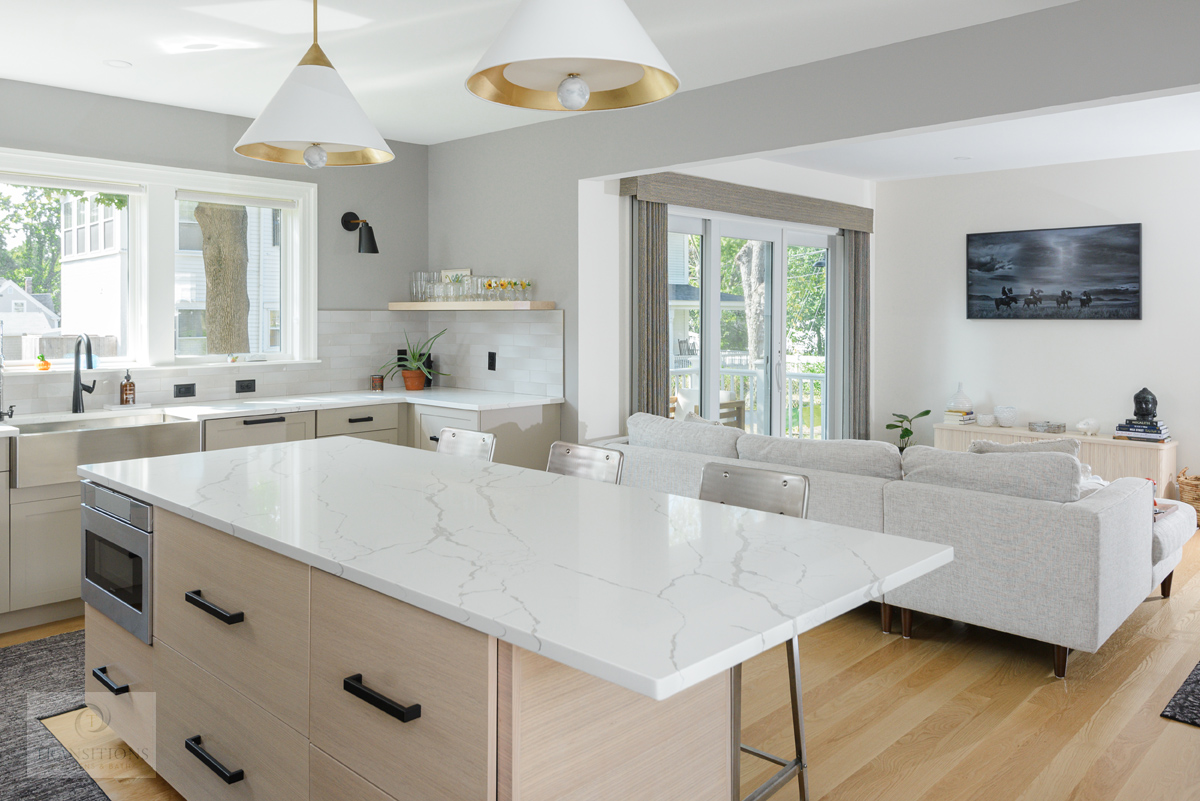 Start planning with our top ideas for integrating kitchen and living room styles.
Open up your layout
The first step in creating a truly integrated first floor that meets all your needs for cooking, dining, entertaining, relaxing, and more is to find a floor plan that works for your family. Start by looking at your existing kitchen design and living spaces and figure out what you like about the layout and, most importantly, what you want to change. Talk to your kitchen remodeling expert to get advice on the best kitchen layout for your home and family and to determine how it will connect to your surrounding living spaces.
If you do not currently have an open plan kitchen or if your kitchen is too small for your requirements, you could consider knocking down or moving an internal wall or bumping out an external wall to create a larger space. Open plan layouts bring more depth and light into your key living areas, and they are multi-functional spaces that are ideal for busy families and entertaining. They allow you to prepare dinner in the kitchen while keeping an eye on the kids watching television in the family room.  Guests can easily move in and out of the living, dining, and kitchen spaces, all while chatting with their host who is preparing appetizers.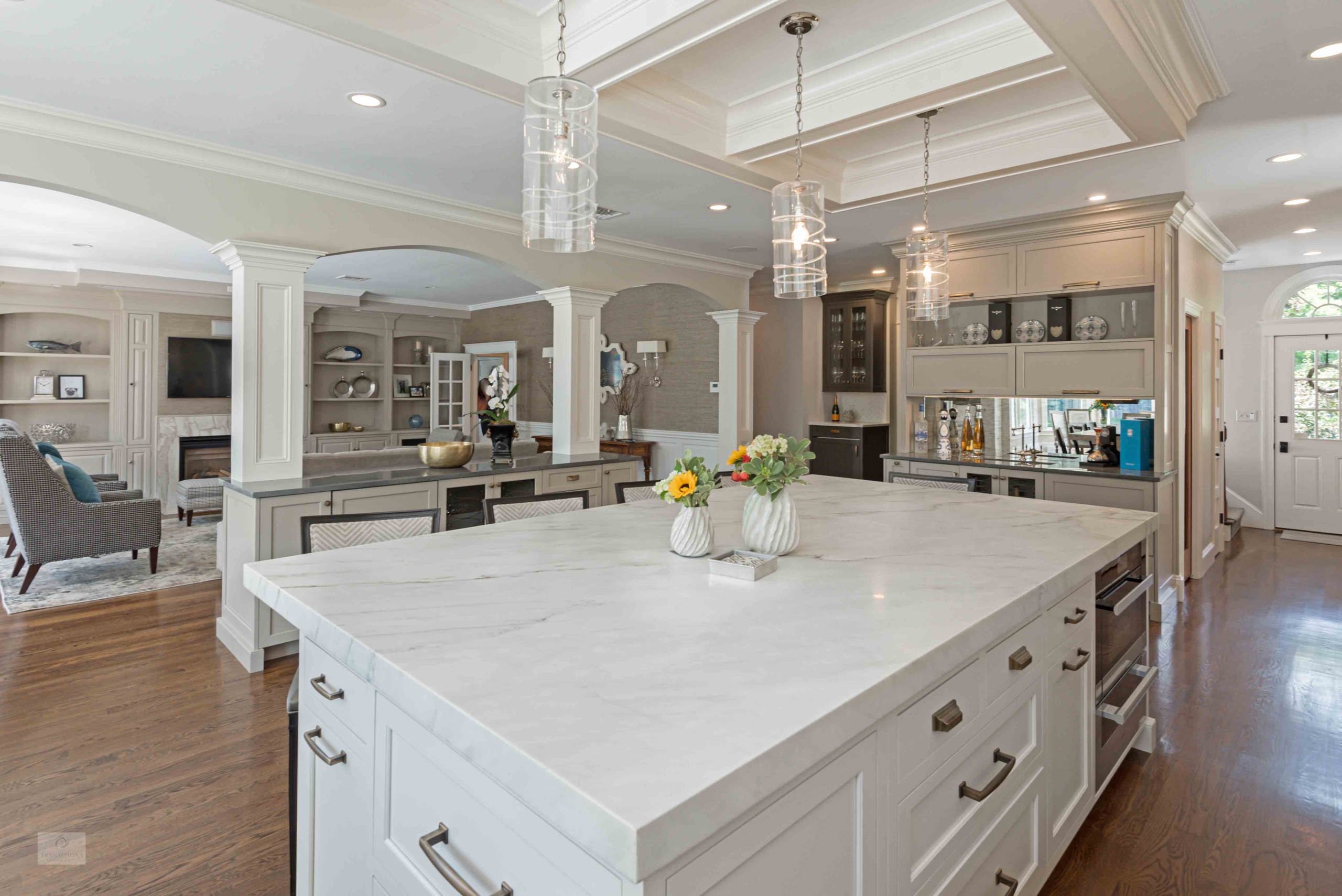 Once you have removed walls and created a fluid first floor design, clever style choices and organization will help you to create your dream first floor. Bring everything together by coordinating color schemes, textures, built-in and freestanding furniture, and lighting. Keep it uncluttered by ensuring you have ample storage space so that everything can be put away when not in use.
For a truly fluid style, choose a single flooring material so there is no separation between kitchen and living areas. Hardwood floors look beautiful, though they can be prone to scratching in high traffic areas and to warping in moisture-prone rooms.  Alternatively, install Luxury Vinyl Plank, which is durable, moisture proof, and gives the look of hardwood. Or select different but complementary floor materials if you want to differentiate zones, such as textured tile for the kitchen next to hardwood for the living spaces.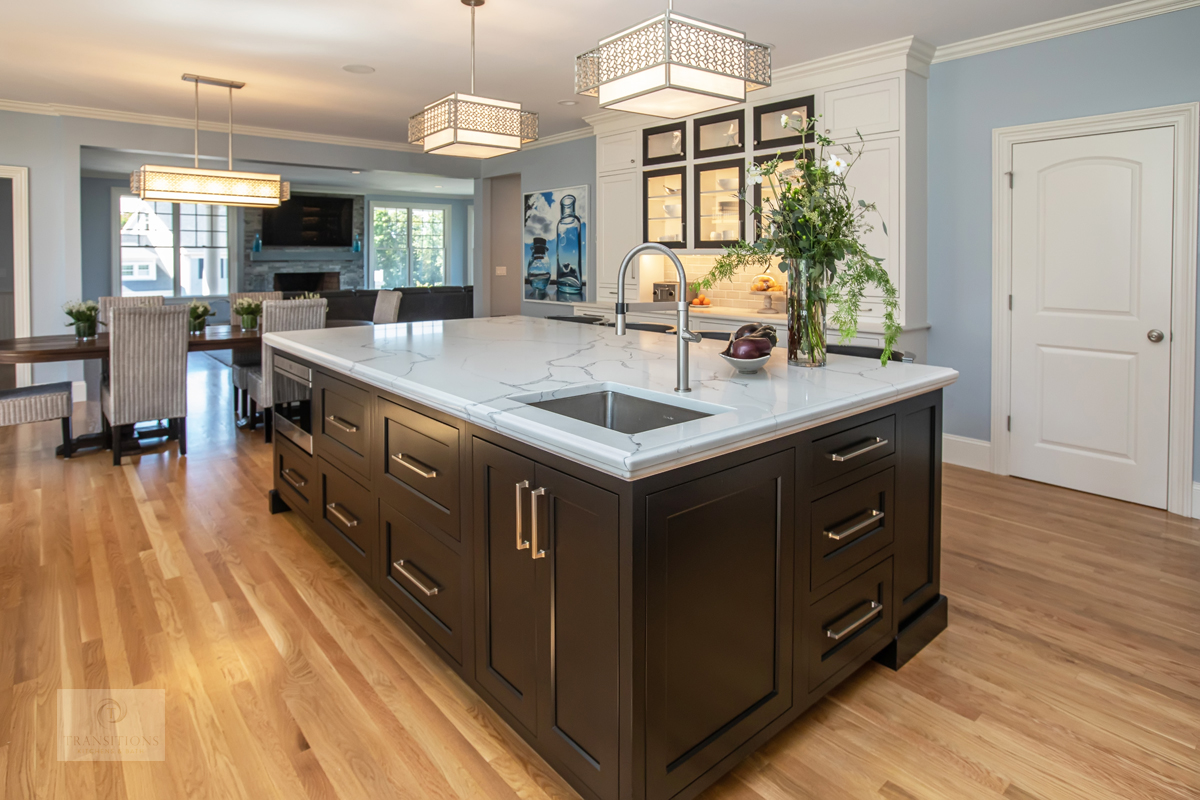 Noise control
One downside of open plan designs is the lack of privacy and the noise levels. If your teens are having a movie night with friends in the family room, you will hear it in the kitchen or home office. While open plan is great, don't be afraid to create some areas that offer privacy. Separate them from the main kitchen and living areas with sliding or pocket doors that can be opened when you want the whole first floor accessible (but closed when you need some peace and quiet!). Another option is to include glass doors to divide a kitchen and family room, which allows the light to shine through and offers control noise when closed or can be opened when you don't need the privacy.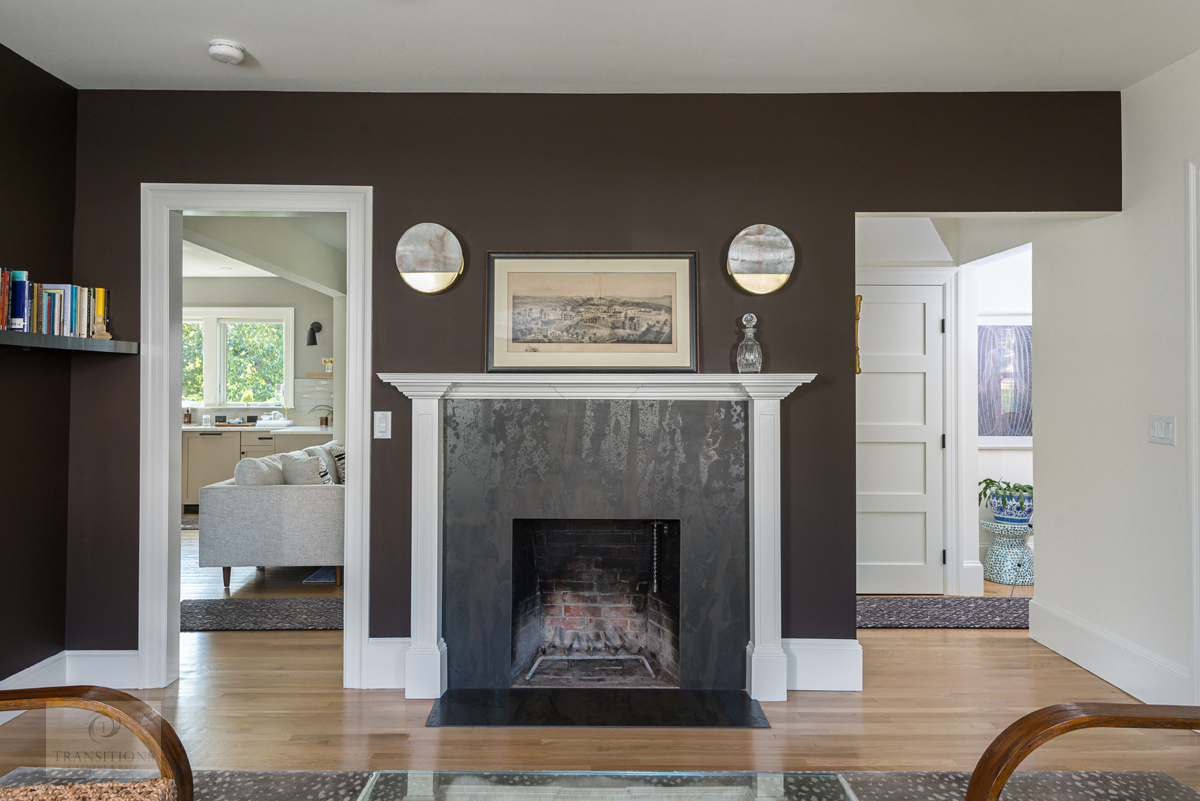 Create zones for everything
In an open, integrated first floor home design, it is important that you identify how your family will use this space and create targeted zones catered to these needs. This helps keep your home organized and running efficiently. It means you have storage right where you need it, space to accomplish key tasks, and some separation of work and entertainment spaces. There are many ways you can have an integrated first floor, but still differentiate these spaces based on their purpose.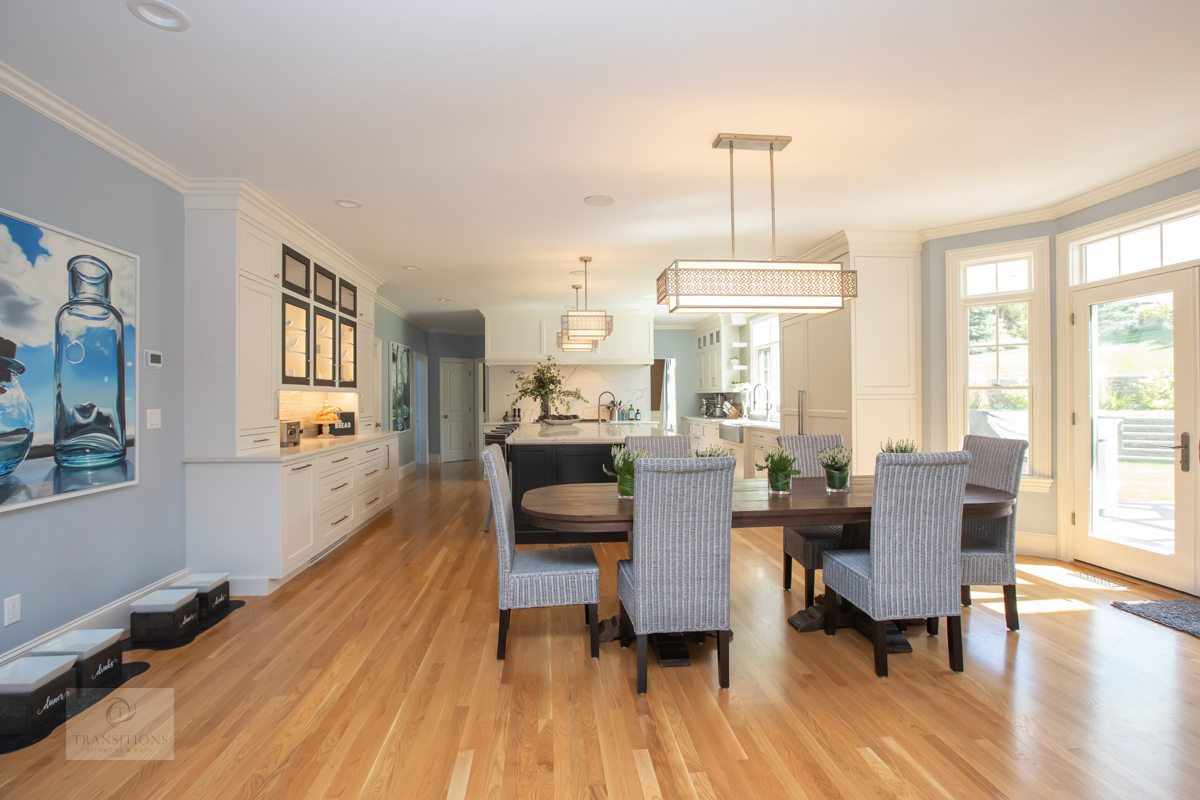 Utilize your island or peninsula
One way to create these zones in an open floor plan is by using your kitchen island.  The island is a clear focal point in any kitchen design and a multi-functional island is often the meeting point for guests. It offers a place to serve food or dine, provides space for food preparation, and can even convert to a work-from-home or homework spot. Your island provides extra storage and can be used for specialized activities like baking or chopping vegetables if you give it the right countertop.
If you have space and budget for two islands, designate one for food prep or cooking and the other for dining. If your kitchen design footprint does not allow for an island then include a peninsula, which serves the same purpose but takes up less space. Other options for dividing up zones include a half wall, a freestanding piece of furniture like a couch or table, or a bookshelf.  They allow for free movement between different zones but still provide some separation.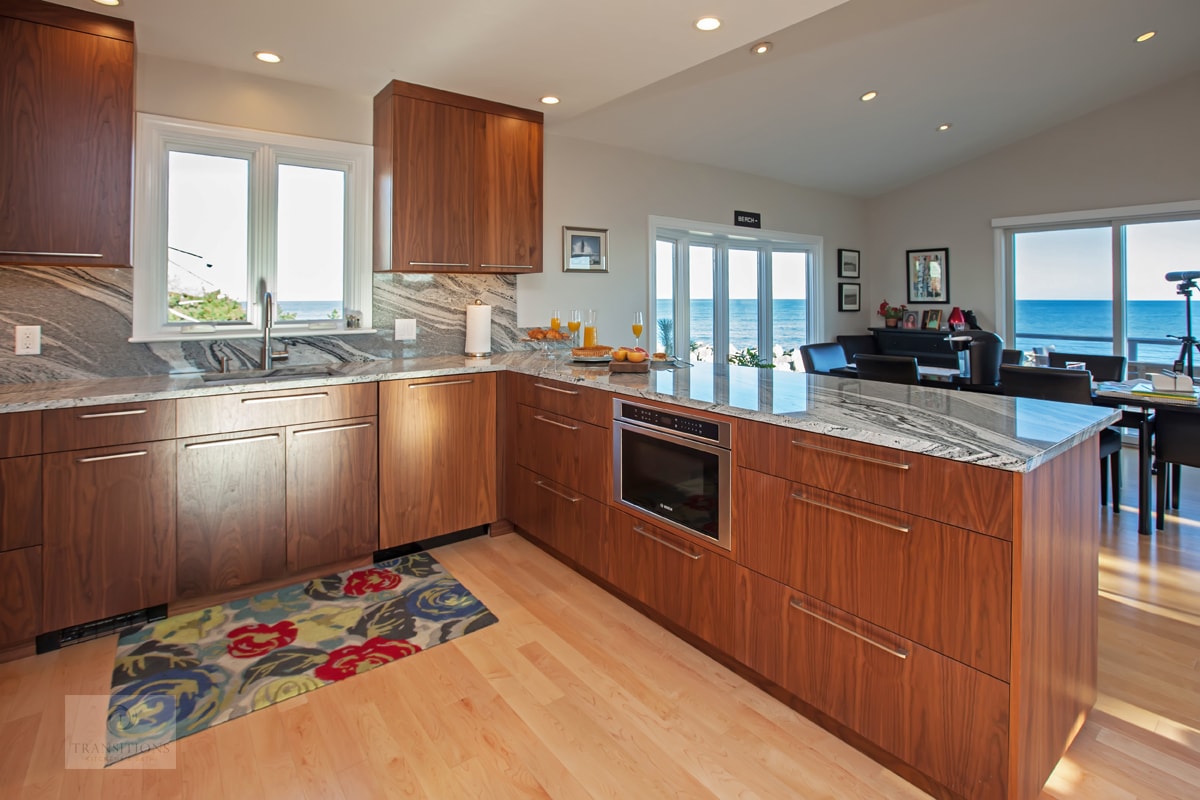 Light it up
Lighting is essential in any room in your home, but especially important in the kitchen design. Layered lighting allows you to have essential task lighting right where you need it in the kitchen, but also set the mood for a movie night or drinks with friends in another part of your first-floor layout.
Include dimmer switches and smart lighting controls that allow you to change your settings as you adapt to your current activity.  This allows you to set the mood for everything from dinner prep and homework at the kitchen island to relaxing with a friend over a glass of wine just by changing your light settings.
Think about the style and material of your light fixtures too, and make sure your choices complement your overall home style. A statement light fixture in one area, like over a dining table, draws the eye and creates a natural focal point.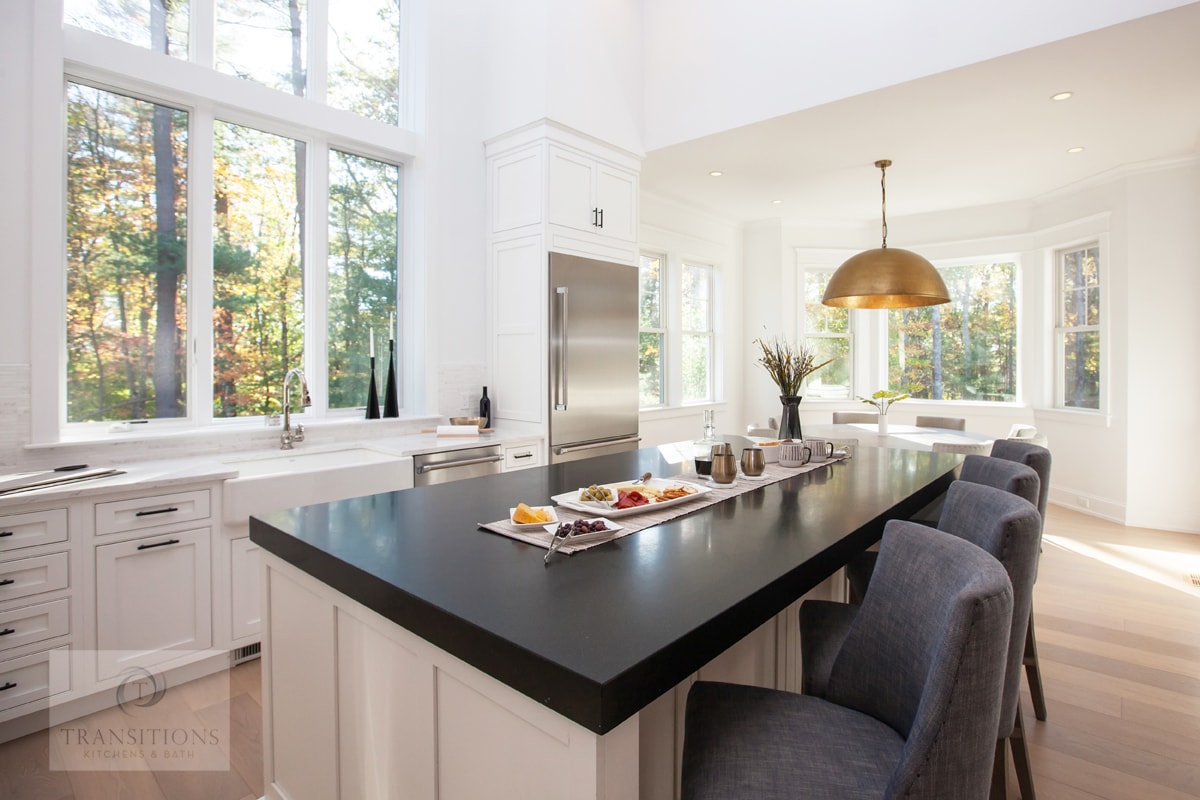 A smart home
Technology is another way to effectively integrate kitchen and living spaces while also creating distinct zones. An entertainment system that allows you to play music throughout your first floor is great, but even better is one that lets you turn music on and off or control volume levels in different areas. This lets you create a quiet space in a far corner of your living room when you want to relax with a good book, while the kids listen to music in the kitchen and family room.
Position a television (or more than one screen) where you can watch your favorite shows while cooking dinner or enjoy the big game while preparing food and talking to guests.  Include drawers or shelves where everyone can safely stow and charge devices away from the cooking area and moisture.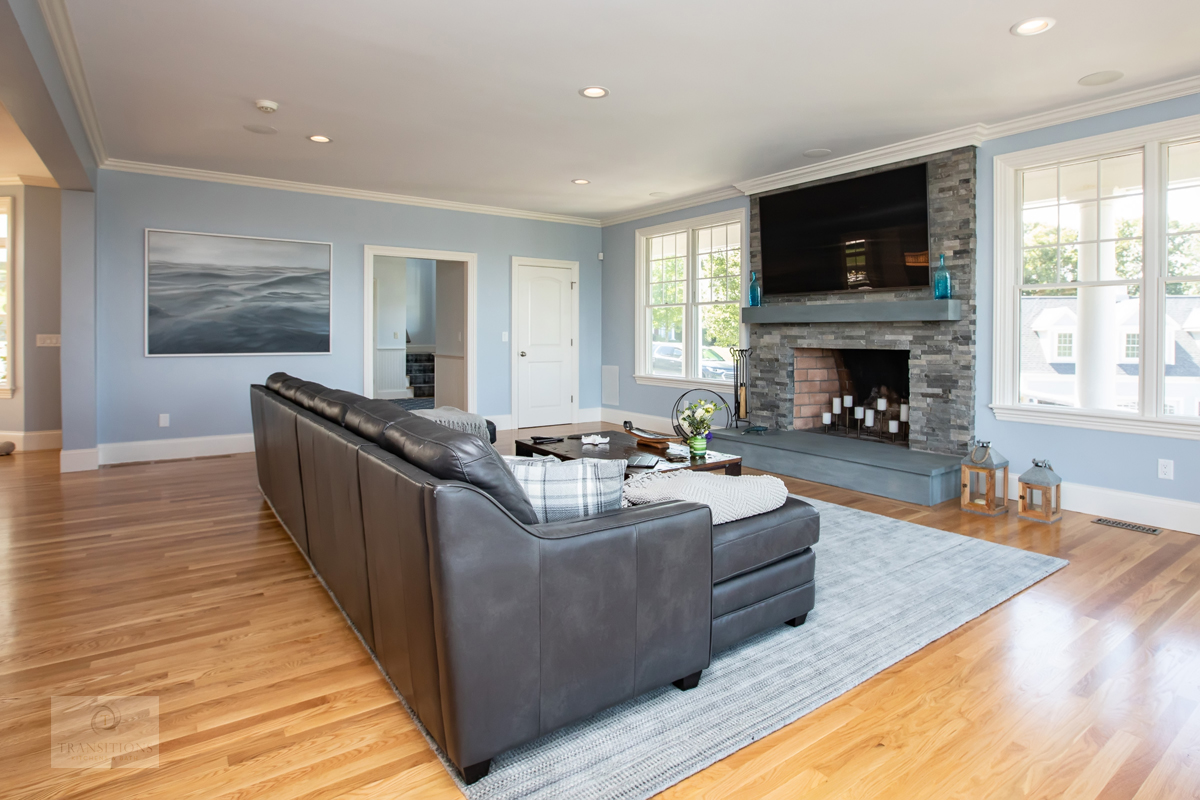 If a home office space is part of your first-floor remodeling plans, then be sure to incorporate a quiet area. Include a separate office room with a pocket door that provides privacy for your office space or put your office set up in a quiet corner away from the main activity in your open plan first floor. Make sure you include everything you need for charging and running your devices in this space. If video meetings are part of your home working, then consider the position of your camera and the background you want for your video set up.
Choose a cohesive design style
Integrating your kitchen design, dining, and living room decor gives your first floor a cohesive style and a natural connection from one room to the next. Your distinct functional zones can each have its own vibe, but it helps to connect them with common design elements.
One way to accomplish this is by including a beverage bar, entertainment unit, or storage cabinets in the adjacent living space that match or complement your kitchen cabinets. The latest cabinetry for kitchen designs are high-quality, stylish elements that enhance any room in your home. This means the same style fits as easily into a living space as it does in the kitchen. You could incorporate the same cabinet style but in a different finish to keep it distinct from your kitchen.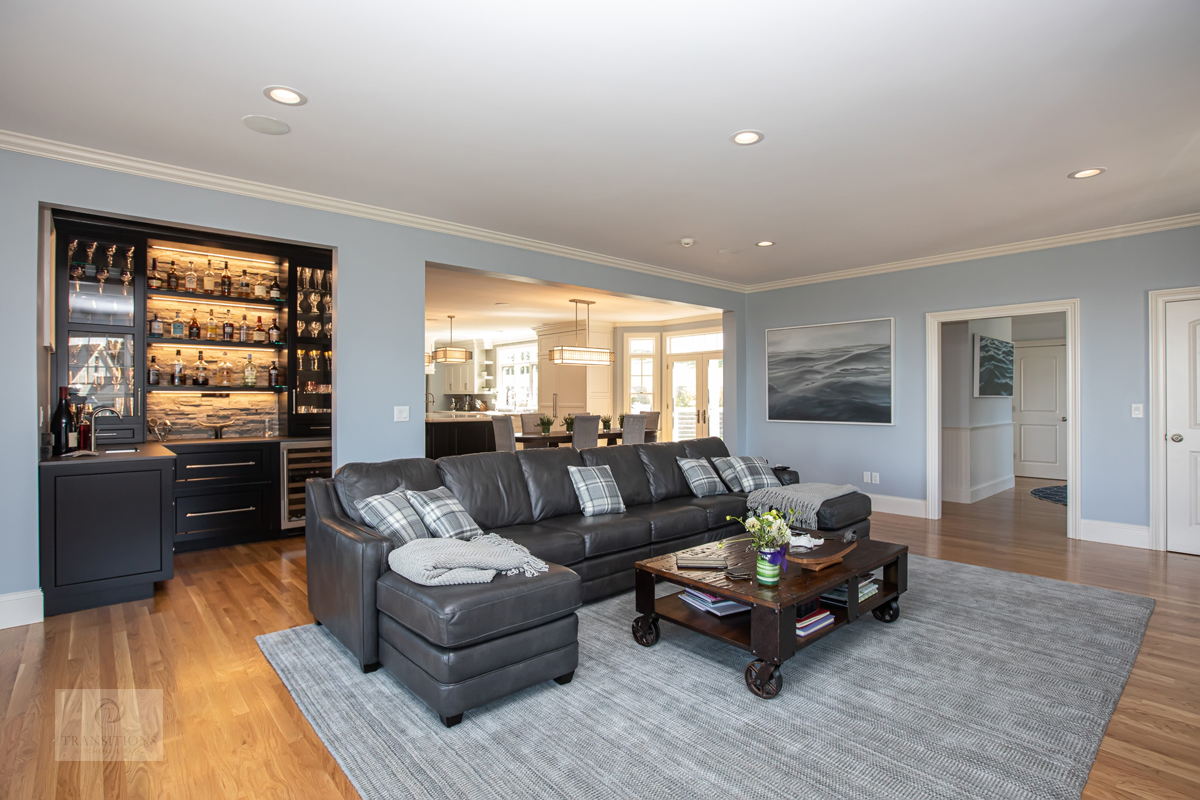 Echo patterns, themes, colors, and textures throughout your kitchen and living spaces to tie them together. Use furniture to link one room to the next, while also creating a natural room divider. A cozy couch can separate a kitchen/dining room from your family room. Add a coffee table in a wood similar to your kitchen cabinets or with metal accents that complement kitchen lighting and plumbing fixtures.
Use complementary colors
When creating a design to integrate kitchen and living spaces, it helps to pick a color palette for your entire first floor. Distinct rooms like a powder room or separate home office could be given a completely different color to add a dash of personality.
For the open plan spaces, work from your base color palette when choosing cabinets, furniture, accessories, and soft textiles. You can change the color from one zone to the next to signify a transition from kitchen to living room but pick complementary shades.
One way to connect the spaces is by including accessories in the same color, such as a throw blanket or cushions for the couch that match your kitchen barstools. Use statement pieces such as artwork or a rug in an accent color to draw the eye and create contrast in an otherwise neutral color scheme.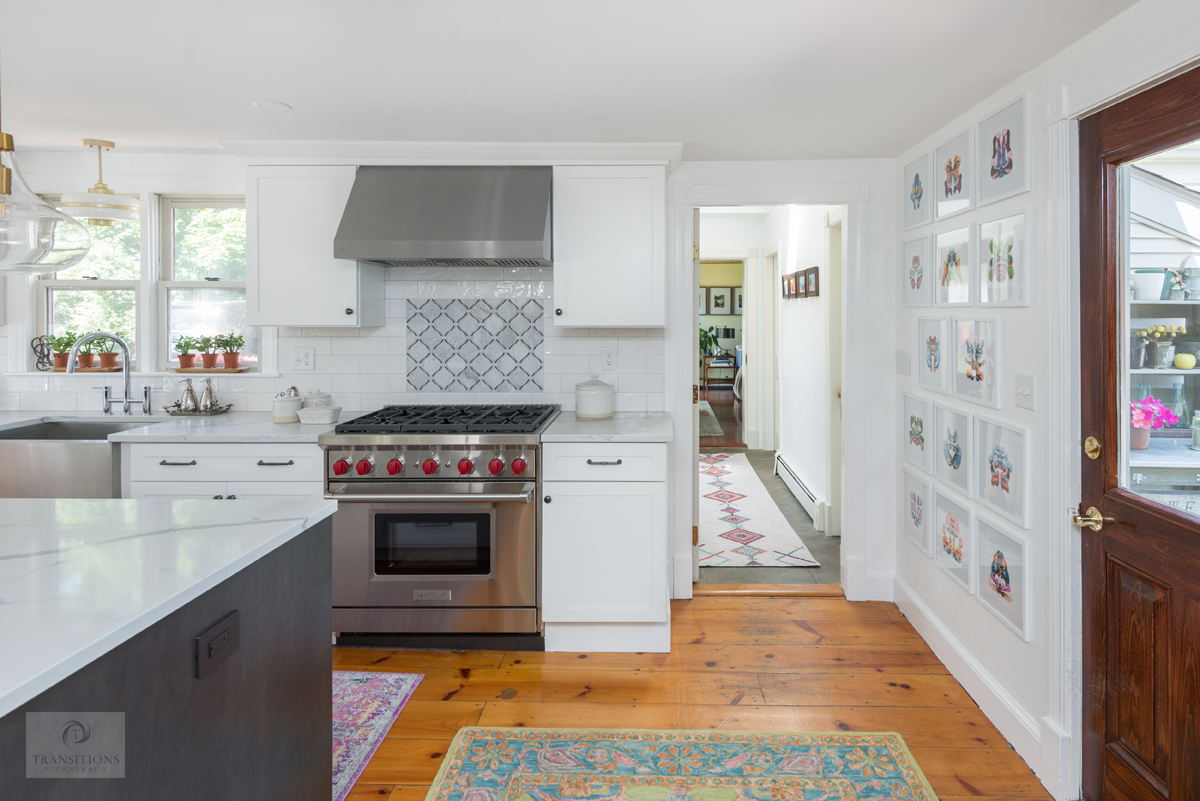 Transform with textures
Another way to connect your rooms is by including textures and materials that carry through from one space to the next. You could choose complementary materials for your kitchen countertop and fireplace. Accessorize with baskets or wooden crates in your living room to hold spare blankets, wood for the fireplace, or books waiting to be read. Continue this theme in the kitchen design with small baskets or crates on top of the kitchen cabinets or on the countertop to hold vegetables or fruit. Textures offer a subtle way to accessorize and connect your spaces without overwhelming your design.
Open up to the outdoors
Your open plan kitchen, living, and entertainment space does not have to end at the outer walls of your house.  Outdoor spaces can be connected to your kitchen and living rooms with large windows and glass doors that let in light and provide a view of the outdoors. Take this one step further by including doors that open onto an outdoor entertainment space. Include seating, lighting, and speakers that allow your party or family dinner to flow easily between the kitchen, family room, and patio.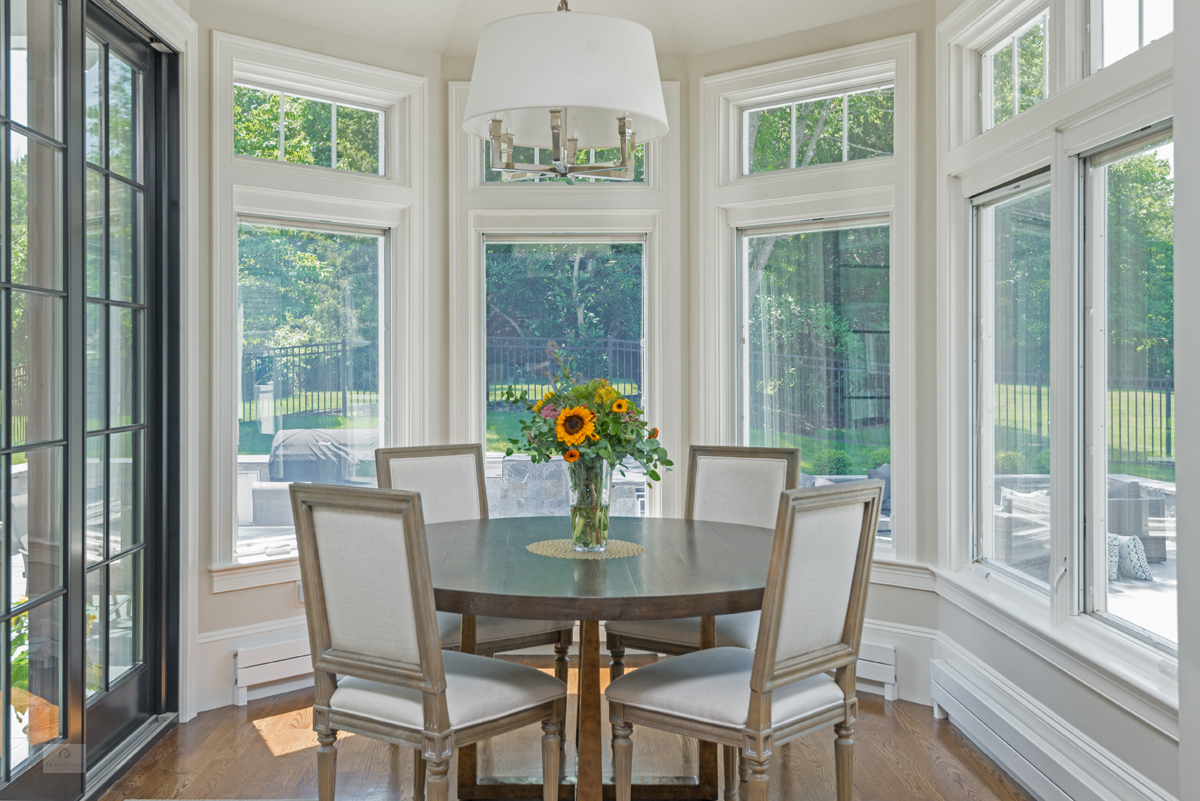 When it comes to your
first-floor home remodeling plan
, you can have it all! Start with a floor plan that allows for easy flow of people throughout the rooms while creating dedicated space for everything from cooking to cleaning, dining, entertaining, and relaxing. Include plenty of storage, and then add a color scheme, textures, furniture, and accessories that balance style and functionality in a multi-purpose home living space. Get started on your home remodel by
contacting our team today
!