Have you ever see Back to the Future II? Of course you have (who hasn't?!)!
Do you remember the scene where (a much older version of) Marty's mom comes over for dinner? She pops a small disc into, what we later learn is an oven, and within seconds out comes a delicious looking pizza.
While kitchen design technology hasn't come along quite that far yet, the smart technology movement has started to make a strong hold in the kitchen design. We're living in the modern world where everything from your fork to your refrigerator can come Blue-tooth enabled.
Whether you're looking to enhance your existing kitchen design with some of the latest technology or want to undertake a full kitchen renovation, here's a list of some of our favorite kitchen gadgets and smart technologies:
Lights
Your kitchen most likely serves as a lot more than just a space where you prepare meals. For some, it's also an office or homework area; for others, it's THE place to entertain. No matter the function of your kitchen, lights are a crucial part of the design. While overhead lighting is probably at the forefront of your mind, don't forget to consider accent lighting underneath or inside your kitchen cabinets – perfect for use as a nightlight or when you're digging out those rarely used serving dishes. If you work late, you may be inclined to install a lighting system that can also be controlled using an app, so you never walk into a dark house.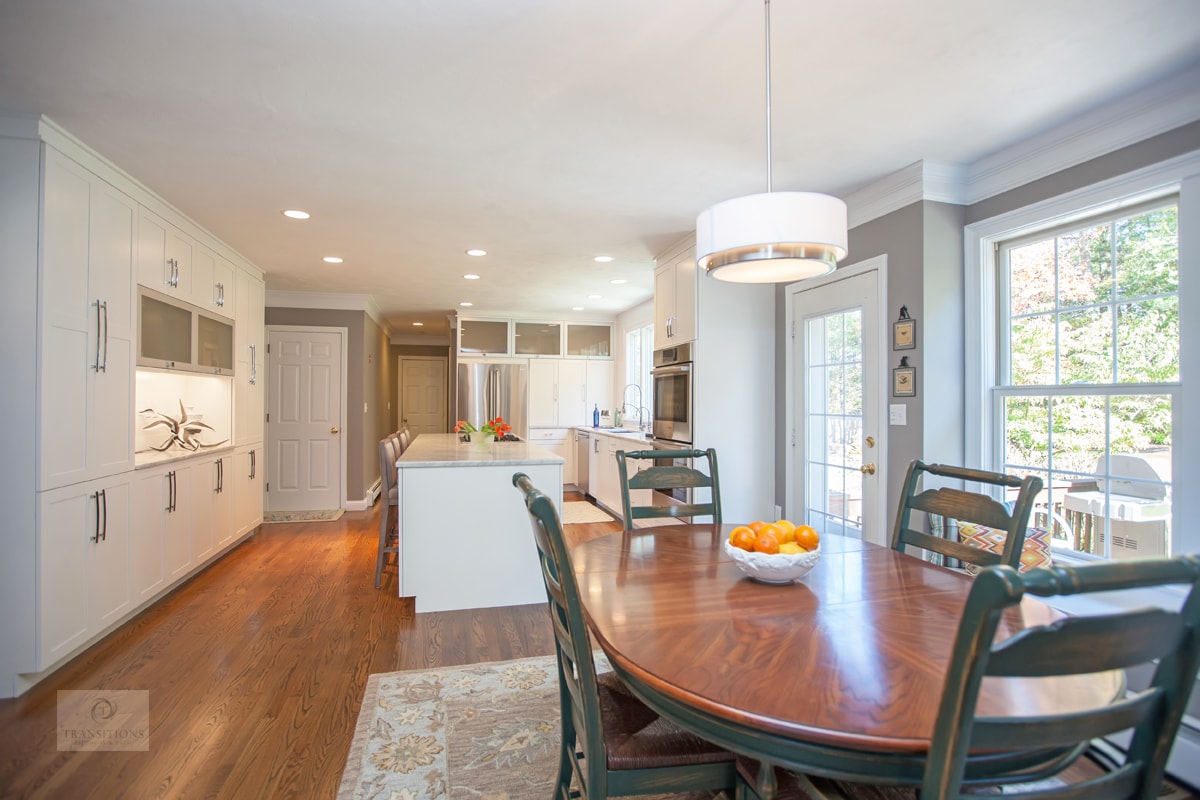 Charging & Docking Stations
Mobile phones aren't just for making calls anymore. Rather, our phones are an integral part of our lives – it's a flashlight, a calculator, and an alarm clock, among other things. Without our phone to remind us of all our pending appointments, our families' lives would come to an abrupt halt. To ensure our lives continue to run smoothly, it is essential that all your devices are adequately charged at all times. A kitchen docking station, either in a section of countertop or tucked away in a purpose-built drawer, will not only keep your family's devices juiced up, but out of the way in a safe place.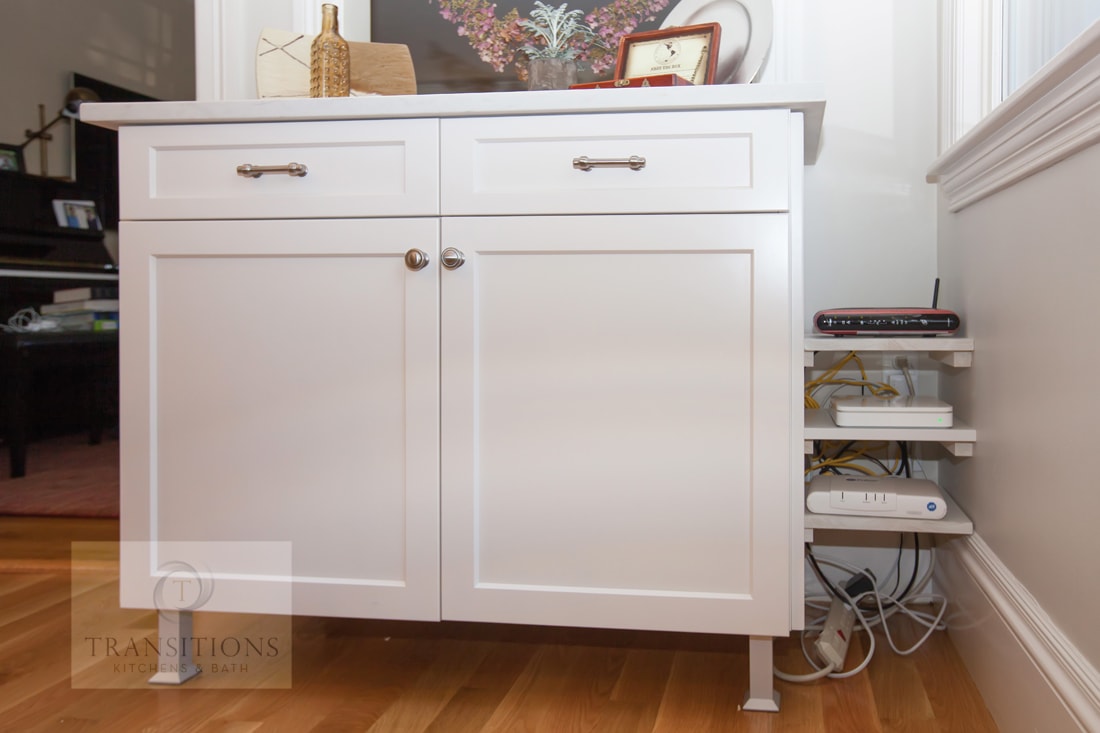 Smart Appliances
When it comes to smart appliances, the list is endless. Today, you can get almost any kitchen gadget blue-tooth enabled. From digital food scales that measure your food and help you prep recipes to an app enabled crock pot that will allow you to control the temperature from anywhere to a trash can that will create a grocery list for you, the list is almost endless, but here are three of our favorites for kitchen design:
GeniCan – GeniCan attaches to most garbage cans and recycling bins so that you can easily update your grocery list. Once you've thrown something out, chances are you'll need a replacement. Thanks to a partnership with Amazon, GeniCan will automatically order popular items like paper towels or snacks once they've been thrown away.
Smart Refrigerators – LG and Samsung have both recently launched refrigerators that connect to apps. LG's InstaView ThinQ fridge incorporates artificial intelligence that can communicate to other smart appliances, and has Alexa built in to read recipes or create a grocery list. The Samsung's Family Hub is like a giant tablet. Whiteboard, StickiBoard and Shopping List allow you to leave notes for yourself and your family, while Allrecipes and Club des Chefs provide recipes. It can also act as entertainment hub.
DaysAgo – Ever wonder if the mayo is still good? Or when you opened that jar of jam? DaysAgo can answer that question! This digital tracker has a suction cup with a timer. Attach it to an item when you first open it, start the timer, and it will record how many days have passed.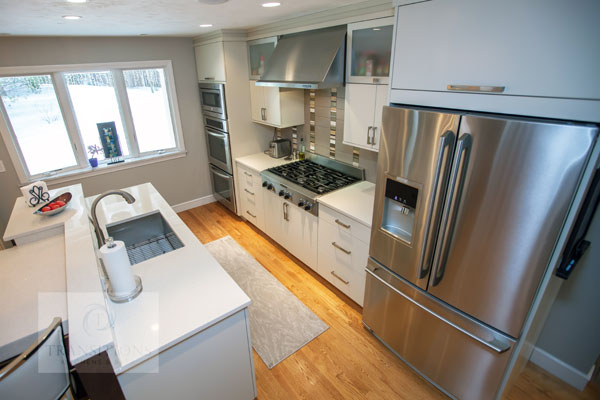 WiFi-enabled Dishware
If you're one of those infamous calorie trackers or are just trying to eat healthier, WiFi enabled dishware may be able to help you keep better track of what you put in your body. SmartPlate is a 10-inch Wi-Fi and Bluetooth-enabled plate that comes with three mini cameras and weight sensors that will determine what you're eating and how much of it you should consume. If you try to eat too much, the plate will let you know!
Dash Buttons
Dash buttons are a great invention by Amazon that will make the life of any busy person just a touch easier. With the push of a button, Dash can order whatever you want straight from Amazon. The next time your run out of coffee or diapers, just reach for the Dash button instead of your laptop!
Contact us today to start your kitchen remodel or visit our gallery for more kitchen and bathroom design inspiration.