Planning a new bathroom is exciting!  There are so many products to choose from, and a bathroom renovation is the ideal time to get that extra-large shower you always wanted or a freestanding vanity with plenty of storage.  Don't forget to also include a well-thought out lighting design in your bathroom planning.
You start and end the day in the bathroom.  You get ready in the morning, prepare for a night out, or unwind in a warm shower at the end of a long day.  These activities require not only adequate lighting, but a multi-layered, integrated lighting design.  It does not have to be complex, and often one light fixture can serve multiple purposes.  For example, one light may give both targeted task lighting and, when combined with a dimmer switch, ambient lighting.
A multi-layered lighting design typically consists of some combination of task (targeted at specific work areas), ambient (indirect lighting that creates warmth in the room), accent (highlights specific design features), and decorative lighting (a light fixture that is a design statement itself).  These basic lighting requirements may overlap, and also incorporate natural light sources like a window.  Lighting can be included in a number of places, but typical areas in a bathroom design include: the vanity and mirror, shower and bathtub, under-cabinet or toe kick lights, and an overhead light fixture.
Here are a four examples of bathroom lighting that incorporate several elements into a comprehensive, well-planned design.
1.  This bathroom design utilizes a combination of recessed ceiling lights and sconces above the vanity to satisfy requirements for task lighting around the vanity and shower.  These lights, particularly with a dimmer switch, also provide options for ambient light.  An overhead light fixture offers both general light and serves as an integral part of the décor.  All of this is complemented by ample natural light through the large bathroom window.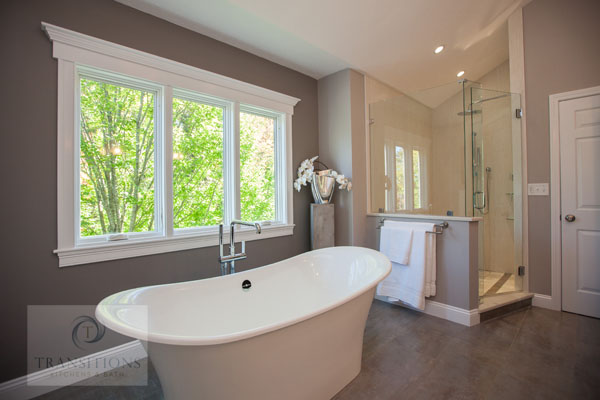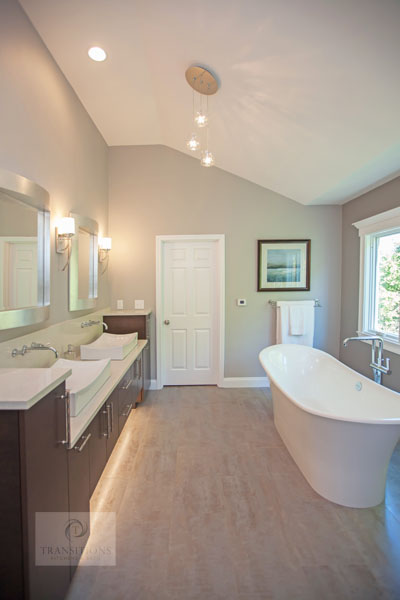 2.  The lighting in this beach style design incorporates a variety of light sources including natural light, wall sconces, and recessed ceiling lights.  These fixtures offer task and ambient lighting, which also serve to accent the coastal beach glass details.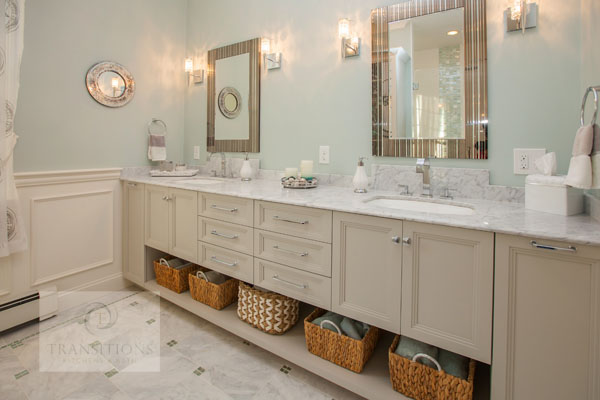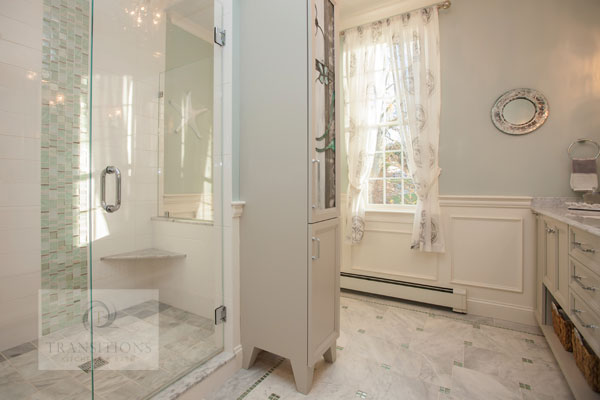 3. Similarly this bathroom remodeling project uses recessed lights in key locations like the alcove shower and above the vanity to illuminate specific areas.  Natural light from the window and wall sconces add to the task and ambient light around the vanity area.  A highlight of this bathroom lighting scheme is the ceiling fixture. It provides a general light source and serves as a decorative fixture that lights up the wood ceiling and beams.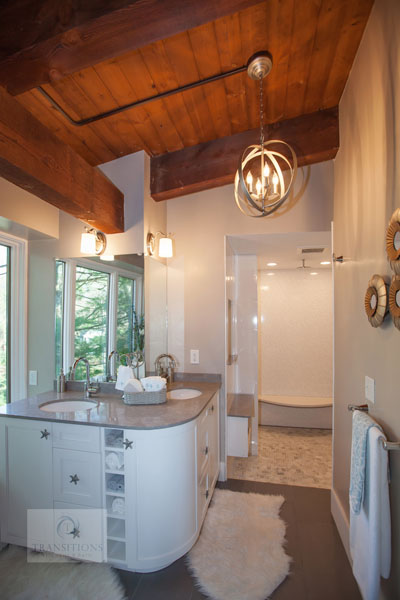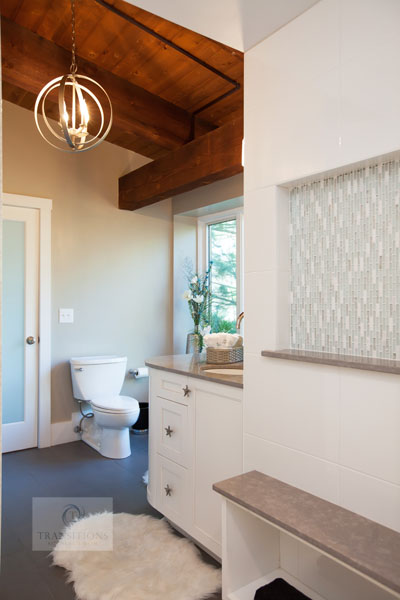 4. This bathroom offers a different ceiling light fixture that serves as a decorative feature and beautifully complements the style of the room.  Recessed lights in the shower and other spaces, along with wall sconces around the vanity mirrors provide a balanced lighting scheme and beautifully reflect the mosaic glass details.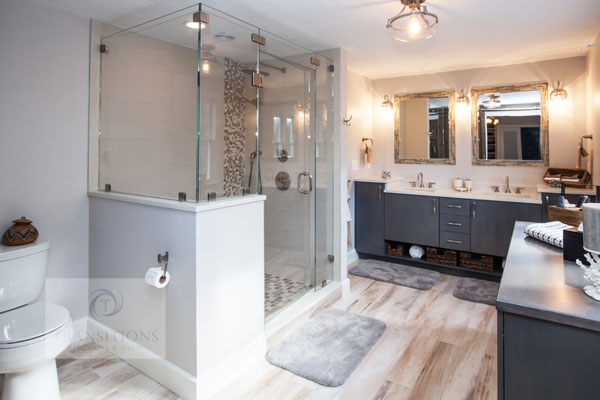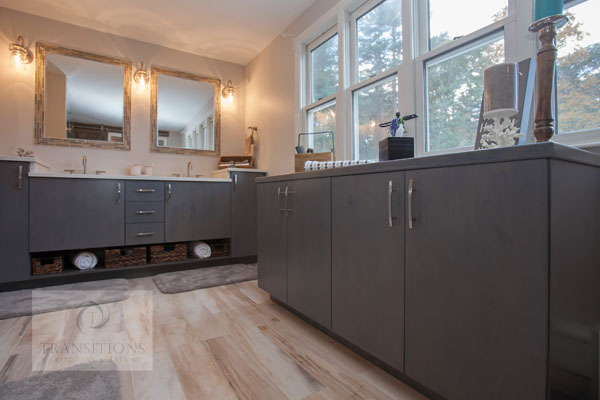 Many of these light fixtures perform more than one function, particularly with the addition of a dimmer switch that allows you to change lighting levels to create a particular atmosphere.  Every bathroom, from a small powder room to a hall bath to a large master bathroom, requires a multi-layered lighting design.  These fixtures work together to light up key areas for specific tasks, provide soft ambient light, and offer decorative accents or highlight specific features in the bathroom.
Visit our design gallery for more inspiring bathroom ideas or contact us today to get started with your new lighting design.