Who wouldn't want an easy to clean bathroom, but is it really possible?  Okay, a self-cleaning bathroom may be the stuff of science fiction or fairy tales, but it is possible to create a bathroom design that makes it much easier to keep the space clean and tidy.  A bathroom remodel is the perfect time to get all the details right with our top 5 tips on easy to clean bathroom designs.
1.  Declutter!  Any amount of cleaning will have little impact if your room is full of clutter.  A bathroom renovation is the perfect time to tackle a decluttering project.  Throw away or recycle everything you do not need, no longer use, or that is out of date.  Think about which items must be available to you in the bathroom and how often you use them.  Utilize your new bathroom design to organize everything that is left and work your design professional to create proper storage that will keep the clutter at bay.  Clear countertops, floors, and shower surfaces are much easier to clean and maintain once you can see them!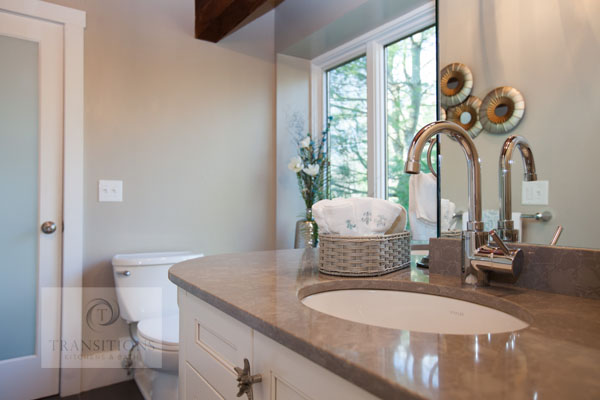 2.  Customized vanity storage.  The primary source of storage in most bathrooms is a vanity cabinet.  They form an integral part of the room's style, but more importantly offer a treasure trove of storage opportunities.  The cabinet could include storage for basic toiletries and cleaning products you need to have to hand.  Customized storage options may also include special drawers for electronics with built-in plugs, pull-out laundry hampers, and storage inserts for every razor, hair product, or make up item you require.  This ensures you can always find what you need and that you have no excuse for leaving things on the countertop.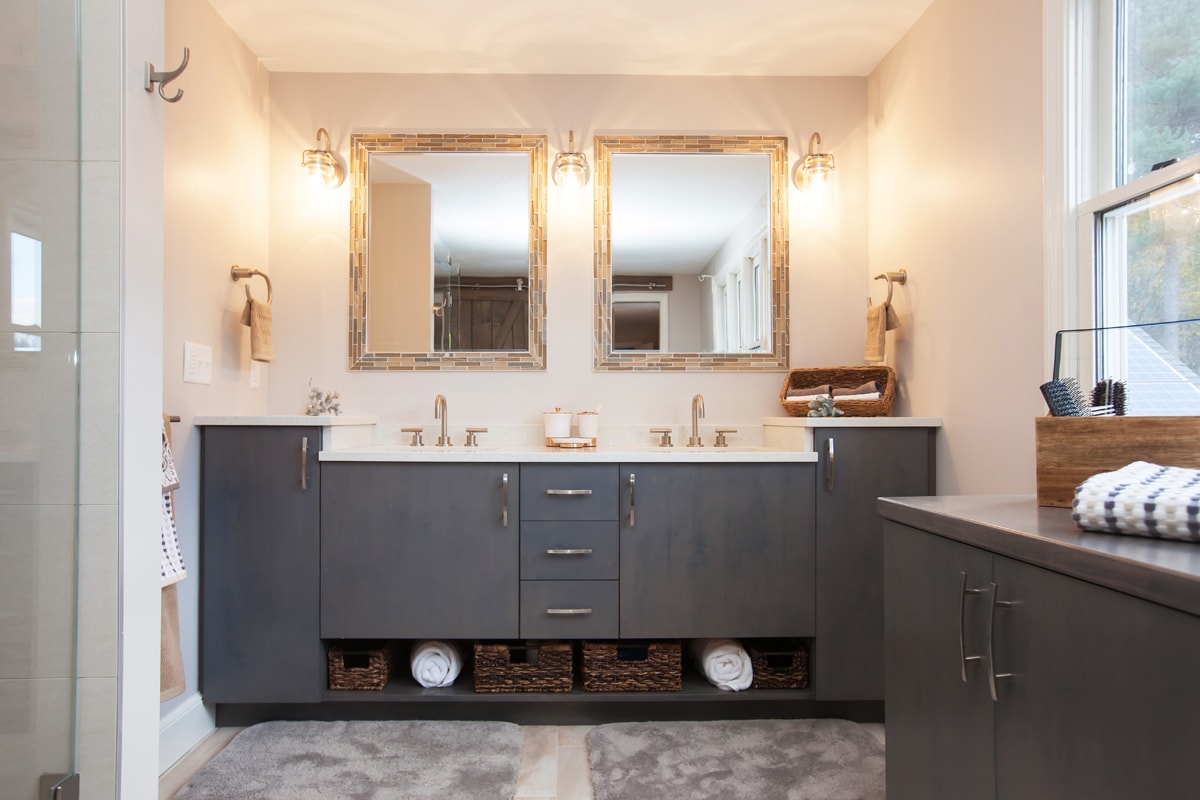 3.  A clear floor. Bathroom floors are challenging. They are subject to a lot of moisture and dirt, often cluttered with towels and toiletries.  Add to this the awkward angles created by the vanity, toilet, shower, and bath, all of which make cleaning the bathroom floor a difficult job.  Start by using your customized storage to put everything away and keep the floor clutter free.  You might also minimize the angles you must clean around by incorporating a more contemporary style floating vanity or even a wall-hanging toilet.  This gives you full access to the entire floor to sweep, vacuum, and mop without having to navigate behind the toilet or around the edge of the vanity.  Product selections play an important role too, as some materials are easier to clean than others.  Grout lines can pose a problem, so larger format tiles with few grout lines are a better choice for easy maintenance.  Leave out detailed mosaic tile designs or limit them to one focal point.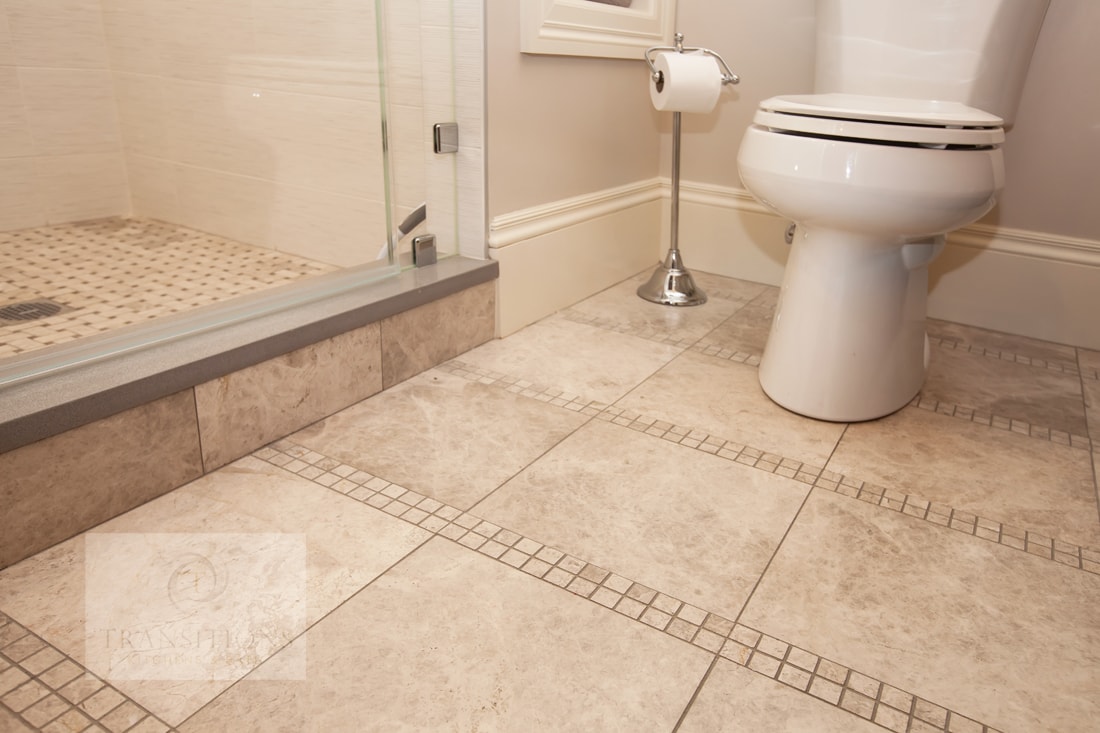 4.  Shower and bath design and storage. Showers experience an onslaught of water, dirt, soap scum, and much more on a daily basis.  Regular maintenance and a cleaning ritual are key to keeping your shower looking good as new.  Make this cleaning routine easier with a shower design that simplifies your work.  Creating an easy to clean shower starts with a more minimal design.  Trade the traditional shower enclosure for a frameless glass shower or better yet an open shower design.  It is much simpler to clean one solid piece of glass than to work around a metal framed door.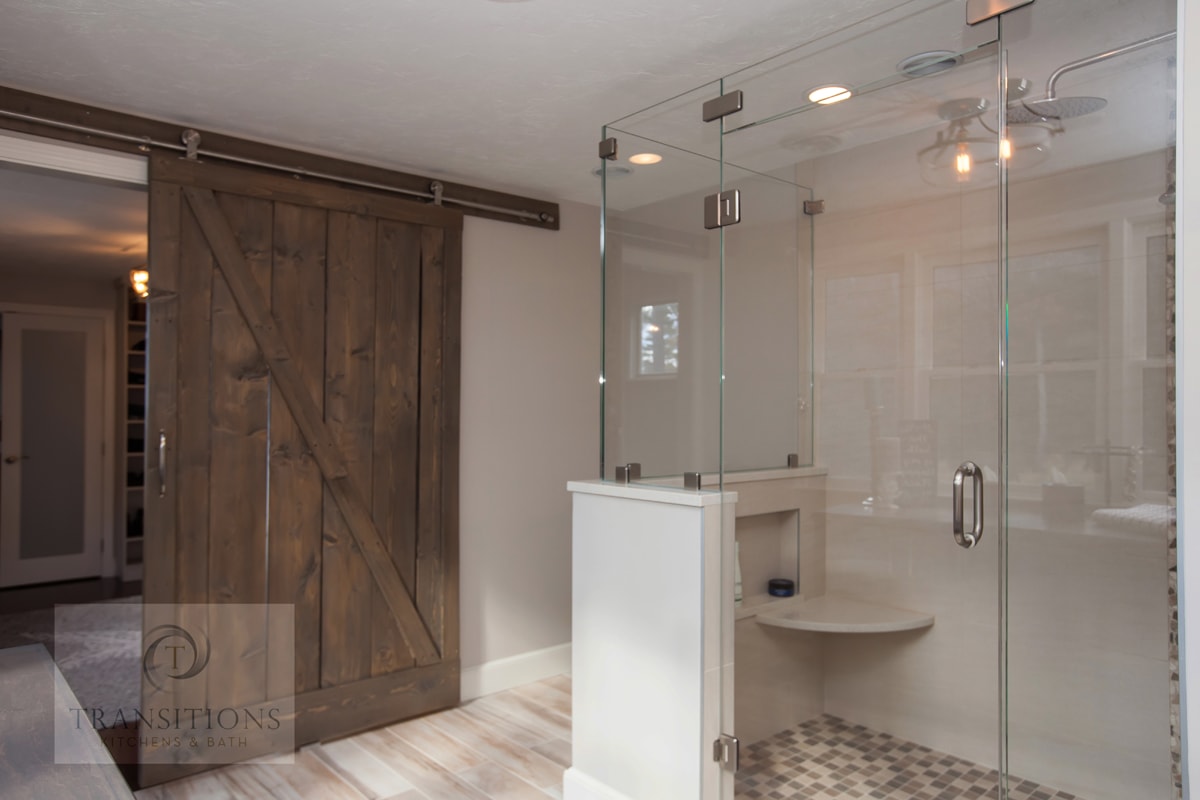 5.  Hangers and hooks.  Make sure you have a place to hang towels, bathrobes, and clothes while getting ready.  With well-placed hooks and towel bars, towels are always on hand when you step out of the shower.  Your family will never have an excuse to drop towels on the floor or drape them over the shower door to dry.