Islands are a must have feature for most kitchen designs.  Where space allows, a kitchen island (or sometimes two) take center stage in the room.  They offer extra work space, plus additional kitchen cabinet storage and seating. Depending on the size of the island, the style of your kitchen, and how you use the space, island seating could be used for casual dining, entertaining, or doing homework.  They offer a place for people to sit and talk or eat while the host is busy cooking or cleaning up.  Some homes even use their island seating more often than a kitchen or dining table.
Does island seating sound like a perfect fit for your kitchen design?  Here is our handy guide to get you started in picking the perfect seating arrangement.
Size and Layout
First, examine your available space and look at the layout that will best meet your requirements.  An experienced kitchen design professional will take accurate measurements, identify all your requirements, and find the perfect layout to meet your needs.
Part of this process is determining the size, shape, and positioning of your kitchen island.  In some large kitchens, the design may even include more than one island, where one is typically used for work space while the other is for dining and entertaining.  If a smaller island or peninsula is a better fit for your kitchen design, then you may limit island seating to a couple of stools to serve as a breakfast bar or space for guests to sit while you cook.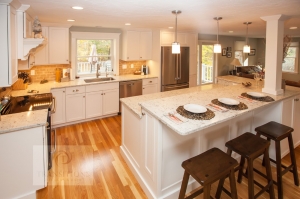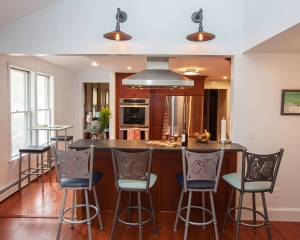 Direction and Purpose
Another key decision with a kitchen island is what direction it will face and what you plan to include in the island, such as a sink or cooktop.  When working at the island, do you want to face into the dining/living area or look out a window?
Seating Arrangements
The shape and positioning of your island, and how you plan to use it, will help inform the seating arrangements.  You may want to include seating along one side across from where you will be working.  Or, you could design your island with one section for work and a separate section for dining and entertaining.  This can be achieved by installing a bi-level island or T- or L-shaped island, to offer distinct zones for each function.
You could also distinguish the work and dining space by including different countertop materials for each zone.  For example, you could use granite or quartz for workspace and a wood tabletop section for dining.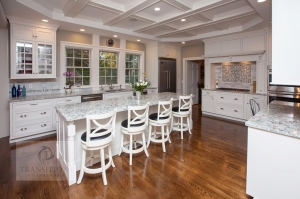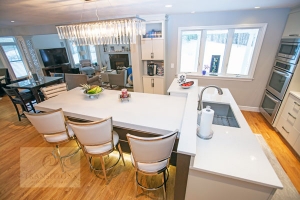 Island Seating Style
There are several factors that may influence the style of your island seating.  Is your kitchen design traditional, contemporary, or farmhouse?  Is it casual or more formal?  The island and any barstools or seats you choose should complement the overall style of your kitchen remodel.
The island is typically at the center of the kitchen and will have a considerable influence on the style of the kitchen design.  This applies not only to the island cabinetry and countertop, but also to the style of barstool or chair you select.
Form and Function
Is the island seating intended for occasional entertaining or spare seating?  Or, will it be used on a regular basis for family meals, dining with friends, and kids' homework?  Depending on how you plan to use the island seating, you may decide that simple barstools are suitable or you may want to go for full chairs that allow for comfortable seating over a longer time.
If you have kids, consider the practical issues such as how easy the chairs are to clean and if your kids can climb in and out of them.  You may even consider including a bi-level island with a lower countertop to make it easier for kids to access the seats.