In our last blog, we looked at kitchen cabinet door finishes and how they can transform your kitchen design. This time we're exploring cabinet door styles, the fun part of cabinetry! While the cabinet interior is just for storage, the front is purely aesthetic and expresses your style. Your choice of cabinets should be influenced by your home's interior design style and the cabinet style, in turn, will guide the rest of your kitchen design.  Whether you are going for a complete kitchen remodel, or just changing up cabinet doors, there's a style out there to give your kitchen the wow factor.
The actual terminology used to describe kitchen cabinet door styles is confusing and often used interchangeably. It's important to have a basic understanding of the types of cabinet doors available, but don't get too caught up in the terms used to describe them.  The following is meant to give an overview and an idea of the terms that are used in relation to different door styles, but the best option is to go by your own style and your gut instinct.  Talk to kitchen design experts, browse ideas online, and visit kitchen remodeling showrooms to look at samples.
1. Flat or Slab Style
If you like low maintenance and sleek design, then slab cabinets are for you. They come with or without handles so you can focus on high-quality stained wood, bold color or quirky hardware. Their minimalist appearance suits contemporary kitchen designs.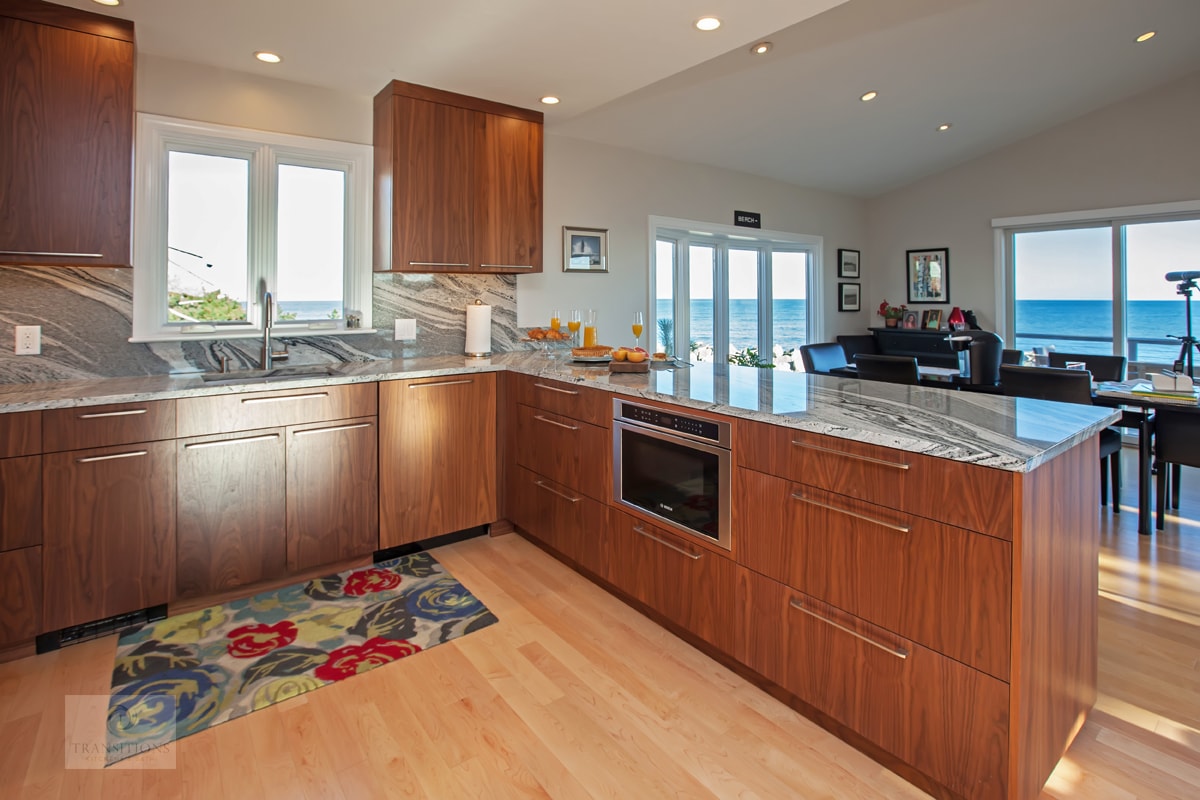 2. Shaker and Other Recessed Panel
The understated yet elegant Shaker cabinet door is a classic and dates back to the 1800s when the Shaker community made high-quality, simple furniture. They are also sometimes referred to as flat panel or recessed panel and look good both in a natural wood or painted finish. The central board, framed by four slats, is very simple with no ornate features or profile. It influenced Scandinavian design so these doors fit beautifully in a Scandi or modern kitchen design, as well as an understated transitional design. Other recessed panel cabinet styles also feature a flat central panel but with a beaded frame that is more decorative than the minimal Shaker style like this kitchen design in Norwell, MA.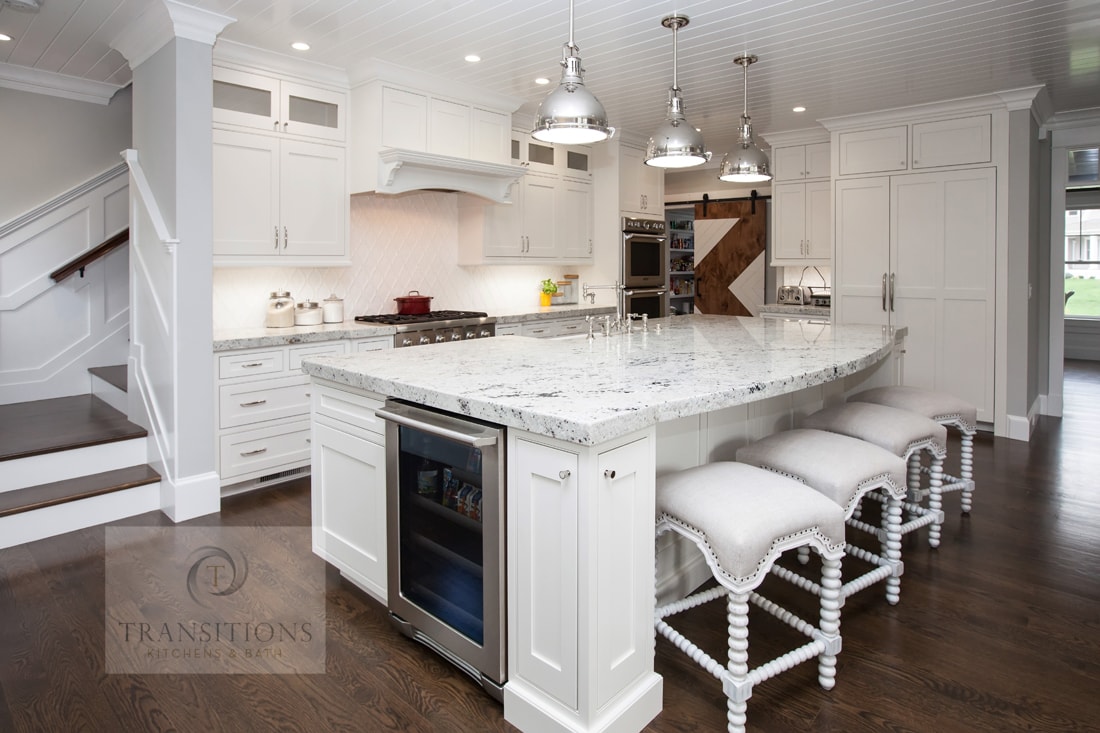 3. Beadboard
If you love a rustic style kitchen then look no further than beadboard cabinets. They're similar to shaker doors but have a beadboard insert. They look great with elements such as farmhouse-style sinks and flagstone floors. The downside of this style is the maintenance, as they require a little more cleaning in between slats.
4. Raised Panel
This door style has four pieces of wood framing a central panel that is raised with a profile or contour.  This can be paired with a variety of wood species and is more typically seen in traditional style kitchen designs, thought it could suit a transitional design as well. The central panel may be more or less ornate, depending on your preferred style, and can also have different shapes.  For example, Cathedral style doors are a type of raised panel cabinet that has a single arch at the top, or another at the bottom. Due to the deep carving required to achieve this style, only wood or thermafoiled MDF are suitable for this door.
5. Glass Front
Glass door cabinets are another variation of a flat panel door, with glass as the central panel. They fit perfectly into Hamptons and country style kitchen designs, breaking up heavy wooden cabinetry and giving the room an airy feel. Or choose a more decorative mullion style glass door where the glass panels are broken up by strips of wood. Depending on the wood and glass type used, as well as other decorative features, glass doors can fit well in any kitchen design style. You can curate the cabinet's contents to display favorite items or opt for frosted glass if you want to hide them.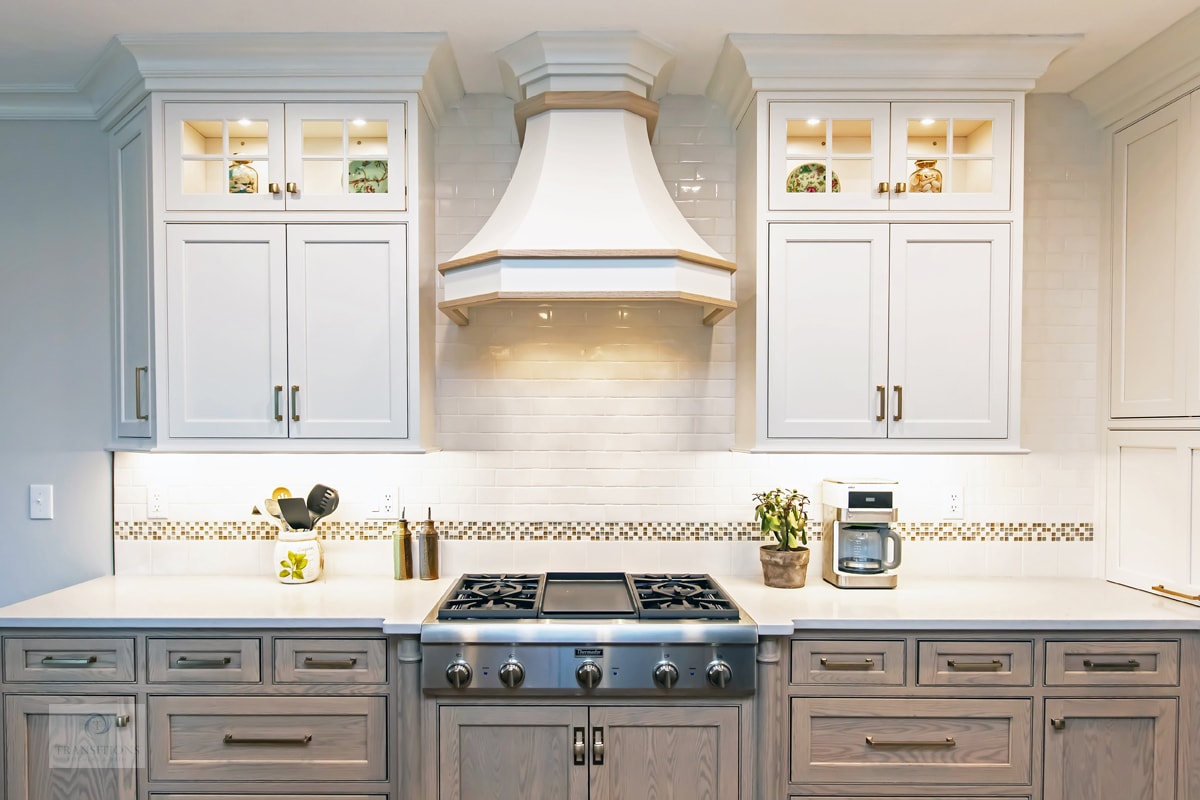 7. Sliding
Sliding doors are not as common but could be perfect for a smaller kitchen design. Simple wood doors work well in a Scandi style or try a glossy finish in this year's burnt orange for a retro vibe. You could also incorporate a mini barn door style sliding door for a more rustic look.
Finally, there are a couple of options when it comes to setting your door onto the cabinets.
Inset cabinet doors sit inside the cabinets, giving a seamless look but reducing storage space. They're also an expensive option as they're custom built and require more pulls and visible hinges. Full Overlay is a sleek, contemporary design focusing on doors with no cabinet frame showing. Partial Overlay exposes some of the frame beside the cabinet doors to give a more traditional look.
Look for inspiration in our kitchen design gallery, and then make an appointment today so we can guide you through the array of kitchen cabinet doors available. Isn't it time you looked at remodeling your hard-working kitchen, giving it the attention it deserves?