When it comes to kitchen design, a well-planned layout is everything.  It is the foundation for your entire design, the biggest influence on how effectively your kitchen functions, and the blueprint for where you will put all the other amazing products you select during the kitchen remodeling process.  How can you create the perfect layout for your kitchen?
Start by thinking about how you function in your kitchen, who uses it, and how often.  What works now, and what are you anxious to change in your next kitchen renovation?  Make your own notes and search for ideas to create a picture of your ideal kitchen design.  This will give you a starting point, and an experienced kitchen design professional can pair these ideas with your available space and budget requirements to find the layout and design to meet your needs.
Many factors influence your final kitchen design, but you and your family are at the heart of this room.  You are likely to spend a lot of time in the kitchen, in particular standing at the sink.  The sink takes center stage for washing hands, preparing food, and clean up. Most meals begin and end at the sink, so think very carefully about where you want to spend this time.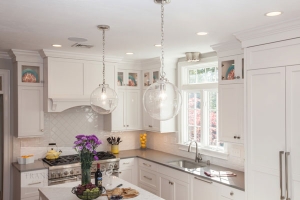 Here are a few tips to get you started:
What is the scale of your kitchen remodel?
If you plan to stick to the basic structure of your existing space, then carefully consider where your plumbing is located.  If you plan to change the structure of your kitchen, for example by moving a wall, or to shift the layout by moving appliances (and therefore plumbing), you have more options for where to place the sink.
What is your remodeling budget?
The sink can go almost anywhere, and moving it to a new location may be the only way to achieve your desired layout. Keep in mind this could involve moving plumbing, which will increase your kitchen remodeling budget.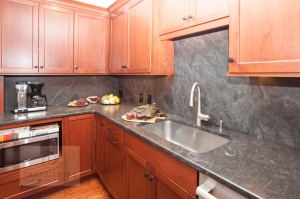 What else does the sink need to be near?
There are many practical issues to consider when deciding where to put the sink. In a well-planned and executed kitchen layout, the sink operates as part of a "work zone" where you prepare food and clean up.  The sink should be near the dishwasher to make it easier to pre-rinse dirty dishes.  Food preparation and cleanup also require access to the trash and recycling bins, so it makes sense to locate them near the sink too.
One sink or two?
You may decide to include more than one kitchen sink, particularly in a large kitchen or where you cook and entertain frequently. Two sinks allow for more than one person to work in the kitchen simultaneously.  You may also incorporate two sinks for distinct purposes, for example one main sink for food preparation and one for cleanup, or perhaps a sink just for entertaining located in a beverage bar.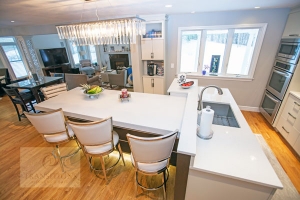 Where do you want to look?
Let's face it, you spend a lot of time at the sink when you are the one primarily cooking and cleaning up, so you may as well give yourself a beautiful view! Traditionally kitchen sinks are located at the window to provide natural light and allow you to look outside from the sink.  In today's open plan kitchen designs, you may prefer to locate your sink in the island facing toward a dining or entertainment area.  This allows you to work while keeping an eye on the kids or talking to guests.
Look at the practical consideration and then think about your personal preferences for positioning the kitchen sink.  Look for more kitchen design layout ideas in our gallery, or contact us today get started in planning your new kitchen.