What is the first thing you do when you walk into your bathroom? More than likely, one of the first things you do is switch on the light! While there are many factors that combine to create a beautiful and
functional bathroom design
, lighting is a key component that ties it all together.
Bathroom task lighting is essential to be able to see clearly when getting ready or finding your way through the bathroom at night. At the same time, modern bathrooms are places to relax and unwind, which requires softer ambient light to set the mood. Bathroom light fixtures can also serve to highlight special design features and can even become a design accessory itself.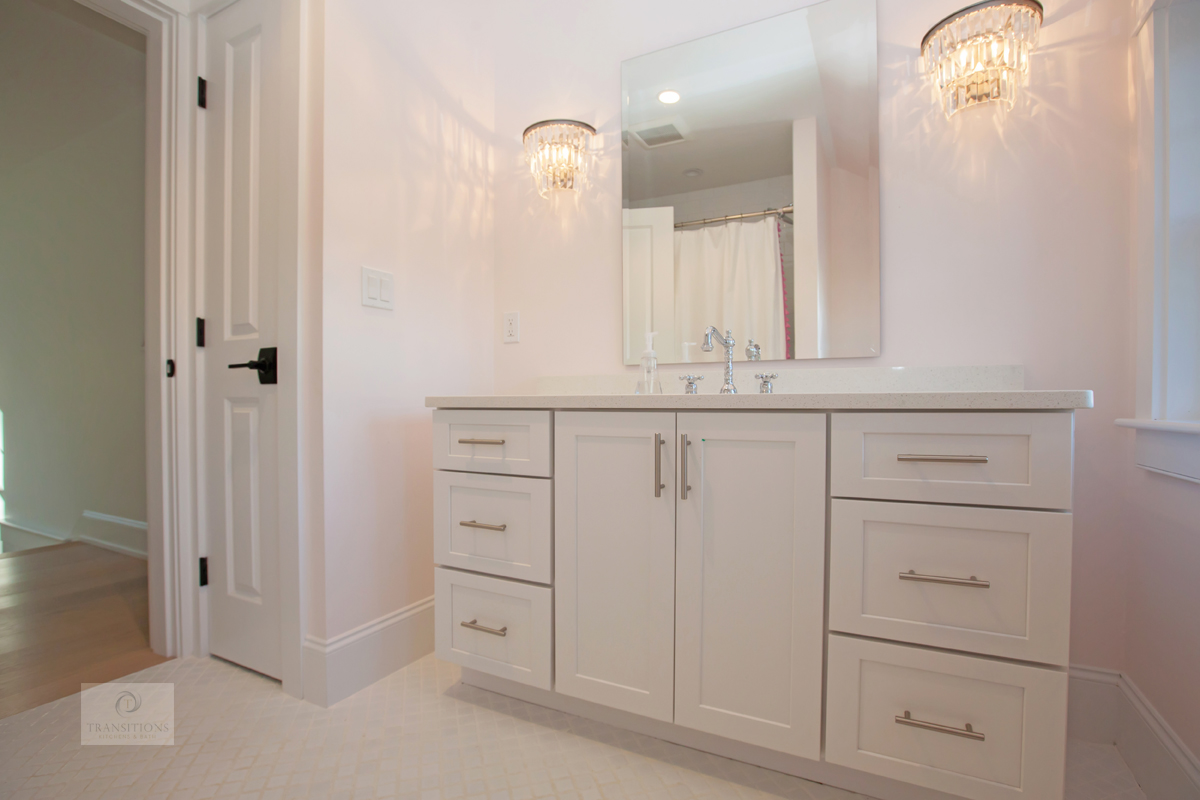 Bathroom lighting works together with your mirror to create a space where you can get ready while reflecting on the day ahead or get hyped up for a big night out. Let's explore the significance of bathroom lighting, the types of lighting you need to consider, and how to pick the
ideal lighting and mirror combination
for your bathroom design!
Key Things to Consider When Planning Bathroom Lighting
Lighting is an essential component of any space in your home, and nowhere is this more important than in the bathroom. You must include lighting in key areas where you perform tasks like shaving, styling hair, and applying makeup. Lighting also needs to be easy to use for all family members, of all ages, and all mobility needs, with simple-to-locate lights available for nighttime trips to the bathroom.
Without this essential lighting, your family will not be able to see clearly to perform delicate tasks such as applying mascara. Little ones will be able to easily turn on lights for a trip to the bathroom or to wash their hands. Older family members may be at a higher risk of tripping or bumping into fixtures and injuring themselves. A careful lighting plan for your bathroom design can ensure that everyone's needs are met.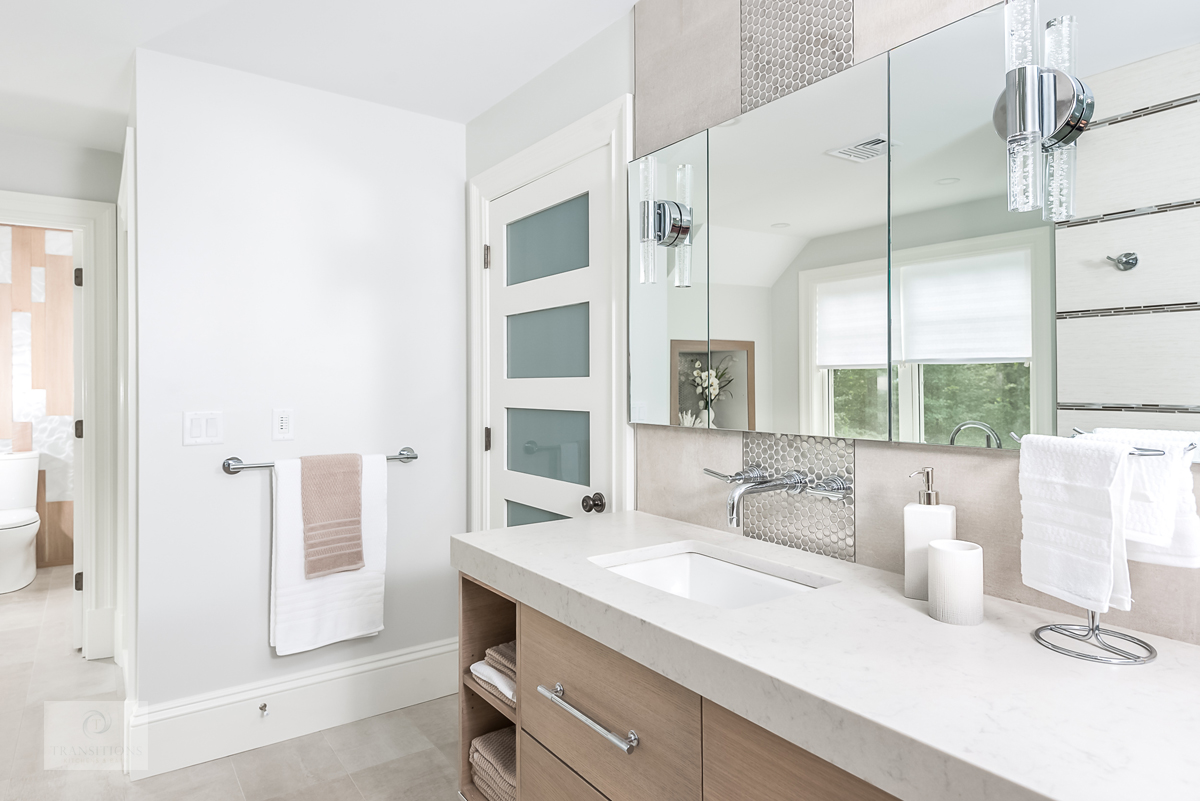 When
planning your lighting design
, go for a multi-layered lighting scheme that allows you to shift from direct task lighting to softer ambient light. There are many ways to accomplish this with different light sources, or even by adding dimmer switches or smart lighting controls to your light fixtures.
Mirrors are also a key component of a busy bathroom design. They provide space to see yourself clearly to get ready for the day ahead or to wind down at the end of a long day. Mirrors also make your room feel larger and reflect light around the room. The larger your mirror, the more it impacts your room's space and light. Mirrors can also act as a design accessory depending on the shape, style, and frame you choose.
When planning a bathroom design, lighting and mirrors should form a key part of your design planning. First, look at your individual requirements, including your household, who will use the bathroom, and how often it will be used. Your lighting and mirror requirements for a busy family or master bath remodel will differ from a seldom-used guest bathroom. Your bathroom style will help determine these choices too; for example, you will need to focus on softer light sources in a spa-style bathroom design. Decide what you need and the style of lighting you require and assess this against your available budget to find the perfect light fixtures for your space.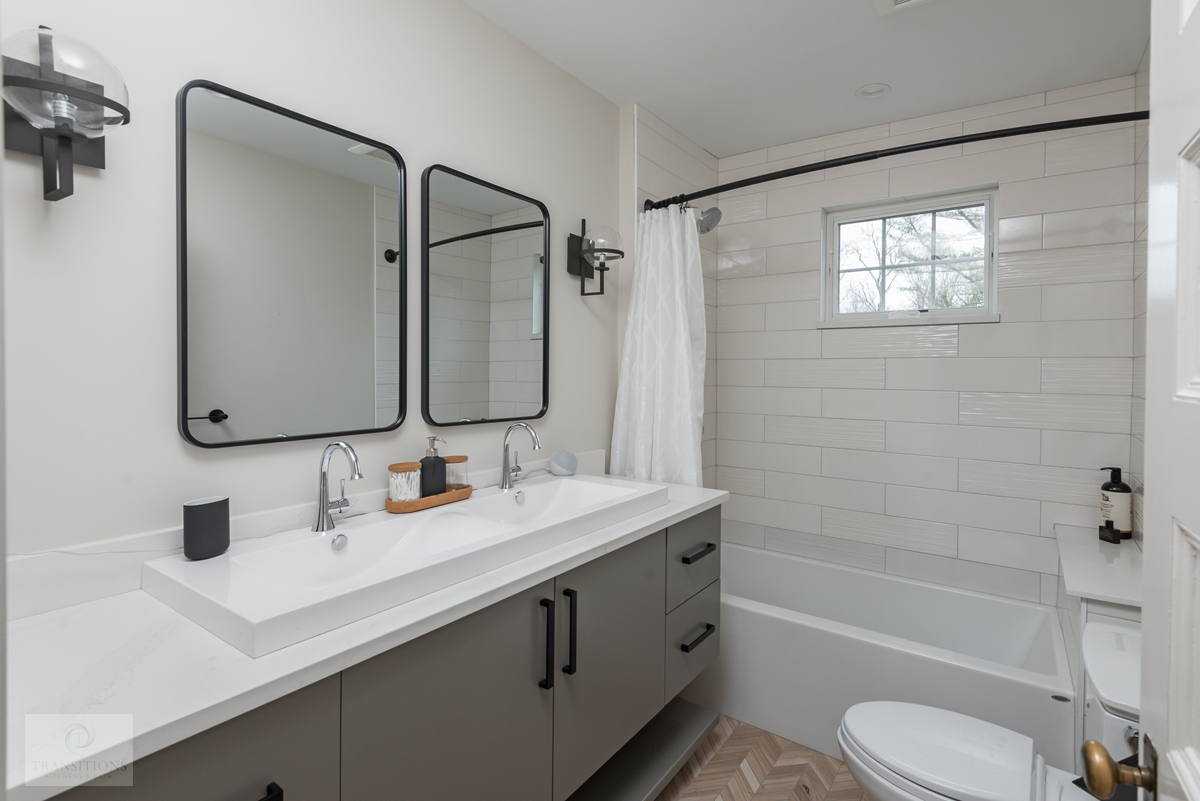 What Is a Multi-Layered Lighting Design?
Every room in your home requires well-planned lighting that meets all your needs. There are several key types of lighting that combine to form a complete lighting design. Often a single light source can serve more than one purpose, with lighting controls turning a strong task light source into softer mood lighting. Let's explore the key types of lighting to help in planning your ideal bathroom lighting design.
Task Lighting: This light targets illumination exactly where it's needed. Focus task lighting on key areas like the vanity cabinet, where you spend a lot of time getting ready and need to see clearly. Make sure your vanity lights pair well with your chosen mirror and do not leave your face in glare or shadow. This could be sconces surrounding the mirror, an LED-backlit mirror, lights over the mirror, or a well-placed pendant. Other areas for task lighting include a make-up vanity or the shower area.
Ambient Lighting: This is the softer light source important to any home living space, that gives your rooms a warm, welcoming feel. Ambient light transforms any room from feeling purely functional to a homely space where you want to relax and spend time. Many light sources including recessed lights and vanity lights can become ambient light sources when paired with a dimmer switch or lighting control. Backlit mirrors offer ambient light, as do undercabinet lights that are ideal to light the room for late-night trips to the bathroom.
Accent Lighting: Today's bathroom designs are carefully planned interior spaces with beautiful materials and design features. Accent lighting lets you show off those special design elements, such as tile features, a piece of art, decorative items placed on open shelves, or architectural features of the room such as an archway. Use spotlights, LED strips, or focused picture lights to showcase your favorite features.
Decorative Lighting: Bathroom light fixtures can be way more than purely functional. Just like in other rooms in your home, lighting offers another opportunity to enhance your design with decorative light fixtures. Look at the style and size of your room and choose lighting that fits your space and design aesthetic. In a large bathroom, you could go for a chandelier or bold pendant that sits over a key area such as the freestanding bathtub. Consider the material, finish, and lines of your light fixtures when choosing a style to fit your space. Lighting with stunning architectural lines is very popular and can accent a bath design and create a unique focal point.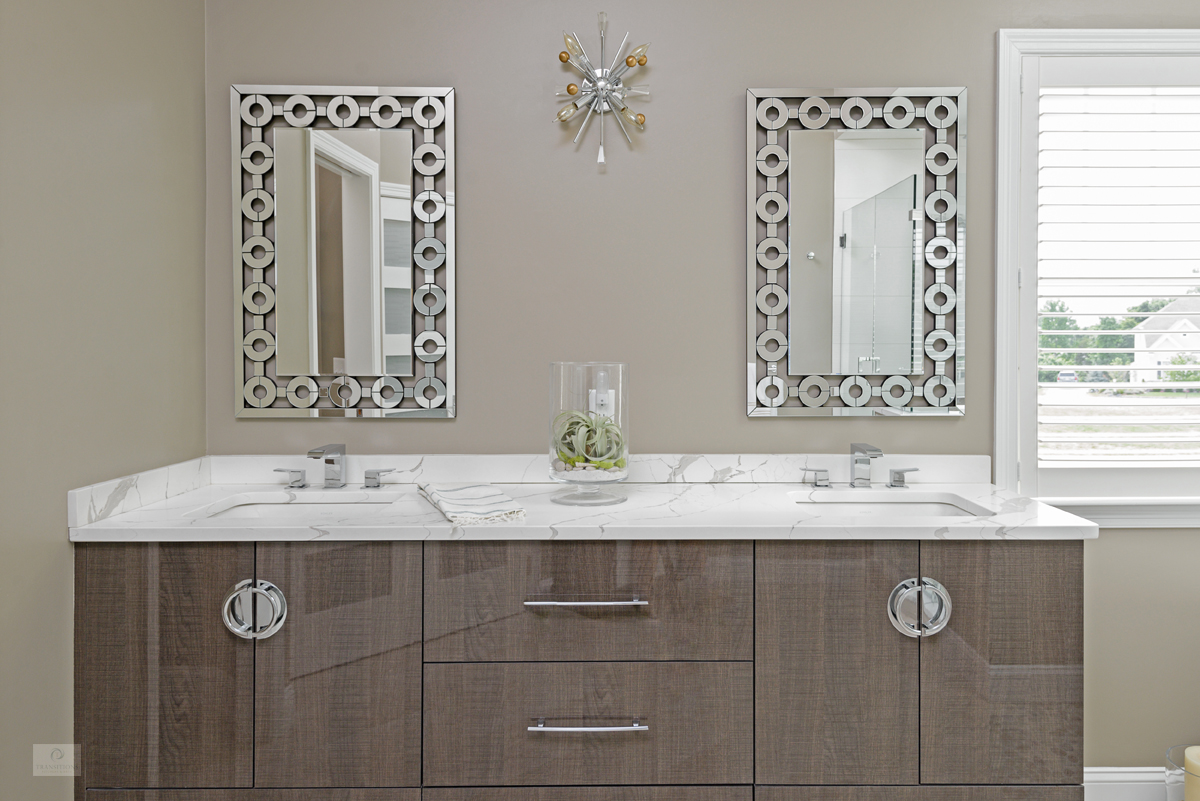 Bring in Natural Light
If your bathroom allows for natural light through windows, glass doors, or skylights, then you are in for a treat. Natural light in a bathroom design works with your lighting design to provide daytime illumination, reducing the need to switch on lights and in turn lowering your energy bills.
It also creates a connection with the outdoors, which gives your bath design a calming, grounded feel. Position a freestanding tub near a large window for the ultimate relaxation that allows you to soak up vitamin D while you soak in the tub.
Natural light is generally a softer light source than harsh overhead lights, which makes it ideal for checking your makeup before heading outside. Incorporate as much natural light as your space allows. Pair it with window treatments that offer privacy without stopping light from entering your space.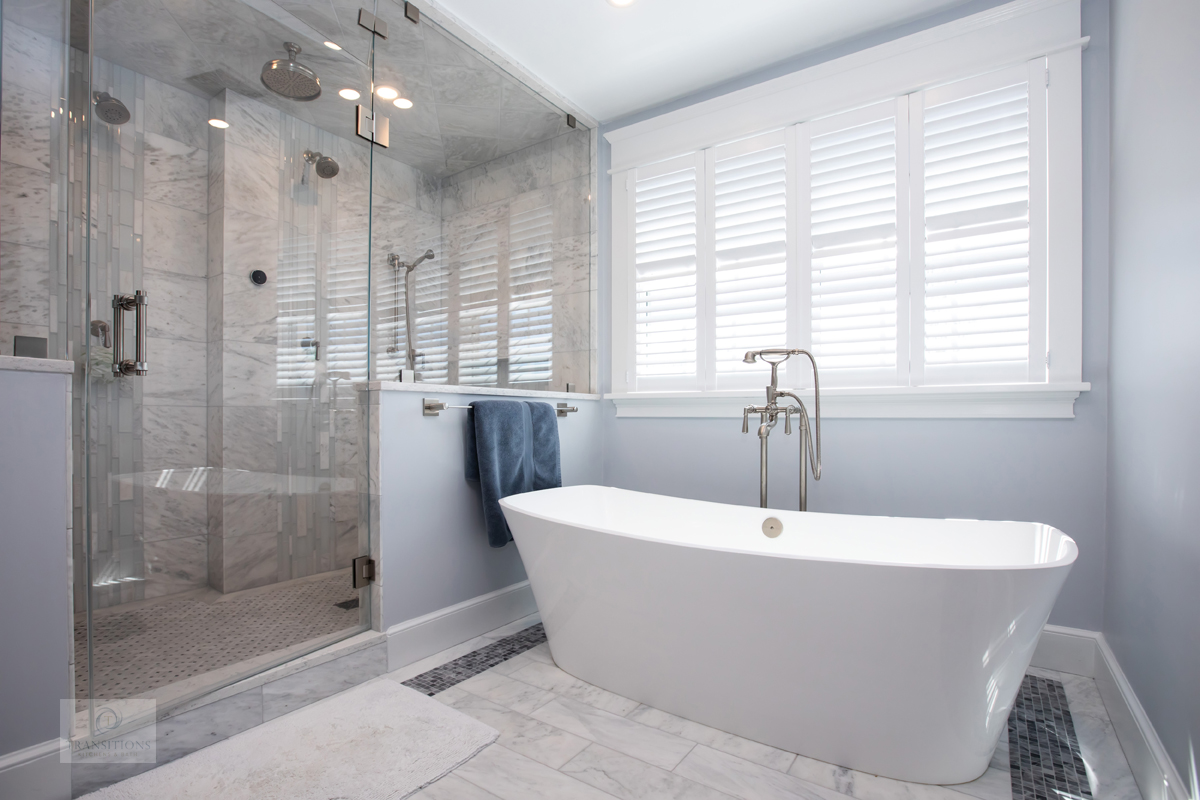 Add Smart Lighting Controls
Lighting controls are an ideal accompaniment to your bathroom lighting design, as they let your light fixtures do double duty as both task and ambient light sources. This can be as simple as adding dimmer switches to your light fixture. Or you can go high-tech with smart lighting controls that let you change light levels and color using a smartphone app, remote control, or even voice control. This means you can even change your lighting from the comfort of your tub! Many of these smart lighting systems let you save presets for your favorite light settings to revisit them later.
Ideal Mirror Styles for Any Bathroom Design
Mirrors play a significant role in a busy bath design and must work together with your light fixtures to create the ideal place to see your reflection. You know how important a good mirror is when you are trying to do your makeup for a big night out or when getting ready for work in the morning.
A bathroom mirror also helps to make your room feel larger as it creates an optical illusion by reflecting the opposite wall of the room. This is especially true if you choose a large mirror that fills a wall. Mirrors also reflect light throughout the room, helping to brighten your space.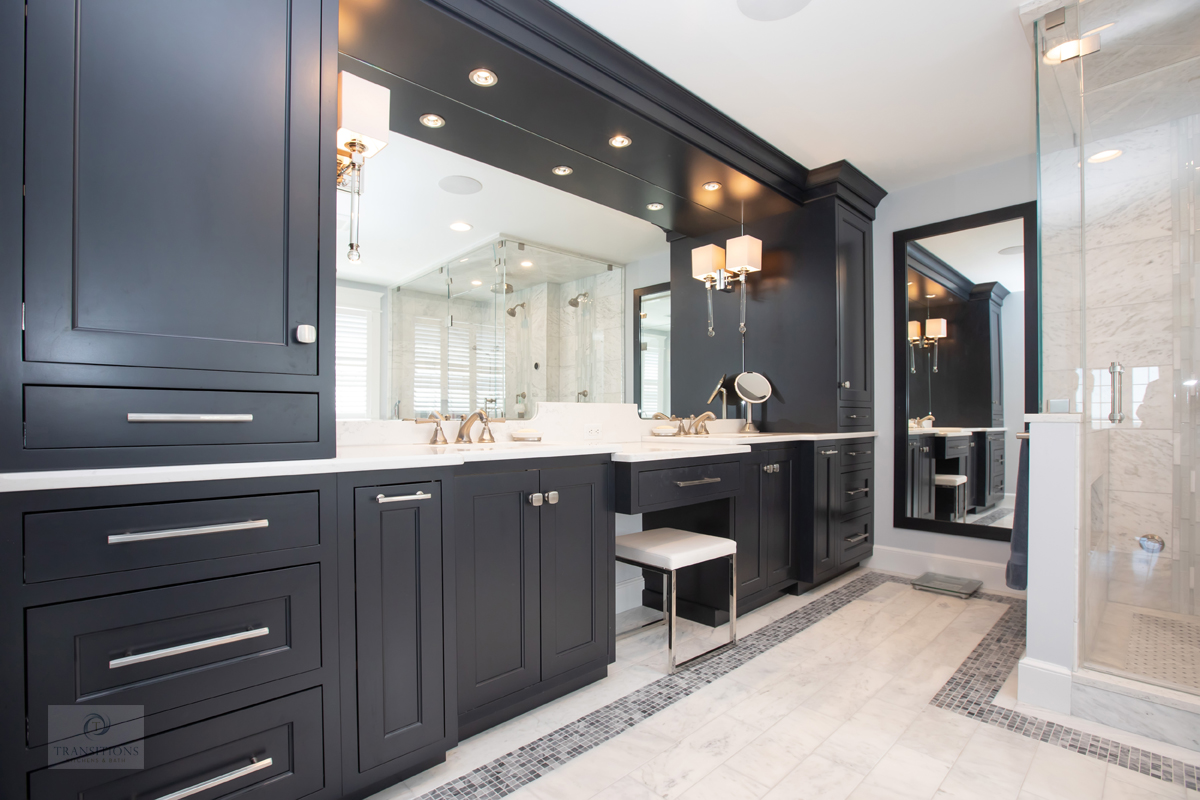 Mirrors can be
bathroom design accessories
too. Choose a shape, size, and style that enhances your room's design aesthetic. Let your mirror blend neatly with the rest of your design or go for one that stands out as a design focal point.
Types of Mirrors
LED mirror: This popular mirror style uses environmentally friendly, energy-efficient LED lights that either frame the mirror or sit behind the mirror. They give off less heat than standard lights and provide the perfect illumination around a mirror to see yourself clearly.
Frameless: With a frameless style, your mirror easily fits any bathroom design style, though it works especially well with sleek, contemporary bathrooms. This variety takes the focus off the mirror as a design element and lets the mirror do its job of reflecting light throughout the room. Frameless mirrors can be custom cut to almost any space.
Framed: Go for a mirror in a frame that matches your cabinetry or even your tile. Or choose an unusual frame in a unique metal, live edge wood, or another material to let the mirror stand out as a design focal point. Framed mirrors are an opportunity to accessorize your design, so let your creativity run wild.
Different Shapes: Typical mirror shapes are rectangular or even oval, but there is a wide range of options if you want to go for something unique. As long as your mirror shape fits your chosen aesthetic and does its job of providing a place to see yourself when getting ready, then you can go for any shape you desire. Large, round mirrors have become quite popular, but so are unusual asymmetric shapes that give your space a one-of-a-kind look.
Mirrored Storage: These mirrors do double duty as both mirror and medicine cabinet, providing essential storage for medications, shaving products, and makeup. They come in a range of sizes, some with LED lighting, and can include adjustable shelves or customized storage solutions. You could even go for a recessed option that sits flat against the wall.
Smart Mirrors: Just like the rest of our lives, mirrors have become high-tech! With the addition of Wi-Fi, Bluetooth, touchscreen or voice-activated controls, and built-in sound systems, your bathroom mirror can now serve as a place to watch your favorite television show, listen to a podcast, or check the forecast while you are getting ready.
Anti-Fog Mirrors: Bathroom ventilation should keep your room from getting too steamy, even when you are showering. However, mirrors can still fog up making them unusable until they clear. Anti-fog mirrors are the answer, as they have a built-in heating element that prevents fogging.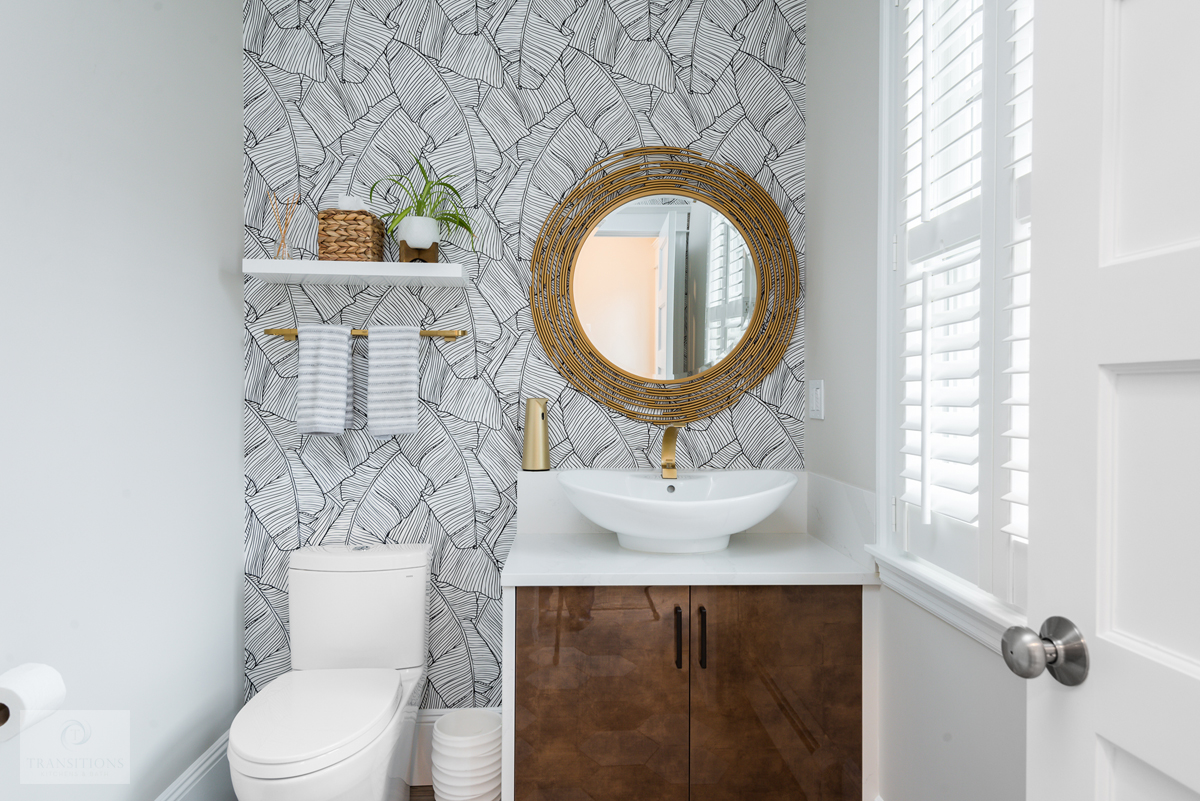 Find the Right Mirror and Lighting Combo for Your Bathroom!
When planning a bathroom remodel, it's important to consider many factors that work together to create a stylish and functional space. While your focus may be on a luxury shower enclosure or deluxe vanity cabinet, don't forget to include a complete lighting scheme and mirrors in your bathroom design plans. Consider your room's style and find a combination of light fixtures and mirrors that fit your aesthetic without overwhelming your space. Make sure your light fixtures and mirrors pair well together and provide the ideal space to see yourself without glare or shadow.
Bathroom lighting sets the mood for your space, taking it from functional to relaxing with the flick of a switch (or a tap on your phone, or even using voice controls!). It lets you and your friends get ready in style for a big night out with a large mirror and a well-lit vanity area. It also allows you to shut the world out and go for a relaxing soak in the tub with soothing, dimmed lighting.
Create a carefully planned lighting design for your bathroom remodel that includes targeted task lighting, soft ambient lights, and even decorative light fixtures that act as design accessories. Pair this with a bathroom mirror that reflects your face and your room's style. Our full-service showroom is a great place to browse styles and get inspired, and our experienced design team is ready to help you kick-start your remodeling plans today!