Whether you are throwing a party, fixing a weekday dinner, or just helping the kids with their homework, family life revolves around the kitchen. Today's
kitchen designs
tend to be open plan or at least interconnected with surrounding living spaces. They are also multi-functional rooms that range from storing and preparing food to hosting a book club or starting a craft project with the kids. Such an important room requires careful planning to keep your home organized, efficient, and aesthetically pleasing.
Start by creating a layout that meets the functional needs for your kitchen design, and then select the products and materials that define your room's style and practical requirements. Kitchen cabinets are essential to a kitchen remodel, as they form the foundation of your layout and influence your design with the cabinet style and finish. They also house essential storage, particularly when paired with customized accessories and inserts, helping to keep your kitchen clutter free and easy to maintain.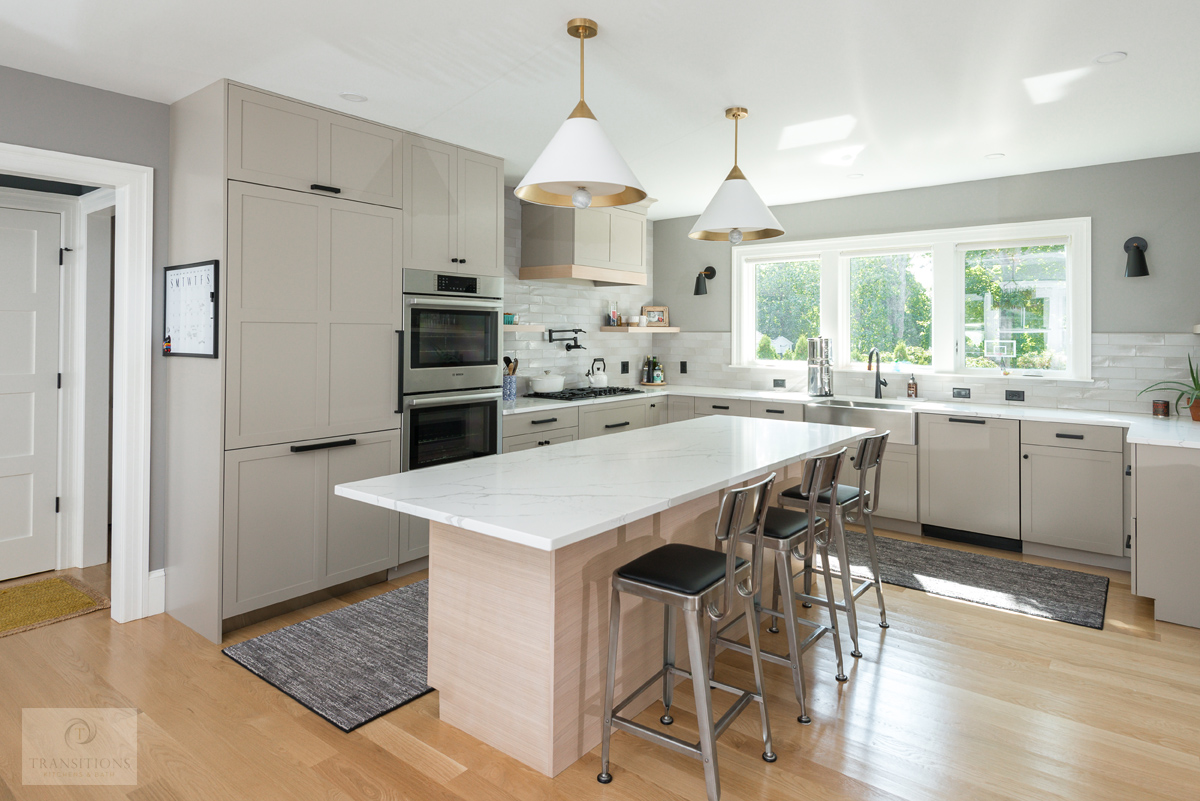 How can you get started in selecting the perfect
cabinetry for your kitchen design
? It helps to look to the latest trends for inspiration and then examine the range of options available against your specific needs. An experienced kitchen and bath design professional can help you through this process and will be able to share their experience and knowledge of different cabinet lines to find the perfect one for you.
Go for quality and let the wood take center stage.
White, beige, and gray have long been the go-to colors for kitchen cabinet designs. These fundamental shades will always be in style for kitchen designs, but recently have been increasingly overtaken by other colors. Natural wood tones are finding their way back into stylish kitchen remodels, as well as beautiful, stained wood finishes. When going for wood tones, make sure you select high quality wood cabinetry so you can let the beautiful natural grains of the wood shine through. A top wood quality also creates a durable cabinet that will last for years to come. Stick to light wood tones for a cool, modern appeal, or go for dark stained tones for a luxurious design vibe.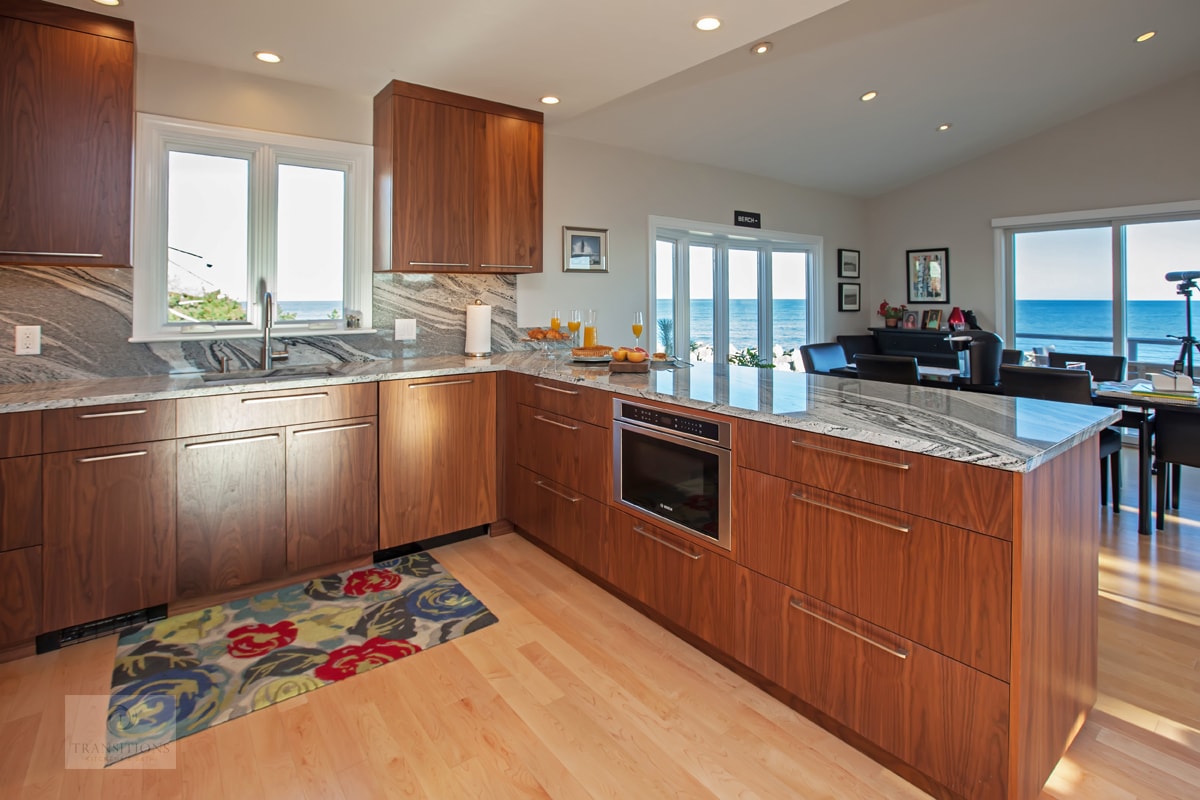 Set the tone of your design with a bold color choice.
Color also features in today's kitchen cabinet design trends, with bold colors becoming more prominent for kitchen cabinet styles. Blues, greens, and even reds are ideal cabinet paint colors, in a range of shades to suit any tastes. Navy blue is a popular color, beautifully accented by bright chrome or gold hardware. Go for a lighter blue if you want to create a coastal kitchen style or a vibrant blue for a Mediterranean vibe.
Deep green and rich red tones also create a beautiful color palette for a modern kitchen remodel, paired with neutral tones for countertops, backsplash, and accessories. If you aren't ready to commit to a full burst of color, consider limiting your bold cabinet color to one area, like the island, butler's pantry, or a beverage bar.
Another on trend color choice is black painted cabinets, which brings a truly luxe feel to any kitchen design. No longer limited to modern kitchen design styles, black painted cabinets can enhance any style kitchen. Go for it with a full black cabinet design or pair a black island with a lighter, neutral shade for the perimeter cabinets.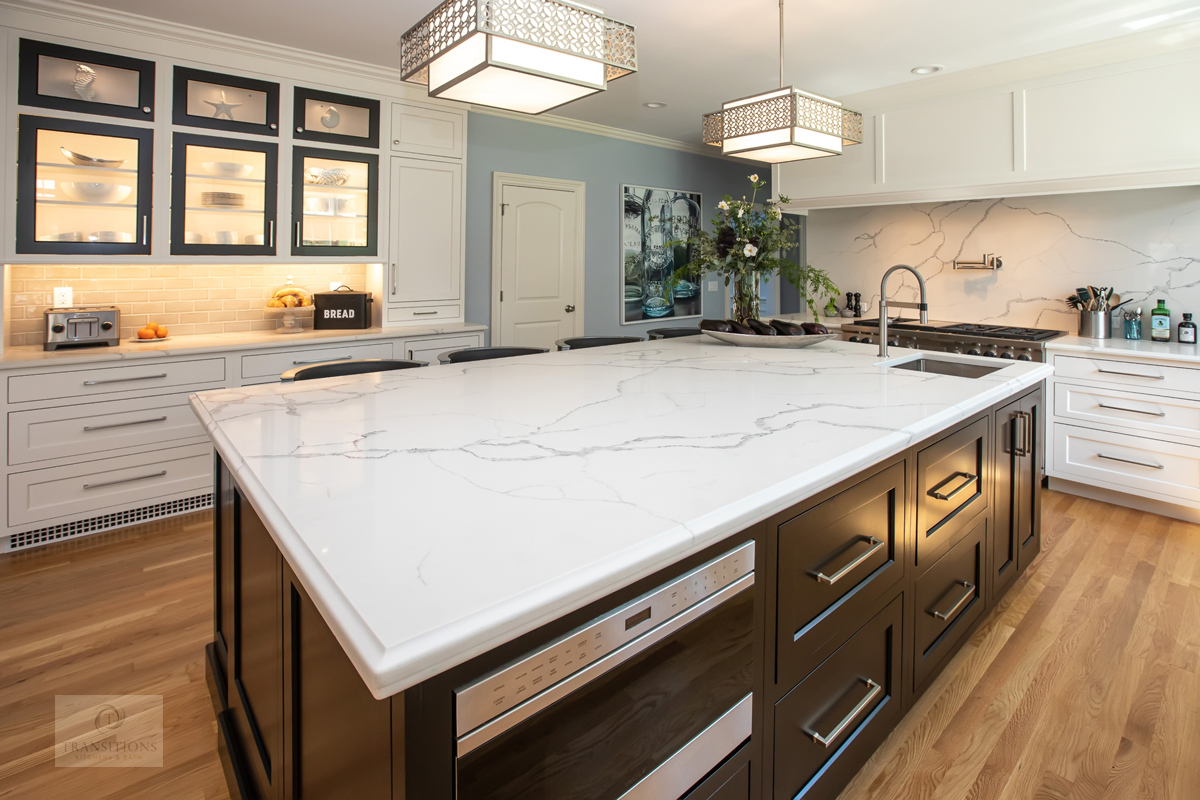 Create a calm atmosphere with subdued hues.
If dark or bold colors are not your personal style, consider selecting a more subdued tone to add color to your cabinet design. Softer shades of popular colors like blues and greens are also featuring in today's kitchen cabinets. Pale blue is ideal for a cozy cottage style kitchen remodel, and sage green is a popular shade that brings a calm vibe to any kitchen design. Depending on the shade you select, you must also look for countertop, backsplash, hardware, and plumbing fixtures that work together to create a cohesive design.
Super-size your island.
In an open plan kitchen design, the island becomes a clear focal point of activity. It also serves to separate work zones from entertainment zones, adds storage and workspace, and creates additional seating for casual dining. In today's kitchen designs islands are bigger than ever, with larger islands featuring or even more than one island in an expansive kitchen. Outfit your island with custom storage suited to a multi-functional workspace. If your island is also an entertainment zone, consider including an undercounter beverage refrigerator and barstool seats so guests can relax and access drink refills easily.
Since your island sits at the center of the kitchen design, it is an ideal place to make a style statement. Let your island stand out with a contrasting cabinet finish, or even a different style of cabinetry to create an eclectic look. Balance this with a countertop, hardware, and lighting that ties the island into the rest of your kitchen design.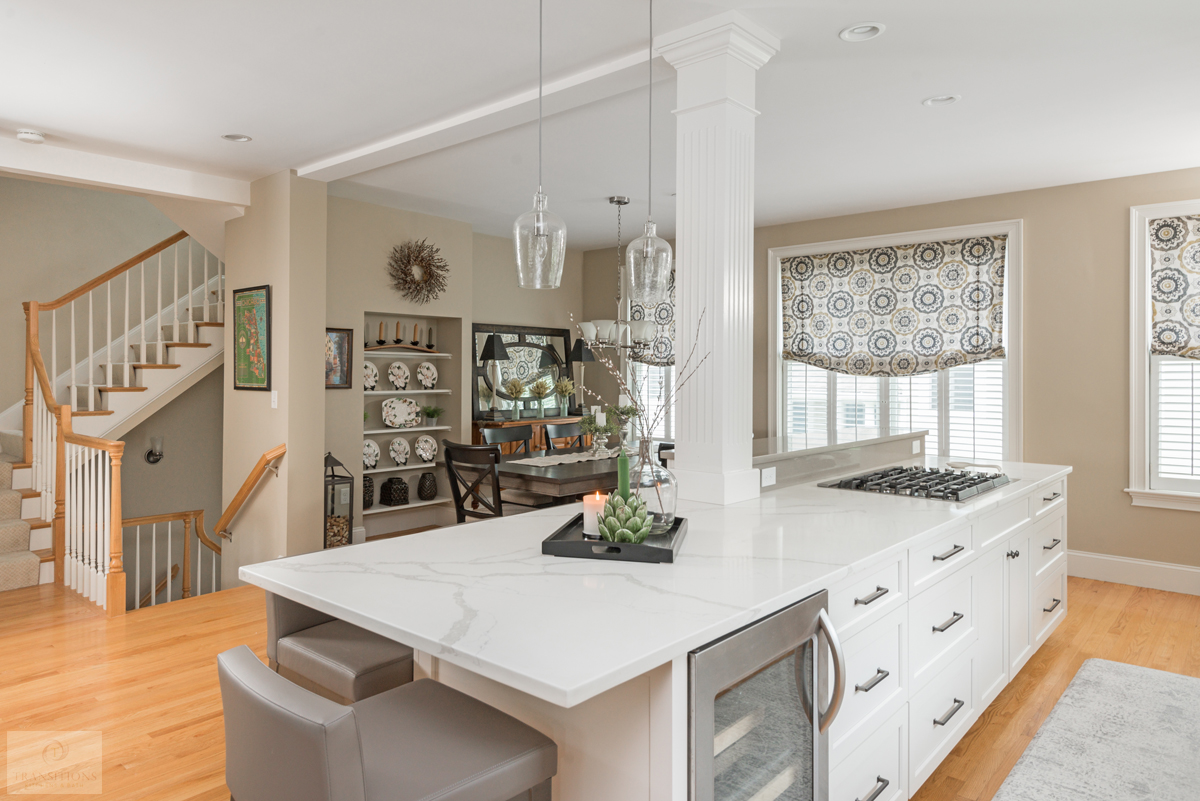 Simplify your look.
In today's busy world, homeowners are seeking more simplicity in their home designs. Kitchen cabinet trends have followed this with a move toward sleek lines and more modern style cabinetry. Slab doors are ideal for this style, but Shaker cabinetry works well too for a more transitional style kitchen remodel. To enhance your storage and reduce clutter consider floor to ceiling, uninterrupted cabinets along one wall.  Your cabinets may dominate your kitchen with this design, but they will enhance your room's style and provide storage for everything you need.
You could balance this look by eliminating upper cabinets in another area of your kitchen design, for example around the sink or cooking zone. This look focuses on the base cabinets for storage and lets the backsplash material take the focus on your walls. If you would like to have some storage or display space, add a couple of floating shelves in a material that complements your style. Make sure you carefully select the items you keep on open shelves and clean them regularly to avoid clutter and mess.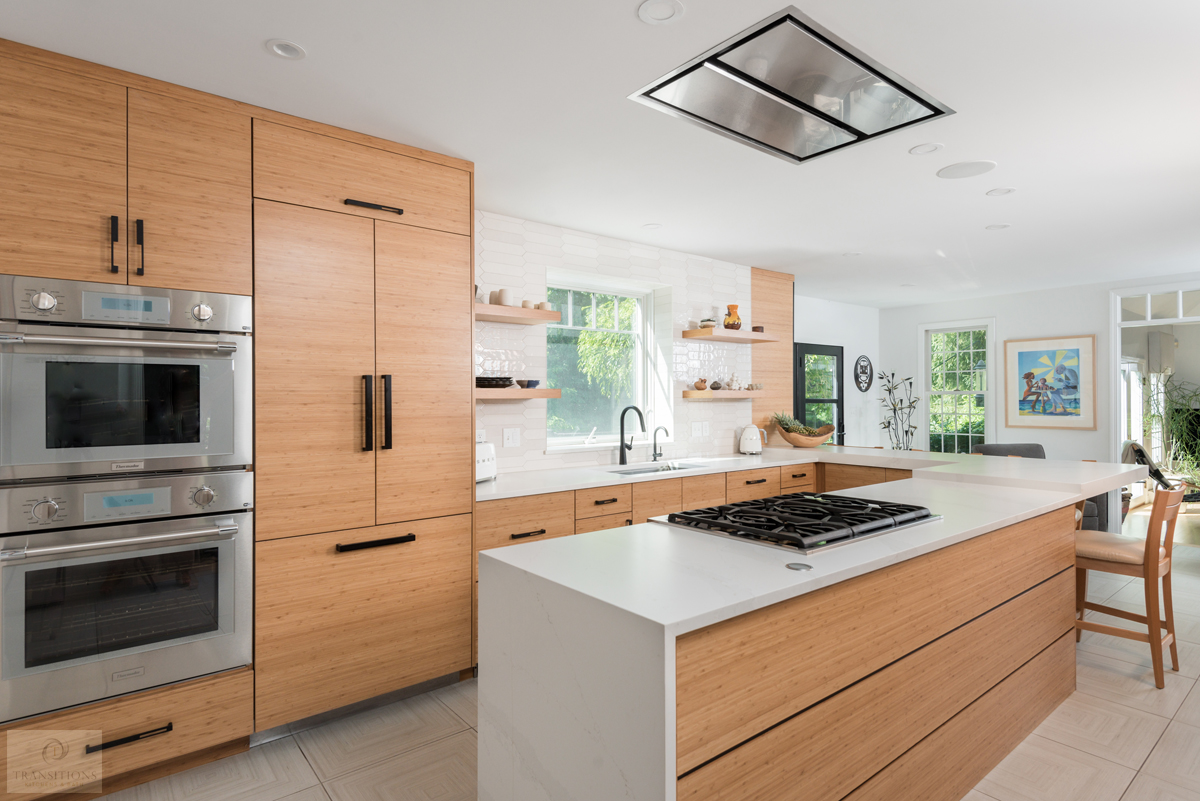 Focus your storage.
Behind the cabinet doors is where the real magic happens! While the outside of your cabinets defines your kitchen design style with the door type and finish, inside serves the practical role of providing essential storage for kitchen necessities. Today's kitchen remodels are seeing ultra-custom storage solutions that ensure every item you need has a home so you can easily find and also clear up each pot, dish, and utensil.
Tailored storage solutions start at the design concept stage, where your kitchen design expert will help you explore what you need and want from your remodel. Discuss who uses your kitchen and how you use it. For example, are you a busy family who cooks daily, or a young couple who only cooks infrequently. Do you have a special cooking interest, like baking or sushi making? Put everything on the table when discussing your design requirements, and make sure you include storage catered to your needs. This will contribute to an organized, efficient kitchen, and will make it much easier to maintain your kitchen design long-term.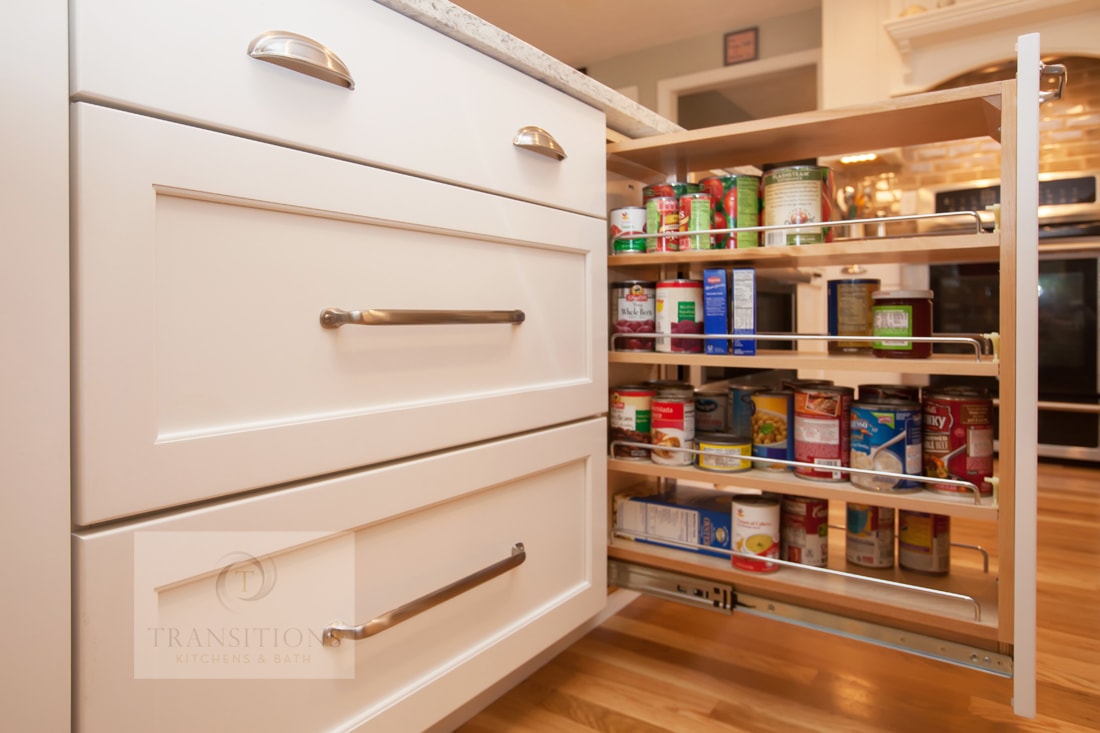 Here are a few of our favorite
kitchen remodeling storage accessories
:
Pull out trash cans for regular waste and recycling (plus one for compost if that is part of your waste disposal) removes unsightly trash cans from your kitchen floor and keeps everything neatly separated and stowed away.
Deep drawers outfitted with slats or peg systems are ideal for storing a wide range of items. They are especially useful for heavy items, so you don't strain your back reaching for them.
Shallow drawers with dividers are ideal for utensils and cooking tools. They can also include a specialized insert to turn a drawer into handy spice storage. Keep one drawer for storing electronics like phones and tablets, and outfit it with built in charging points.
Corner cabinets are wasted space unless they include customized storage solutions. This could include a magic corner swing out that allows you to expose all items for easy access. Or, you could add a Super Susan so everything can be viewed simply by rotating the storage insert. Alternatively, transform a corner with custom pie-cut drawers for a unique corner storage solution.
Pantry storage is essential in any kitchen design, allowing you to keep food items organized and ready to use. It also reduces waste as you are less likely to buy duplicates when you can see exactly what is on your shelves. Whether you have a walk-in pantry or have designated a section of cabinets as a pantry, include pull outs and roll out shelves to store every box, can, and storage container.
Pull outs also work well throughout your kitchen cabinet design, as they fit neatly wherever you need them. Narrow pull outs work especially well in awkward spaces, like between the refrigerator and wall. Include pull outs in your base cabinets next to the cooking area for oils and cooking utensils so they are within arms reach when you need them.
A knife block is a requirement for any food preparation. Include a knife block insert in a drawer or pull out where you can keep sharp knives and kitchen scissors safely stowed.
Tray dividers eliminate messy stacks of cutting boards and baking trays and make these heavy, awkward items easy to find when you need them.
Specialized storage is a great idea if you have a particular interest, such as baking. Create a zone dedicated to this task in your kitchen and include storage right where you need it for all your specialty gadgets, tools, and supplies. In a baking zone, it helps to have a built-in mixer lift for those heavy stand mixers.
Beverage bar storage is ideal for any household and could range from a dedicated space for kids to access drinks away from the main cooking area to a fully outfitted stand-alone beverage bar. Include customized storage accessories for your favorite drinks, whether you are a wine connoisseur or a martini afficionado.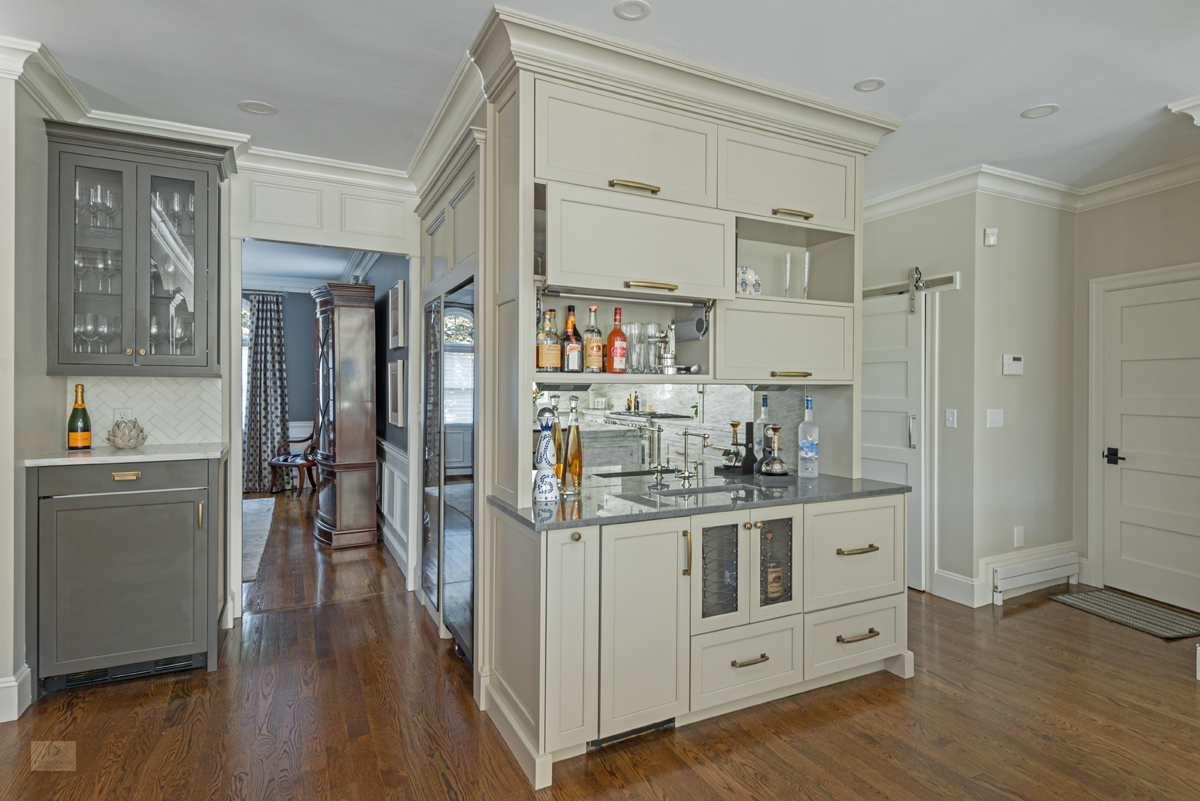 Kitchen cabinets
are key to a stylish and organized kitchen design. The door style, material, and finish help to define your room's design aesthetic, along with countertops, backsplash, flooring, and accessories. Inside your cabinets is a treasure trove of storage solutions to keep your kitchen design organized, clutter free, and stylish for years to come. Get started on planning your perfect cabinet design with
our experienced design team
!