Is your kitchen design outdated or dysfunctional? Have you thought about remodeling? Are you planning on building a new house or extending? Either way, the kitchen is a place we rely on for so many things, from cooking to entertaining to working. The only way your kitchen can express your style and be a big multi-tasker, is to ensure that the layout suits your space and lifestyle.
WHAT SHAPE SHOULD I CHOOSE?
There are three basic shapes.
The Galley Kitchen is comprised of two walls with everything either side of a narrow passageway. This is best suited to small spaces, but as it often links two parts of the house it's a central part of the home's activity.
The L-Shaped Kitchen is made up of two walls of cabinets, with excellent corner storage. Each countertop has a function, keeping cooking to one area.
The U-Shaped Kitchen is similar, but with three walls of cabinets, so is suited to a larger space.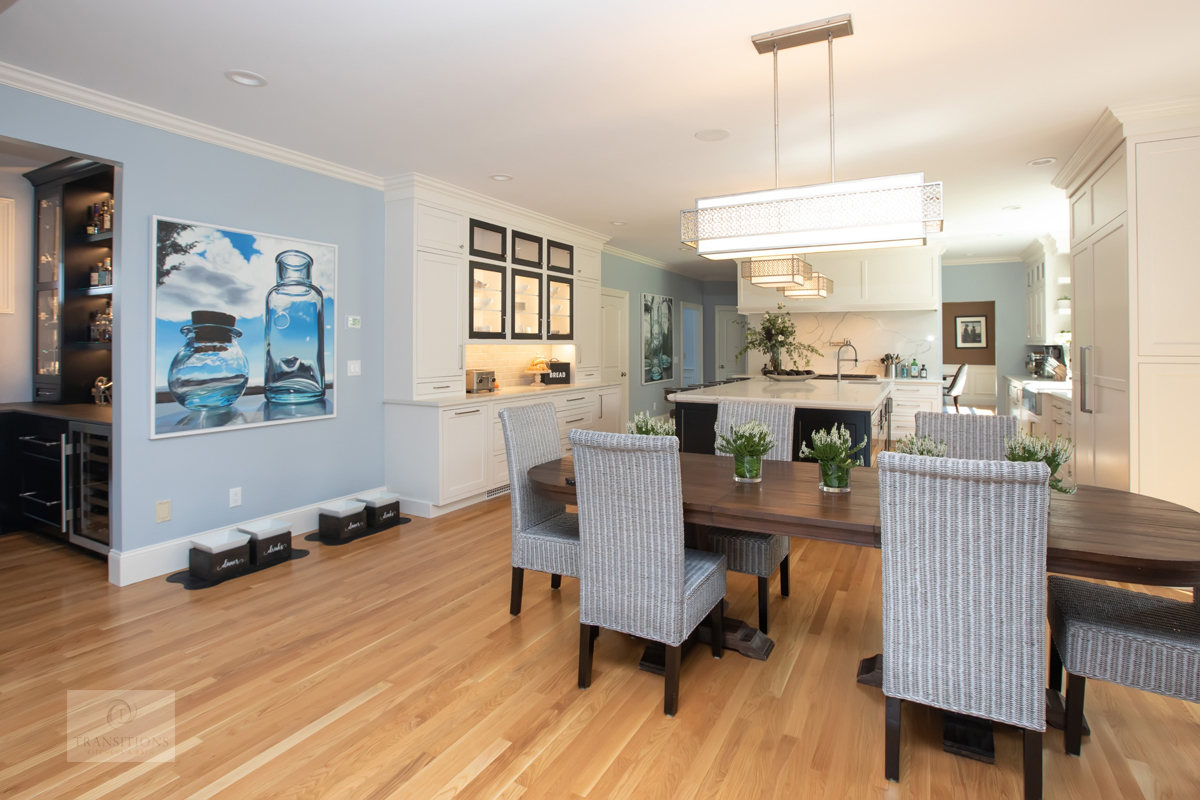 WHICH IS BETTER- AN ISLAND OR PENINSULA?
If you have space, islands and peninsulas are a practical and stylish addition to any kitchen design. One or two islands (in a very large kitchen) add a focal point, create more depth and provide storage and space to prepare food, eat, work and entertain.  In some cases, and depending on your lifestyle, the right island could even replace a dining table. Peninsulas are attached to a counter and are perfect in a smaller kitchen where an island would take over the room. Islands and peninsulas are also key elements in separating and creating zones in your kitchen and can be particularly useful in separating work zones from dining and entertainment zones.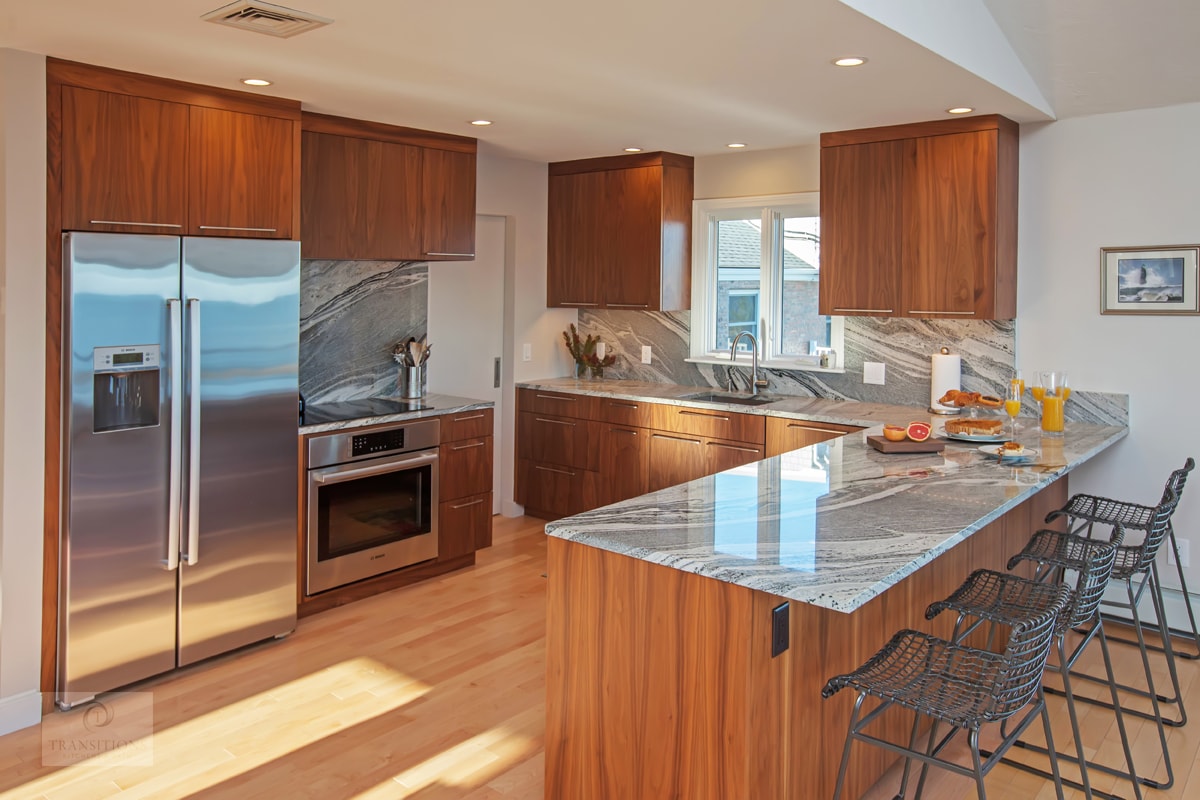 WHERE'S THE BEST PLACE FOR APPLIANCES?
The heart of every kitchen is still food, so the appliances you use for storage, cooking, and clean up must be well-positioned to support the number of people using the kitchen and the type of cooking they are doing.  Traditionally, the area between the sink, stove and refrigerator is called the Kitchen Triangle, though this concept has been overtaken in recent times by a kitchen comprised of "work zones". The triangle configuration for appliances may still be essential in a smaller kitchen design, or you may decide to group appliances into work areas for food preparation, food storage, cooking, or baking. Either way, the key thing to consider is how your main appliances are positioned in relation to each other, the distance between them, and how accessible they are (without having to trip over your island or another person to move between them). It's the most important part of your kitchen layout, so it needs to be well thought through to ensure your kitchen design operates efficiently.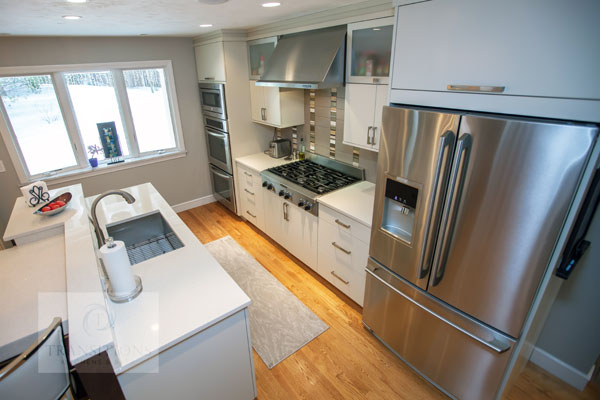 IS LIGHTING IMPORTANT IN A LAYOUT?
Lighting is definitely something to be considered at the design stage of your kitchen remodel. The right lighting over each part of your kitchen is essential to both your kitchen's functionality and the style. Place task lighting over work areas and mood lighting in the places you like to relax. Add additional lighting around glass fronted cabinets, artwork and shelving to get the look you want, illuminating your design perfectly. Add dimmer switches or smart lighting controls so you can set the mood for everything from reading recipes to an intimate dinner party.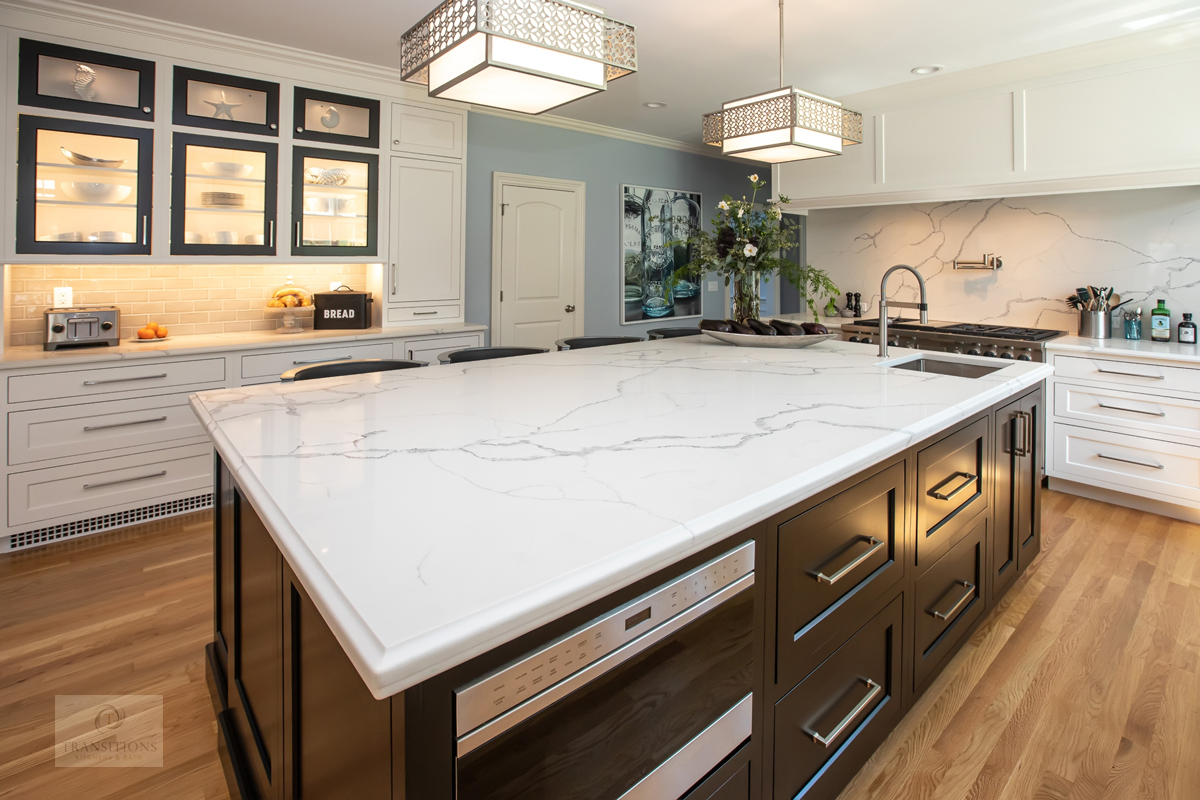 HOW WILL I MAXIMIZE STORAGE?
Clear everything out of your kitchen and then decide what you want to keep and where you'd like it to go. Customized storage is the best way to make use of the space available and cater for your specific needs. Pull-out and roll-out storage, appliance lifts and custom shelving can take care of everything in your clutter-free kitchen remodel.