Kitchens are a diverse living area designed not just for cooking, but also for entertaining, dining, studying, and more.  Kitchen designs have evolved to meet these requirements by incorporating layouts, specialized storage, and functional areas that allow a variety of people and activities to co-exist in the same space.  A multi-functional room like this also requires a multi-layered lighting design.  This ensures you have plenty of light to perform key tasks in different parts of the kitchen while also creating a warm environment for dining and entertaining.
Did you know there are different types of lighting to meet these diverse requirements?  A kitchen renovation is the ideal time to make sure you have all of your lighting needs covered.  A lighting design does not have to be complex, and quite often a single light fixture serves more than one purpose.
Our guide to a kitchen lighting design will help you get started:
Task lighting helps you get the job done.
Well placed task lighting is a must!  It illuminates key work areas and ensures there is no space hindered by glare or shadows.  Where ever the work is happening, there must be ample task lighting. In a kitchen this is typically under cabinets, over the island, by the sink and range, and in designated work or study areas.  Examine your kitchen layout and decide where you will read recipes, chop vegetables, or other tasks that require sufficient, concentrated lighting.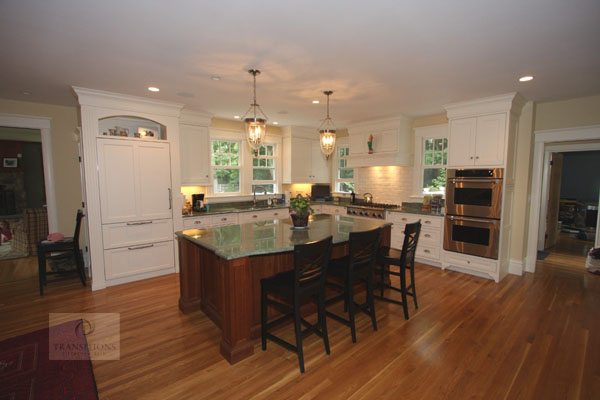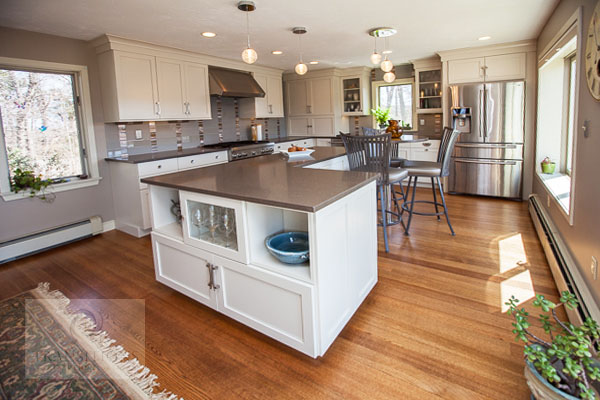 Ambient lighting creates a warm, welcoming space.
We do much more than cook in the kitchen.  It is a gathering place, the center of every party, and often includes seating at the island for casual dining and socializing.  Ambient lighting provides indirect illumination, which adds a human element and makes the room feel warmer and more inviting.   Flush-mounted ceiling fixtures, pendant lighting over the island, or adjustable track lighting offer more flexibility to achieve this goal.  Adding a dimmer switch allows you to change the lighting level and therefore the mood of the room.
Accent lighting shows off your design features.
Everyone migrates to the kitchen, so it is an ideal place to express your style through color scheme, cabinetry, a unique tile design, or a featured piece of artwork.  Accent lighting is essential to show off the design features you carefully selected for your kitchen renovation.  This typically includes track lighting, up lighters, wall sconces, or anything intended to spotlight a particular design element.  Add accent lights inside glass front cabinets to show off favorite items you want to display.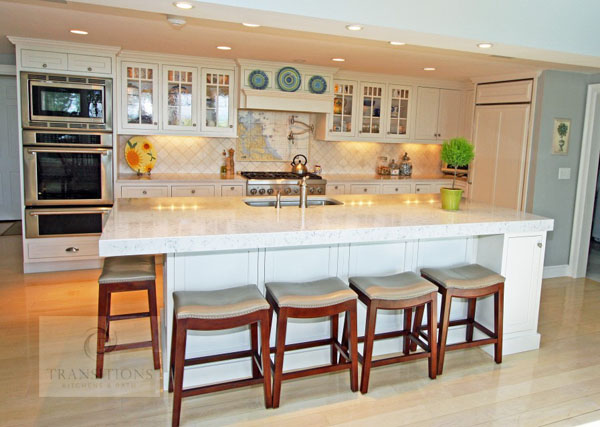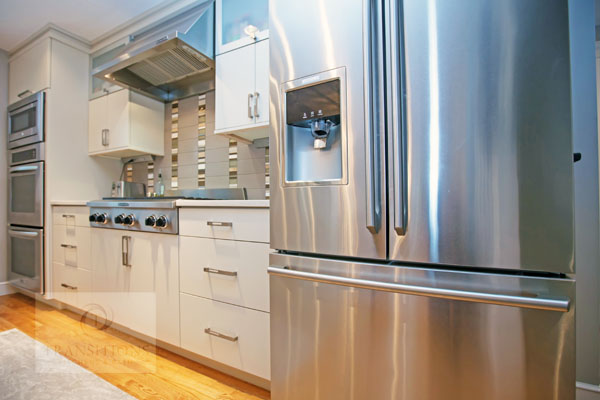 Decorative lighting brings out your kitchen style.
Sometimes the light fixture itself is selected to make a style statement.  Decorative light fixtures such as chandeliers, lanterns, or hanging pendant lights can be a focal point that help define your kitchen style.  The key with decorative lighting is to make sure that your light fixtures fit your kitchen design style and are in proportion to your space.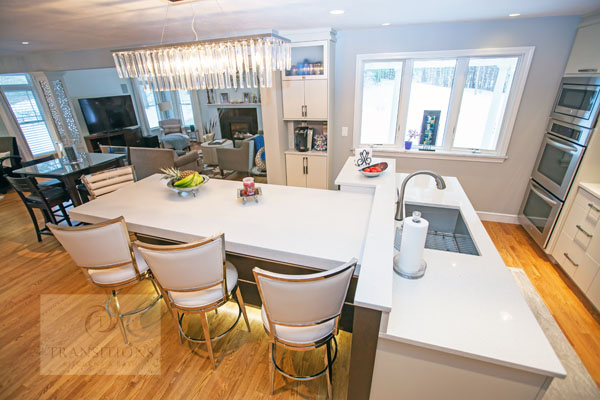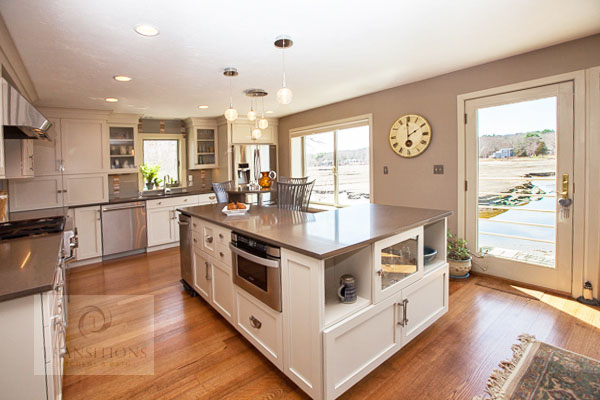 Finally, make sure it all works together!
Many light fixtures do more than one job, and the lighting elements must work together to ensure all areas of your kitchen are well lit.  For example, decorative pendant lights over your kitchen island provide task lighting for food preparation as well as ambient lighting when coupled with a dimmer switch.  Do not forget to consider less obvious areas like in cabinet lights or toe kick lights that may add a perfect layer to your lighting design. If your budget allows, consider including a scene integration system that enables several scenarios to be pre-set with individual lighting levels.
Showcase your new kitchen with a multi-layered lighting design.  Click here to see more great lighting ideas in our kitchen design gallery or contact us today to learn more about lighting options.