When choosing flooring for high-traffic areas, such as kitchen or
bath designs
, two of the top choices are hardwood and luxury vinyl plank (LVP). Choosing which one is best for your home depends on a number of factors, including your lifestyle, personal tastes, and budget.
They are both similar in terms of durability, design options, and aesthetics. The biggest difference between them is that one is made from natural materials and the other is man-made. You also need to take your lifestyle factors into account. You might have pets with little claws or not be prepared for the ongoing maintenance required for natural wood flooring. Your budget might affect your decision. Maybe you want underfloor heating or a wet room and need the most appropriate flooring for this.
If you love the natural beauty of hardwood but feel you need the durability of LVP in high-traffic parts of your home, you might not even have to choose. Luxury vinyl and hardwood flooring can work side by side in open-plan designs, with hardwood used in living spaces and LVP installed in moisture-prone spaces like the kitchen work areas.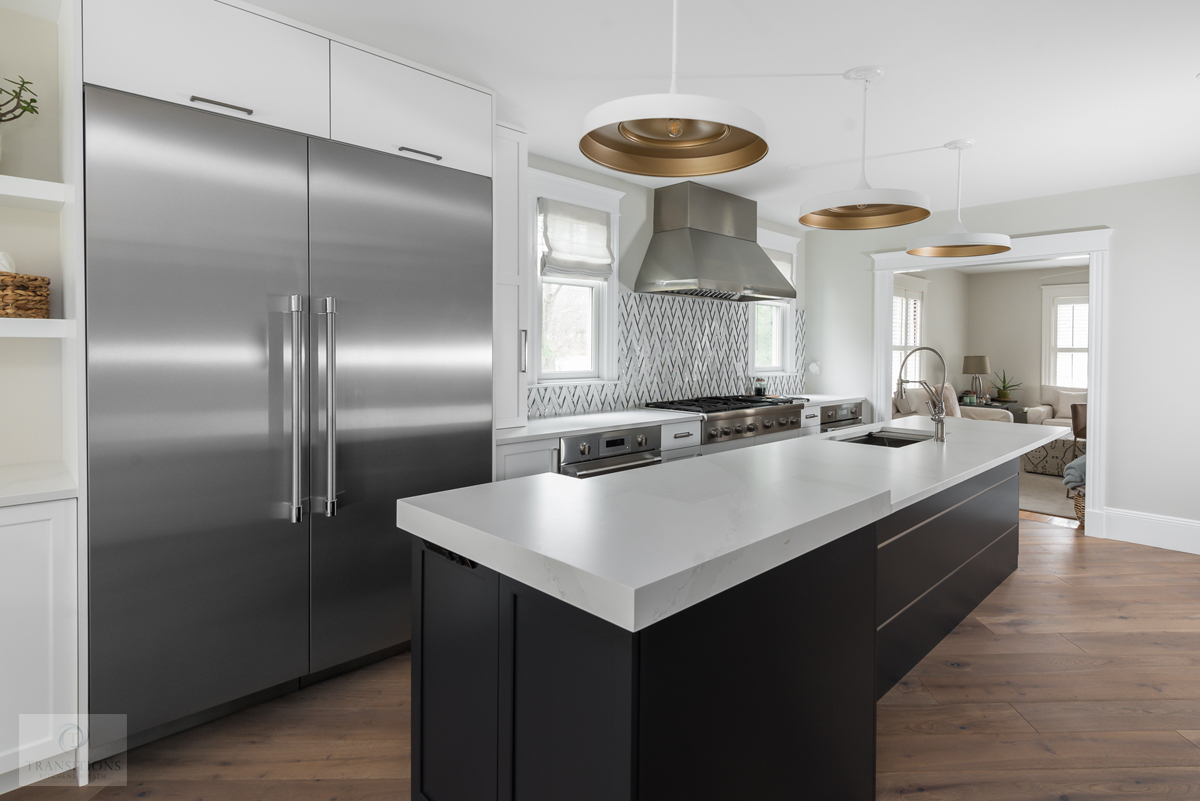 Let's take a closer look at the pros and cons of luxury vinyl plank vs hardwood flooring.
THE BASICS
What exactly are luxury vinyl and hardwood flooring? Luxury vinyl can come in tiles or planks, with plank style closely imitating the look of hardwood. It is made up of PVC layers and other materials that determine how hard or soft the final product is. All these layers are compressed and heat treated to make it durable. The final stage is to cover the product with a vinyl photographic image and protect it with urethane. Hardwood flooring comes in natural solid and engineered versions. Solid hardwood is cut into timber planks of varying lengths and widths. Engineered hardwood has natural wood on top and layers of wood by-products underneath.
APPEARANCE
Luxury Vinyl
Pros: Luxury vinyl has greatly benefited from technological advancements and is barely distinguishable from the materials it is mimicking. It's available in many different styles, colors, and patterns. It can emulate hardwood very well, so can be laid beside hardwood in areas where natural flooring might not work. The patterns have been digitally created for a nature-realistic product so it's easy to repeat across the floor for a symmetrical look.
Cons: Luxury Vinyl's finish cannot be altered so whatever style and finish you choose at installation will remain for the lifetime of the flooring.
Hardwood Flooring
Pros: This is a timeless material that has unique knots and grains. It comes in planks which are typically 3 feet longer than luxury vinyl planks. There are so many different types of wood available, it is possible to mix up your wood finishes to get a multi-tonal style that is ideal for an eclectic and modern design. Hardwood's surface can be changed for either a distressed or polished look. This means your flooring has longevity but with the opportunity to change its appearance.
Cons: Not all hardwood is suited to high-traffic areas. Bamboo, for example, looks great but can be quite a soft material more prone to scratching.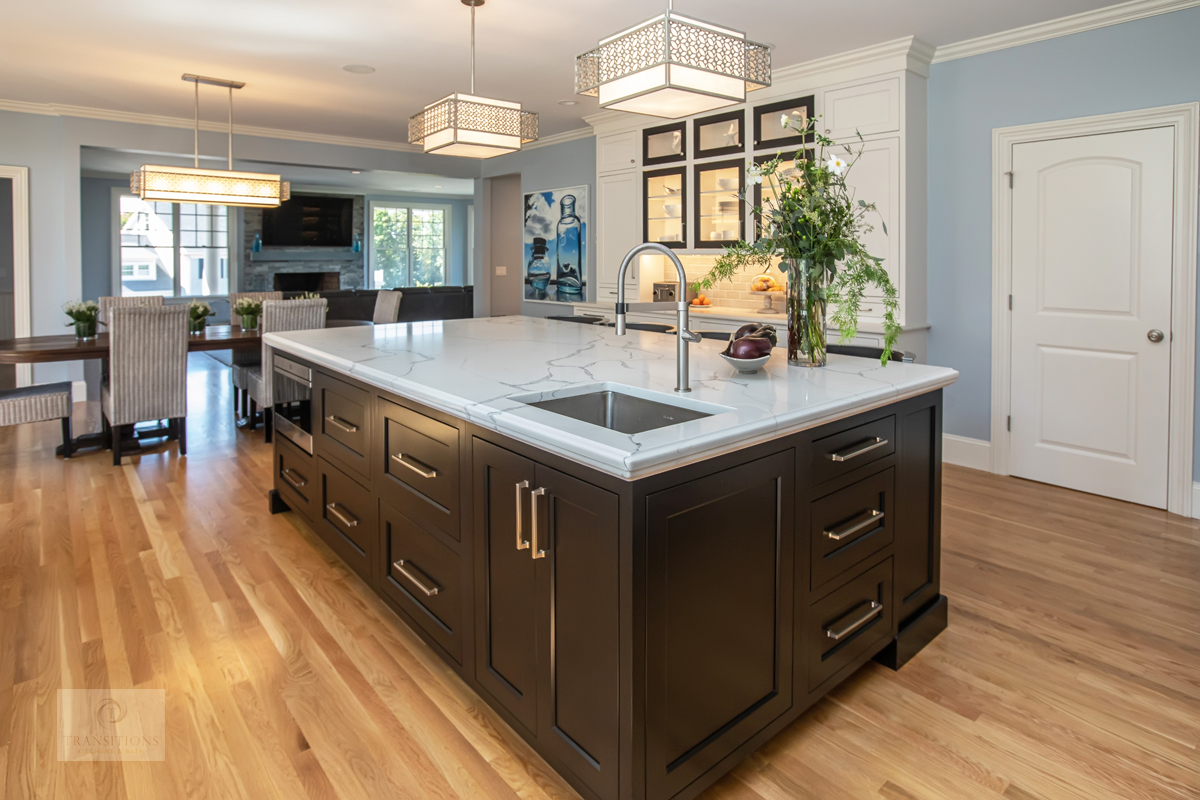 DURABILITY
Luxury Vinyl
Pros: Luxury Vinyl is manufactured to be exceptionally durable. It is moisture and climate resistant. Its multi-layered consistency makes it very stable, so it won't change under stress and constant use. Its protective hard-wear layer gives it extra longevity, typically with warranties for heavy use. It is easy to clean and there is very little maintenance required as luxury vinyl won't damage easily.
Cons:  Some luxury vinyl has a stone polymer core, which is very durable but harder to walk on than vinyl with cores of wood polymer. Although it is long-lasting, luxury vinyl won't outlive hardwood since natural wood flooring can be refinished over and over.
Hardwood Flooring
Pros: Hardwood is naturally durable and stable. This can be improved by a protective coating which is typically applied in the factory. It is tested for durability at the end of this process.
Cons: It's best to avoid using hardwood in areas where there is a lot of exposure to moisture, as it can cause it to swell and warp. Environmental changes, such as a very warm kitchen, also affect the stability of hardwood planks, causing them to change shape. Its surface can be scratched, and it can fade with direct sunlight over time. Wax or other coatings shouldn't be applied to engineered hardwood as they could compromise the protective coat. Solid hardwood, on the other hand, needs to be re-sealed and maintained over time.
SUSTAINABILITY
Luxury Vinyl
Pros: Luxury Vinyl has had negative connotations in terms of sustainability in the past, but many luxury vinyl products are now composed of recycled materials so be sure you select one that is sustainably produced. Also, ensure that your luxury vinyl flooring can be recycled in the future before selecting the right option for your home. There are some types of PVC that are mainly produced from salt. This is an abundant resource and can be recycled easily at no cost to the environment.
Cons: As it is man-made, there is some luxury vinyl that is not sustainably produced and cannot be recycled. It requires a little investigation to find an option that meets your sustainability requirements.
Hardwood Flooring
Pros: Hardwood flooring is a natural resource, which raises issues about sustainability; however, there are many manufacturers who ensure that their timber is sourced ethically. Tree farms supply hardwood from trees which are replaced with saplings. This eco-friendly practice means new trees consistently replace the old on a growth-to-harvest rotation. Engineered hardwood is composed of wood by-products, so every part of the tree is being used ethically. This sustainable production means hardwood flooring is a great choice for the environmentally conscious when you carefully choose the right option.
Cons: As hardwood is a natural resource, it involves deforestation. It's important to check that your wood flooring comes from an ethical tree farm, so you are not unconsciously choosing an option that negatively impacts the environment.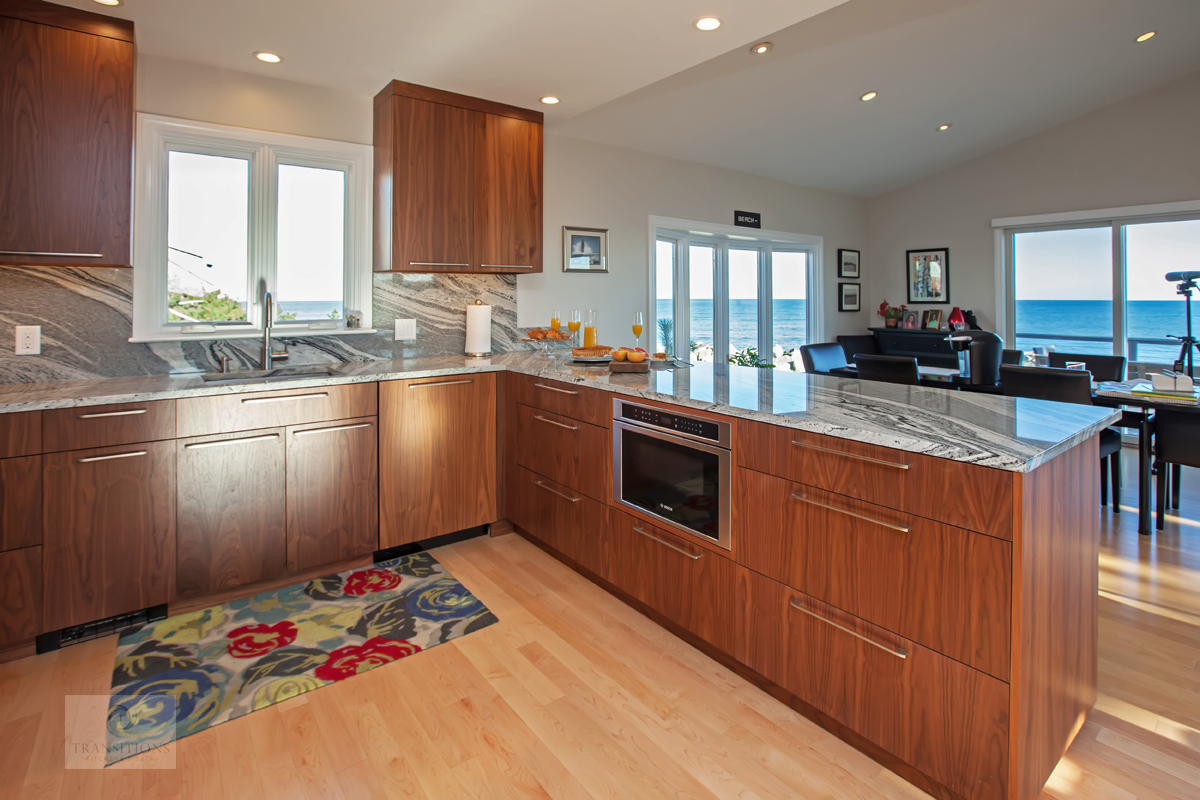 APPLICATION
Luxury Vinyl
Pros: Luxury vinyl can be used in all domestic and commercial environments. It's great for high-traffic areas in busy family homes. It is moisture-resistant, so it is perfect for kitchen or bath designs. It can be installed over underfloor heating without the risk of warping.  Luxury vinyl is very stable and durable so won't damage easily with use. It is hard-wearing, but also quite thin so it is relatively easy to cut. This means it's easy to install it around existing floor fixtures and fitted furniture in your kitchen or bath remodel. Luxury vinyl tile (LVT) and luxury vinyl planks (LVP) are generally just clicked or glued into place.
Cons: Ensure your subfloor is prepped well to avoid any lumps or tile shapes showing through your vinyl from underneath.
Hardwood Flooring
Pros: Hardwood is an elegant and durable flooring that, like luxury vinyl, can be used in many commercial and domestic settings. Engineered hardwood looks like solid hardwood but can be just clicked together without nailing or gluing. If you like, different shades and types of hardwood can be laid beside each other for a multi-tonal look. This is very on-trend this year and easily achievable.
Cons: Solid hardwood needs to be acclimatized before being laid or it will warp or shrink. Then, it is nailed or glued to the subfloor, which must be meticulously prepared. Hardwood flooring is not water resistant, so it should be avoided in areas with excessive moisture. It wouldn't last well in a bath design, but once kept away from the sink, it can be installed elsewhere in a kitchen design.
COST
Luxury Vinyl
Pros: Luxury Vinyl is a luxurious focal point for any kitchen remodel or bath design. It comes in many styles and finishes so you can achieve the look you want for your home remodel. It is a long-term investment that needs to be a high-quality option for longevity. Choosing LVP instantly upgrades your whole remodel since your flooring is so visible throughout the design. The higher the quality, the less Volatile Organic Compounds will be present in your flooring, which is a definite bonus for your health. Luxury vinyl is slightly cheaper than hardwood as it is made in a single location. It's also easy to install in one step and is low maintenance.
Cons: Low-quality luxury vinyl brings a risk of VOCs, so be careful to choose an option with lower VOCs. The subfloor needs to be properly prepped, which could increase your overall installation cost.
Hardwood Flooring
Pros: Hardwood flooring brings timeless elegance to a kitchen remodel and can last a lifetime since it can be refinished multiple times. It's the real deal and so is not trying to mimic any other material. Hardwood is a natural product so each wooden floor will have its own individual look.
Cons: Since it is a natural resource, hardwood is produced in several stages. Growing, harvesting, milling, and finishing in different locations means it comes with a hefty price tag. It then must acclimatize and be laid professionally to ensure high-performance stability and longevity. The quality it brings can be high maintenance, which you should be prepared for both labor and cost-wise.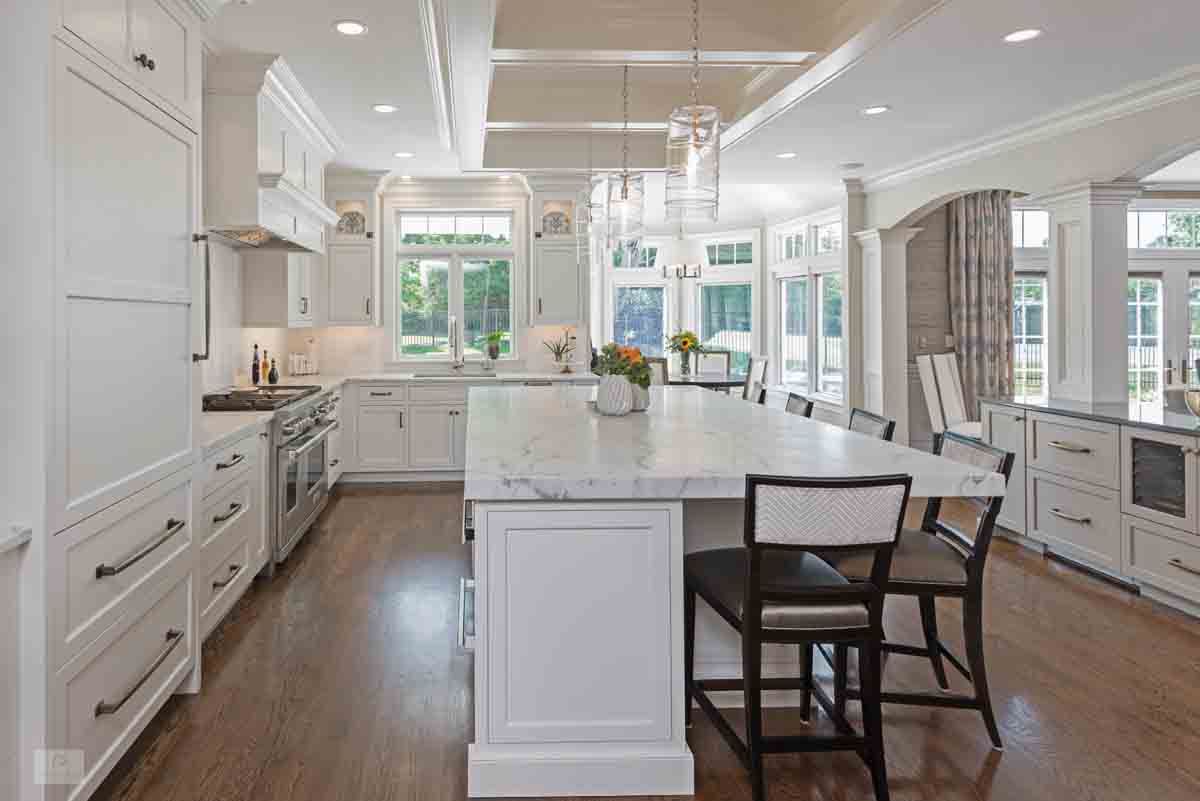 MAINTENANCE
Luxury Vinyl
Pros: Luxury Vinyl needs very little special attention. It can be cleaned with any type of floor cleaner as well as being swept or vacuumed. It has a tough protective layer of clear polyurethane which is durable and also protects its sublayers. This means vinyl is easy to clean and maintain, saving you time and money and increasing your floor's longevity.
Cons: Despite its minimal upkeep, luxury vinyl does not have the extreme longevity of hardwood since it cannot be refinished.
Hardwood
Pros: Hardwood comes in several types of finishes that look stunning when maintained. These finishes can be changed professionally over the years to update the look. Any dents or scratches on wooden flooring can be seen as adding character, increasing its unique appeal.
Cons: Any spills on hardwood need to be dealt with immediately. If you want a shiny surface, you need to wax your hardwood flooring regularly. Cooking or using bathroom products over a hardwood floor could lead to oily stains. Pet claws and furniture can easily scratch or dent floors made of hardwood. If you do want to change the finish, this will incur a cost. So, hardwood lasts a long time but needs lots of attention.