The bathroom is a place where form should match function, as we spend so much time there. While your bath design should complement the overall style of your home, you can have fun with it as an independent space. What easier way to get creative than with wall space? The difference with bathroom walls is they need to be entirely waterproof and there must be good ventilation.
Bathroom wall materials also offer a unique opportunity to create an eye-catching style statement. Colors, textures, and patterns in tile, glass, or synthetic materials draw the eye to your bathroom walls and set the tone for your style.  What options are there for bathroom walls and what are the pros and cons?
Vinyl Wallpaper
Pros- Vinyl-coated wallpaper is having a moment. It no longer looks dated and comes in an array of the latest colors and patterns. It's easy to hang and can be moved and reapplied or unpeeled if you don't like it.
Cons- Not all vinyl wallpaper is 100% waterproof, so consider using it on the upper half of the wall only or on select walls away from the shower or sink, to avoid direct moisture. Also, your wall surface needs to be suitable as vinyl won't grip to surfaces that are too matte or rough. Make sure that the pattern you choose doesn't overwhelm your room. Large scale vinyl designs make a space feel smaller, while verticals and horizontals lengthen and widen a room's appearance. If you do decide to pick a bold print, stick to a neutral color palette like the bathroom design below.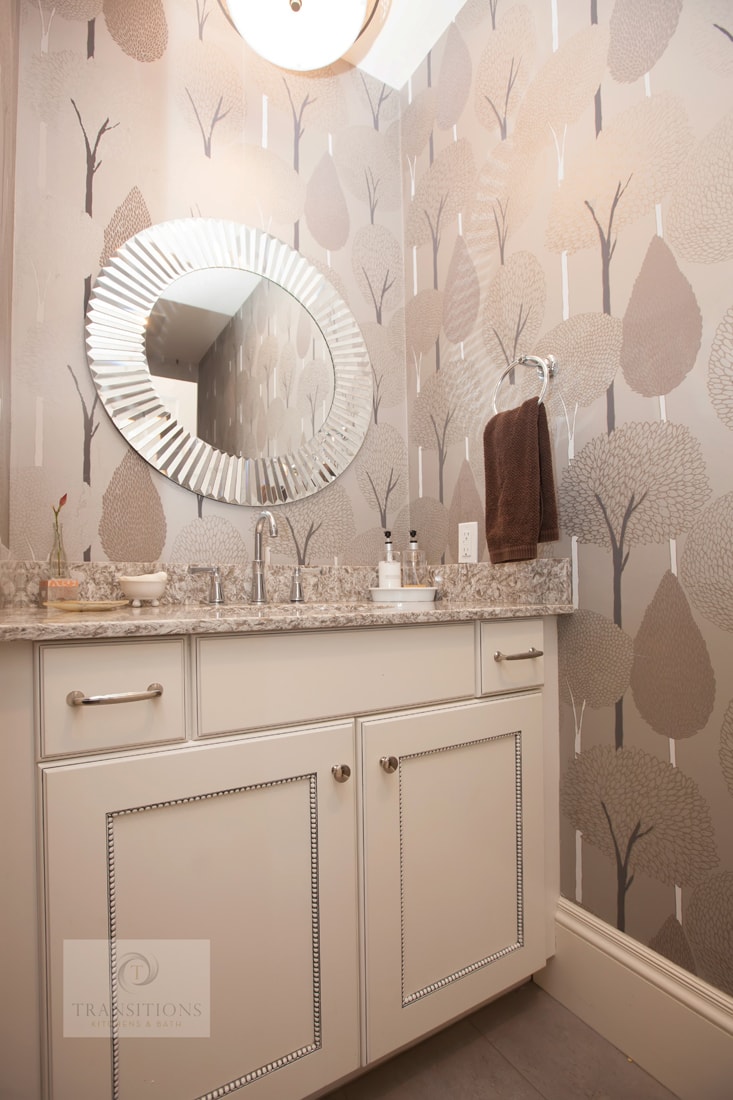 Paint
Pros- Bathroom paint is more mold and mildew resistant than regular interior paint and is waterproof in all finishes. It's cheaper than other wall coverings and there's a shade for all color schemes.
Cons- The additional qualities of bathroom paint make it much more expensive than other paint. You can use regular oil-based paint in a glossy finish to ward off moisture, but it won't be 100% effective and might not be the right texture to suit your bath design.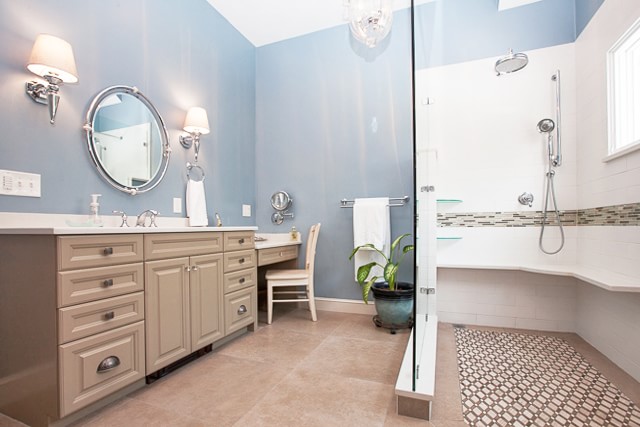 Tiles
Pros– Tiles are a classic choice and are fully waterproof. A wall can always be fully or partially tiled with ceramic, marble, slate, porcelain, granite, stone, metal, or glass tiles to suit any budget or style. They come in endless styles, and add color, texture, and pattern to any design. Tiles can be used to create a distinct focal point in your design, like a border or a contrasting recessed tiled niche.
Cons– They must be installed by an expert to ensure they're waterproof. The grouting must be kept clean to avoid mold build-up and a lot of grout lines can make a room feel too busy.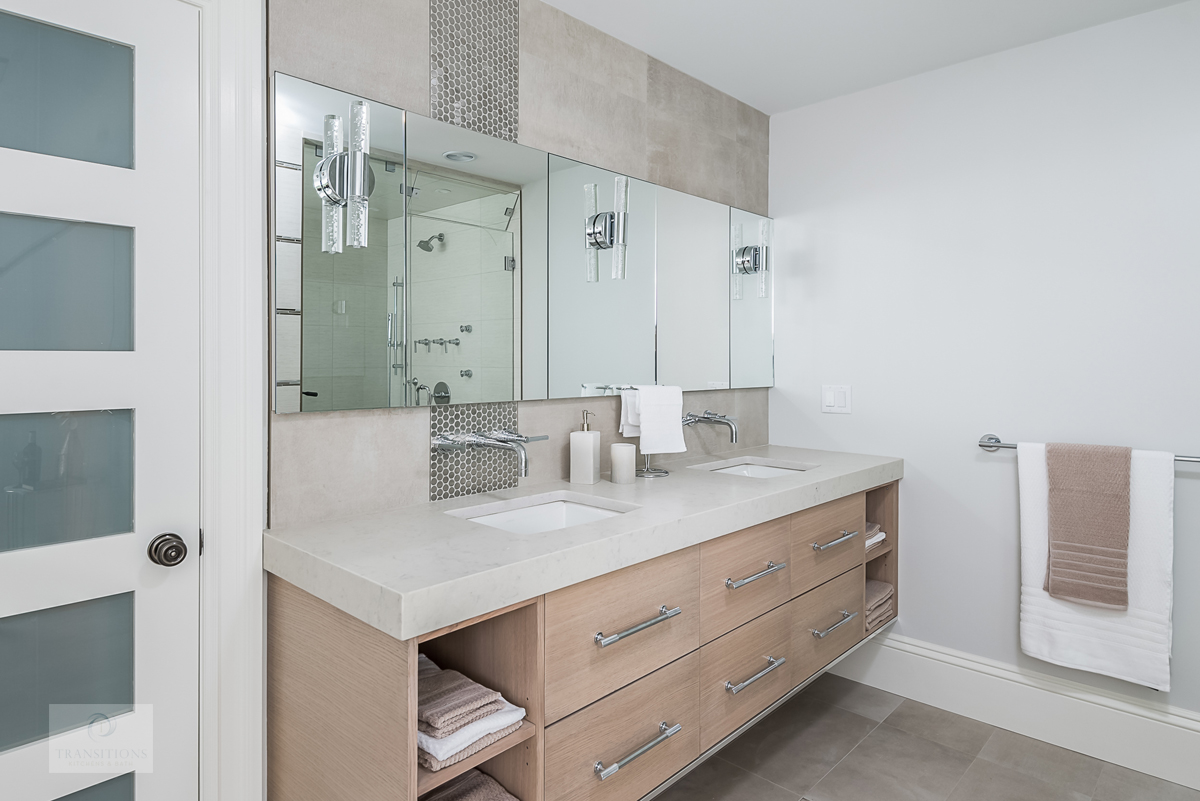 Wood
Pros– Wood is warm and aesthetically pleasing. For a more traditional or country style bathroom design, beadboards are a popular choice. They can be painted any color in a glossy finish. You can easily install beadboard panels instead of individual pieces of wood. For a more contemporary look, the bathroom design in Weston pictured below included a feature wall tiled with aluminum and wood.
Cons– Beadboards' relaxed, country style is only suitable for some bath designs and may jar in non-traditional remodels, but can counteract that by sticking to a contemporary wood feature wall.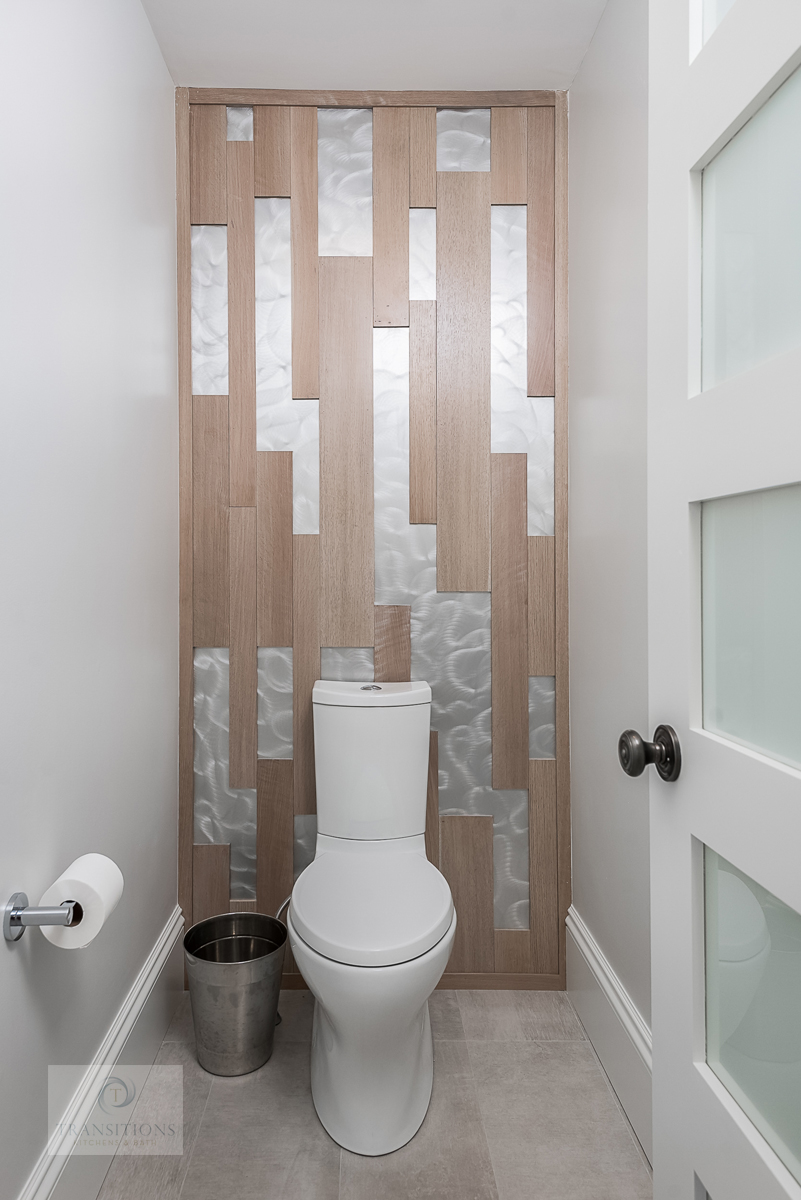 Synthetics
Pros- Single sheet plastics come in a variety of colors and styles and are usually the cheapest option. Laminate sheets and tile-shapes offer a huge selection at a low cost so are a good choice if renovating to sell. PVC panels are very durable and waterproof. Acrylic panels seamlessly wrap around tubs and shower walls, are stain resistant and have a long life.
Cons- Often the whole piece will need to be replaced if any area is damaged. Acrylic panels are the most durable but are usually just available in white.
Stone
Pros- Stone walls give a luxurious feel to a bath design and are waterproof. Stone resin is another option and is even more durable.
Cons- Stone can be expensive and difficult to install. It can be slippery, so never rely on a wet stone wall for support.
Glass
Pros- Glass is waterproof and contemporary when used as walls. You can use glass cubes or panes around tubs and showers, or around your entire bathroom for a really different look.
Cons- Unless it's heavily frosted, there's very little privacy. If not properly reinforced, glass can damage easily.
Why not get creative with your bathroom walls and change the look of your bath design? Whether selling or planning for the future, changing your surroundings adds value to your home and makes your bathroom design a better place to be. Call us today to discuss your bathroom remodel.