Open storage is a growing trend in bath design. It works in any space and changes the look of your bathroom design depending on the type of shelving you choose. Clutter-hiding cabinets are great for a sleek look and maximize storage potential. Open storage brings character to a bath design, but cabinets define the style and color scheme of your room as well as being functional. Here's a run-down of both to help you decide whether open or close storage is the best choice for your bathroom design.
BUILT-IN SHELVING
Recessed niche shelving in walls is a great way of integrating storage into your bath design without affecting your bathroom footprint. At the design stage of your remodel, plan where you'd like your nooks to be. Tiled shelving around your tub or shower can hold all your toiletries. Make use of existing wall recesses for large built-in shelving for towels and baskets and add new storage niches wherever you will need items close to hand. Otherwise small cubby holes are ideal for decorative touches like flowers, candles and pictures.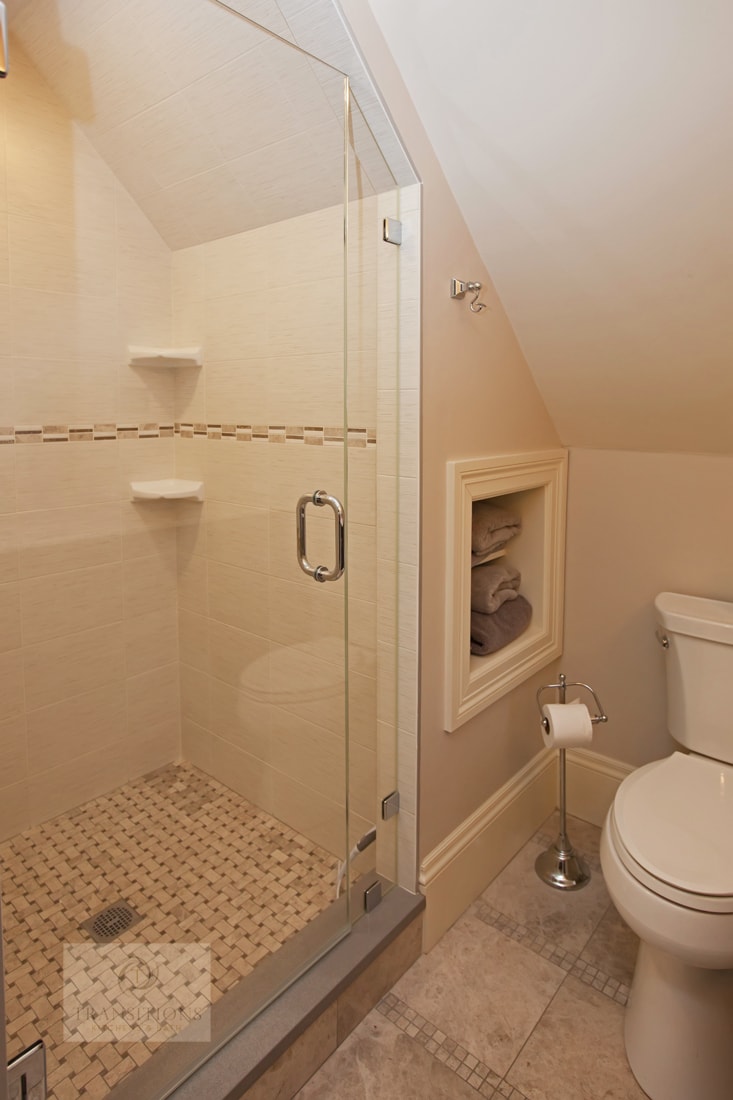 CUSTOMIZE
Custom shelving units are the best way to utilize small or awkward spaces in your bath design. What better way to use the area under a sloped roof than tailor-made storage units? Narrow and corner spaces that would be too small for a cabinet can be transformed into bijou shelving units with glass jars and bud vases, bringing life to otherwise dead space.
MAXIMIZE TUBS
The walls around your tub can be used for regular shelving either. Shelves can take towels and anything you'd like to have close to hand while relaxing. Don't overload these shelves as it will overwhelm the space. Bath tidies in wood or wire are also ideal for holding bath essentials.
VANITY STORAGE
Wall-hung vanities have ample storage for essentials inside the cabinet but also space for storage beneath them. Don't undo the minimalist feeling of this design though, so a simple shelf with uncluttered essentials is convenient, yet attractive. Or incorporate both open and closed storage into your wall-mounted vanity cabinet like this bathroom design.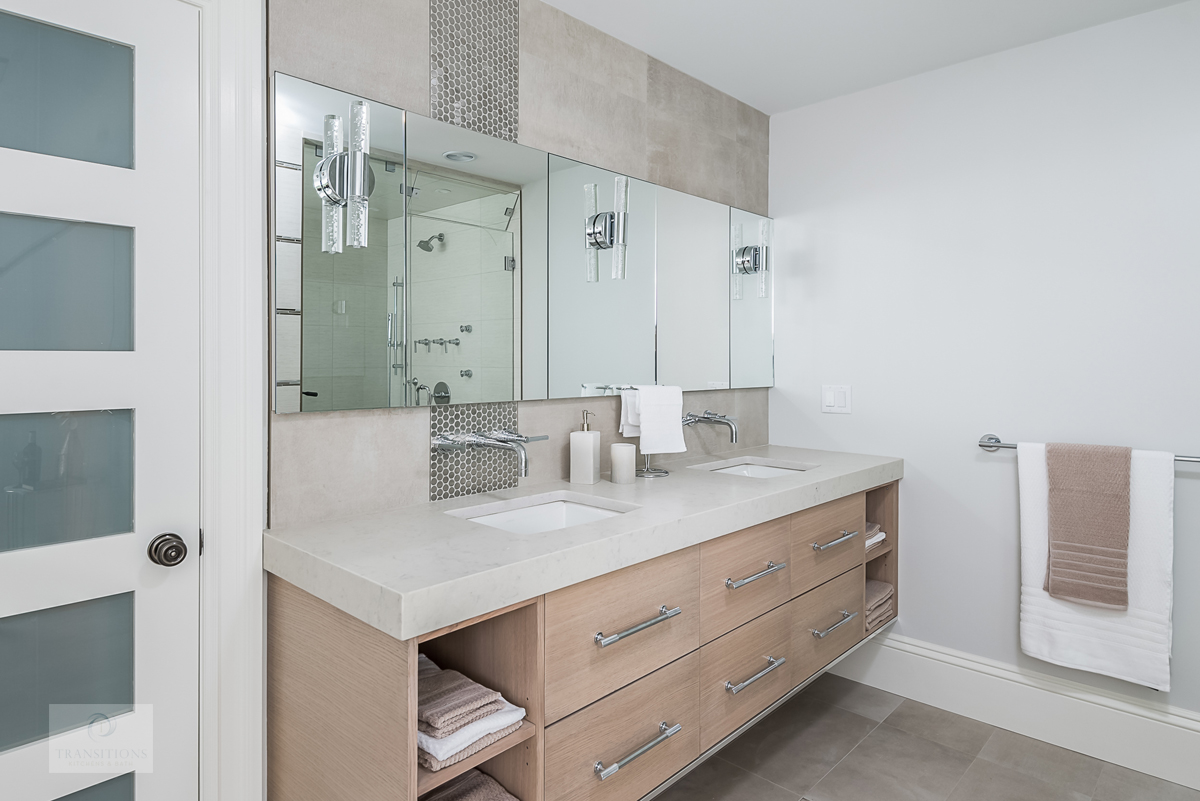 FREESTANDING FURNITURE
If you have the space, bring in a piece of furniture to display items. An occasional table looks beautiful with flowers or hand towels and can be moved beside the bath for a candle or glass of wine in the evening. A small ladder is also a quirky way to store things informally and can be painted your favorite shade for a pop of color.
GLASS SHELVING
Glass Shelving works in both traditional and contemporary bath designs. Glass has a reflective quality that lights up any space and its transparent nature won't dominate a room. The downside of glass is that you must keep it dust, water mark and smear-free. Keep on top of it frequently with a cloth for a sparkling display area.
CONTAINERS
You have to be organized with open shelving in a bath remodel, and containers are invaluable to help keep everything tidy. Small items can be siphoned into pretty jars and bowls. Baskets and boxes can take larger things like towels and toilet paper and be placed on shelves or the floor. There's a material to suit every style, from wicker to wire.  This bath remodel in Hanover uses glass and willow, providing texture and interest to a neutral color scheme.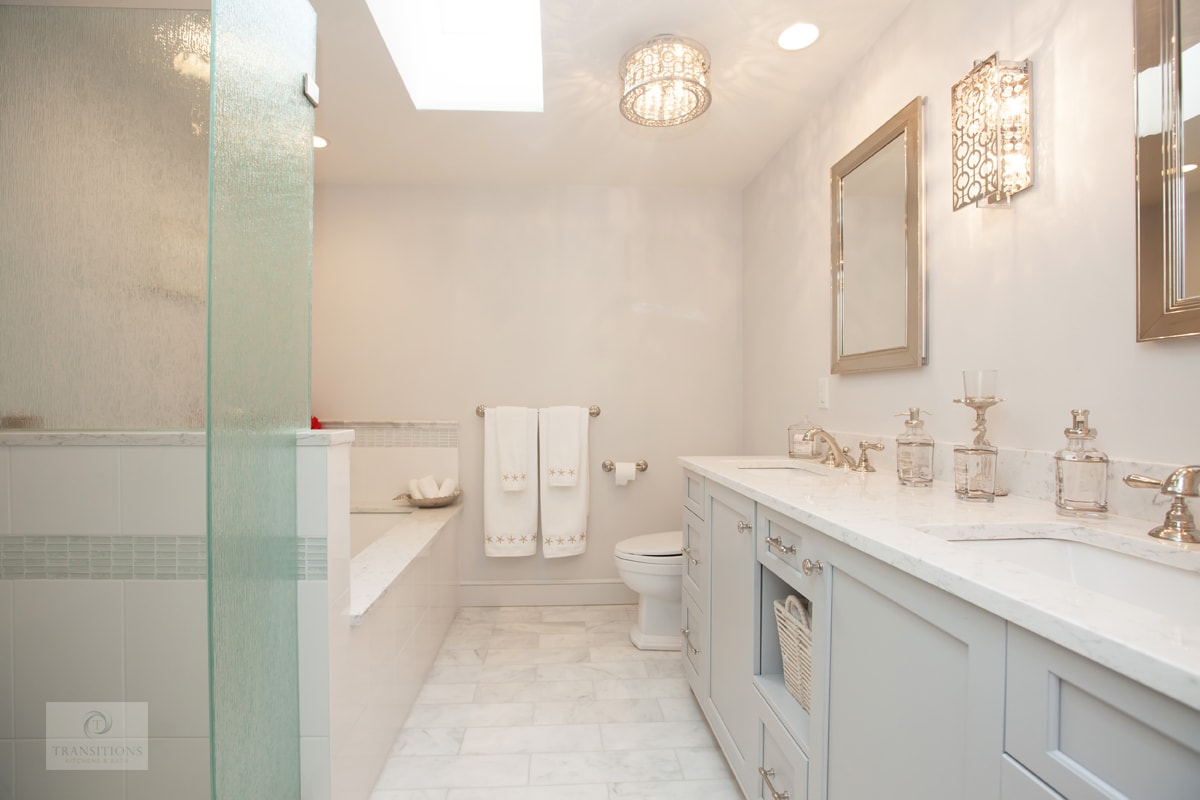 PROTECTION
Closed storage protects from the inevitable heat and humidity in a bath design, as well as from splashes and spills. Bathroom ventilation should be included in your bathroom design and can help prevent a build-up of mold or mildew, but it helps to have proper storage for your bathroom essentials. This spa-retreat bath design in Hingham has sleek, rich, closed storage.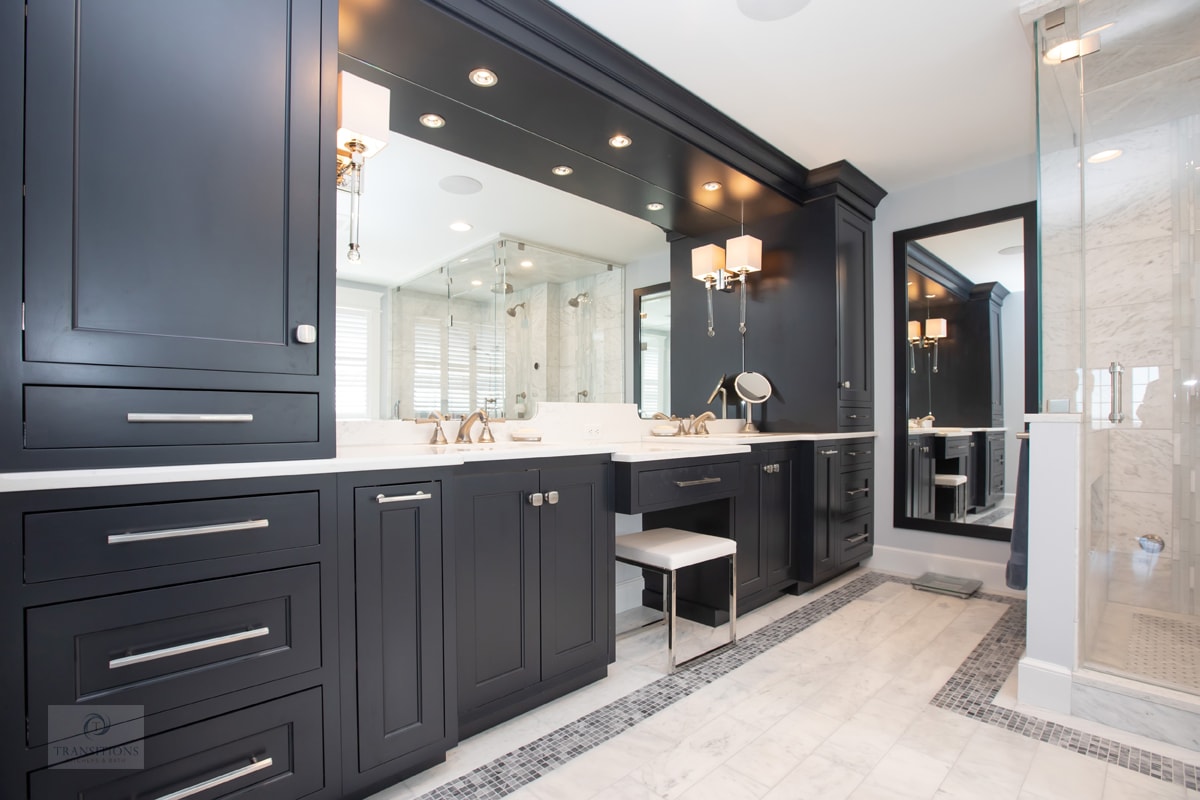 ELECTRICALS
Having an outlet inside a medicine cabinet to charge razors and toothbrushes is very useful. You can store your electrical items without cords dangling everywhere. Hairdryers can be stored in custom built cabinets with power supplies built into the cabinet. Your bath design expert can advise on a closed storage unit to take all your electrical tools.
CONCEALMENT
Closed storage lets you store all the little things that create clutter in a bathroom. There's only so much you can display, and a cabinet lets you close the door on small items, medicines or private belongings. This contemporary bath design in Norwell has chic, grey cabinetry, complemented by brown baskets for container storage.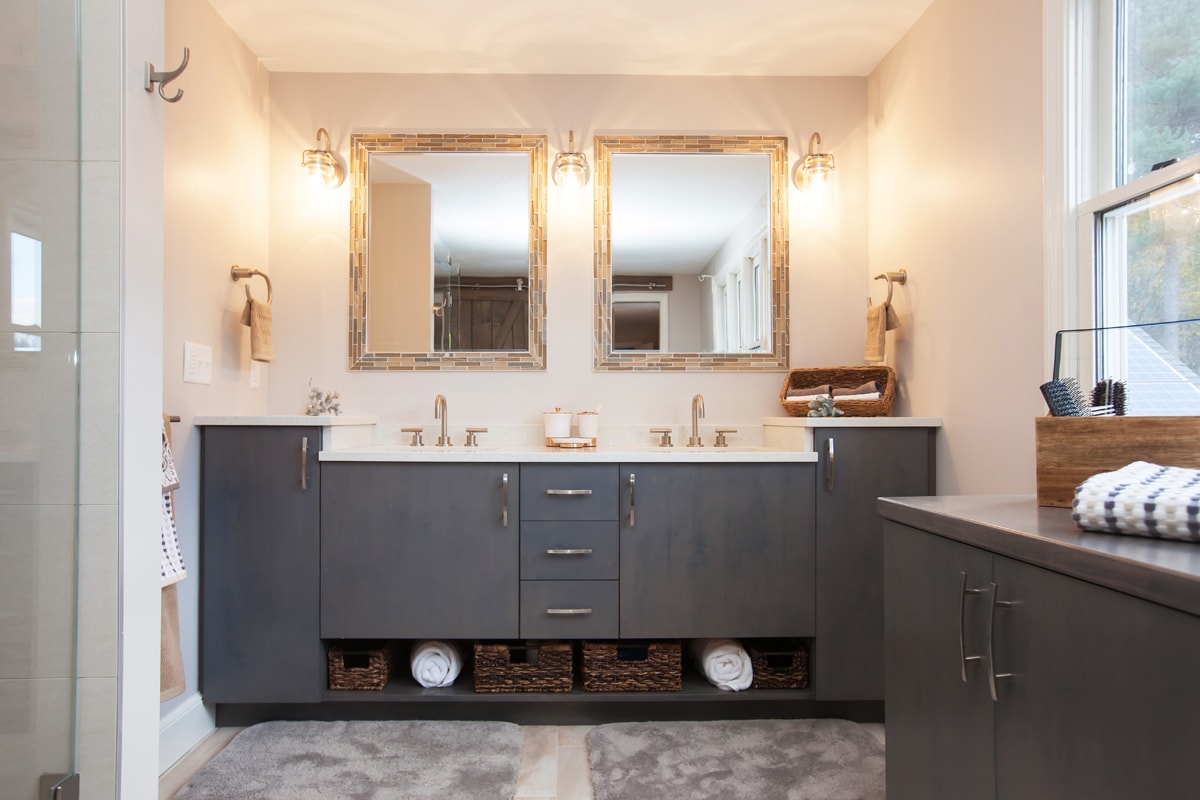 GLASS FRONTS
If you like the idea of closed storage but want to display things or introduce light, then glass-front cabinets are for you. Choose frosted, clear or even colored glass to bring another element to your bath design. It's essential to keep everything tidy, but you won't have to dust as much as open shelving.
Have a look at our bath design gallery for further inspiration on storage ideas, and to discover more pros and cons for each storage style. Call us today to discuss your requirements and plan your stylish remodel.