The kitchen faucet plays a key role in the basic functioning of a kitchen.  Imagine your kitchen without neatly dispensed hot and cold running water.  Impossible, right?  Fully functioning plumbing and ready availability of water is such a basic requirement in a kitchen design, and the faucet is its handy delivery system.
Beyond the functional aspect of the faucet, it also plays a lead role in your kitchen design style.  The lines, finishes, and mounting style all work together to create a look that must coordinate with kitchen cabinets, backsplash, countertop, and more.  If you think all faucets look the same, think again.  Here is a simple guide to get you started in picking the right faucet for your next kitchen renovation.
Faucets are not all the same, and I don't mean just the finish or style.  They can be mounted in different locations, and may come in varying sizes.  If you are replacing an existing faucet, think about the current style, size, and where it mounts, and consider if the new faucet will fit in the existing space.
Sink-mounted faucets
Faucets come in one-, two-, three-, or four-hole varieties, so check out how many your sink has.  If you are replacing the sink or conducting a complete kitchen remodeling project, then you have more options as you can select a sink/faucet combination that meets your practical and kitchen design style needs.
Deck-mounted faucets
This style mounts directly to the countertop, and would be one option to pursue when installing an undermount sink in a kitchen renovation.  Make sure you have sufficient space on the countertop, including enough room between the faucet and the wall behind it.  Keep in mind you will have to clean this space, so make sure you are comfortable with the available wiggle room.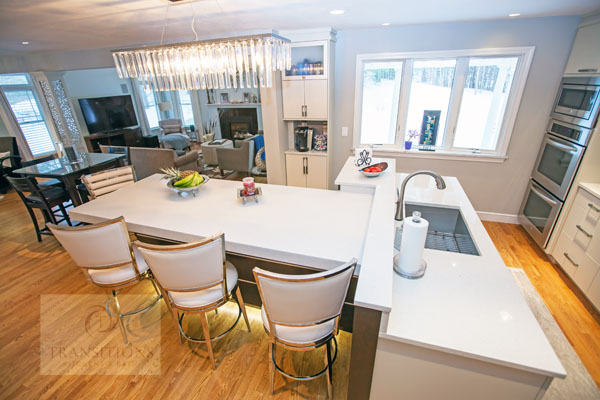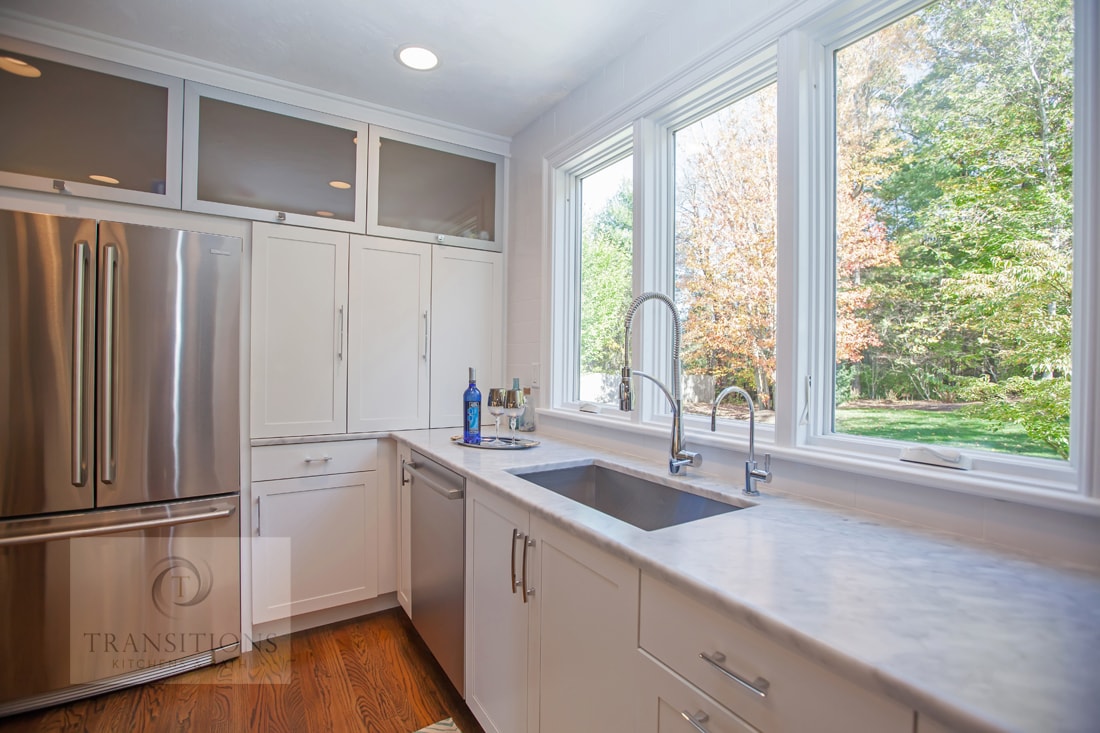 Wall-mounted faucets
A wall-mounted variety offers a stylish appearance, but make sure you know how it must be placed vis-à-vis your kitchen sink style and how far the water spout extends.  Ensure that you have sufficient space on the wall above the sink to accommodate the faucet (especially if there is a window above the sink) and check out the location of wall studs and other installation requirements before settling on this faucet style.
Get a handle on your choices.
What else is essential to make a faucet work? The handles!
Single-handled
This style requires only one hole in the sink, wall, or countertop, leaving a cleaner appearance around the faucet.  In a kitchen, where you often are carrying heavy pots, hot items, or raw food, a single-handed faucet can be useful as it allows you to operate it with one hand.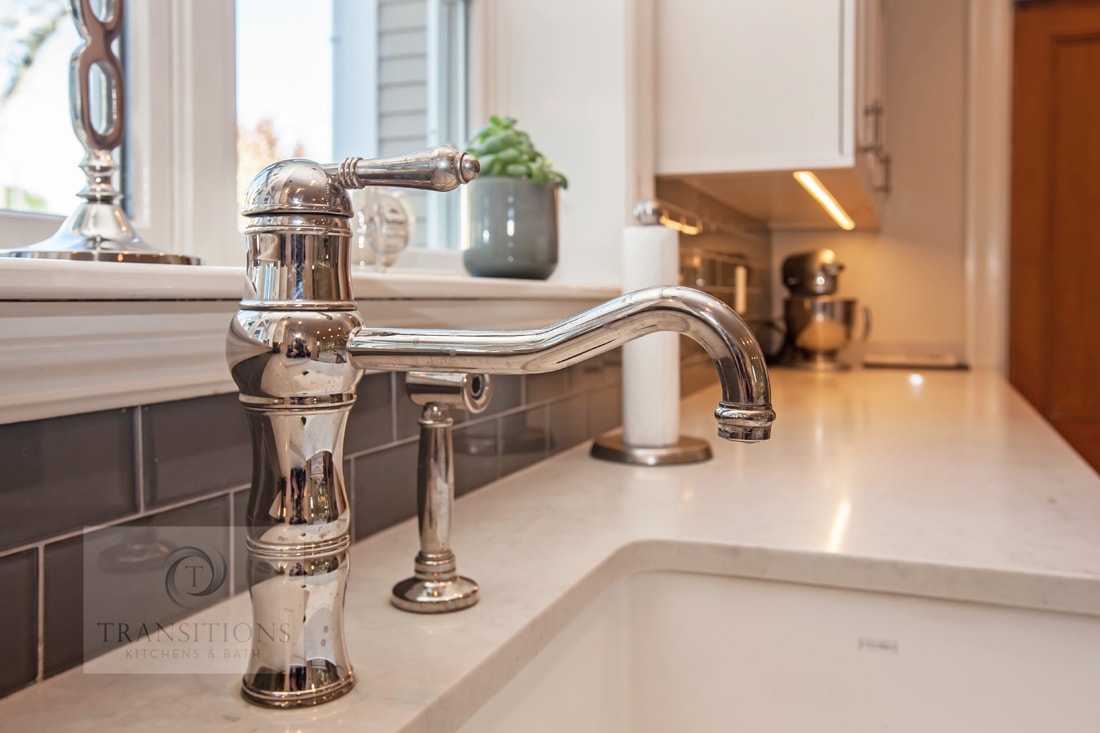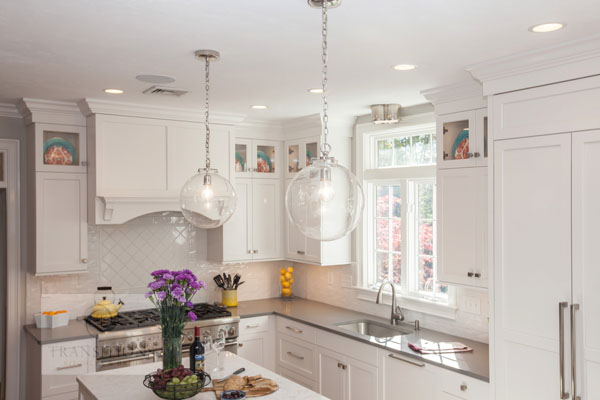 Double-handled
With individual hot and cold-water handles, this style requires at least three holes.  They are more customizable as you can usually select handles independent of the water spout and don't always have to replace everything if one handle breaks.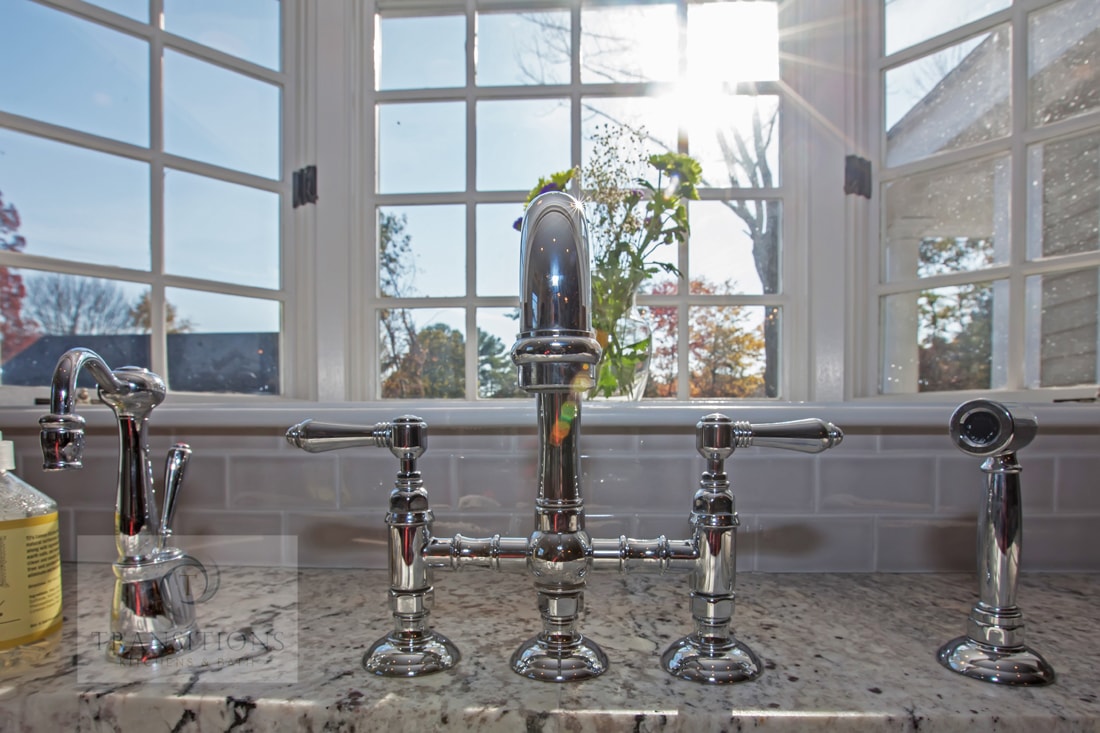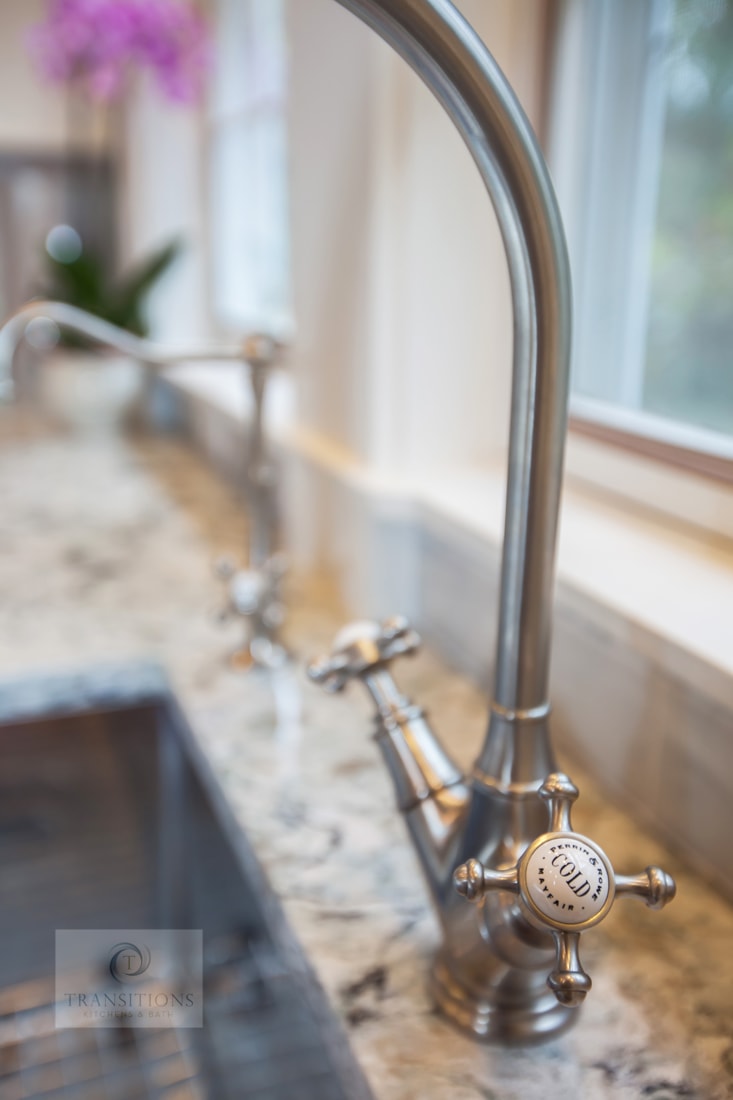 Hands-free
There are so many scenarios in a kitchen design where a hands-free faucet will come in handy.  Let's say you are preparing Thanksgiving dinner, and you are handling raw meat while everyone else is busy watching football.  Never fear, you can turn on the tap without having to touch anything and wash your hands.  If you have anyone around who is arthritic or if you have children, this tap also makes it easier to turn on the water.  They also shut off automatically, saving water if anyone absentmindedly wanders off without turning off the water flow.  This faucet style typically has a handle to the side used for adjusting temperature, and this must be done by hand.
Now, for the fun part!  While the location and type of faucet in part define the style of your sink area, the material, finish, and style really set the tone.  Faucets come in an array of materials including chrome, nickel, bronze, brass, and stainless steel, and in brushed, polished, hammered, antique, or oil-rubbed finishes.  You can select ones that are angled or curved, sleek or ornate.
There are so many options to choose from, so pick the faucet that best accents your kitchen design style.  There are more examples in our kitchen remodeling gallery, or we would be happy to discuss the endless possibilities with you in our Norwell, MA showroom.