Summer is almost here. Soon, it will be time for pool parties and barbecues, graduations and wedding showers. With all the extra foot traffic coming through your home, it might be time to spruce up your bathroom design and take some inspiration from summer styles.
Here are several different ways to bring a summery feel to your powder room or master bath:
Declutter and clean
First things first. You can't make any changes to your bathroom until you clear out all the half-filled shampoo bottles and unwanted soaps that have taken up residence in your cabinets and drawers. Once you've decided what to save and what to toss, it's time to scrub every inch of it! Don't forget the glass shower doors, hard to reach corners, the baseboards, and the trim.  Natural solutions like vinegar and water can be an effective and fresh way to clean, and dryer sheets are a great way to remove soap scum from glass.
Now… don't you feel better and ready to freshen up your bathroom design?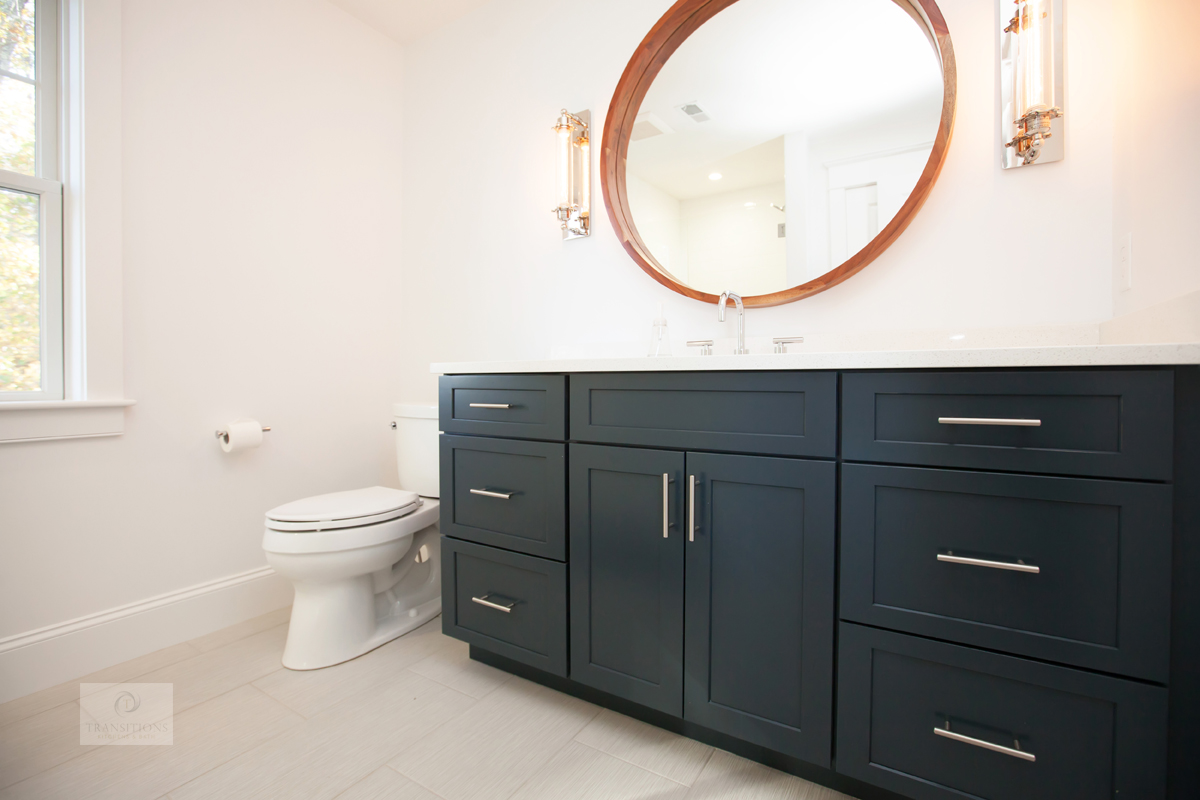 Replace worn out towels and shower curtains.
If your towels and bathmat are ratty from years of wear and tear, they're probably not doing the best job of absorbing water. Whether you need new ones, or just want a new look, replacing old towels with soft new ones will brighten up any space. For a summery feel, you can't go wrong with pure white; but a fun pattern and bright colors can add a bit of sunshine to a stuffy room.  Blue is very trendy this year, and a great way to bring the color of the ocean to your bathroom design.
Don't forget to replace your shower curtain occasionally, too. You can find plenty of fun shower curtains that will make the kids bathroom extra fun or add a little sophistication to the guest bathroom.
Paint it.
Painting a room can be a transformative experience. A simple change in color can make it look larger, enhance the natural lighting, or change the mood of your space.
Blues of every shade are very popular in 2018. Imagine blue-green bathroom tiles that remind you of the ocean or clear, bright blue walls that will transport you to a tropical island. Match blues with white cabinetry or counter tops for a look that really pops!
Neutrals, which are also trending, offer a timeless look that can be incorporated into any style. Mixing the neutral beiges and grays with the browns, blues, and greens found in nature can really enhance a summery atmosphere.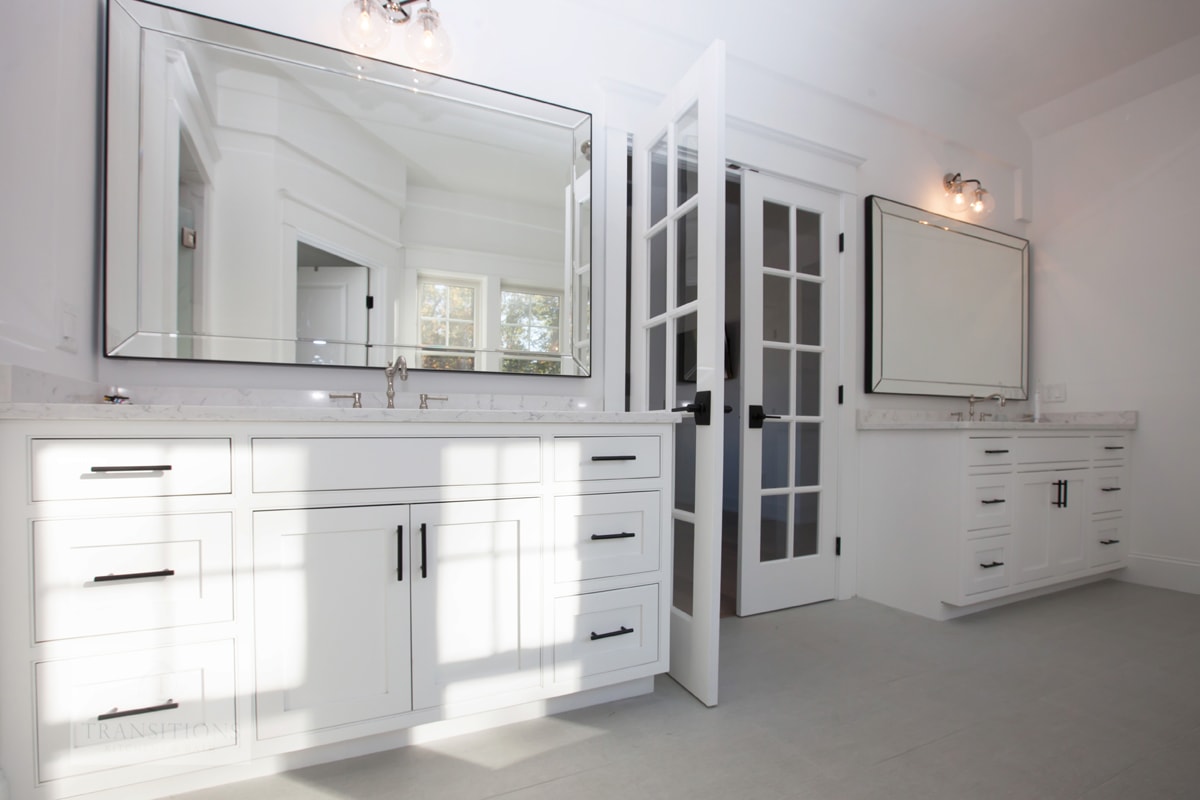 Add organic textures.
If you're looking to do a complete bathroom renovation, consider incorporating organic textures that will bring summer to life in your space.
Wood looks have always been popular throughout the home. Why not add it to your master bathroom design? Wood cabinetry offers a warm, natural look that is sleek when paired with a white sink. Of course, you can never go wrong with hardwood floors, which are both stylish and a great way to add value to your home.  Or add an architectural feature like the wood beams in this bathroom design in Norwell, MA.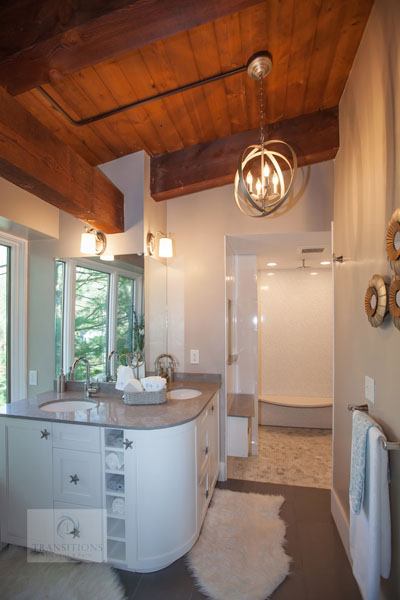 If wood isn't your style, large stone tiles provide an elegant flooring option. This highly durable material comes in a variety of styles and colors, making it an ideal addition to any bathroom remodel.
Deck the walls.
No room is complete without a few personal touches. Hang a photo of your favorite landscape or a print by your favorite artist to give the room some added character. Pick something in a bright accent color, a photo from a favorite summer vacation, or a soothing outdoor scene to bring an element of summer to your bathroom.  Be sure to hang original paintings in a different room, as they will become susceptible to water damage and humidity.
Break out the accessories.
This is one of the easiest ways to get your bathroom ready for summer! Use summer-themed candles, soap dispensers or toothbrush holders to create a relaxing atmosphere or add some decorative seashells and tropical colored towels for a unique island vibe.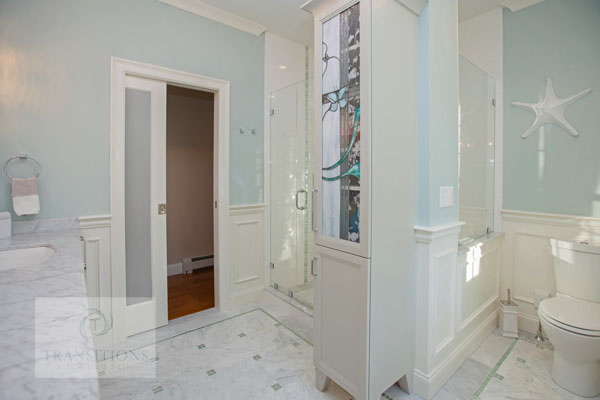 Add greenery to your bathroom.
Did you know that some plants thrive in the bathroom? The moisture and humidity make it the perfect place to house plants that like warm environments like spider plants, aloe, and ferns. For a spa-like feel, display a few different plants on a shelf or window ledge. You won't need to water these low-maintenance plants as much either, as they will soak up the moisture from the air.  Or, make the most of large bathroom windows by enjoying the peaceful, leafy view.