When you walk into the bathroom in the morning to brush your teeth, shave, or put on makeup, where do you look?  Okay, some of us may be half asleep and staring off into space, but hopefully you are looking instead at your reflection in a mirror.  More than just a piece of reflective glass, the bathroom mirror serves a very practical purpose in a room where you need to see yourself clearly to undergo the daily process of getting ready.  To perform its job, a mirror does not have to be large, but it must be well-positioned and properly-lit.
Did you realize the bathroom mirror is also an element of your bathroom design style?  Mirrors come in all shapes and sizes, designed to suit any space and to fit your individual tastes.  Depending on the size of your space and the intended users of the bathroom, you may decide to include more than one mirror, a very large mirror, or a decorative mirror with a unique frame.  Mirrors also create the illusion of more space, so they are an excellent addition to a smaller bathroom.  They reflect light throughout the room, also adding to the brightness of a small bathroom.
So, let's get started with selecting the perfect mirror for your space.  Here are five key things to consider when selecting a bathroom mirror:
What job do you need your mirror to perform?
Yes, your mirror has a job to do, but the nature of this job may differ from one bathroom to the next.  In a large, master bathroom design, the mirror must be large enough to accommodate regular use by perhaps more than one person.  It must be up to the task of applying makeup evenly, shaving, and doing hair, all while being easily cleaned and maintained after constant use.  If the bathroom renovation will incorporate two vanities or a double vanity, make sure your mirror is extra-long or add two mirrors so multiple users do not have to wait turns to see in the mirror.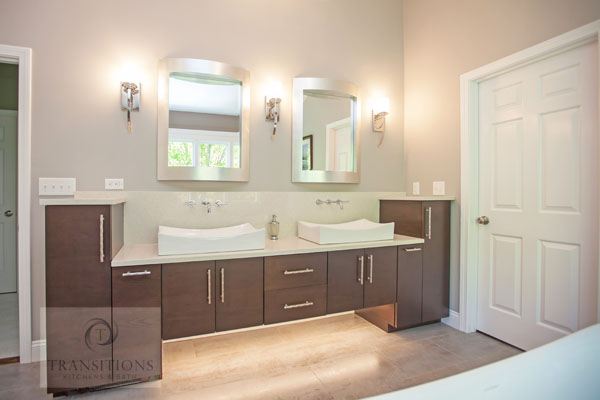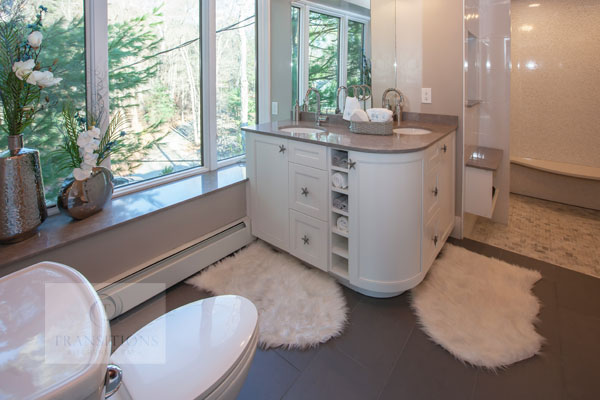 An infrequently used guest bath or a powder room, on the other hand, may not require as much attention to the size and type of mirror and could afford an opportunity to get creative with your mirror choice.  A well-lit mirror is key, so don't forget to consider how the mirror will work with your bathroom lighting.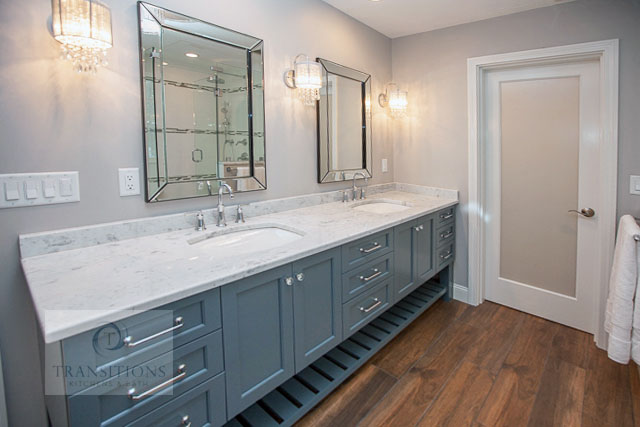 How much space do you have and what size vanity will you include?
A small bathroom does not necessarily mean a small mirror, but you still need to know the dimensions of your space to pick a mirror that will suit the room.  It makes sense to have the mirror fit neatly above the vanity and complement the size of the vanity cabinet.  That said, in a bathroom design the mirror can be larger, even in a small bathroom remodel. A large bathroom mirror that dominates the wall will work in almost any bathroom, and in a small bath will only serve to make the room look larger and brighter.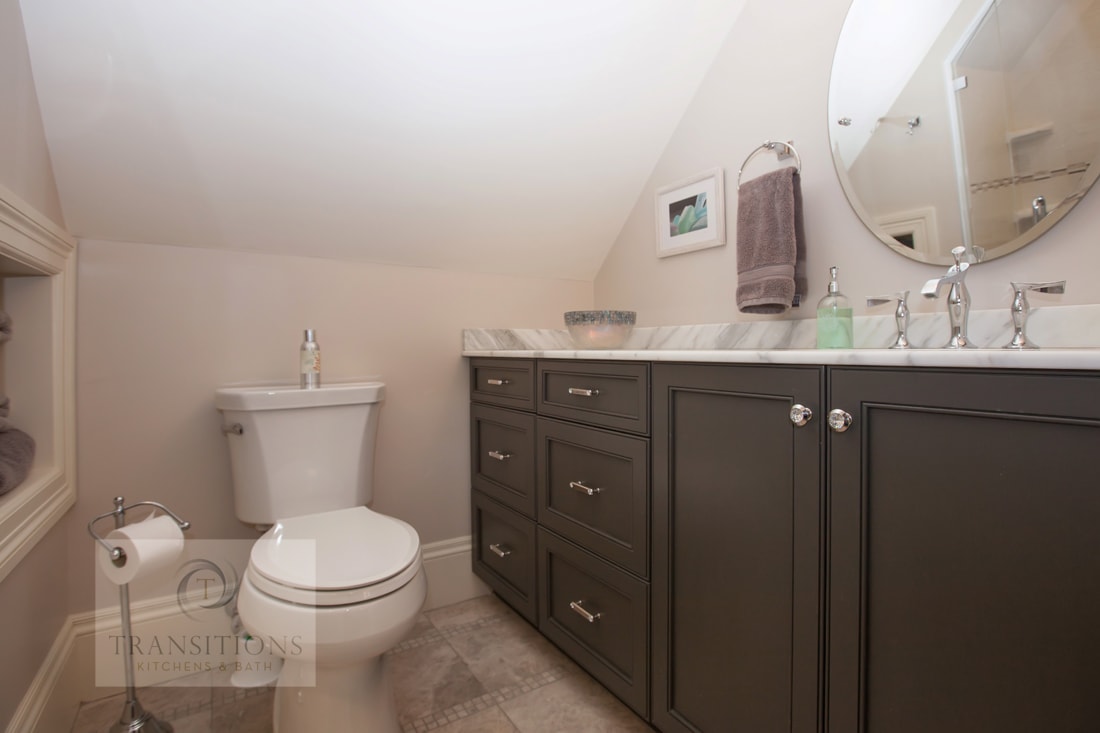 Will the mirror be a design star or a supporting player?
The mirror is another element of your design, and so must be considered as a complementary feature in the bathroom design.  You have a choice in how to incorporate a mirror into the design.  Mirrors can easily be chosen to blend into the background.  A large, frameless mirror is a glamorous addition to a bathroom design, but it is simply there to reflect its surroundings.  Some mirrors are available framed to match the vanity cabinet, so that they blend in with the rest of the design.  Other mirrors demand attention, stealing the show with glitzy frames or etched glass.  They become a focal point of the design, drawing away the eye as soon as you enter the room.  The great thing about using a unique mirror as a style statement is that mirrors are more easily changed when your tastes change.
Consider the options and think about what type of mirror you want to look into every day.  Contact us or visit us in our showroom to discuss all your bathroom remodeling requirements, or check out our photo gallery more design inspiration.