When it comes to increasing natural light in your home, the bathroom may not be one of the rooms that first comes to mind. But in reality, most people get ready in their bathrooms every day! They do their hair, shave or put on their make-up. Too much artificial light has a negative effect on your skin tone, often making you look paler, but natural sunlight will, literally, brighten your day!  Start by making sure your available windows are not in need of any repairs, are clean, and that your window treatment offers privacy while still allowing natural light into the room.
Once you know your windows are up to the task, here are six of the best ways to make the most of that natural light in your bathroom design:
Lightened Color Palette
Light colors reflect natural light, making them an excellent choice for well-lit rooms. Poorly maintained walls will increase shadows, so it's important to spruce up your walls every once in a while. Also, consider white cabinetry and tiles to increase and reflect the available natural light. You can incorporate pops of color will bright towels, rugs or other accessories to add interest to your otherwise white bath design.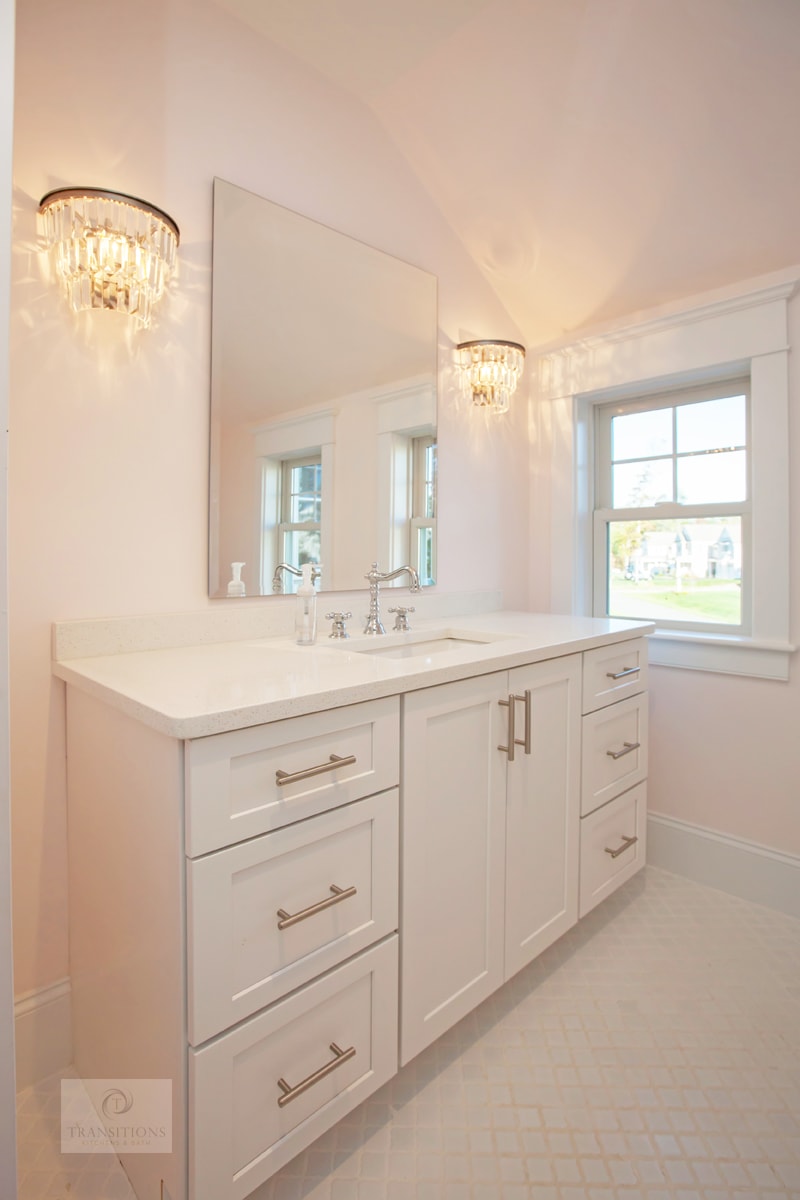 Glass Tile
Glass tiles are like mini-mirrors on your walls, reflecting almost all the light that hits them. Additionally, they're easy to clean and resistant to mold and mildew, making them ideal for any bathroom renovation.
Glass Shower Doors
If you're looking for more natural light in your bathroom design, it's time to lose the shower curtain. Glass shower doors improve visibility by allowing natural light to flow into the space. They also don't limit your sight line; giving the impression the bathroom is actually larger than it is.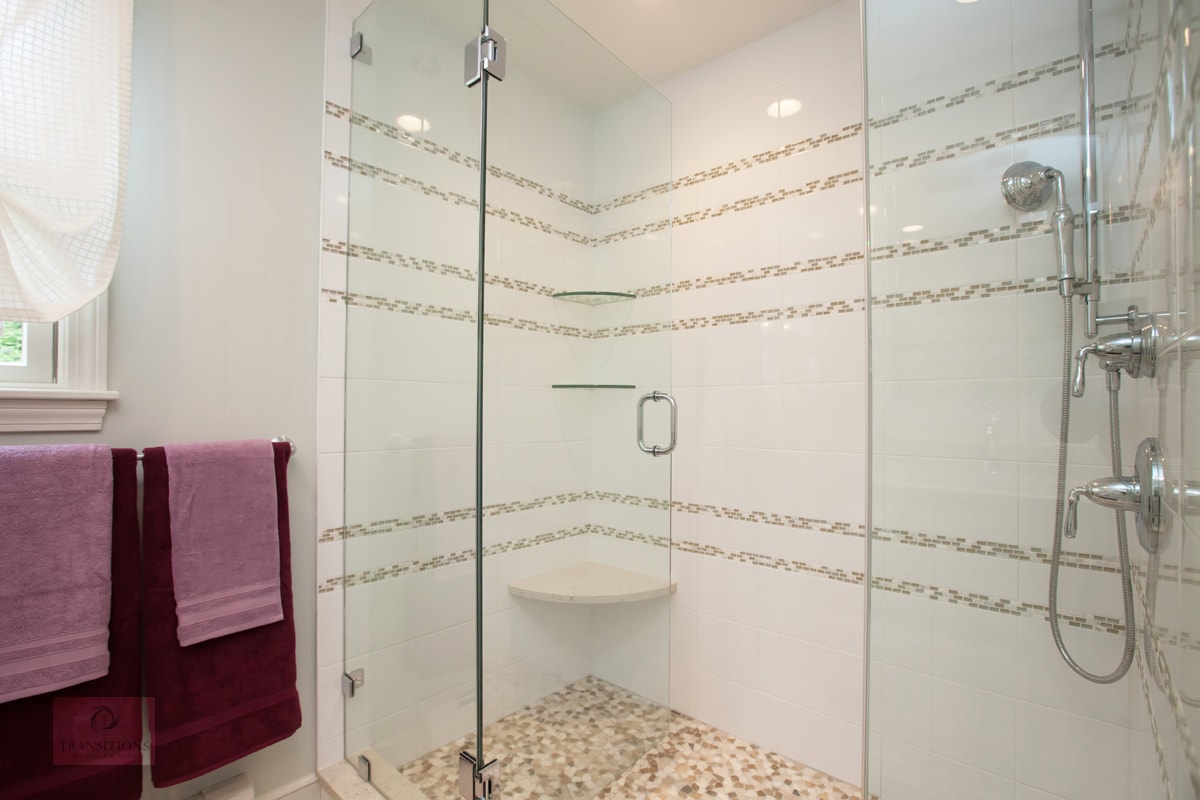 Mirrors
Mirrors reflect existing natural light, thus strategically placing them within the space can make a huge difference to the overall bathroom design. Placing a mirror opposite a window is one of the most effective ways to light your bathroom. You could also place smaller mirrors on the back of shelves or dramatically arranged on a wall. If you're looking to create the illusion of extra space, place two mirrors on adjoining walls, perpendicular to each other.  Consider adding a large mirror on one wall to maximize the effect and reflect light throughout the room.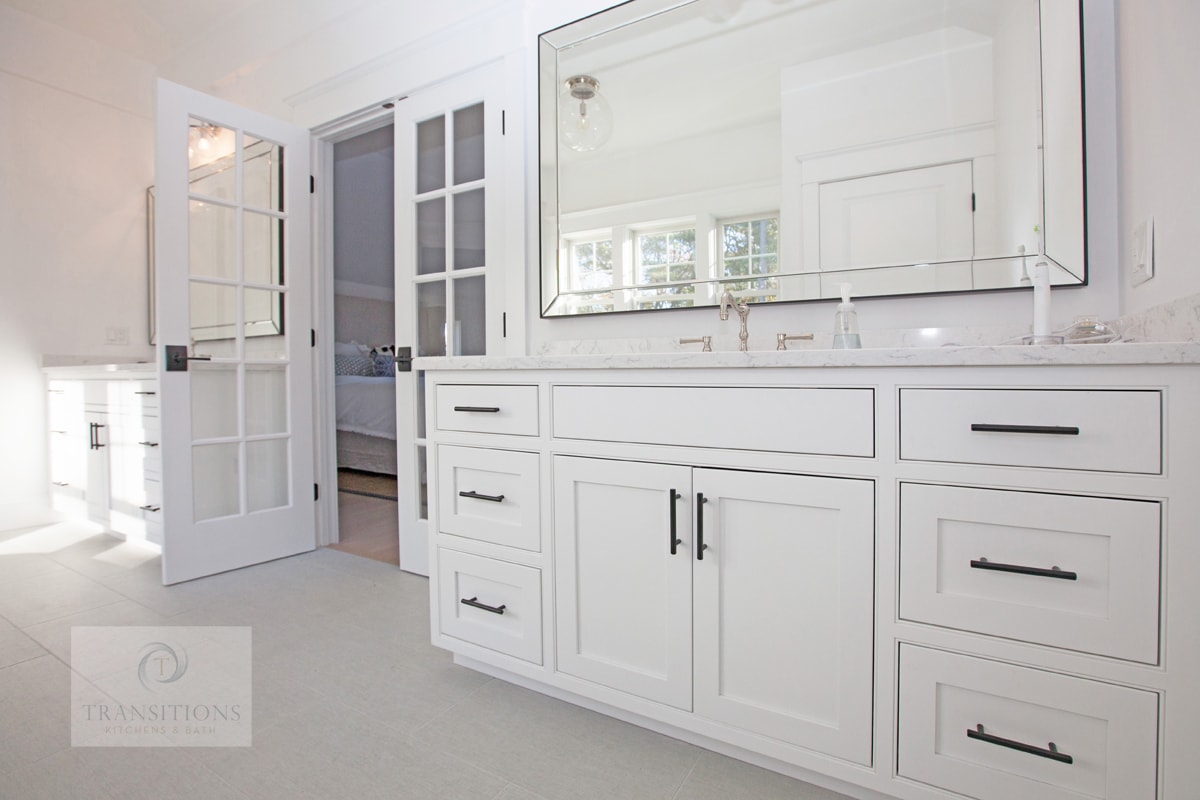 Fixtures
Don't forget that your bathroom fixtures are another way to brighten up your space. Sleek, shiny metals, like chrome, reflect light. Metal or glass shelves, sparkly chandeliers like this bathroom design in Norwell, shiny finish towel racks, and other odds and ends can also reflect the sun and contribute to the natural light in your bathroom design.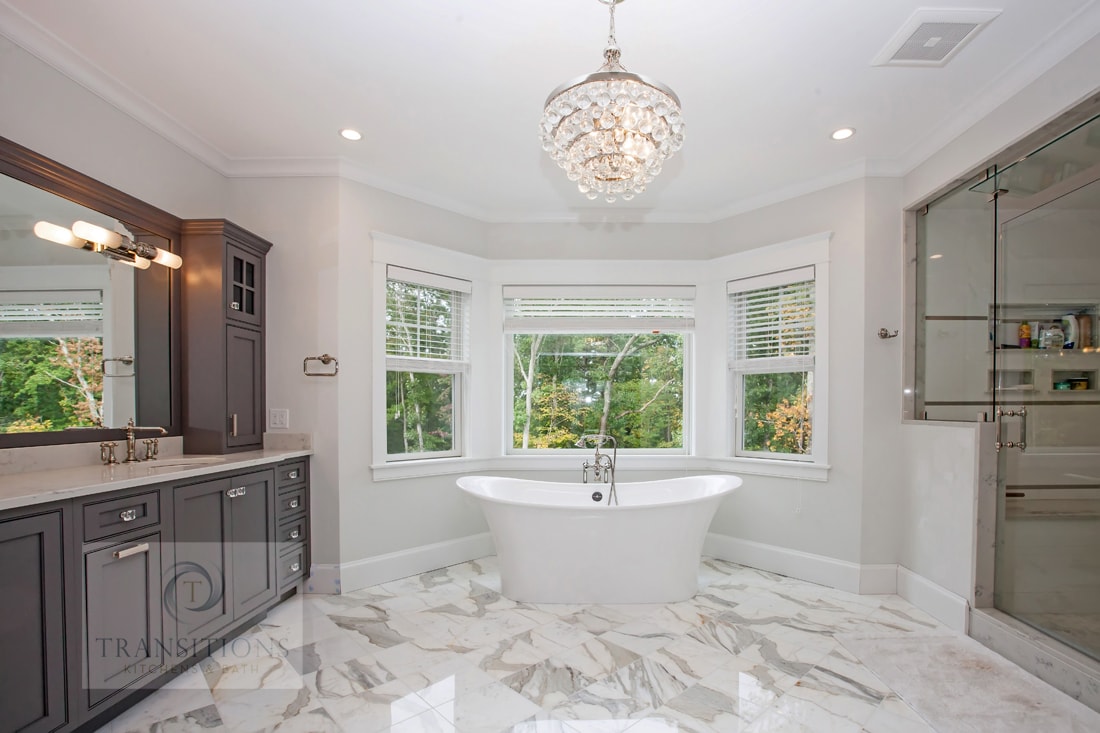 Skylights
If you're planning to undergo a full bathroom remodel, consider adding skylights to your master bathroom. Modern technology has long improved the leakage problem formerly associated with them. And now, with added ventilation panels, they can reduce your home's electricity costs.  They are an excellent way to increase the natural light flowing into your space and add a dramatic effect to the room.