When planning a new kitchen or
bath design
, why not choose materials and finishes that will ensure it is as low maintenance as possible? From flooring to hardware, keep each element's long-term performance in mind so your kitchen or bath remodel stays as pristine as the day it was installed. It also gives you time back that you might have spent cleaning and scrubbing. Choose labor-saving products for a stylish and functional kitchen or bath design that will keep its shine for years to come.
Technology
Technology is often an aid to convenience, helping to make life easier with smart options such as easy-clean kitchens and bathrooms. Smart fixtures are on the increase and now feature throughout bathrooms and kitchen designs.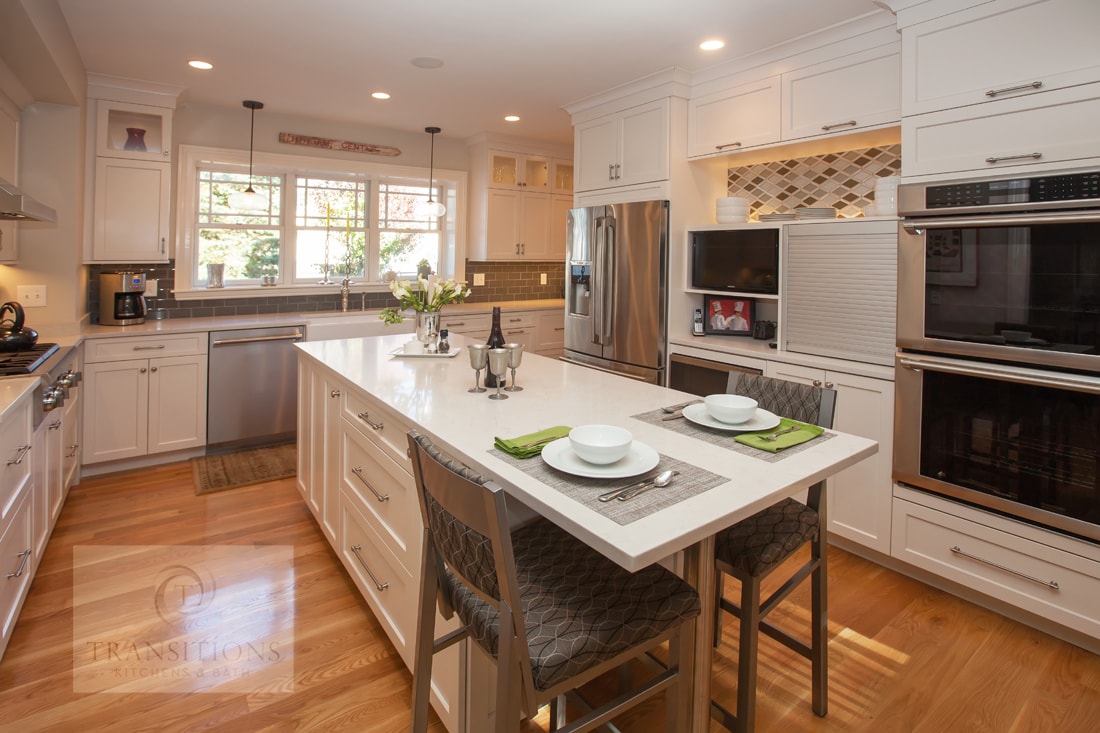 Sensor-operated faucets are a hygienic solution that work in
kitchen and bath designs
. Showers and toilets can be app-controlled. Toilets provide customized, touch-free cleaning using water and warm air set at a temperature and pressure to suit each family member. Smart toilets usually have built-in lights, automatic lids, sensor flushes and anti-bacterial coatings that also repel limescale.
Kitchen remodels can incorporate faucets for boiling or sparkling water for ease and luxury. Automated cabinetry means drawers and cabinet doors can be opened and closed with touch-free motion technology. Today's high tech kitchen appliances, such as refrigerators and ovens, can all be controlled via smart devices. They do everything from turning on and off remotely to setting timers, monitoring food storage and usage, and even ordering food basics that are getting low.
The introduction of technology into these key home living spaces improves hygiene and efficiency in your cutting-edge kitchen or bath design.
Flooring
A floor with a seamless surface is the easiest one to keep clean. Before a floor is laid, make sure the surface underneath is level. Avoid installing steps in your kitchen or bath remodel as this creates awkward corners that are hard to clean. The same is true for small tiles surrounded by dirt-catching grout lines. Why not install underfloor heating in a wet room to avoid having to mop up after each shower?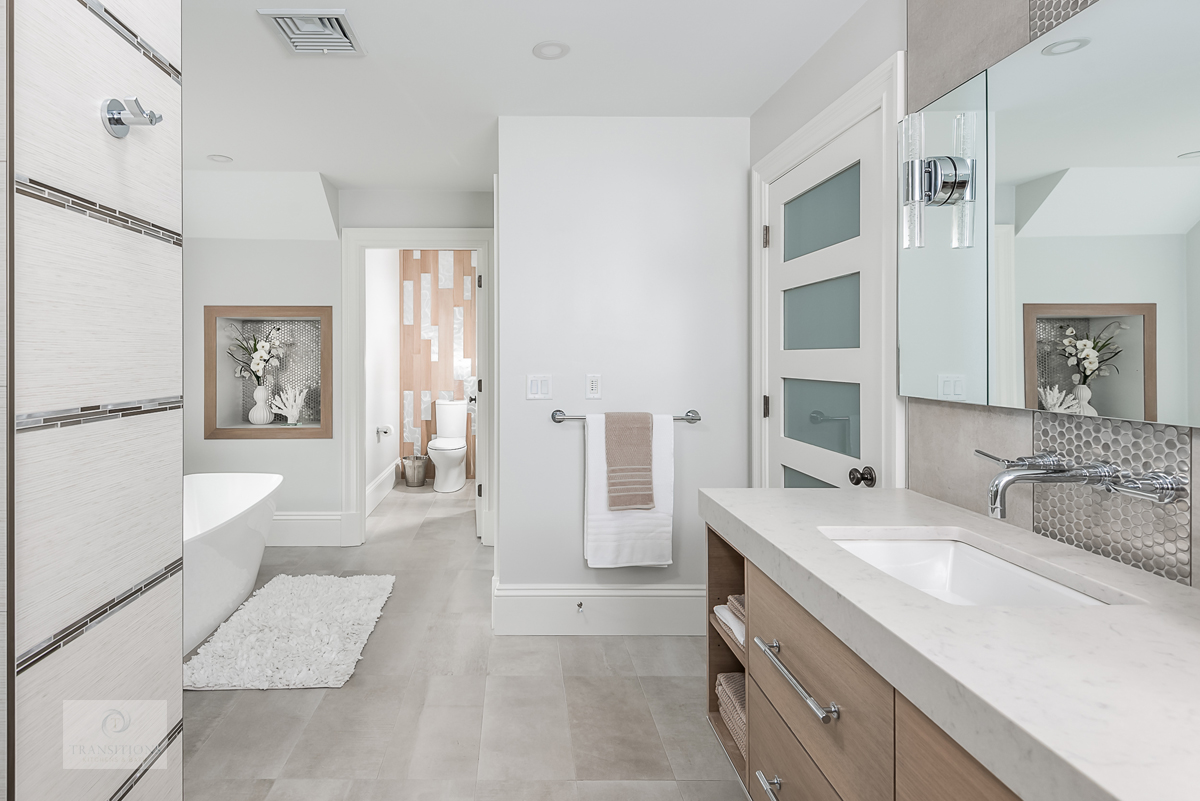 Ceramic and porcelain tile
have better moisture resistance than natural stone or wood and are less prone to scratching or staining. They don't have to be sealed either, though grout lines should be sealed, and can be scrubbed with most cleaning products. Go for a large format tile with a non-textured surface in a medium tone like gray or beige. However, be careful when choosing flooring for a moisture prone area, as glossy tiles can be a slip hazard. Dark or light colors can both show dirt easily. Less grout means less mold, but you can also disguise any slight discoloration with colored grout. Choose a grout shade to complement the tiles as well as your overall kitchen or bath design aesthetic.
Porcelain panels are another way to reduce grout lines, or try sealed concrete for a durable, grout-free surface. Vinyl can handle moisture better than laminate or hardwood due to its PVC backing and it is scratch and stain resistant. Luxury Vinyl Plank (LVP) has many styles and mimics hardwood very well. It is an ideal choice for a busy room where you must balance style and functionality in a hard wearing surface. Go for a shade in medium tones to hide dirt and let your mop slide over its smooth surface with ease.
Cabinets
Closed storage is easier to maintain than open shelving. Glass-front cabinets offer a compromise, as they can showcase their contents while protecting them from dust. However, you still must make sure that your display is kept tidy and also consistently keep smudges and dirt from building up on the glass.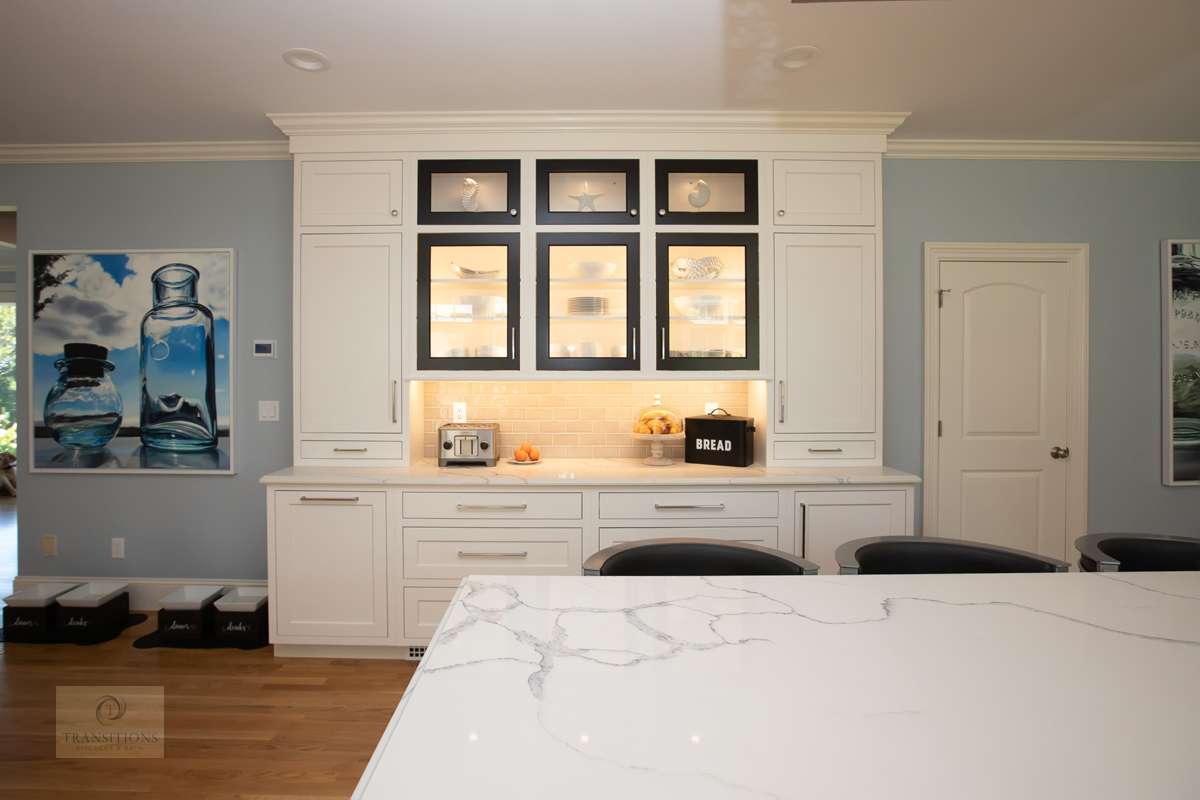 Flat-panel doors are the perfect solution for dust and dirt-free drawers and cabinet doors. Their lack of detail makes for a minimalist design that is easier to wipe down.  Shaker doors are a classic look that have a slightly raised border but are still quite easy to clean. They're a good low-maintenance option when you still want to
incorporate some detail in your kitchen or bath remodel
.
Stains
Finishing wooden cabinets with stains means they're easier to touch up than paint. A permanent pen can quickly cover a scratch or mark on a similarly colored wood stain. Medium-tone stains are more forgiving than lighter stains on everything from dust to dents. Choose a wood species with an obvious grain, such as oak, beech or hickory, to disguise any minor damage. Dark stains are also ideal on grainy woods. Dust, water spots, and fingerprints can show up more easily on dark finishes that are too shiny or flat, so keep stains as natural as possible.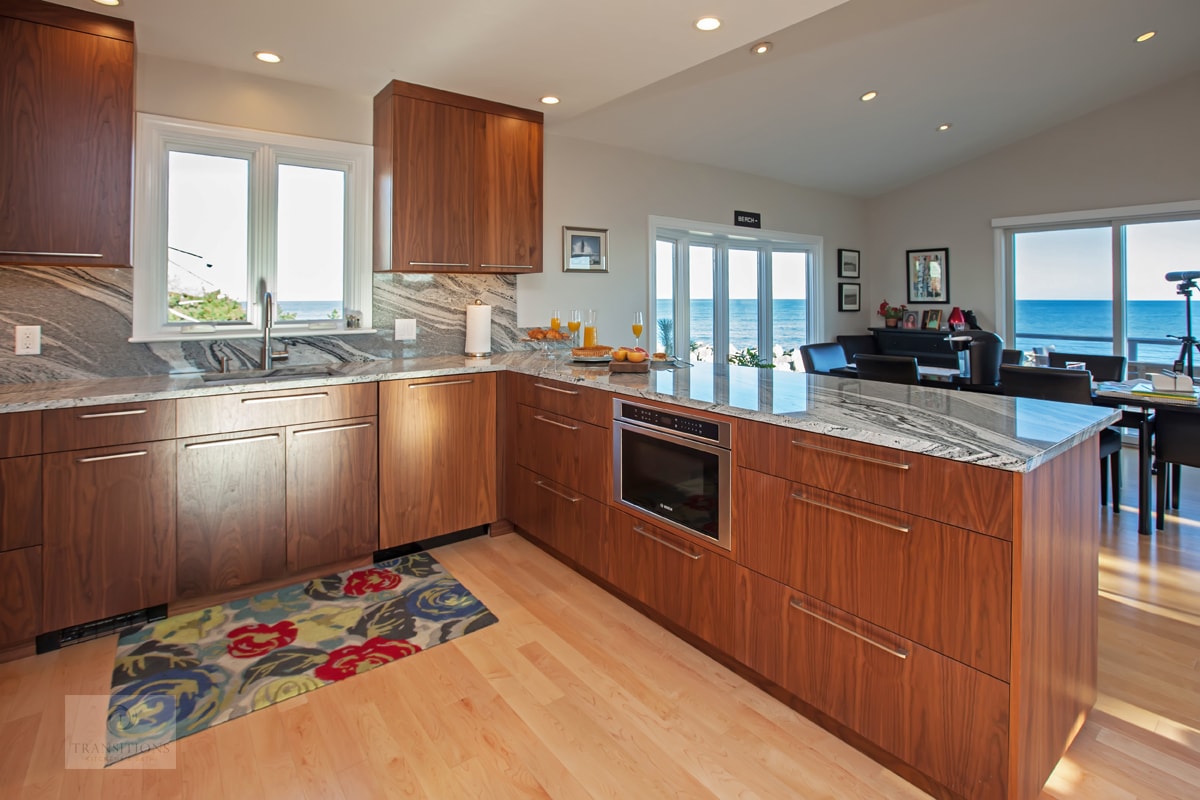 Paint
Gloss paint is the most durable, but not necessarily the lowest maintenance in a kitchen or bath design. Walls and cabinets can be too reflective with this paint and show up every little scratch or speck of dirt. Semi-gloss is ideal for high traffic areas like wall trims and baseboards, and it won't overwhelm a bathroom or kitchen design.
Satin paint is an ideal finish for easily maintained kitchen and bathroom remodels. It's less shiny than gloss and more durable than matte finishes. It needs to be applied with care though, to avoid brush or roller marks. Once again, opt for mid-tones and avoid white if you want a low-maintenance design. Using colorful paint is a good way of introducing character instead of embellishments such as molding, corbels, or decorative furniture legs, which are time consuming to clean.
Countertops
Countertops need to be durable and easy to clean in a low-maintenance kitchen or bath design. Natural stone and wood need regular sealing to keep them bacteria and moisture resistant, while non-porous materials can be quickly wiped clean. Quartz is a stylish and durable option that is exceptionally hygienic and less prone to cracking, scratching, or staining. Choose a mid-tone quartz with flecks or swirls to hide crumbs and water spots, which is better than a solid or light color. Heat can be an issue but place protective mats under pans or styling tools. Stainless steel can look cold and industrial, but is another choice for hygienic, hardwearing, and chic countertops.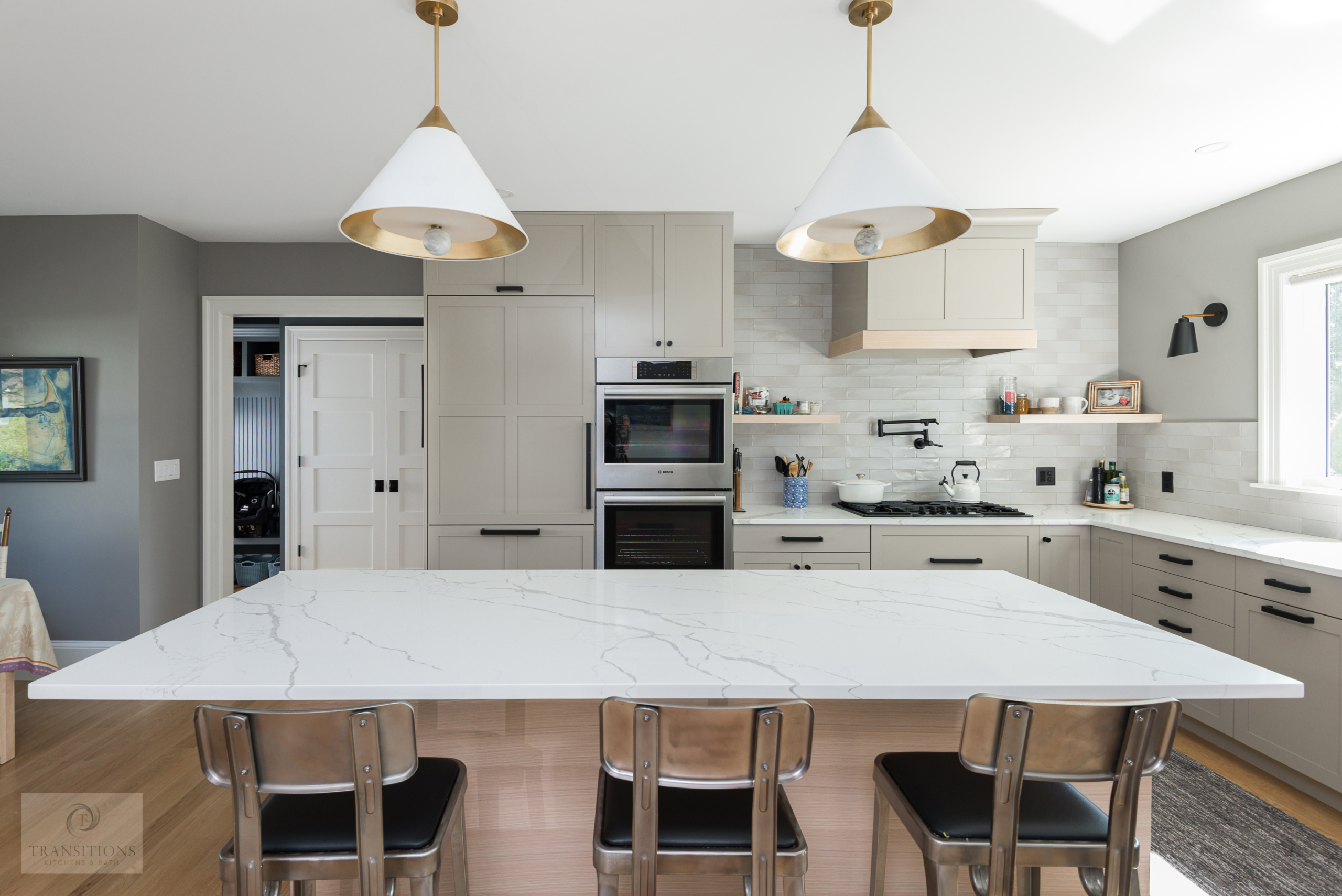 Backsplashes
Backsplashes offer protection against water, grease, and other potentially staining substances. Ceramic and porcelain are as durable as their flooring counterparts, as they are generally sealed and water-resistant. Larger formats reduce grout lines and limit maintenance requirements. Or go all out with a slab backsplash surface that offers a sleek-stylish look that can be easily wiped clean. Glass sheets are another ideal choice for a low-maintenance backsplash surface. They do show up marks and splashes but are easy to wipe, as they are smooth and seam free. In an eclectic design, place wallpaper behind a glass panel for a unique splash of personality.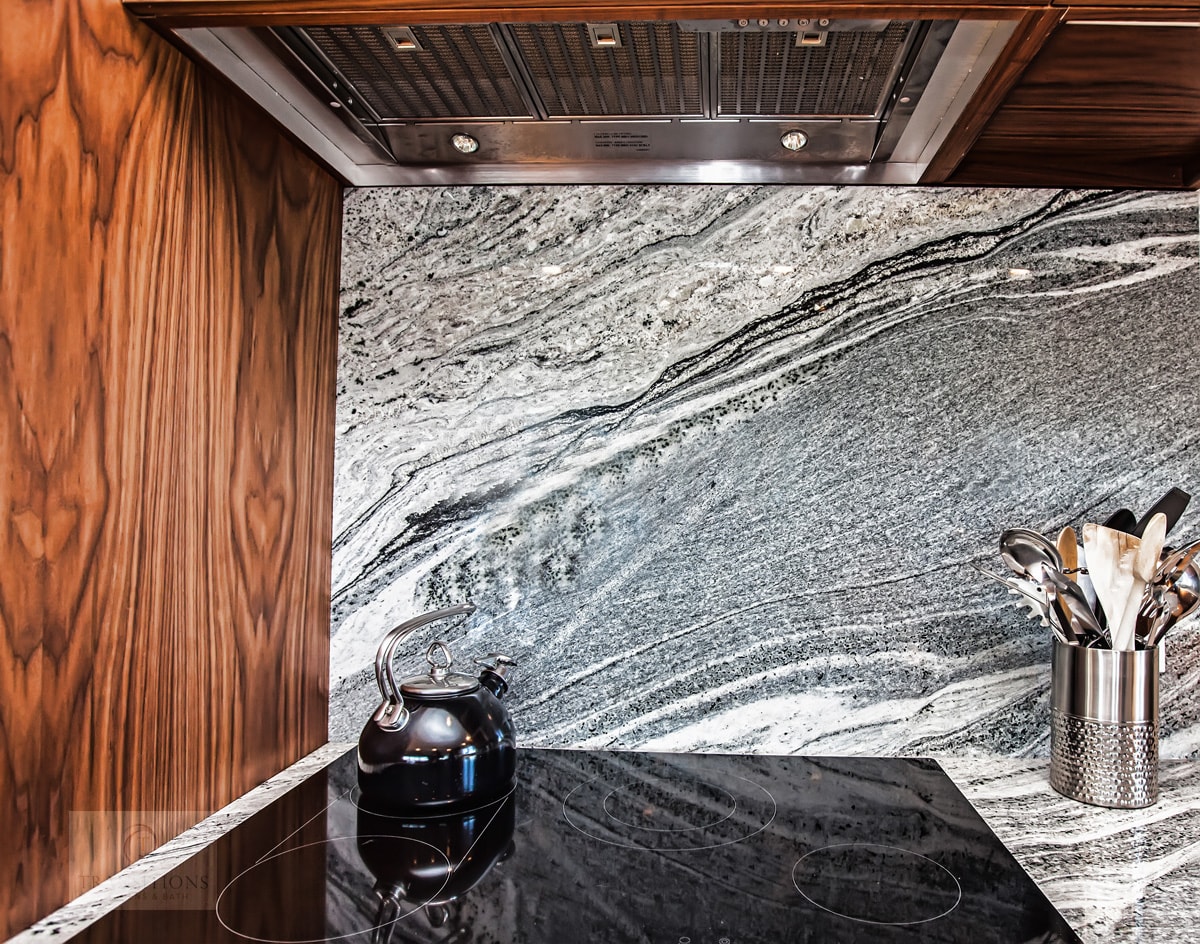 Hardware
High-shine metals, like chrome, tend to show fingerprints and water marks while matte metals can be prone to dust and hard water sediment. The best low-maintenance option for hardware is a brushed or lightly polished finish. Brushed nickel and satin bronze hide smudges and water marks with their semi-matte finishes. Oil-rubbed bronze has a dark surface that can show fingerprints, but there are sensor and voice-activated faucets available so you can still have this stylish look without the smudges. Pulls and knobs are ideal for low maintenance cabinetry as your hands aren't touching the cabinet doors and drawers, meaning you won't have to clean the cabinet's wood surface as often. Choose a hardware style that also complements the style of your kitchen or bath remodel and stick to a simple hardware design that is easier to wipe clean.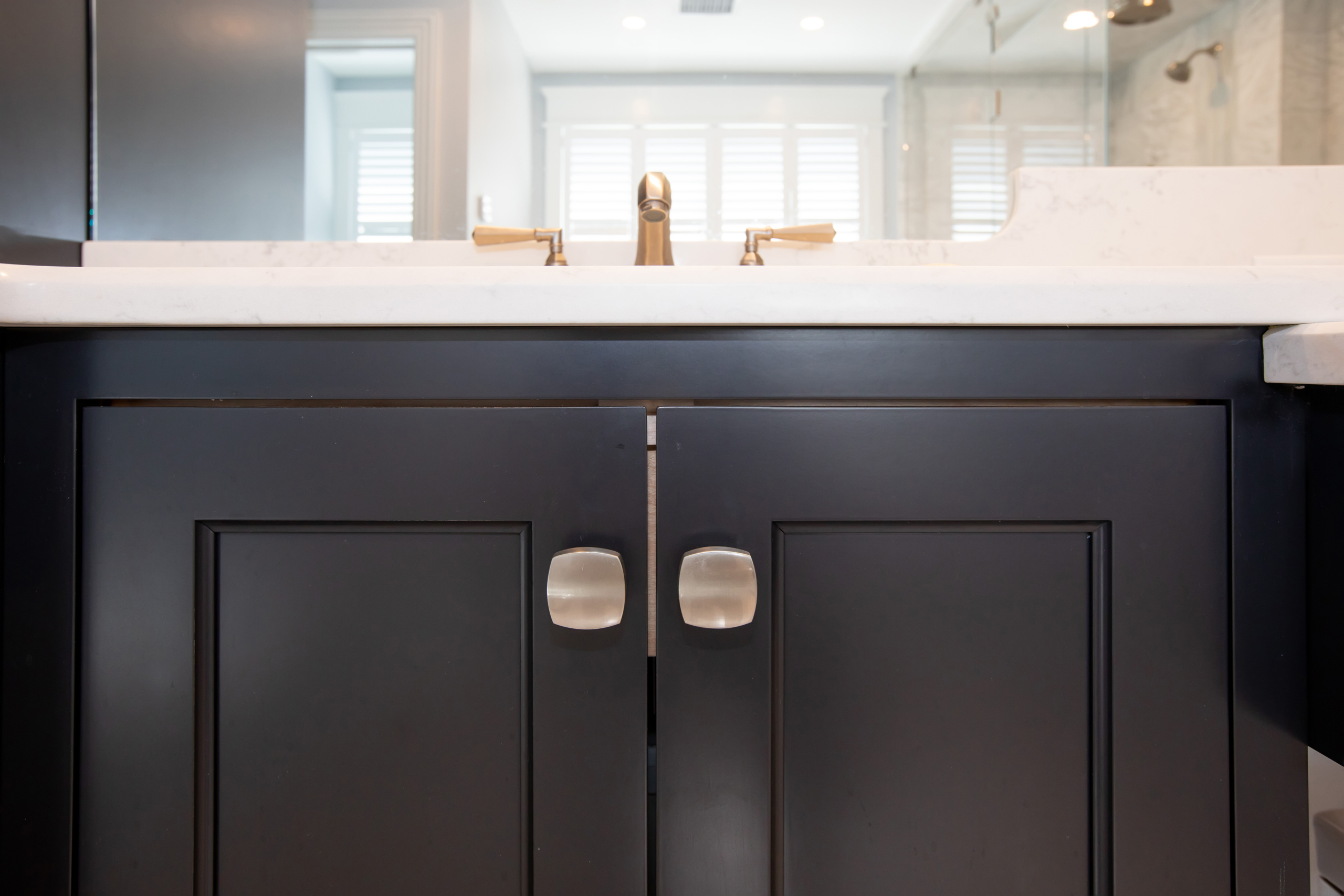 Light Fixtures
Pendant lighting is very popular, especially if oversized, but it's not a great low-maintenance option due to its dust gathering potential. Recessed lighting can brighten any space, along with bare bulbs or narrow vertical drum shades. They all have less surface area to gather dust and dirt at either end. Large globes, wrought iron, wide drums or traditional crystal chandeliers are all lighting fixtures that take time to clean. Streamlined lighting, that is flush to the wall or ceiling, cuts down on cleaning the fixtures, shades, and dusty bulbs. You can choose easy-care options from the many lighting options available without compromising on style or illumination in your kitchen or bath remodel.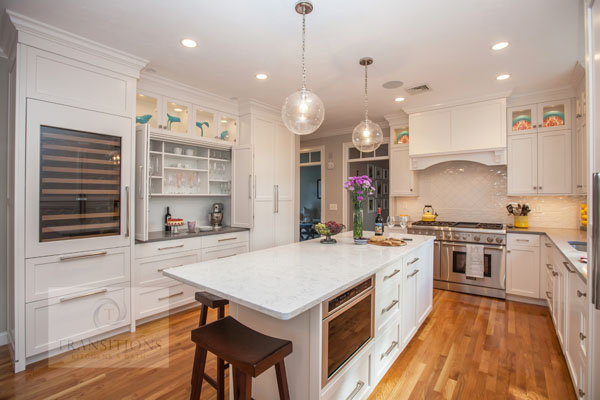 Sinks
Good design is an integral part of easy-clean kitchen and bathroom design elements. Integral and flush-mounted sinks reduce the opportunity for dirt to gather. The material you use makes a difference too. Granite sinks contain bacteria-repellent silver particles and stainless steel is stain and corrosion resistant. Copper is also anti-bacterial and changes its look as it ages. Wall-mounted faucets give you more space to clean your sink properly.  Wipe it down with a microfiber cloth between cleans. The deeper your kitchen sink, the more dishes you can hide in it, if you're entertaining. Round bathroom sinks are excellent for a sleek, calm design, but they also collect less dirt and hair, which is especially good in a busy master bath design with a double vanity.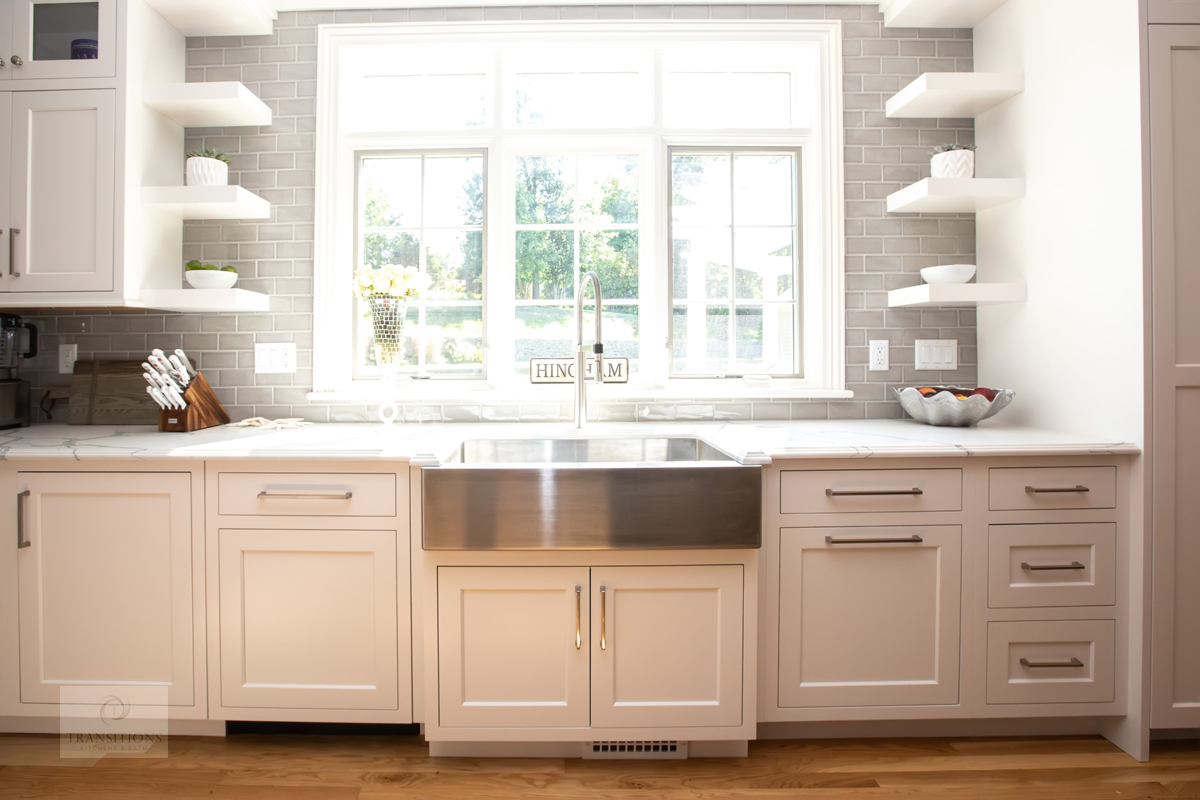 Showers and Tubs
Reduce the time it takes to clean glass in your shower by having a single pane of toughened glass or a frameless screen. No hinges or handles makes it harder for mold and soap scum to gather, and the glass screen can easily be maintained between cleanings by a quick swipe with a squeegee after each shower. Using non-soap products further reduces soap scum on your shower enclosure. Walls covered with panels, slabs or large format tiles are easier to wipe down than intricate tiles. Freestanding tubs are low maintenance as they provide easy access for mops and cloths around their surfaces and surrounding floorspace.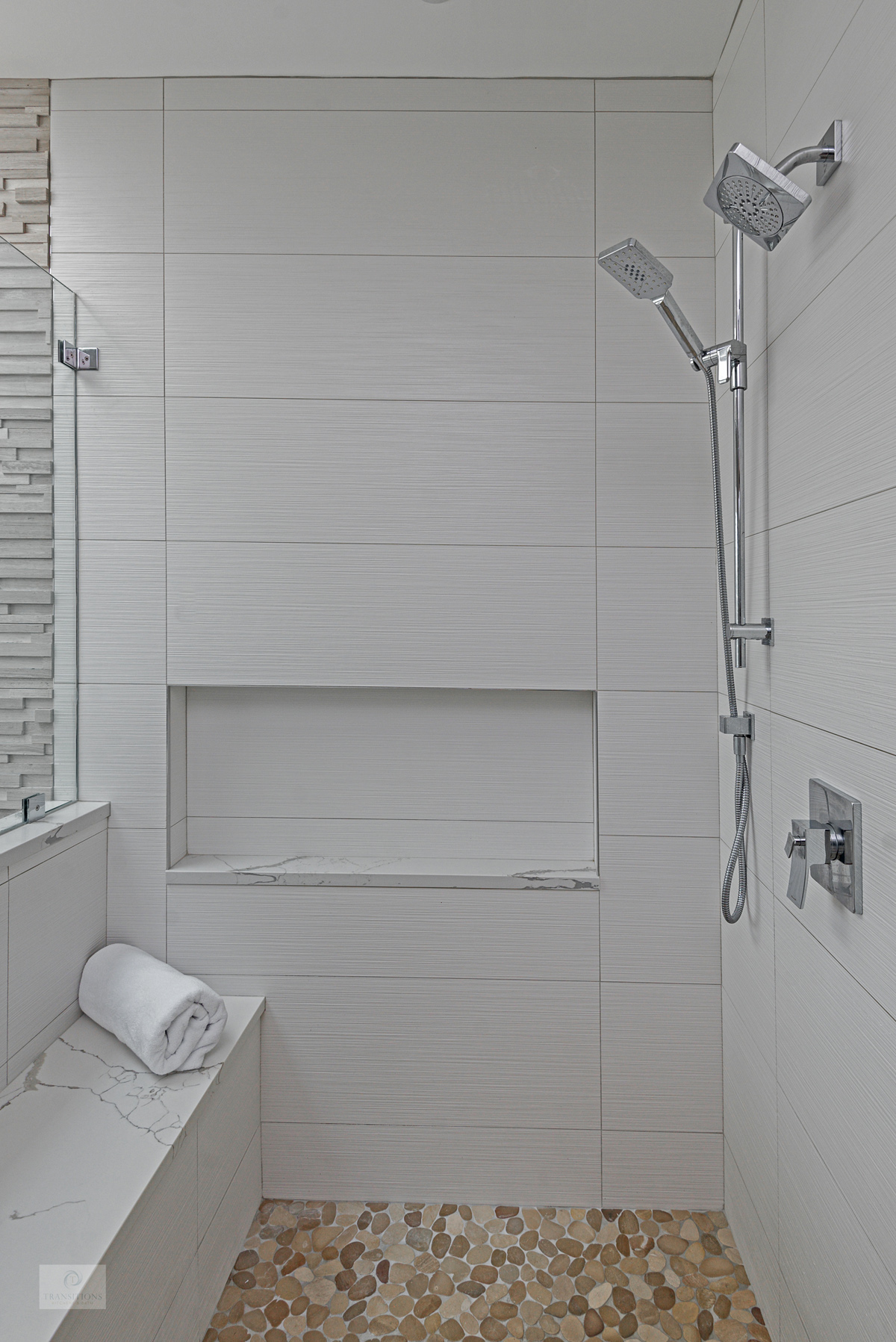 Vanities and Sink Cabinets
Keeping your vanity countertop clear makes cleaning it down more manageable. Custom storage in your vanity provides compartments for everything you need to keep handy without creating clutter. You can place a tray called a cabinet mat at the base of your sink cabinet to work as a moisture barrier and catch any leaks or spills. Undermount basins and wall-mounted faucets further clear your vanity countertop. A floating vanity gives uninterrupted access to the floor area, so your bath design is easy to mop and is the ultimate in low maintenance and contemporary style.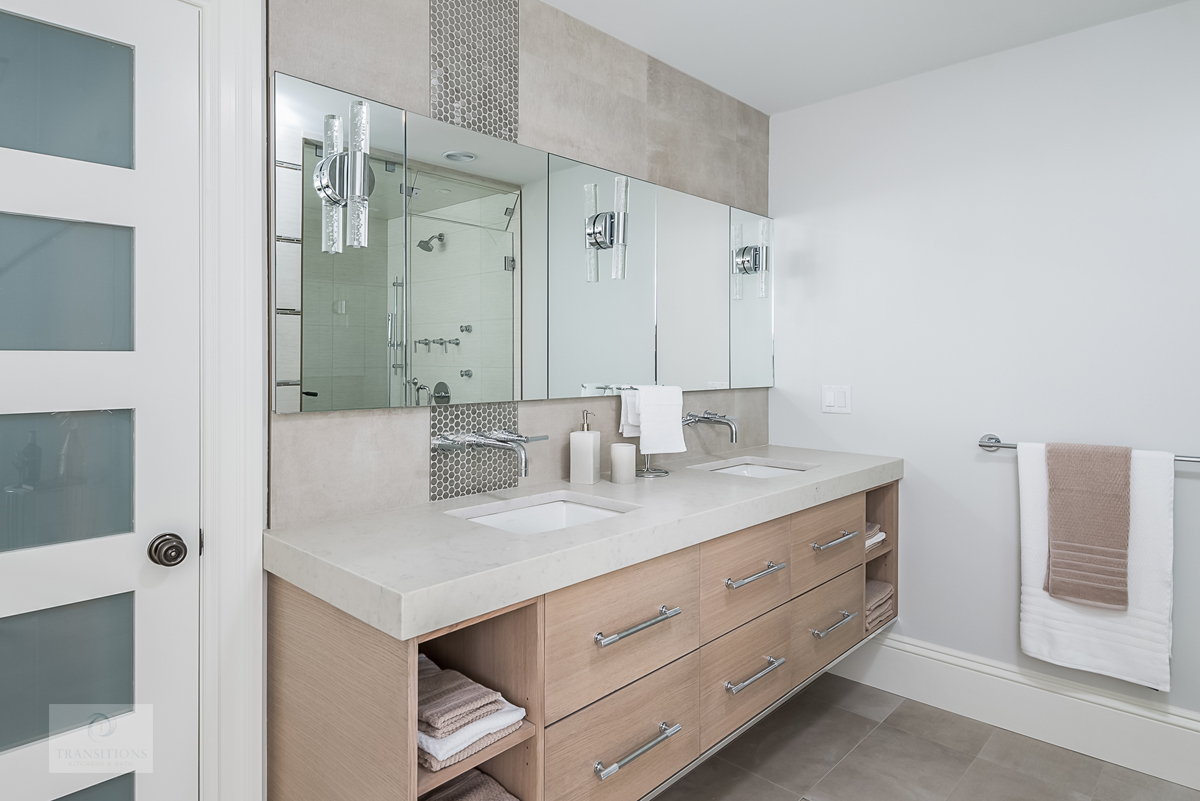 It is possible to design an easy-clean
kitchen or bath remodel
that is also aesthetic and highly functional. You can still go for white cabinets, natural stone countertops or mosaic tiled backsplashes, but be prepared for the extra work involved to retain their pristine appearance. Changing your behavior also helps and regular maintenance of a remodeled space can be enough to keep it looking good as new.
Contact us today at Transitions Kitchens and Bath
and we can talk you through the best low-maintenance options for your new kitchen or bath design.