As we step into Spring it's time to clear the cobwebs from your house and clear your head in the process. A cluttered home adds unnecessary stress to busy lives. An easy and instantly rewarding place to spring clean is your master closet. Put on your favorite playlist, set aside a couple of hours and hey presto, you can step out of your next shower and open a perfect, fuss-free closet.
Here are 5 steps to getting your closet clear, organized, and ready for spring and summer seasons.
1. Clear out
Take everything out of your closet, categorizing them into groups on your bed. Yes, we do mean everything!  The only way to do a full clear out is to go through everything.  Removing all items for your shelves, drawers, and hanging rods also allows you to thoroughly clean the closet before putting everything back.
2. Clean out
This brings us to step two…use this opportunity to do a full cleaning of your master closet.  Dust inside and outside the closet and remove scuffs and cobwebs from the walls and ceiling. Wipe down light fixtures, doors and baseboards and then vacuum everywhere thoroughly. Treat any carpet stains and mop flooring. Remember to dust and clean shelves, and wipe the top of rods for your hanging clothes.  Get rid of any broken hangers and replace them with new hangers.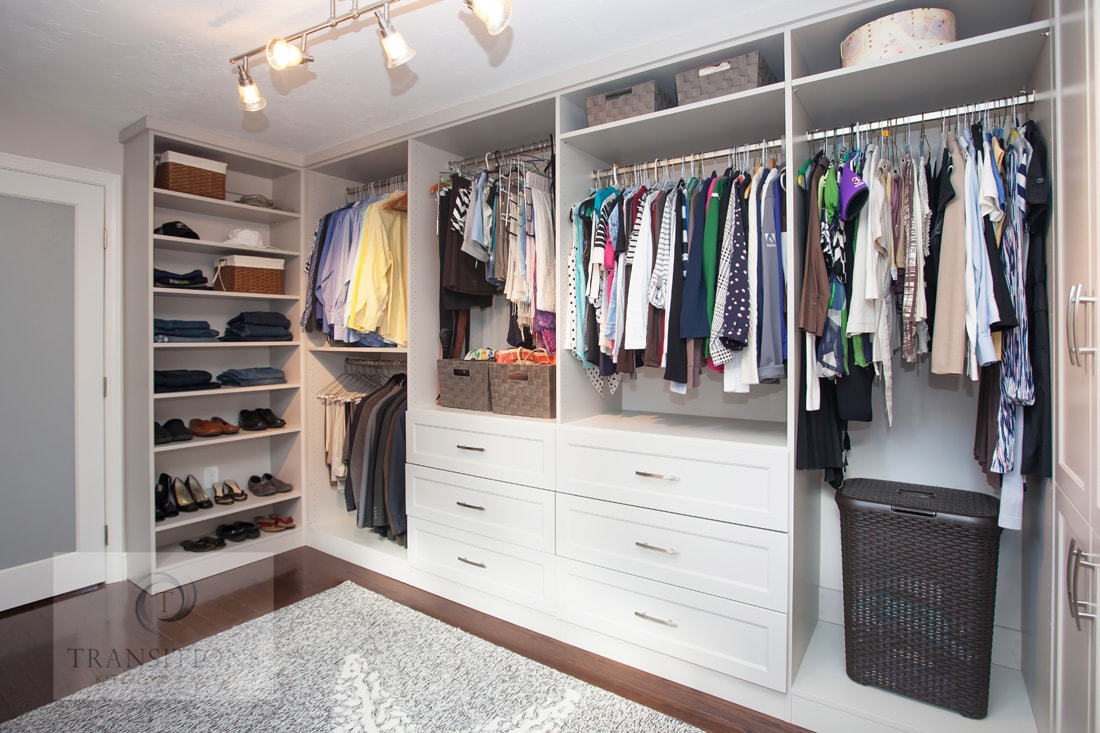 3. Sort Out
Go through each of the clothing categories and sort into three piles- recycle, donate/sell and seasonal. If you have items that you intend fitting in to again (don't we all), put them with the seasonal clothes and give yourself a year! Then put this pile into vacuum suction bags to store under your bed, or in an attic or basement. A piece of chalk wrapped in cloth will also prevent stored clothes getting damp.
4. Space Out
Return the clothes you want to keep to the closet, grouping them by category and color and evenly spacing them out so they can air. Try turning all your hangers one way and after you've worn something swap it around to hang it in the opposite direction. At the end of the season, you will know exactly which items you never wore based on the direction of the hanger, and you can easily donate any unworn items. Put bags and shoes on shelving, taking care not to pile them on top of each other. Why not keep special shoes in labeled boxes, a la Carrie Bradshaw?  A customized closet design can really help with this organization, as your closet can be set up with everything you need to easily store every last pair of shoes, jeans, and formal wear.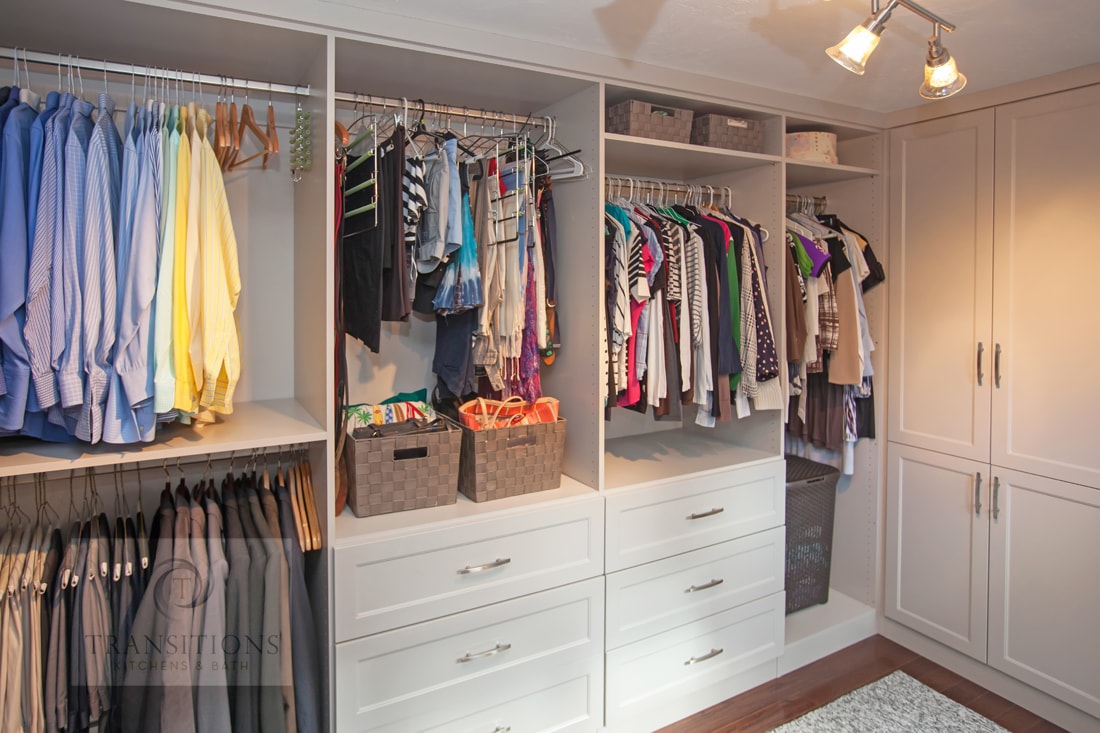 5. Box Up
Accessories can be difficult to store. Categorize them by color and type, keeping frequently worn ones accessible. Hang scarves and belts around hangers or store them in clear boxes so they are easy to identify and access. Boxes in drawers are perfect for socks, t-shirts, panty hose and silky underwear.  Leave lavender sachets among these items for a burst of freshness.
This closet design in Norwell, MA, makes great use of storage baskets, including a laundry hamper tucked away.  Adding a laundry hamper to your master closet design makes a lot of sense, as it gives you a place to put dirty clothes and no excuse to drop them on the floor!
Why not invest in custom closet solutions, planning exactly what you need?  The right shelving, cubbies and rails will make your life so much easier. Extra touches like full length mirrors, pull out valet rods and good lighting are among the things a customized closet solution created by a design expert can offer.
Updating your closet storage makes a lot of sense, especially if you are already embarking on a bathroom remodel.  Why not let us help you enhance your freshly spring-cleaned closet or re-design your entire master suite including a new bathroom design and updated closet storage?  Call us today to get started and get inspired by checking out our bathroom design and closet system projects in our photo gallery.